We get behind the wheel of the new Hyundai Kona N crossover in prototype form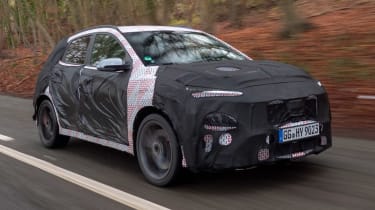 Verdict
By applying the same formula, and using many of the same components, Hyundai has injected the Kona N with a similar dose of magic that's given us the excellent i30 N. With just a touch more fine tuning it could well be another world beater. We, more than most, remain intrigued by what happens next.
The ingredients and basic recipe might sound familiar enough, but the resulting dish being served up by Hyundai's N division this time is, as you can see, a rather different proposition. And having driven a prototype of the forthcoming new Kona N on UK roads, in a variety of conditions, we're still deeply impressed by what Hyundai's high-performance arm can achieve in such a short space of time. But there are caveats this time round, all of which we'll come to, and most of which can still be tweaked out during the car's final development, says Hyundai.  
For starters, the Kona N is not the ideal kind of car to be receiving the full-blown N treatment in the first place: that's Hyundai's admission, not just our observation. The centre of gravity is higher, the wheelbase a fraction shorter than it is in the i30 N, so the fundamentals aren't quite so well suited to the high-performance treatment.
New 2021 Hyundai Kona N teased ahead of spring launch
Also, the Kona's chassis is not the same as the i30 N's. It's still front-wheel drive and includes much of the same components – same brakes, same steering system, same suspension, same E-Diff and even the same dampers, albeit subtly retuned in this instance to accommodate the Kona's fractional increases in both weight and height. Yet the core underpinnings – the Kona's basic structure, if you like – are not the same, even if Hyundai's engineers have thrown as many familiar N bits at them as they can to make this hot Kona drive like a true N-car.
More reviews for Kona SUV
Car group tests
Peugeot e-2008 vs Hyundai Kona Electric vs Kia Soul EV
DS 3 Crossback E-Tense vs Kia e-Niro
Hyundai Kona Hybrid vs Kia Niro Hybrid
In-depth reviews
Hyundai Kona Electric review
Hyundai Kona review
Road tests
New Hyundai Kona Electric 2020 review
Used car tests
As such, the Kona N is still designed to appeal to the same kind of driver as the i3 0N, but maybe someone who's a little bit older and has a slightly different lifestyle. Someone with a growing family, perhaps, but who still wants to have some serious fun behind the wheel. The Kona N is not, in other words, an N-car lite.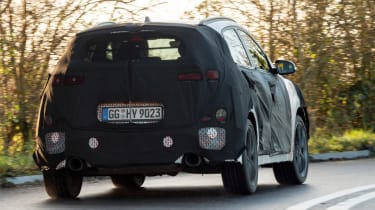 Quite the opposite, in fact, hence the reason it's propelled by the exact same 2.0-lire turbo engine you'll find in the revised i30 N. This produces 278bhp and 390Nm to give a claimed 0-62mph time of less than six seconds, so pretty tasty for a junior SUV. 
The lesser powered engine will not be available in the Kona N, but as we discovered on a variety of roads, some of them wet and many of them quite bumpy, even with an electronic differential doing its best to keep things tidy, this much torque can make the sub-1,600kg Kona N feel very lively indeed to drive. Even in Comfort mode the car feels lively in both its ride and general chassis response. 
But in Sport or, crazier still, in N-mode, it's too stiff and too wild for normal winter road use in the UK. So much so that Hyundai might want to rethink just how banzai the Kona N drives in N-mode because, as it stands, this is pretty much a track-only setting. Which is surely a step too far given we're talking about an SUV here, albeit a very sporting one, and not a full beans hot hatchback? 
What's not in question is just how rapid the Kona N is in normal driving – in the mid-range, especially, it feels more potent than its raw numbers suggest – or how much value for money it will represent when it goes on sale in the early summer. In reality, you'll need nothing less than a Porsche Macan GTS if you want an SUV that's faster, and even then the gap won't be vast. 
And that's before you so much as mention how strong the standard equipment levels will be (as per the i30 N it'll have just about everything you could wish for inside as standard, with few options to choose from bar a pair of lighter sports front seats) or how well made it will no doubt feel for the money.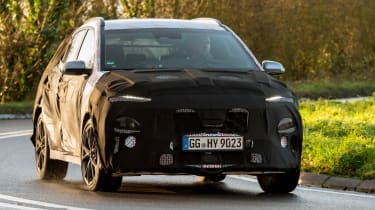 Interior and exterior quality on this prototype were both impossible to judge because it was covered in cloth from top to bottom, inside and out, to keep what lies beneath a secret. But Hyundai's reputation in such areas is deservedly strong nowadays, so for the £33,000 it is likely to cost, the Kona N is going to appear very tempting indeed, both on-paper and in the metal.
Especially when you discover it'll come with a brilliant new eight-speed dual clutch gearbox as standard, the six-speed manual of the i30 N not being available in this case. No matter, because the eight-speed paddle shifter works superbly in practice, snapping through the ratios, up or down, when you use the paddles manually, or shifting gears smoothly and effectively when you don't. And just as in the i30 N DCT, the speed and style of response from the gearbox alters as you scroll up through the modes, along with the throttle map, the damper response, the exhaust sound and the E-diff response.
Unfortunately, Custom mode wasn't working on the prototype when we drove it, which meant you had just Comfort, Sport or N to choose from. For most of the time we chose Comfort, which is where the caveat occurs – because even in Sport mode the Kona N does feel pretty stiff, maybe a bit too full-on for its own good on a less than perfectly surfaced B-road. And as already stated, in N mode it's borderline unusable on many UK public roads, even for the most enthusiastic of enthusiasts. It feels harsher than the i30 N in this specific respect, and that's surely not the way it should be?
With a bit of fine tuning, though, the Kona N still has the potential to do to the sporting SUV market what the i30 N has already done to the hot hatch market: to uproot the goal posts and rebuild them in a part of the pitch that's never really been accessed before. It could be that good, potentially – so long as they knock it back a bit in N-mode, and make sure you can still have the full beans engine, gearbox and exhaust modes with the more chilled suspension by being able to individually customise the settings. Then they'll have another clear winner on their hands.
| | |
| --- | --- |
| Model: | Hyundai Kona N |
| Price:  | £33,000 (est) |
| Engine:  | 2.0-litre 4cyl, turbo, petrol |
| Transmission:  | Eight-speed auto dual clutch, front wheel-drive |
| Power/torque:  | 278bhp/392Nm |
| 0-62mph:  | 5.9 seconds (est) |
| Top speed:  | 155mph (limited) |
| Economy:  | TBC |
| CO2:  | TBC |
| On sale:  | Early summer 2021 |
Next Steps
Source: Read Full Article