The Hyundai RN22e concept previews much of the tech that will feature on the forthcoming Ioniq 5 N hot hatch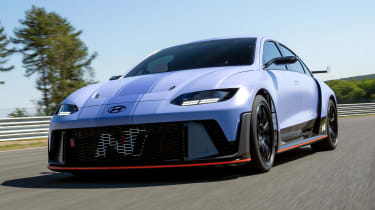 Verdict
Hyundai's N boffins are really on to something with the tech highlighted in the RN22e. It gets us excited about the Ioniq 5 N, which really could be the world's first credible EV hot hatch.
This aggressive mix of concept and touring car is Hyundai's RN22e – or Rolling Lab, N, 2022, electric, to give it its full title.
It's Hyundai's latest high-performance electric test bed, but unlike previous RM concepts, the 22e is much closer to production. A lot of the technology is due to be seen on the Ioniq 5 N, due next year.
New Hyundai N Vision 74 concept review
The E-GMP platform runs with two electric motors; one powering the front wheels, and another the rear. It offers a combined output of 577bhp, backed up by 740Nm of instant pulling power.
Much of the technology within has a strong enthusiast-driver focus. There's a new twin-clutch differential that can send as much as 100 per cent of drive to either individual rear wheel, and that also works with the regenerative braking to offer extreme handling abilities.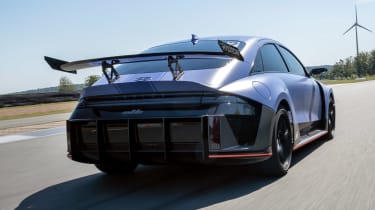 It's all part of N's desire to maintain driver enjoyment even in the world of EVs. To that end, the team has also included its latest sound and vibration tech, along with something called N e-shift.
The former kit is spookily effective, really giving the 22e a distinctive (albeit entirely fake) growl. Meanwhile, the even more radical virtual-gearchange software interrupts the flow of power when the driver uses the paddleshifters behind the steering wheel, to mimic the involvement of a gearbox in a combustion-engined car.
The RN22e's performance is shocking, but the way it turns into a corner and can then be drifted out again is the real eye-opener. The car feels far more agile than its weight of more than two tonnes would have you believe.
When switched on, the e-shift cuts the peak power slightly, and you can feel the acceleration lose some of its sting. The shift is slightly ponderous, too, and the software can be reluctant to allow downchanges, even when your ear suggests they should be viable.
A lack of any 'rev' counter and gear indicators are further areas of potential improvement, but the concept behind it is sound, and it involves the driver like no other EV we've experienced.
| | |
| --- | --- |
| Model: | Hyundai RN22e |
| Powertrain: | 77.4kWh battery/2x e-motors |
| Power/torque: | 577bhp/740Nm |
| 0-62mph: | TBC |
| Top speed: | 155mph+ |
| Max charging: | 10-80% in |
Source: Read Full Article