We drive the new Lexus UX 300e – the company's first all-electric model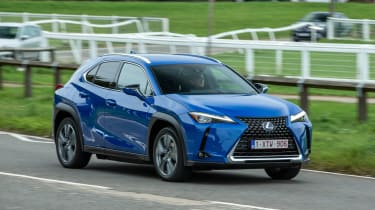 3.5 out of 5
Verdict
Don't be fooled by the rating here; it's the same as the regular UX hybrid's, but in truth, we think that cheaper versions of the UX 300e will probably be worth an extra half-star. This EV is nicely finished, just about practical enough for most buyers' needs, and particularly refined. We suspect, though, that a Premium Plus model will not only be cheaper but, on smaller wheels, also deliver a more comfortable drive on UK roads.
For a company that has been a pioneer in the electrification of the premium market, it's taken Lexus an awfully long time to introduce a full EV. But at last it's here in the form of the UX 300e – and we've had our first chance to try it on UK roads.
The UX is Lexus's baby SUV, of course – and it sits on the same TNGA underpinnings as the Toyota Corolla and C-HR. In the 300e's case, you get a single electric motor mounted on the front axle, producing 201bhp and 300Nm of torque – enough for a 0-62mph time of 7.5 seconds. There's also a 54.3kWh lithium-ion battery that's good for a range of 196 miles, Lexus claims.
Lexus CT hatchback, IS saloon and RC coupe all to be axed in the UK

The car supports 50kW DC charging, which means you can take the batteries from zero to 80 per cent in 52 minutes.

The 300e's pricing starts at £43,900 – or £40,900 after the Plug-in Car Grant, making it usefully cheaper than a Volvo XC40 P8.

That 'basic' UX 300e gets all the kit you'd really need, but there are two packs available – Premium Plus (from £47,400), which should account for up to two thirds of UK sales, and the Takumi Edition, which brings everything but the kitchen sink, including 18-inch alloys.

Craftily, these variants count as 'option packs', not standalone models – so all UXs qualify for the PiCG. Our UK test took place in a left-hand-drive car that was a decent equivalent of Takumi in UK money.

On the road, that 201bhp output and the electric motor's instant torque feel nicely suited to a car of the UX's size – even one that now weighs 1,840kg. The delivery is punchy enough for the front wheels to scrabble a little under hard acceleration, but it's easy to avoid this while still enjoying swift pace.

The steering has a pleasing weight to it and it's direct; the UX's body roll is kept nicely in check, too. Were it not for the usual shortage of communication from the front wheels, this would be a mildly entertaining car on a twisty road.

You can adjust brake energy recuperation via paddles mounted behind the steering wheel, although even the strongest setting isn't enough to bring the car to a complete halt. Even so, Lexus's engineers deserve praise for how they've integrated recuperation into the brake set-up, because the transition from energy harnessing to discs and pads is smooth.

On the whole the 300e is refined, too. Stamp on the throttle and you'll hear some electric motor whine, but in most situations you won't hear much at all. Wind noise is well suppressed too. Sadly, these qualities expose road noise – and on the 18-inch wheels that you'll get in Takumi spec there's plenty of low-frequency rumble coming from beneath you.

The larger wheels don't do the TNGA platform any favours, either. It leans towards the firm side of comfortable in general; and when you factor in those larger rims, you're left with a small SUV that does a great job of soaking up conventional bumps, but the limits of its compliance are met too quickly.

Inside, there's not much to really suggest you're in an all-electric vehicle. But sticking with the proven UX formula isn't a bad thing, because this is a well finished small car. There are tasteful padded materials everywhere that matters.

Our car featured the 10.3-inch letterbox-format infotainment set-up. It can't overcome the shortcomings of Lexus's own system, but at least allows Android Auto to display music info alongside a usefully sized map.

Even opting for the Google environment can't free you from the touchpad controller, though, which remains a curiously idiosyncratic creation for a brand renowned for its customer-focused approach.

| | |
| --- | --- |
| | Lexus UX 300e Takumi |
| Price: | £50,500 (after gov't grant) |
| Motor: | 1 x electric motor, 53.4kWh battery |
| Power/torque: | 201bhp/300Nm |
| Transmission: | Single-speed automatic, front-wheel drive |
| 0-62mph: | 7.5 seconds |
| Top speed: | 100mph |
| Range: | 196 miles (17-inch wheels) |
| Max charging: | 50kW |
| On sale | November |

Source: Read Full Article