The all-new and bespoke electric MINI has been caught in full production spec with no disguise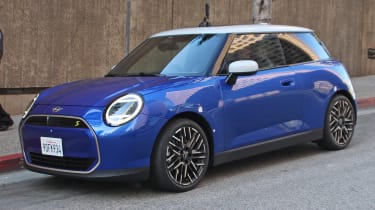 The next generation electric MINI Cooper has been caught in its full production trim during a filming session in the USA. The all-new MINI Cooper, as it will officially be known, takes a big step forwards from the existing model MINI hatchback model by featuring a new and bespoke EV platform, with an equally fresh design that channels the MINI's iconic design cues into a new look. 
New MINI Countryman SUV to be joined by pure-EV Electric model
Pictured in hot Cooper SE form, the retro supermini looks much cleaner than prior generations, thanks largely to a removal of the plastic wheel arch cladding that has defined the modern MINI's aesthetic since its debut back in 2000. The original 'new MINI', designed by Frank Stephenson, has become a modern icon in its own right over the years, making any reinvention a tough job to execute well. 
This same emphasis on clean design is found in its lighting, grille and other exterior detailing, yet the body itself is actually far more complex with new creases and lines creating unusual highlights and reflections. This is then contrasted against a familiar silhouette and upper body design to that of existing MINIs, with blacked-out pillars and a floating roof that in this case is painted in a contrasting white finish. The rear design has also had an update, with the application of fresh new rear lights joined by a glossy black panel.
New MINI Cooper interior 
We've already had a good look at the new MINI Cooper's interior, revealing a clear evolution over the current design theme, only updated with sharp new tech. The traditional circular infotainment hub, for instance, has been reformed into a giant single touchscreen that floats on a much cleaner dashboard design.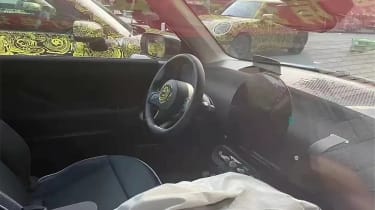 The brand's trademark toggle switches have survived the update, but the digital gauge cluster fixed to the steering column of the current car has been swapped for a head-up display mounted on top of the dashboard. The quirky two-spoke steering wheel is new, too.
Powertrains and hot versions
The Cooper name has long been synonymous with sportier versions of the MINI, but starting from the new generation it'll be a model name in its own right. The electric MINI Cooper will be built in China on a platform that was jointly developed between BMW and Chinese SUV maker Great Wall. 
Petrol-powered MINIs will live on, with a substantial update on the existing model due to arrive in the next 12 months, with production continuing in BMW's Oxford plant. Despite the different technologies used for ICE and EV versions, the two will continue to share a similar design theme.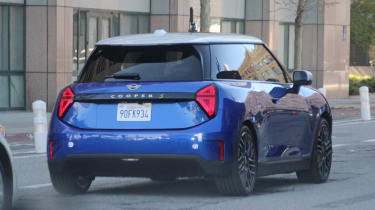 Entry-level electric Cooper E models will utilise a 40kWh battery, with higher-specification SE versions upping this to 54kWh. Both will offer considerable increases in range over the current MINI Electric, with the E potentially reaching 200 miles and the SE getting close to 250 miles.
MINI has hinted that a high performance John Cooper Works (JCW) version of the new EV is in development, likely going fully electric. Bernd Körber (MINI's boss in 2019, succeeded by Stefanie Wurst) previously suggested: "We have to go and define JCW in an electrified context and era. But that's possible, there's no problem, no contradiction."
MINI Cooper models will come before the next Countryman and Countryman Electric, with a debut for the electric cars expected in the next two months. Oxford-built petrol models – still using the familiar 1.5-litre engine are due a few months later.
Now read our list of the best superminis on sale right now…
Source: Read Full Article