The Morgan Plus Four CX-T 'adventure car' is inspired by the brand's time-trialling roots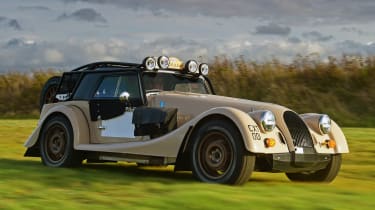 4.0 out of 5
Verdict
As an expression of the engineering department's enthusiasm in collaboration with Rally Raid, plus a nod to Morgan's heritage, the Plus Four CX-T is a limited-run model that's impressively modern in places when it comes to the mechanical bits and pieces, but it boasts a gloriously retro execution in its look. The eight customers who have parted with their significant sum of cash will no doubt love what they've bought.
Earlier this year, quintessentially British car builder Morgan proved it could do outrageous as well as any hypercar manufacturer. But it did so in its own unique way when it released the CX-T.
The brand has a long history with time trialling, a gruelling off-road sport that sees cars compete over the toughest terrain, and Morgan's historic models are famed for their impressive ability in such events.
New Morgan Plus Four 2021 review

These models are what the Malvern-based manufacturer wanted to recreate after a handful of well heeled customers had expressed an interest in 'an adventure car'.

Outwardly, the Plus Four CX-T (to give the car its full name) looks similar in concept to the Ariel Nomad, but in reality the two are subtly different in their execution. The CX-T is described by Morgan as being built for "overland adventure", and is based on the CX platform that underpins the brand's Plus Four and Plus Six models.

More reviews

Road tests

New Morgan Plus Four 2021 review

However, to create it, Morgan partnered with British firm Rally Raid and tapped into the latter's expertise when it comes to preparing off-road vehicles. So the CX-T has been fitted with redesigned suspension that is "expedition ready" and features modified Plus Six wishbones for a wider track and more articulation. They're controlled by specialist suspension dampers from EXE-TC that wouldn't look out of place on a rally car.

The bodywork has been altered subtly, too, with the massaging of the wheelarches and the repositioning of vents on the skin. That's not to mention the huge rear racking for spare tyres and Peli cases that can be strapped down for storage, while the external roll cage saves space inside.

Under the skin, what sound like small alterations in repositioning the radiator and rerouting the induction system (the air filter is located in one of the leather bags mounted to the car's flanks, for example) have taken an incredible amount of work. As has the extensive underbody protection.

That new intake tract feeds the same BMW-sourced 2.0-litre four-cylinder turbocharged engine as in the standard Plus Four, so there's still 255bhp and 350Nm of torque on offer here. The 0-62mph time will be as close to the standard car's 5.2-second figure as makes no difference.

The soundtrack has been enhanced by a new exhaust system with oval piping that improves ground clearance to 230mm. A happy byproduct of fitting this is that the motor now makes hollow, metallic pops and bangs in Sport mode.

With its extra mass, the CX-T doesn't actually feel all that fast, and despite its more raucous soundtrack, the BMW-sourced engine is far from an all-time great. Nor is the six-speed gearbox it's mated to.

The engine is boosty and not too keen to rev out, while the transmission's shift action could be more precise; a more mechanical feel would certainly be in keeping with the CX-T's vibe. However, as the outlandish looks suggest, you really can have fun.

The car has off-road tyres, and thanks to the electronically controlled BMW-sourced limited-slip differential at the rear, on tarmac the soft set-up means you can get the Morgan's mass moving around, using weight transfer to help the car turn. It sounds complicated but feels natural, and once you get it right, all the CX-T wants to do is indulge you. That's the car's party piece: it makes you smile.

It's flawed, undoubtedly, but its personality rises to the surface and you can't fail to enjoy a good deal of what the CX-T does. It's not the comfiest or the best off road, but it will offer more ability than many will be willing to explore.

The interior has been upgraded with concessions to the overland adventures Morgan talks about, with the likes of a map light and document wallets dotted around the leather-lined cabin, but it still features the same idiosyncrasies as a regular Plus Four. For some this will equate to charm and appeal, but to others it'll signify compromise.

And which side of the fence you fall on will likely dictate your opinion on the CX-T – but even then, it won't matter, because all eight examples have been sold, each for £170,000 plus local taxes, which means you'll be looking at £204,000 in the UK. A serious outlay, but then, you do get serious exclusivity and some serious fun for the money.

| | |
| --- | --- |
| Model: | Morgan Plus Four CX-T |
| Price: | £204,000 |
| Engine: | 2.0-litre 4cyl turbo petrol |
| Power/torque: | 255bhp/350Nm |
| Transmission: | Six-speed manual, rear-wheel drive |
| 0-62mph: | 5.2 seconds |
| Top speed: | 149mph |
| Economy: | 39.0mpg |
| CO2: | 165g/km |
| On sale | Sold out |

Source: Read Full Article