The next-generation Porsche 911 GT3 is packed with promise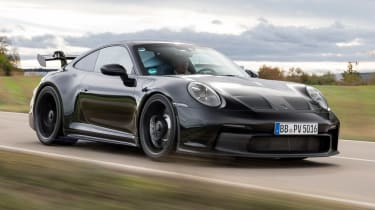 Verdict
The new GT3 is on track to do everything better than the old one, especially given that it's in the safe hands of legendary engineer Preuninger. There's a significant new visual emphasis on the car's motorsport links and the car is a shade more powerful, but it doesn't feel compromised for it.
GT3: two letters and one number that have carved out a legend in the mind of almost every Porsche 911 fan since the introduction of the first model in 1999.
The next instalment will launch next year, but with a wise old head once again responsible for overseeing its development. Andreas Preuninger, head of Porsche's GT product line, has been with the company's high-performance division since 2000, and we're riding shotgun with him.
Best performance cars 2020
The GT3 now appears closer to a full-blown GT3 RS. It's wider than before, with flared wheelarches hinting at extended track widths, while the rear end receives a large fixed rear wing and a complex rear splitter. The front end transforms too, with a wide lower grille, extending chin splitter and a new carbon-fibre bonnet with cooling slats. "It's exactly how it should be – an all-rounder. A casual GT and a tough racer," says Preuninger.
More reviews for 911
Car group tests
Porsche 911 Turbo S vs McLaren GT
Jaguar F-Type vs Porsche 911
In-depth reviews
Road tests
New Porsche 911 Carrera S manual 2020 review
New Porsche 911 Targa 4S 2020 review
New Porsche 911 Turbo S 2020 review
New Porsche 911 Turbo S Cabriolet 2020 review
New Porsche 911 Carrera 2019 review
Inside, the first thing to catch your eye is the removal of the standard 911's stubby gear selector in the centre console. The PDK-equipped GT3 gets a proper lever, to make it feel more mechanical and intimate.
Preuninger reveals that attention has been spent on the front axle and reducing weight. A precise figure hasn't been revealed, but the new GT3 won't be heavier than the old one, despite gaining more complicated double-wishbone front suspension. Elsewhere, the chassis evolves with wider rear tyres and updated spring and damper rates.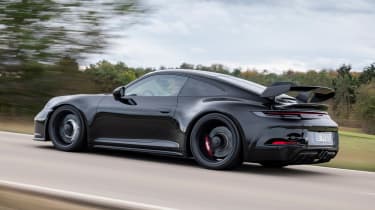 It's a significant overhaul, but even though the GT3 is harder than ever, it can still be comfortable when it needs to be.
The radical aerodynamic reprofiling means that there's more downforce than before, while Porsche has been able to make further gains in weight saving at the rear, too. "For the diet, we built in lightweight polycarbonate panels that were previously only available on the RS," says Preuninger. This applies to the rear window and wings.
Beyond the updated chassis, one thing that remains true and consistent with what GT3 buyers desire the most is the naturally aspirated flat-six engine, and the newcomer still has power by the absolute bucketload. Preuninger nudges the GT3 into its Track drive mode and unleashes the 4.0-litre engine, which scales the octaves all the way to a miraculous 9,000rpm red line.
503bhp is sent to the rear wheels, while we estimate 0-62mph takes around 3.3 seconds. The powertrain has always been one of the GT3's trump cards, and that's still the case.
Elsewhere, the brakes feel stronger than before, while it seems as if the front-end revisions have eliminated a shade of understeer, too. We'll have to wait until March to give you a proper evaluation of this new GT3 from behind the wheel, but first impressions are very good indeed.
Source: Read Full Article