A refresh ups the ante for the hybrid version of the big-selling Porsche Cayenne SUV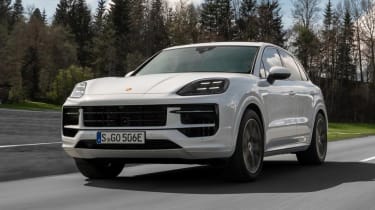 4.5 out of 5
Buy used for less at Buyacar
Verdict
A few foibles stop the Cayenne from taking the full five stars – the regenerative brake feel being the main one. However, the cabin is luxurious and the new tech works well, too. So with more electric range than its predecessor, solid but not stunning performance, greater comfort and yet also a sportier, more engaging drive, the latest Cayenne E-Hybrid should continue the nameplate's legacy as a Porsche best-seller.
The Cayenne is the car that paved the way for Porsche as we know it today – not to mention the model that paid for it, too, with the German firm having sold 1.25 million examples over the past 20 years.
It has a bright future, too, because the car is set to go all electric for its next iteration, expected in 2026. While ICE cars might be on death row, the wait will still be relatively significant for models such as the Cayenne, so Porsche has overhauled the Mk3 version of its big SUV to keep it fresh until the funeral bell finally tolls for petrol power.
​Fastest SUVs in the world 2023

And there's lots that is fresh, despite the new Cayenne's silhouette looking familiar. The devil is in the detail, with the headlights sharpened up, featuring new matrix-LED lamps (plus the option of HD-matrix units) with a squarer design that ties in the straight lines and chamfered edges of the new front bumper. There are also sharper front wings and a new bonnet to complete the slightly squarer, bluffer look.

More reviews

Car group tests

Audi SQ8 vs Porsche Cayenne Coupe GTS
BMW X5 vs Porsche Cayenne vs Jaguar I-Pace
Porsche Cayenne Turbo vs Audi RS Q8

In-depth reviews

Road tests

New Porsche Cayenne Coupe Turbo GT 2021 review
New Porsche Cayenne Coupe facelift prototype review
New Porsche Cayenne Turbo S E-Hybrid Coupe 2021 review
New Porsche Cayenne GTS Coupe 2020 review

The back end isn't as heavily revised. It features 3D tail-lights and a cleaner rear apron compared with its predecessor's.

There are more changes inside, with the Cayenne receiving a fully digital 12.6-inch dash. The central 12.3-inch display remains, but it's joined by an optional passenger display, measuring 10.9 inches, that can be operated separately from the main screen.

The Cayenne has always felt like a luxury car inside that still has a sporty nature, and while this new model continues to offer plenty of the latter, Porsche has definitely boosted the former. Touches that help include air vents that don't have louvres, some lovely materials and new tech that works as well as you'd expect, with great graphics and a responsive screen.

The driving position is still superb and it encourages you to exploit what the Cayenne can offer. There's lots to exploit, too. The chassis now features adaptive dampers with independently adjustable valves for compression and rebound settings, allowing finer control over wheel and body movement. This has also allowed Porsche's engineers to dispense with one of the three chambers for the air-suspension set-up, so the new car runs a dual-chamber system.

At low speed around town, the big SUV still feels a little lumpy on 22-inch wheels. It's an improvement over its predecessor, rounding the edges off the worst bumps well, but the occasional road knobble does get transmitted through to the cabin.

However, once you up the speed to even a moderate level, the developments to the suspension are apparent. At the comfort end of the spectrum, the Cayenne rides with more composure that results in less head wobbling for passengers. Yet Porsche has also pushed its dynamic envelope and the Cayenne is now even sportier. On the short stretches of twisty road on our smooth, relatively gentle test route, the car's agility was surprising. There's lots of grip and even some communication through the steering; not many luxury SUVs can boast that.

The optional rear-axle steering boosted the Porsche's keenness to turn but felt natural, helping offset our 2,425kg E-Hybrid model's extra mass from the battery.

This edition will be the biggest-selling Cayenne, and there are many changes to the powertrain. The 3.0-litre turbocharged V6 remains, while the battery grows from 17.9 to 25.9kWh. The extra energy density comes from more advanced cells, and it means the car can cover up to 46 miles on electricity alone. Drive mostly in town and Porsche reckons you can run for up to 56 miles.

Tweaks to the electric motor result in more power, with the E-Hybrid's total output now standing at 463bhp and 650Nm of torque. This is enough for a 4.9-second 0-62mph time, and despite the E-Hybrid's weight, the burst of torque delivered by the electric motor at low engine rpm helps to deliver a solid response. It never feels all that fast, but it's quick enough. The V6 sounds nice, too.

But it's not all positive. The Cayenne E-Hybrid's real weakness is its regenerative braking and the feel you get through the left pedal. There's a spongy sensation under your foot and the level of retardation through the e-motor alone isn't that great.

It's a hard step when the regular brakes start working, and the pedal feels more solid, but the transition could be better.

Otherwise, there are few drawbacks. At £76,800, price might be one, but super-strong predicted residual values mean finance deals should be competitive.

| | |
| --- | --- |
| Model: | Porsche Cayenne E-Hybrid |
| Price: | £76,800 |
| Powertrain: | 3.0-litre V6 turbo + e-motor |
| Power/torque: | 463bhp/650Nm |
| Transmission: | Eight-speed automatic, four-wheel drive  |
| 0-62mph: | 4.9 seconds |
| Top speed: | 158mph |
| Economy/CO2: | 188.3mpg/33g/km |
| Electric range: | 46 miles |
| On sale: | Now |

Source: Read Full Article