The premium Range Rover Velar SUV has been updated for 2023, and we try it out in plug-in hybrid P400e form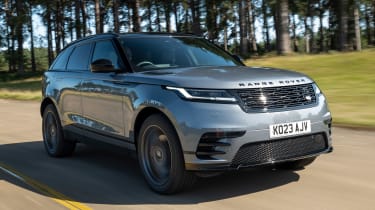 3.5 out of 5
How we review carsBuy used for less at Buyacar
Verdict
Many people will be sold on the Velar's striking looks before they have even climbed behind the wheel. Once inside the new cabin, however, the bleak dashboard design isn't quite as convincing. And while the Velar is still as good to drive as ever, this P400e powertrain exhibits some flaws. The silky six-cylinder diesel powerplant would get an extra half-star from us, but there are better PHEV alternatives on the market.
The Range Rover Velar has been with us for six years, and now is the time for the first significant update for the model that sits between the entry-level Evoque and the more luxurious Range Rover Sport.
When it first hit the road back in 2017, the Velar flaunted a design that wouldn't have looked out of place on a concept car. It's therefore understandable that the cosmetic exterior changes for this mid-life facelift are very subtle. At the front, the grille features revised inserts, while at the rear the lower area of the bumper has been mildly reprofiled – and that's pretty much it.
Top 10 best luxury SUVs 2023

These changes to the Velar take the brand's 'reductive' design philosophy a step further, with this look trickling down from the latest Range Rover and Range Rover Sport. With the Velar, it's most obvious on the inside – and you could argue that it might have gone too far. Aside from the gear selector and the hazard-warning button, there isn't a single physical switch on the entire dashboard. It's almost Tesla-like in its minimalism, and in some areas this has come at the expense of usability.

Previously, the cabin had a smart and functional part-physical, part-touch-based climate-control set-up on the lower part
of the centre console. All of these commands have moved to the latest version of JLR's Pivi Pro infotainment set-up. The system is undoubtedly very slick, with fantastic graphics, near-instant loading times and – mostly – intuitive menus. However, the climate controls just aren't as easy to work when they're confined to a secondary function on a touchscreen.

More reviews

Car group tests

Range Rover Velar vs Porsche Macan vs BMW X5

In-depth reviews

Road tests

New Range Rover Velar P400e PHEV 2021 review
New Range Rover Velar SVAutobiography Dynamic 2020 review
New Range Rover Velar D180 2019 review
Range Rover Velar P300 2018 review
Range Rover Velar 2.0 diesel 2017 review

Used car tests

Used Range Rover Velar (Mk1, 2017-date) review

From an aesthetic point of view, moving the controls creates a space occupied by a large, blank panel – which in our test car is simply a piece of satin-finish plastic. It doesn't look very high quality, and, to many, this is the entire point of a Range Rover.

The car tested here is powered by the P400e plug-in hybrid powertrain. This combines a 2.0-litre four-cylinder petrol engine with a 141bhp electric motor, which draws its energy from a 19.2kWh battery (although only 15.4kWh of that is usable). While CO2 emissions of 40g/km mean this is certainly the best option for company car users, it's otherwise not the easiest system to like. It's hard to drive smoothly – not only because, even in EV mode, the car shunts through the automatic box's ratios, but more because the power delivery is inconsistent.

Driven in electric mode, the Velar feels as though it's struggling to move itself along. On those occasions when you need extra muscle you squeeze the pedal harder, at which point the four-cylinder unit bursts into life and fires you towards the horizon at a rapid rate. If you override the car's 'brain' so the petrol engine is always running, it becomes smoother, but that somewhat defeats the purpose of the hybrid powertrain in the first place. If company-car costs aren't an issue, go for the D300 diesel instead. It's not quite as quick, but the smooth and torquey six-cylinder is a perfect match for the Velar's character.

The other issue is that once the Velar's battery is depleted, this isn't a very frugal car. If you're doing a long trip you will struggle to get much above 30mpg out of the P400e, and even around town it isn't much better. For comparison, the Volvo XC60 T8 returns around 40mpg in real-world driving with an empty battery, while the Lexus NX 450h+ will get closer to 50mpg.




However, the Velar remains fairly good fun to drive for a car of this size. The steering is well matched to a chassis that has just enough roll through corners to stay relatively composed, but also offers the level of comfort you expect from a Range Rover-badged vehicle, regardless of what model it is. Despite the all-weather tyres fitted to this car, there's plenty of grip, too.

It's also very refined, mainly thanks to Active Road Noise Cancellation, which counters sound by producing frequencies from the speakers at an opposing amplitude to the tyre and road noise, to make things quieter. There are claims of class-leading levels of road-noise reduction, and the car certainly feels like a very relaxing companion on long journeys.

The low-speed ride is impressively smooth. Little in the way of vibration enters the cabin (whether the petrol engine is in use or not), and there's just enough suspension control to stop occupants getting tossed from side to side, yet enough compliance to filter out the worst surfaces and harshest bumps.

| | |
| --- | --- |
| Model: | Range Rover Velar P400e Dynamic SE |
| Price: | £68,860 |
| Powertrain: | 2.0-litre 4cyl petrol/1x e-motor |
| Power/torque: | 398bhp/640Nm |
| Transmission: | Eight-speed automatic, four-wheel drive |
| 0-62mph: | 5.1 seconds |
| Top speed: | 130mph |
| Economy/CO2: | 163.5mpg/40g/km |
| Size (L/W/H): | 4,797/1,930/1,678mm |
| On sale: | Now |

Source: Read Full Article