Does an eye-catching coupe-SUV body give the new Renault Arkana the edge over other mid-size SUVs? We find out…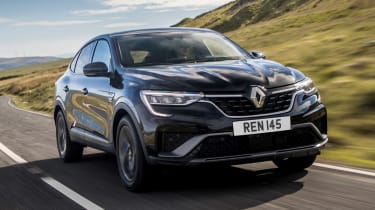 3.5 out of 5
Verdict
With only the mildest of electrification under the bonnet, the entry point in the Arkana range can't quite pull off the trick of feeling like a fully fledged family SUV. The harsh low-speed ride will make it hard work around town, and the engine and gearbox don't feel entirely comfortable with the car's bulk on faster roads. Keen finance offers may well sweeten the deal – although we'd say it's telling that they're being offered from launch.
Renault isn't shying away from a challenge. The French brand, which recently announced a complete product overhaul and a renewed focus on electric vehicles, also wants to be a dominant force in what's called the C-segment, in industry speak. That means offering rivals for everything from the likes of the VW Golf to the Nissan Qashqai. And here is the first new weapon designed to spearhead this assault: the Arkana.
To all intents and purposes, the new arrival is a family SUV, but it adopts a more aggressive roofline than you'll find on many of its rivals – to the point where Renault is calling it a coupe SUV. The company's execs namedrop left-field options like the Toyota C-HR when they're talking about model positioning, and we'd guess that while it's slightly smaller, Citroen's recently launched C4 is another target.
Renault Kadjar review

There's already a model called the Arkana on sale in Russia but the version we're being offered in the UK is 95 per cent different mechanically. It's built in a different factory to the Russian car, in South Korea. Intriguingly, though, the European Arkana is based on the Renault-Nissan Alliance's CMF-B platform. That's the architecture that underpins the Clio supermini and the Captur – so not the same underpinnings as the Qashqai or even Renault's own Kadjar.

What you have here, then, is a smaller, cheaper chassis stretched to the max – to the point, in fact, where the Arkana is actually longer overall than the Kadjar. Still, we thought the full-hybrid version of the new arrival was decent enough when we tried it in late prototype form. But a third of the model's sales are expected to be based on this TCe 140 variant, which features Renault's 1.3-litre four-cylinder petrol engine, producing 138bhp and 260Nm, and a seven-speed automatic gearbox.

There is 12V hybrid assistance, but it's basically just an integrated starter-generator that soaks up a teeny bit of energy that would otherwise be lost under braking, and then helps with stop/start and, if you really demand full acceleration, a modest 20Nm boost in torque from time to time.

This all sounds accomplished enough but it's not quite as convincing in practice. To maintain sensible progress the engine has to rev to around 3,500rpm, but the final 1,000rpm of that exposes a pretty harsh drone from under the bonnet. It never feels that quick, either, and if you do try to get a hustle on, the gearbox starts to protest. It can be flummoxed at kickdown, and it doesn't feel entirely worthy of your trust when you're pulling out of junctions.

The chassis is what really exposes the Arkana's underpinnings. Admittedly our left-hand-drive test car probably exposed us to every kerbside drainhole in Hertfordshire, but even on relatively sensible-looking 18-inch diamond-cut alloys, the low-speed ride is just a bit too brittle for its own good. It feels like the Arkana's limits of suspension travel are just too easily breached by potholes, and it has a tendency to shimmy over longer stretches of poor road surface.

We'd love to say the trade-off for this is stunning body control and an involving drive but, well, this is a family SUV and it doesn't really deliver either of those qualities. The steering has consistent weight but is as numb as usual, and taller body pitches and rolls a fair bit on twistier roads. The overall dynamic package is compromised on urban roads, really, and some way short of delivering enjoyment beyond them.

Rolling refinement is half-decent once you're cruising and the engine has settled down, but there's a bit of tyre roar from beneath and a surprising amount of wind noise from the front glass area.

Your judgement on the cabin environment will depend on how happy you are with the idea of a scaled-up Clio interior – because that's what it is. The digital instrument dials are crisp and clear, and on all but the entry-level version you get the 9.3-inch Easy Link touchscreen infotainment system. The portrait-layout display has a pleasingly high resolution, although Renault's interface and on-screen graphics don't quite do it justice. Android and Apple integration are both included, naturally.

Elsewhere, you get the simple piano-key buttons on the dash – again, like on the Clio – and our RS Line version had plenty of faux carbon-fibre weave to break up the black plastic. It's serviceable enough, although you don't have to look too hard to find harder materials that might be acceptable on a supermini but which are less appealing on a full-size SUV.

The platform's growth spurt has at least delivered reasonable cabin space; there's enough room for four six-footers in there, with a surprising amount of headroom, given the sloping roofline. The boot capacity (in this mild-hybrid edition) of 513 litres is comfortably north of what you'll get in a Golf – or, if coupe SUVs are your sole focus, the C-HR. The cabin has a decent line-up of useful cubbyholes, too.

Renault isn't pulling any punches as it tries to find fresh customers for Arkana. The list price looks a bit high for what it really is – the RS Line variant we drove was more than £30k after options. But dealers already have zero-per cent finance deals to play with, bringing the monthly rates down to as little as £249. Factor in two years of free servicing and a five-year warranty, and you might just end up with a car whose ownership proposition outscores its general qualities.

| | |
| --- | --- |
| Model:  | Renault Arkana RS Line TCe 140 Auto EDC |
| Price:  | £29,900 |
| Engine:  | 1.3-litre, 4cyl turbo petrol |
| Power/torque:  | 138bhp/260Nm |
| Transmission:  | Seven-speed dual-clutch auto, front-wheel drive |
| 0-62mph:  | 9.8 seconds |
| Top speed:  | 127mph |
| Economy:  | 48.7mpg |
| CO2:  | 132g/km |
| On sale: | Now |

Source: Read Full Article