The all-electric Rimac Nevera offers 0-60mph in 1.85 seconds and up to 340 miles of range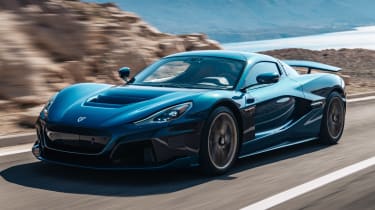 Croatian firm Rimac Automobili has unveiled a new electric hypercar called Nevera, with performance figures that align it as a serious rival for the still in development second-generation Tesla Roadster. 
Developed from the C_Two concept, the Rimac Nevera boasts four electric motors to give all-wheel drive and a total of 1,888bhp and 2,360Nm of torque. This gives the Nevera incredible claimed performance, with Rimac stating a 0-60mph time of just 1.85 seconds; acceleration from 0-100mph takes 4.3 seconds and 0-186mph is dispatched in 9.3 seconds, while Rimac claims a top speed of 258mph.
Exclusive: Mate Rimac on his plans to hit the electric car big time
The car's 120kWh battery gives a maximum range of 340 miles, and with 500kW charging capability a 0-80 per cent top-up will take just 19 minutes – if you can find a supply that supports this.
To balance the incredible claimed straight-line performance Rimac has fitted the Nevera with 390mm Brembo carbon-ceramic brake discs clamped by six-piston calipers that sit behind lightweight forged alloy wheels. These work in conjunction with a regenerative braking system that, according to Rimac, "makes the highest use of regenerative braking of any other car on the market."
This system feeds energy to the battery when slowing down, which has been designed from scratch by Rimac and enhanced over the C_Two, allowing more power to be delivered over longer periods. The brand has also used the battery as a structural member, claiming the pack adds 37 per cent more stiffness to the Nevera's carbon fibre monocoque chassis. Rimac claims it's "the most rigid structure of any car ever made."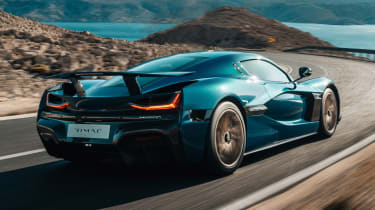 As with many EVs, the battery is positioned low down in the car and between the two axles, giving a 48:52 front:rear weight distribution to help boost agility and handling.
Rimac's All-Wheel Torque Vectoring 2 system also helps here, bolstering grip and traction. The tech takes the place of conventional traction and stability control and governs the amount of torque sent to each wheel individually, with the parameters linked to seven different driving modes. These include Sport, Drift, Comfort, Range, Track and two Custom modes.
Sport sharpens the throttle, steering, and brake response and firms up the suspension, while Drift mode "supplies more torque to the rear wheels to accentuate oversteer and help hold the car in a controlled power slide on the track." Range adjusts the drivetrain to achieve the 340-mile claimed maximum, while Track mode "sets the Nevera to full, unrestrained configuration to help drivers exploit the car's full potential," according to Rimac.
The two Custom modes allow drivers to tune their favourite characteristics and access them on the move. Depending on the driving mode, the Nevera's aerodynamics will be optimised. Development in this area has focused on improving cooling, performance, stability and efficiency, with the car's bonnet profile, underbody flap, diffuser and rear wing all able to move independently – there are 'high downforce' and 'low drag' modes.
Integrated with the car's Track setting, Rimac has also developed a world-first Artificial Intelligence Driver Coach to help drivers of all abilities develop their skills on a circuit.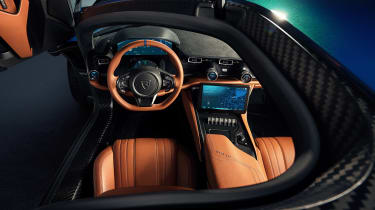 The Nevera is equipped with 12 ultrasonic sensors, 13 cameras, six radars and an NVIDIA Pegasus operating system that ties all of these components together. The car will analyse your driving performance and suggest improvements to your racing lines, braking and acceleration points, as well as steering inputs by offering both audio and visual guidance. It's supported by an on-board telemetry system. The AI Driver Coach feature will be enabled by an over-the-air software update coming in 2022, the brand says.
The interior boasts plenty of other technology too. The two-seater cockpit features three TFT displays, configurable by the driver. The interior is divided into two zones, with the top of the cabin focusing on driving enjoyment and performance. The infotainment is located in the lower half of the dash, as well as other controls and driving data displays.
All of the billet aluminium rotary switchgear is bespoke to the Nevera, which Rimac claims "provides an analogue feel" – as a result it's not surprising that the manufacturer offers an extensive personalisation programme so owners can tailor their car's specification.
Buyers can choose from a range of trim and material options, while Rimac will also offer GT, Signature and Timeless specifications for the car – or customers can opt for the 'Bespoke' route for ultimate customisation.
The Nevera will be limited to 150 units, each built in the brand's home country of Croatia and priced from €2 million (£1.72 million at today's exchange rate). Each car will be signed off personally by Rimac founder and Chief Executive Officer Mate Rimac.
Click here for our list of the fastest electric cars in the world…
Source: Read Full Article