The new Skoda Fabia has all the credentials to challenge the very best in the supermini class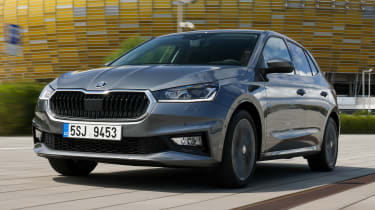 4.0 out of 5
Buy used for less at Buyacar
Verdict
The new Skoda Fabia shows lots of promise on this early drive; it's comfortable, spacious, neatly finished and packed with lots of clever features and useful technology. Pricing – particularly those crucial monthly finance rates – will determine its overall standing in the class, but on raw merit it feels every bit the serious rival for the Clio, Fiesta and i20. Be careful on engine choice, though, if you're planning regular travel with the car fully laden.
The Skoda Fabia is a huge car for the Czech manufacturer – and never more than with the all-new fourth generation. The popular supermini still has to provide a slightly better-value, more roomy alternative to the likes of the Renault Clio and Ford Fiesta. But it also has to be cheap enough at its entry point to appeal to customers of the now-discontinued Citigo city car. And due course it'll also need to satisfy buyers of the Scala, Skoda's compact family car, which won't get a successor.
What that all means, in short, is that this Fabia has to be bigger, better and more refined than before, including the sort of technology that customers in the class above expect, while not really raising its price much beyond current levels. No pressure, then.
New Skoda Fabia 1.0 TSI SE L review – pictures

Still, Skoda has an ace card up its sleeve, because the outgoing Mk3 Fabia was the last VW Group supermini to be based on the old PQ platform. The new fourth-generation Fabia switches onto the MQB A0 platform, instantly giving Skoda's designers and engineers more freedom to broaden the Fabia's remit.

More reviews

Car group tests

In-depth reviews

Skoda Fabia review
Skoda Fabia Estate review

Long-term tests

Skoda Fabia SE L: long-term test review

Road tests

New Skoda Fabia 1.0 TSI SE L review – pictures
New Skoda Fabia Estate 2018 review

Used car tests

The result is a substantial growth in length – by more than 11cm, in fact. And almost all of that goes into the wheelbase, in a bid to improve rear cabin space. The boot capacity increases too, mind; it's up by 50 litres, to a Golf-rivalling 380 litres, although this is still a little down on what you'll find in our class favourite, the Clio.

Under the skin, Skoda has resisted the temptation to spend money developing mild-hybrid powertrains (now offered in the Hyundai i20 as well as the Fiesta). Instead the engine line-up looks rather familiar, with a pair of normally aspirated MPI three-cylinder motors, producing 64bhp and 79bhp and both delivering 0-62mph times worryingly beyond 15 seconds, and then two more TSI turbocharged three-pots, with 94bhp and 109bhp.

Early next year the Fabia will get a 1.5-litre four-cylinder TSI producing 148bhp and featuring cylinder deactivation. It'll be pitched right at the top of the line-up, though, and will be limited to an automatic gearbox only as a result.

What we're driving today is pretty much the likely sweet spot of the UK Fabia range: the TSI 1.0-litre engines in both states of tune, and both with manual gearboxes – a five-speed in the 94bhp, a six-speed in the 108bhp. Skoda sources suggest the more modest of these configurations is likely to be the best seller in the UK, although the split may be closer if the Fabia does succeed at pulling in family car customers.

Get inside and you'll find a cabin that's smart and functional, without ever feeling properly plush. There's a strip of fabric along the middle of the fascia to help break up the plastic, but it's all pretty hard underneath – and unlike in the Clio, that approach extends to the door inlays. There's a curiously fussy graphics treatment on the top of the instrument binnacle – quite unlike Skoda, we'd say – but we're probably nitpicking by highlighting these elements. On the whole, it's a very pleasant place to sit, with an easy-to-use dashboard layout.

Entry-level cars will stick with conventional dials but many Fabias will get a 10.25-inch digital instrument panel that's crisp and clear. The core of the UK range will have an eight-inch infotainment system – again, straightforward to use and spared the dubious honour of controlling heating and ventilation, because you get regular switches for that. A larger 9.25-inch set-up will also be available.

There are plenty of big-car features on offer, depending on trim level and how much you're prepared to spend on options. Dual-zone climate control is on the list, along with heating on the windscreen and steering wheel, up to five USB-C ports and wireless smartphone charging. Skoda claims the car features a record 42 of its 'Simply Clever' touches too; the Fabia now gets Skoda's trademark umbrella in the door armrest, plus a neat pen holder at the base of the dashboard and a removable central storage box for the back-seat passengers.

Stretching the wheelbase by more than nine centimetres has indeed had a positive effect on the rear cabin, which is a definite improvement on the Mk3 Fabia's – and sufficiently spacious, we'd argue, to make this one of the most accommodating superminis on the market. In case you are weighing up this supermini as a possible family car, it's probably still not quite as roomy as the Scala's, but the rest of the onboard tech and the cabin finish make the Fabia's environment comfortably more appealing overall.

On the road, the Skoda quickly makes a strong case for being the most accomplished of all the VW Group superminis. The steering is direct and nicely weighted, and the suspension set-up is definitely softer than in the likes of the SEAT Ibiza, so even with its relatively simple layout – MacPherson struts at the front, and a torsion beam at the rear – the Fabia does a great job of dialling out bumps and potholes, particularly at lower speeds around town. 

The compromise is body control that can get out of phase and require a second stab at mid-corner bumps, so the Skoda isn't really a car that appreciates being thrown around at speed. But it's comfortable and composed most of the time.

The engines are where the Fabia might find it toughest to fulfil family car duties. The 94bhp unit is refined enough once you're up and running, but getting to that point requires some patience. There's not much grunt at all below around 2,300rpm, and there's a noticeable delay as it spools up before delivering the required shove. It's acceptable around town, we'd say, but going anywhere in a rush with four occupants and luggage would require a little patience, along with tolerance of a fair bit of three-cylinder thrum.

The 108bhp is stronger all round, with a slightly quicker response and noticeably more punch when it does kick in. It's happier at motorway cruising speeds too, aided by that extra ratio in the transmission, and we doubt it would really be much less efficient in real-world use. Given that any price gap between the pair is bound to narrow when boiled down to monthly PCP rates, we'd try to find the extra few quid per month for the more potent engine.

| | |
| --- | --- |
| Model:  | Skoda Fabia 1.0 TSI 95 |
| Price: | From £15,000 (est) |
| Engine: | 1.0-litre, 3cyl turbo petrol |
| Power/torque: | 94bhp/175Nm |
| Transmission: | Five-speed manual, front-wheel drive |
| 0-62mph: | 10.6 seconds |
| Top speed:  | 121mph |
| Economy:  | 56.5mpg |
| CO2 emissions: | 113-126g/km |
| On sale: | November |

Next Steps

Source: Read Full Article