The plug-in hybrid Skoda Octavia vRS iV Estate looks great on paper, but does it deliver on the road?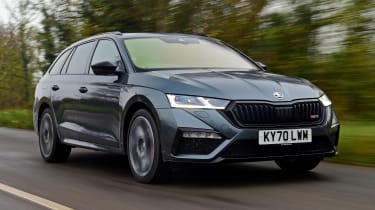 3.5 out of 5
Verdict
It's difficult to ignore the fact that the Octavia vRS iV doesn't quite feel like enough of a performance-focused hot hatch to warrant the vRS badge. The powertrain's character and the extra weight highlight the difference, if anything, between a fast car and a fun one. Yet those compromises do bring some stellar official CO2 figures and a potentially useful tax break that could make this an appealing car for company car choosers. It's a niche filler, at best, the vRS iV – but it fills that brief well.
If pretty much every car engineer we've spoken to over the past two years is to be believed, plug-in electrification is the only way that hot hatchbacks are going to be able to survive into the middle of this decade. And that, potentially, makes cars like this Skoda Octavia vRS iV very significant indeed.
To recap, the iV means plug-in hybrid in Skoda-speak – but for now at least, this is only one element in the widest vRS range ever offered on the Czech brand's best seller. Should you wish, you can still have a fast Octavia with a regular turbo petrol engine, and early in 2021 you'll be able to order one as a diesel – with four-wheel drive, too, should you feel the need. All of these powertrains are available with hatchback or estate bodies as well.
Best plug-in hybrids 2020

And in raw numbers at least, the iV looks like it belongs in this particular stable. There's a 1.4-litre turbocharged petrol engine – another VW Group regular – linked to a 113bhp electric motor and equipped with a six-speed dual-clutch DSG transmission (no manual here, thank you very much).

More reviews for Octavia vRS Estate

Car group tests

Skoda Octavia Estate vs Toyota Corolla Touring Sports

In-depth reviews

Skoda Octavia review
Skoda Octavia Estate (2013 – 2020) review

Road tests

New Skoda Octavia vRS Estate 2020 review
New Skoda Octavia 2020 review
New Skoda Octavia vRS 2020 ride review
New Skoda Octavia Estate 2020 review

The total output is 242bhp and 400Nm of torque, which is the same power as, and a little more torque than, the latest petrol vRS. The 13kWh battery gives a theoretical pure-electric range of 37 miles, which is enough for a couple of typical morning commutes.

As you'd expect, the PHEV hammers its stablemates on CO2 emissions, with official figures of as little as 30g/km under WLTP rules. And while that electric-only range isn't quite enough to get the new Skoda into the lowest plug-in hybrid company car tax band, it's still just six per cent (seven per cent from April), compared with as much as 37 per cent for the regular petrol vRS.

To transfer this efficiency from paper to real-world use, you'll need to plug in on a daily basis. But should you do that, then the vRS iV could fit into your life very easily as a premium rapid hatch or wagon (we're trying the estate here). Progress around town is extremely refined and relaxing, thanks to the instant punch from the electric motor and the near silence of its operation.

If your journey is longer, you can always flick the car into hybrid mode and activate an algorithm that seems pretty adept at eking out battery life. Don't think you'll get to the end of a 200-mile run and still have a third of its capacity remaining, but equally, you can expect to get beyond 25 miles and still have some charge showing.

It's a fine cruiser over longer distances, in fact; there's sophistication to the suspension – thanks to a rear multi-link set-up that is more complex than you'd find on regular, non-vRS Octavias – and the overriding impression is of refinement. This is a quiet, assured, comfortable car at motorway speeds, with only a persistent rumble from the standard 19-inch alloy wheels beneath you to break the silence.

So far, so good, then. But it's when you try to hustle the vRS iV like you might a regular hot hatchback – or even a hot estate, like the Ford Focus ST – that the cracks appear. It's the powertrain that comes unstuck first, because the moment you start demanding anything approaching involvement, there's simply no hiding the complexity of what's going on in there.

With the car's mode selection flicked to Sport, but the transmission still in its auto setting, it's soon flummoxed as your demands for acceleration become more frequent and impatient. Equally, trying to hold gears via the steering wheel-mounted paddles can make the Octavia become quite unruly; with additional electric motor torque in the mix, but only your right foot to gauge the levels required, you can induce some quite comical wheelspin at the front.

The big Octavia's chassis stays relatively composed in all of this; even on the stiffer suspension that comes as standard (although it's not lowered by 15mm here, as it is on the pure-petrol vRS). The steering wants to play ball, too, responding crisply to point the nose of the car into corners.

But equally, this is a large vehicle that is as much as 170kg heavier than its regular counterparts, so it just can't feel quite as lithe on its feet (and that's compared with a regular Octavia vRS, remember, which is in itself less of an athlete than a Mk8 Golf GTI). It doesn't like rapid changes of direction, especially when driving over undulating surfaces.

There's little to set the iV apart from a regular vRS inside, but provided you're after a well finished but rather sober environment, that's no bad thing. The charging flap is positioned on the nearside front wing – worth remembering that, given the length of the car – but the battery installation does compromise the Octavia on one of its key attributes: practicality.

Nobody is really likely to complain about a 490-litre boot with a flat load area and no lip to speak of – especially since there's a handy plastic-lined storage area beneath it for charging cables. But just bear in mind that this figure is a full 150 litres down on what you can get in a regular Octavia Estate.

| | |
| --- | --- |
| Model: | Skoda Octavia vRS iV Estate |
| Price: | £36,220 |
| Engine: | 1.4-litre 4cyl petrol/electric |
| Power/torque: | 242bhp/400Nm |
| Transmission: | Six-speed dual-clutch auto, front-wheel drive |
| 0-62mph: | 7.3 seconds |
| Top speed: | 139mph |
| Economy: | 176.6-235.4mpg |
| CO2: | 27-36g/km |
| On sale | Now |

Source: Read Full Article