We drive Skoda's latest family SUV concept, and get a very close look at the Czech brand's future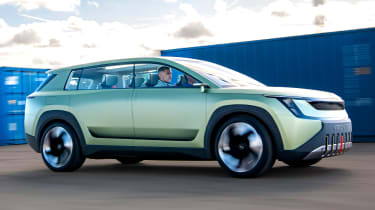 Verdict
We've long loved Skodas for their family-friendly usability, and we've little doubt the Vision 7S will wrap up everything that's great about cars like the Kodiaq – in a practical, iV-inspired, pure-electric body. Just give us seven proper seats for the production car, please.
There are very few secrets at Skoda. New or updated versions of the Octavia, Kodiaq and Superb have all been confirmed, and the company has publicly committed to launching three new electric cars by 2026; a small car, a sub-Enyaq compact SUV, and a production version of this: the Vision 7S.
Designed to preview a zero-emission, seven-seat flagship for the brand, the Vision 7S will take Skoda's family-friendly SUVs into new territory. The concept was first revealed in August but now we've been given a chance to drive it, and speak to the people responsible for its inception.
Best electric SUVs to buy now
As always, an opportunity like this isn't so much about driving impressions; the car, despite its appearance, isn't capable of more than about 20mph – and it absolutely can't get wet. Thankfully, the uncharacteristic October weather is on our side, allowing us a few laps around a deserted car park in Peterborough.
The electronic power steering is twitchy and the brakes almost wooden in their feel. The one-off panels and interior trim creak as we hit bumps in the tarmac, too – quite unlike the quiet and refined Enyaq iV that we're told currently commands a six-month waiting list.
Visually, there is definitely a resemblance between the Vision 7S and Skoda's existing range of SUVs, but in the metal the former feels far fresher. Dare we say it, there's a whiff of Range Rover to the concept car's tail, especially when the lights are switched off.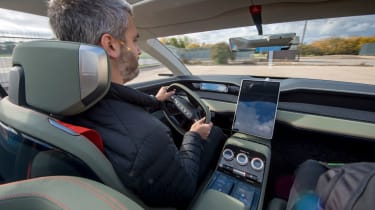 The overwhelming feeling, both driving and sitting inside the Vision 7S, is one of space. Beneath the fancy bodywork sits the familiar MEB platform that underpins everything from the aforementioned Enyaq – the maker's only current production EV – to the Volkswagen ID.4 and Cupra Born. But the 7S is bigger; it measures 5,016mm long, with a 3,075mm wheelbase. It's likely to be the last Volkswagen Group car to sit on this architecture.
Visibility is good – there's acres of glass on all four sides, with only the high beltline and chunky headrests limiting your view out of this Tesla Model Y-rivalling family SUV. That length does make the rear screen feel a long way back, but a plethora of cameras would surely help when parking or manoeuvring the production car.
The 7S's dashboard is dominated by a huge 14.6-inch portrait touchscreen, though at the flick of a switch it can rotate 90 degrees – perfect for watching films or surfing the web while you wait for the car to charge. Underneath the main screen there is a row of physical climate controls and other shortcut buttons. Thanks to the tall centre console and ergonomic armrest, they fall perfectly to hand.
That central display is something of a party piece, but one unlikely to make production – as Skoda's Senior Designer for User Interface, Daniel Hajek tells us: "It is a hi-tech feature. If you want something reliable, maybe not. But we want to keep the vertical layout, and the ergonomics."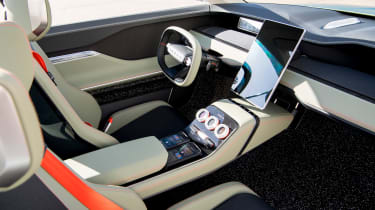 That's less of a consequence when you consider the Vision 7S – as well as the future production car – will charge at speeds of up to 200kW, even without the fancy 800-volt tech found in a Kia EV6 or Hyundai Ioniq 5.
This, matched to the Vision 7S's projected 370-mile range, spacious cabin and user-focused layout, should make this SUV Skoda's most practical EV to date. Usability has always been a Skoda strong point, and features like the magnets on the back of the seats for phones and tablets, plus removable rucksacks, show the maker isn't willing to trade outright style over substance just yet.
Skoda is calling its concept a seven-seater, in reality it's more of a 6+1, with the middle seat in the second row materialising as little more than a rear-facing child seat. In short, it's nonsense, and something lead designer Franck Le Gall ultimately agrees with: "It is not for production, it is only for the concept. It will be a normal three-row SUV. Also the suicide doors – it is just for the story."
With the production-ready 7S still a couple of years off, it's impossible to pin down prices or exact specs at this time. But using the Kodiaq and Enyaq iV as a guide, it's more than likely that the car you see here will ultimately morph into Skoda's biggest and most expensive model to date. A starting figure of around £50,000 is likely, with top-spec variants commanding much, much more.
Q&A with Franck Le Gall, Lead Designer Skoda Vision 7S
Q: What does the Vision 7S mean for the Skoda brand?
A: "Skoda is a family brand. We put the child seat in the middle of the car and then put the family around it – this is the safest place. The guys that are driving this car during the week to go to work, at the weekend they like to use their car to do activities like cycling. We call this the 'contemporary explorer'."
Q: How will you tie together Skoda's three new electric cars? Any defining features?
A: "The exterior [of Vision 7S] is an expression of our 'Modern Solid' design language. The face, and the T-shape lights; this is something we will put into production. We will keep it as a distinctive signature for Skoda. But we don't want the same design on every car. We will develop a strategy – the small car will look different to the bigger car."
Q: Sustainability is a big thing for the Vision 7S. Will we see this in production?
A: "We are really pushing to put this into production. These sustainable materials, we are really looking at these fabrics and elements."
| | |
| --- | --- |
| Price: | NA |
| Powertrain: | 89kWh battery, single e-motor |
| Power/torque: | TBC/TBC |
| Transmission: | Single-speed auto, rear-wheel drive |
| 0-62mph: | TBC |
| Top speed: | TBC |
| Range/charging: | >370 miles/200kW, 10-80% in 30 mins (est) |
| On sale: | Late 2024 |
Source: Read Full Article