The Astra Electric will be offered in hatchback and Estate form with prices expected to start at around £35,000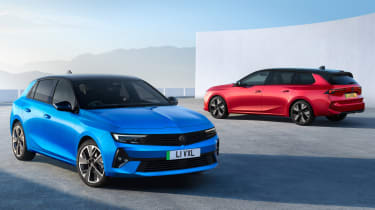 Vauxhall's push towards becoming an EV-only manufacturer by 2028 really starts with this, the Astra Electric. Available in five-door and Sports Tourer estate form, the new model boasts up to 258 miles of range, according to the company, and will go on sale early next year.
With the latest Astra moving to Vauxhall's parent firm Stellantis's EMP2 platform, it has allowed engineers to install a 54kWh battery pack, supplying a front-mounted motor that delivers 152bhp and 270Nm of torque.
New Vauxhall Astra PHEV 2022 review
Although Vauxhall has not yet outlined performance figures, expect a 0-62mph time of between eight and nine seconds. Top speed has been confirmed as 105mph. The British firm has outlined charging performance, with 100kW DC rapid-charge capability allowing for an 80-per cent top-up in 30 minutes. Vauxhall has also confirmed that, from launch, all Astra Electric models will be fitted with a three-phase 11kW on-board AC charger, and a full recharge from a 7kW home wallbox will take around seven hours and 45 minutes.
The Astra Electric features the brand's trademark 'Vizor' grille, and compared with the combustion-engined and plug-in hybrid Astra models, there aren't many specific styling elements that mark it out as a pure EV. All electric Astras will come as standard with 18-inch diamond-cut alloy wheels, which can also be finished in black.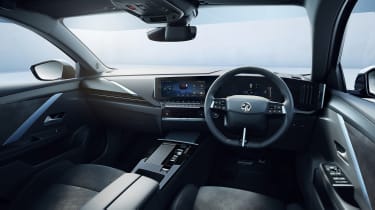 The brand's IntelliLux pixel LED headlights feature, plus the Pure Panel infotainment set-up inside, with a pair of 10-inch screens. There's also 'Hey Vauxhall' voice control and plenty of safety kit plus, as per the regular Astra, the Electric's ergonomic sports seats have been certified by the German campaign for healthier backs (AGR).
Vauxhall claims that, with the battery in the Astra's underbody, there's no loss of boot space over the Hybrid. So the Electric hatch has 351 litres with the seats in place, and the Sports Tourer offers 516 litres.
While the five-door Astra Electric will face competition from many EVs – including its Peugeot e-308 sibling, the Volkswagen ID.3, Cupra Born, MG 4 and Nissan Leaf – the Astra Sports Tourer Electric will only have the newly updated MG 5 and the Peugeot e-308 SW as direct rivals.
Orders for the Astra Electric hatch open early next year, while the Sports Tourer EV will go on sale next summer. Deliveries of the five-door car will begin in June 2023, with the estate arriving later. Pricing will be confirmed closer to the cars' respective on-sale dates, but expect the hatchback to start from between £35,000 and £40,000, depending on full UK specification.
Check out our review of the new Vauxhall Astra here…
Source: Read Full Article