The new special edition Volkswagen Golf GTI Clubsport 45 is one of the best cars ever to wear the GTI badge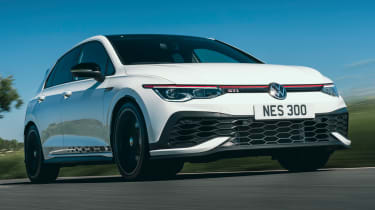 4.5 out of 5
Buy used for less at Buyacar
Verdict
On the surface the Volkswagen Golf GTI Clubsport 45 looks much like any other special edition model, but in reality it's a strong and compelling way to celebrate 45 years of the Golf GTI. It might also be one of the last petrol-powered cars to wear the magic badge, so it's a good job it's also one of the best.
As a means of celebrating 45 years of the legendary Volkswagen Golf GTI, the new Clubsport 45 is a reasonably committed special edition from VW. But then 45 years at or close to the top is not an achievement you'd ever want to be shy about, and in the current climate (no pun intended, but we'll go with it anyway) who knows how much longer Volkswagen will be throwing its full engineering might behind cars such as this?
Beneath the skin the CS 45 is essentially a GTI Clubsport with its speed limiter uncorked to help it reach not 155mph but 166mph at full tilt along an autobahn. It's powered by the same 296bhp version of VW's 2.0-litre turbo engine, and the energy produced therein reaches the road via the same excellent seven-speed dual-clutch gearbox and the same limited-slip differential you'll find on the regular Clubsport.
Volkswagen Golf GTI Clubsport vs Volkswagen Golf R

Where it differs is visually, and aurally. And on price. It costs just £20 short of 40 grand, which makes it £2,750 more than the basic Clubsport. But for this you do get a subtle but actually quite cool looking set of '45' decals down the flanks, plus gloss black paint on the roof and door mirrors.

More reviews

Car group tests

Volkswagen Golf Estate vs Toyota Corolla Touring Sports
Volkswagen Golf GTD vs BMW 120d
Volkswagen Golf GTI Clubsport vs Volkswagen Golf R
Hyundai i30 vs Volkswagen Golf

In-depth reviews

Road tests

New Volkswagen Golf eTSI 2021 review
New Volkswagen Golf GTD 2021 review
New Volkswagen Golf Estate 2021 review
New Volkswagen Golf GTE 2020 review

The new 19-inch 'Scottsdale' alloys also feature a thin red pinstripe on each rim, and inside there's a new heated leather steering wheel with a '45' logo in its centre.

Best of all, the CS 45 also comes with a new lightweight titanium exhaust system that's distinguished by a pair of suitably wide pepper-pot style exhaust outlets. The system doesn't allow the engine to develop any more power, but it does make it sound that bit fruitier if you select Sport or Track mode within the multi-adjustable programme.

We're not talking about a vast and varied range of upgrades individually but, taken as a whole, they do make the 45 feel that little bit more special on the road. And the GTI Clubsport is already quite some hot hatchback to begin with.

Performance is strong, with a 0-62mph time of 5.6 seconds mated to that increased 166mph top speed. So it's a quick car, even if some hot hatches are quicker still on paper. But the extra depth from the titanium exhaust makes the 45 appear, or certainly sound, more urgent on the move while the 19-inch wheels and tyres also make the ride stiffer, though not necessarily any worse on the move overall.

Kerbweight is quoted at the same 1,461kg as the regular Clubsport, but the exhaust system is a few kilos lighter, says VW, which could explain why the car feels that little bit more nimble than the last GTI Clubsport we drove.

Either way, it's a proper hot hatch in the way it can attack corners and, more often than not, make mincemeat out of them – so long as you're prepared to hold on tight and commit to the throttle to get the diff working its magic on turn-in. Traction is deeply impressive in all conditions for such a potent front-wheel drive car, and there's never more than a whiff of torque steer to deal with. Instead, the electronics do most of the hard work for you.

Inside, the 45 is much like any other Mk 8 Golf GTI, albeit with that new steering wheel. The haptic controls and touchscreen infotainment system tend to split opinion; some love it, others are a touch confused by it. And some hate it because there are no longer any buttons to press or dials to rotate for aspects such as the air-con and volume controls for the otherwise excellent stereo.

Technically impressive it may be inside, but the latest Golf's cabin is proving to be a bit Marmite among our testers now we've become used to it during the last year.

What's not in question is how practical the 45 is; as a five-door-only it doesn't have just as much rear seat space as the similarly specified Honda Civic Type R, the roomiest of the serious hot hatches, but compared with most other rivals it's as good as it gets on practicality. Same goes for the spacious, well-shaped boot.

Unfortunately, the 169g/km CO2 emissions figure puts it in a high bracket for company car tax, while we recorded only a touch more than 30mpg on test, which isn't strong beside rivals of similar performance. Even so, the Clubsport 45 is still a welcome addition to the GTI family. 

| | |
| --- | --- |
| Model: | Volkswagen Golf GTI Clubsport 45 |
| Price:  | £39,980 |
| Engine:  | 2.0-litre 4cyl turbo petrol |
| Transmission:  | Seven-speed dual-clutch automatic, front wheel-drive |
| Power/torque:  | 296bhp/400Nm |
| 0-62mph:  | 5.6 seconds |
| Top speed:  | 166mph |
| Economy:  | 37.9mpg (combined) |
| CO2:  | 169g/km |
| On sale:  | Now |

Next Steps

Source: Read Full Article