All-electric Volkswagen ID.1 will rival the Peugeot e-208 and Vauxhall Corsa-e when it goes on sale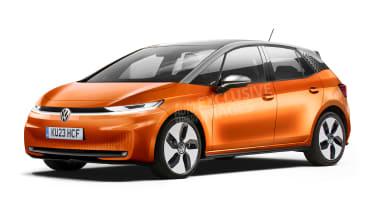 The Volkswagen Group looks set to launch an MEB-based, pure-electric supermini within the next three years. It'll be called the ID.1 and it'll occupy a similar footprint to the Volkswagen Polo – although the packaging benefits of the electric underpinnings mean it could have as much interior space as a car from the class above.
When it arrives, the Volkswagen ID.1 will act as a direct competitor to the Peugeot e-208 and the Vauxhall Corsa-e. Executives have even hinted that, due to the economies of scale, the electric supermini could have a starting price of around £20,000.
Best electric cars to buy 2020/2021
Last year, the Volkswagen Group confirmed that it was developing an "MEB entry family," which will use a cost-focused version of the firm's MEB platform that'll underpin cars around four metres in length. The ID.1 will likely be joined by a new B-segment crossover, based on the same underpinnings – potentially called the ID.2.
SEAT has since been appointed by the brand to lead the development of the two entry-level MEB models – and the company's board member for technical development, Axel Andorff, says that it would make sense for the project to deliver similar packaging gains as the ID.3, potentially producing small electric superminis with the same space inside as a Golf.
Andorff told Auto Express, "If you set up a totally new platform, why shouldn't you use the advantages of this platform?" However, he added that the project would need to make significant savings over the MEB platform to make the finished cars financially viable.
"Nobody can do this on your own," he said. "We're relying on the experiences that the team already has from MEB. But we also know that just a little improvement of the MEB, on costs and so on, will not be sufficient for what we need for a small battery-electric vehicle."
New Volkswagen ID.1: powertrain and battery packs
Official details on Volkswagen's Polo-sized electric hatchback are still thin on the ground, but executives have dropped a few hints about what the future could hold.
The Volkswagen Group's board member for technical development, Dr Frank Welsch, offered a potential solution for the problem of price, discussing how less powerful electric motors and advancements in battery technology could lead to reduced costs – which should help Volkswagen meet that near-£20,000 entry figure.
He said: "Every two or three years, we see improvements in battery technology and electrochemistry. If we speak about [a smaller] MEB entry, I don't think it would happen before 2023 – and there will be at least some improvements by then.
"But if you go for a smaller concept, where they don't need a range of 500km, or where they could never afford a battery capacity of 80kWh, for example, it could be a possibility – especially when you keep in mind it should improve over the next three years.
"We are happy with the tech we have for the first wave of ID. – and now we're looking again at how we could bring the costs down. It's no use going down from Golf-size to Polo-size, and then saying: 'We've saved 50 euros on the bare chassis.' We have to look across everything. Could we offer it with a smaller motor? It's a smaller car, and you can get a Polo with lower-powered engines than you can get in a Golf."
However, despite a focus on lower-powered batteries and less potent motors, Welsch didn't rule out the possibility of offering a longer-range version of the ID.1. He said: "Because it's part of MEB, we can still have larger capacities [of battery].
"We wouldn't need to stop at 40kWh, for example – if I have the space between the axles, I can use it. So even with a smaller wheelbase I could imagine going for, say, 60kWh, because we know from the Polo that some customers of that size of vehicle do want to go for longer journeys as well."
Now read our review of the ID.1's petrol-powered sibling, the Volkswagen Polo. Let us know your thoughts in the comments section below…
Source: Read Full Article