Volkswagen has developed a new cabin design for its ID.7 electric car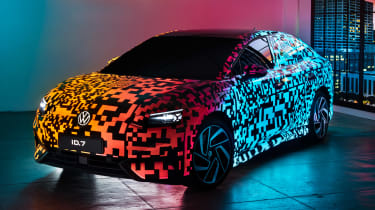 At the start of 2023 Volkswagen gave us a good look at its latest ID model – the ID.7. Despite camouflaged livery, we found out what the exterior of the Tesla Model 3 rival will look like on the outside and now VW has given us a peek at the inside too. 
The ID.7 will launch later this year and VW has confirmed it will feature a huge 15-inch touchscreen infotainment system – three inches bigger than the one offered in the ID.4 SUV. What's more, the ID.7 also gets VW's first "Smart air vents" which activate the air conditioning before passengers get in. 
New Volkswagen ID. Buzz 2022 review
Volkswagen appears to have also taken on board criticism over its climate control functionality. In the ID.7 the climate control system will always be visible on the touchscreen, although the temperature can also be controlled by backlit touch sliders. 
The extra size of the infotainment display means the air vents in the ID.7 have been repositioned (in comparison to the ID.4) and the driver's display is now smaller and sits flush against the recess in the dash. The steering wheel has also been slightly redesigned over the one found in VW's other ID cars. We could see much of the ID.7's technology filter through to this year's updated ID.3.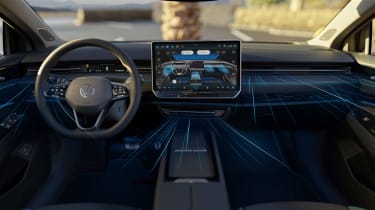 Volkswagen has previously outlined some key technical details of this sixth member of the ID family. Firstly, the ID.7 is targeting a claimed range of 435 miles. The brand says that "efficient aerodynamics help to reduce the drag coefficient" and therefore boost range, but it's not yet known if this figure means the ID.7 will be equipped with VW's current largest 77kWh (usable) battery or if this will be boosted for the new model.
At 4.94 metres long, 1.86 metres wide and standing 1.53 metres tall the ID.7 is longer, wider and taller than a Model 3, but the two cars will go head to head when the ID.7 goes on sale later this year. The ID.7's 2.97-metre wheelbase is also longer than a Model 3's.
As part of its unveiling at CES in January, Volkswagen has developed a chameleon-like electroluminescent livery that changes colour. It forms a QR code design that features 22 separate controllable areas of the paintwork; the design is made up of 40 layers of paint that, combined with the associated wring needed to achieve the look, weighs around 70kg.
The ID.7 will be revealed in full later this year, with full technical details and specifications set to be outlined at the car's unveiling.
Click here for our list of the best electric cars on sale right now…
Source: Read Full Article