The VW ID. Aero concept has become the ID.7 and will take on all-electric saloons with up to 435 miles of range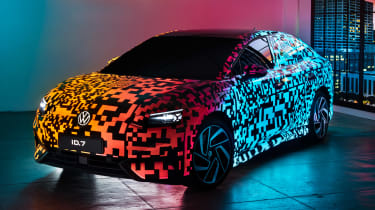 The roll-out of Volkswagen's ID family of models continues with this, the VW ID.7 electric saloon, which has been shown off at the 2023 Consumer Electronics Show in Las Vegas. The German firm has pulled the covers off its Tesla Model 3 rival and confirmed the ID.7 name, but has stopped short of revealing the vehicle's full design; we'll see this unveiled later this year.
However, Volkswagen has outlined some key technical details of this sixth member of the ID family. Firstly, the ID.7 is targeting a claimed range of 435 miles. The brand says that "efficient aerodynamics help to reduce the drag coefficient" and therefore boost range, but it's not yet known if this figure means the ID.7 will be equipped with VW's current largest 77kWh (usable) battery or if this will be boosted for the new model.
New Volkswagen ID. Buzz 2022 review
At 4.94 metres long, 1.86 metres wide and standing 1.53 metres tall the ID.7 is longer, wider and taller than a Model 3, but the two cars will go head to head when the ID.7 goes on sale later this year. The ID.7's 2.97-metre wheelbase is also longer than a Model 3's.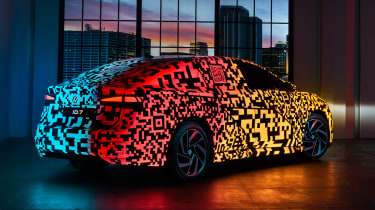 Revealed in a camouflaged livery at the electronics and tech show in the US, VW also confirmed that the ID.7 will feature a 15-inch touchscreen infotainment system, and following ID customers' feedback the new model will also benefit from back-lit illuminated sliders to improve ease of use when it comes to functions such as changing the volume or temperature – this is something that should feature on the updated ID.3, also set to be revealed in 2023.
The infotainment set-up will mark the introduction of a new human-machine interface that boasts a new layout for the climate control buttons on the home screen, and "integrated smart air vents".
As part of its unveiling at CES, Volkswagen has developed a chameleon-like electroluminescent livery that changes colour. It forms a QR code design that features 22 separate controllable areas of the paintwork; the design is made up of 40 layers of paint that, combined with the associated wring needed to achieve the look, weighs around 70kg.
The ID.7 will be revealed in full later this year, with full technical details and specifications set to be outlined at the car's unveiling.
Click here for our list of the best electric cars on sale right now…
Source: Read Full Article