New version of the Toyota Aygo city car due soon, which will draw plenty of design inspiration from the latest Yaris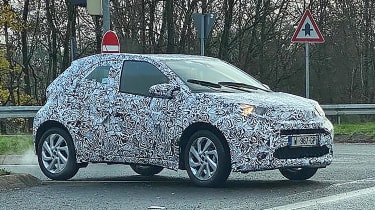 These new spy shots are our first look at the new third-generation Toyota Aygo, which will arrive on roads in 2022 sporting a totally new look based on the latest generation Yaris supermini.
It could be revealed this October – 2021 is a year in which the bi-annual Tokyo Motor Show is intended to take place – and it will more than likely move from a platform shared with the current Peugeot 108 and Citroen C1 to the smallest version of Toyota's TNGA system. 
Best city cars to buy 2021
Cosmetically, this Toyota Aygo mule draws plenty of inspiration from the latest Yaris. It has a similar front bumper and headlamp units up front, while the tailgate shares the same upswept, angular design with a near-identical ridge below the rear screen. The large rear wheel-arches are a nod to the supermini too, while inside, the Aygo's cabin should receive a similar makeover, potentially adopting the Yaris's dashboard layout.
The new Aygo will probably be powered by an updated version of the current car's 1.0-litre three-cylinder petrol engine – but the TNGA platform it will move to will be ready made for electrification, and European CEO Johan van Zyl has previously hinted that this will be necessary in the A-segment in the future. 
The larger Yaris is available with hybrid power, and while that would be an easy fit in the Aygo, Toyota could also look to rival the Volkswagen Group's trio of electric city cars – the VW e-up!, Skoda Citigo e-iV and Seat Mii Electric – with an A-segment EV of their own.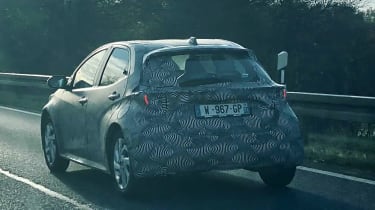 In 2016 van Zyl told us: "We already have some electric vehicles undergoing trials here in Europe – short-range, inner-city transport. So I think that in the future, if you look at that spectrum of technologies that we offer, then EVs will be part of that.
When asked if Toyota's city car could be a candidate for pure-electric power, van Zyl said, "Yes, that's going to be very interesting. Will people use vehicles which will be completely emissions-free in certain areas? We see a stronger growth of that type of thinking in cities where they're saying, 'We'd rather have emissions-free vehicles so it should be a plug-in or a pure-electric vehicle.'"
Further comments in late 2019 from van Zyl confirmed that some sort of zero-emissions capability within an A-segment vehicle for city use was still being actively considered. 
The Aygo will also continue to be produced at Toyota's factory in Kolin, Czech Republic, where it is built alongside the Peugeot 108 and Citroen C1. However, both French brands have already stated that there are no plans to introduce new versions of their city cars, once the current models reach the end of their lives.
PSA recently teamed up with FCA to create Stellantis – and the former company is currently pushing crossovers, such as the Peugeot 2008, Citroen C4 and Vauxhall Mokka, much harder than its city cars. 
The A-segment has also shrunk considerably in recent years, with increasingly stringent CO2 emissions making it more difficult for manufacturers to sell cheap, small displacement combustion cars. Currently, the cost of adding hybrid assistance or a pure-electric powertrain prices city cars outside of their segment. 
What do you make of the new Toyota Aygo? Let us know in the comments section below…
Source: Read Full Article