The UK is accused of being 'asleep at the wheel' when it comes to industrial policy around new electric car and battery tech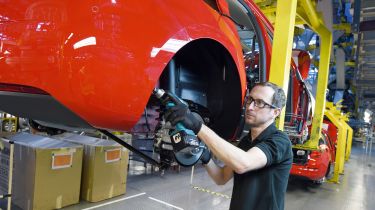 UK jobs are at risk next year if import tariffs are imposed on UK-built electric cars sold in Europe, says the firm's owner Stellantis, as UK industry voices clamour for more government policy support over the transition to electric vehicle manufacturing.
Yesterday Stellantis told a parliamentary committee that British car factories will be forced to close at a cost of thousands of jobs, if the government fails to urgently renegotiate local content rules in the Brexit deal, which begin to bite from next year.
"If the cost of EV manufacturing in the UK becomes uncompetitive and unsustainable, operations will close", the Stellantis submission to parliament made clear.
Stellantis to go fully electric in Europe by 2026
In 2021 Stellantis announced a £100 million investment at its Ellesmere Port factory, but now says that promise was made when it believed meeting the local content rules would be economically viable.
"We are now unable to meet these Rules of Origin", it told the committee, blaming factors such as raw material inflation, supply issues and the war in Ukraine.
Currently, there's an exemption to the standard Brexit trading rules for cars, which means 'only' 40 per cent of an EV and 30 per cent of its battery content must be made in the UK or Europe. However, those figures start to rise from next year, and by 2027 any car's battery must be produced entirely within the UK or EU, or face a 10 per cent tariff when imported or exported between the two markets.
According to former Nissan chief planning officer Andy Palmer, the current chairman of Slovakian battery maker Innobat, the UK government is behind the curve internationally when it comes to industrial strategy on the EV transition. 
"At the moment there is almost no plan, beyond Nissan's, to manufacture batteries in the UK, so that means you have to source them from the EU, and the supply chain at the moment isn't there, and the government hasn't prepared the ground well enough to allow that to happen. Basically we've been sleeping at the wheel when it comes to bringing battery plants to the United Kingdom," he said in an interview with the BBC. "The cost of failure is very clear, it's 800,000 jobs in the UK, which is basically those jobs associated with the car industry."
'It's so sad that Britain's new electric car battery factory is already going bankrupt'
Professor David Bailey, an automotive expert at Birmingham Business School, confirmed that view, pointing to an "existential threat" to the UK car industry. 
"If we don't make batteries at scale in the UK we won't have a mass car industry," he said.
"We're seeing big investment in battery making in the EU, and a lot of support for building gigafactories, and the EU has relaxed state aid rules partly in response to similar moves in the US led by President Biden. They're going for this big time", he told the BBC Today programme.
"There's no industrial policy to back up talk of a gigafactory in the UK. If you look at the scale of the policy support in the US, and the EU responding to that and China, we don't really have anything like that in the UK. Also high energy prices here deter investment in projects like this as well."
Source: Read Full Article