Mike Rutherford thinks that the Mayor of London, Sadiq Khan, is guilty of car loathing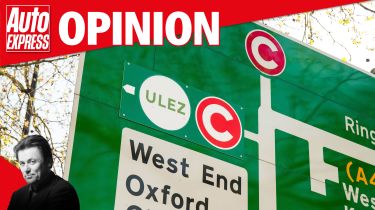 Got a cherished car or van that you acquired new, in good faith, in 2015 or slightly earlier? Love its diesel engine that may still achieve 70mpg? Need to drive it inside the 600-plus square miles of Greater London – which includes big chunks of non-London-like counties such as leafy Surrey, Essex and Middlesex, plus the Garden of England that is Kent?
You might be among the nearly 10 million insiders living and driving in this region. Or maybe you're one of the extra millions of outsiders who have little or no choice but to enter by car or van.
London ULEZ expansion approved and due in August 2023
Either way, it's my duty to warn you that your Euro 5 (2015 or before) diesel vehicles will, from August '23, be clobbered by a daily, 24/7 fine/tax/highway robbery 'charge' of £12.50 (in addition to the £15 congestion charge in central London). This just-invented 'Expanded Ultra Low Emission Zone' (ULEZ) racket is heinously undemocratic – not least because millions of 'outsider' drivers about to be shafted by it had no say in its already signed-off implementation. This is my idea of injustice.
Motorists who drive in the zone five or six days a week and follow the complicated rules will pay an eye-watering bill of almost £4,000 a year for the dubious privilege. For those paying late or not at all, fines of £180 for each daily 'offence' will be applied. 
Who's behind this discrimination against owners of legal diesel vehicles? The office of the out-of-touch, out-to-make (another) fast-buck Mayor of London, that's who.
Mr Mayor is currently Sadiq Khan, who's in effect London and Britain's car-hater-in-chief. For now, he reigns only in Greater London, but if he eventually lands the Labour Party leadership, then finds himself in the running for PM, it's almost guaranteed that we, the motoring majority, will be further priced out of our humble cars, Meanwhile, I have no doubt that he'll continue to use a Range Rover as his official mayoral car. 
So what are we countless motorists (me included) who retain our still-efficient Euro 5-engined cars and vans from 2015-ish supposed to do now that we'll soon be prevented from driving them in a large chunk of the south – unless we pay Khan's ransom?
"Scrap your vehicle" is one of his first recommendations. Got one or two more bright ideas, Mayor? "Walk or cycle." And if this is impossible? "Use public transport – we regularly clean our services with antiviral disinfectant."
Pathetic, isn't it? And, naturally, no mention from him of the fact that many of his bus and train industry employee brothers these days seem keener to go on strike than work.
As someone who's met and interviewed London Mayors, UK Transport Ministers, even a Prime Minister or three, I can honestly say that Khan is guilty of car-loathing, excessive revenue raising or, worse still, shamelessly attempting to displace historically heavily taxed drivers from roads they've already bought and paid for several times in recent years.
If Hate Crimes Against ICE Cars & Vans and/or Discrimination Against The Motorist legislation doesn't already exist, there's a desperate need for it to be speedily introduced.
Click here for our list of the best electric cars on sale…
Source: Read Full Article