Factory shutdowns are confirmed in Japan, but Toyota's UK production lines remain fully operational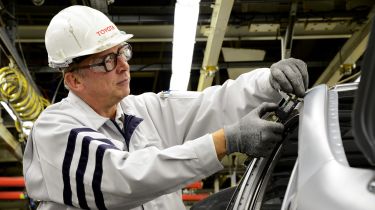 Toyota has confirmed significant cuts to new car production over the remainder of August and September, amounting to roughly a 40 per cent decrease in the number of finished cars rolling off the firm's production lines. 
The company has blamed a 'parts shortage' resulting from the ongoing covid-19 pandemic for the wide-ranging shutdowns. This is thought to be shorthand for the ongoing global microchip shortage that has affected global supply chains for not just the automotive industry, but also home computers, mobile devices and beyond.  
Used car sales up 109% in second-best quarter on record
14 of Toyota's Japanese factories will close down on certain working days over the next few weeks. Customers hoping to buy cars sold internationally under the Toyota and Lexus brands will feel the impact, including those looking at models such as the GR Yaris, the standard Yaris, RAV4, Corolla, Prius, C-HR and the all-electric Lexus UX300e. Production of low-volume luxury models like the Lexus LC and Toyota Century will be suspended entirely for the month of September.
The world's biggest carmaker would typically expect to produce around 900,000 cars during the time of shutdown, but has revised that figure to 540,000, according to reports.
A Toyota UK spokesperson told Auto Express that "Manufacturing operations at Toyota Motor Europe (TME) Burnaston remain as planned." The Derby facility produces the latest Corolla. 
But the firm anticipates potential bottlenecks at European production facilities in France (Yaris and Yaris Cross production line), the Czech Republic (Yaris and Aygo) and Turkey (Corolla and C-HR).
Looking to buy a used car? Here are the best used cars to buy right now…
Source: Read Full Article