In this week's issue of Auto Express we put two of the UK's leading compact SUVs head-to-head and drive the VW ID.4 for the first time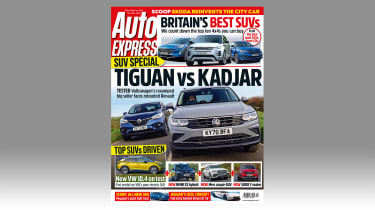 Another packed issue of Auto Express is on the shelves now, rounding out 2020 with a bang. It's a bit of an SUV special this week as our testers put the Volkswagen Tiguan and the Renault Kadjar up against each other to decide which is best. 
We've also got our first drive in the Volkswagen ID.4 electric SUV, a car that could have a huge impact on the UK car market in the coming years, if it can deliver the goods. Then we run down the ten best new SUVs you can buy now, while also pinpointing our favourite used SUVs for budgets of £3,000 and upwards. 
If you like a good SUV, you'll find a wealth of great content that appeals in this week's edition, while on the news pages we bring you an exclusive scoop on the new Peugeot 308 family hatchback and run the rule over Jaguar's spectacular Vision GT concept car with some beautiful images from staff photographer Pete Gibson. 
Time is also running out to enter our competition below…  
Win a Nilfisk Buddy II 18 T vacuum cleaner
Would you like to win a Nilfisk Buddy II 18 T vacuum cleaner – winner of our 2019 test and worth £99.99? We're giving away six and you can enter here for your chance to win.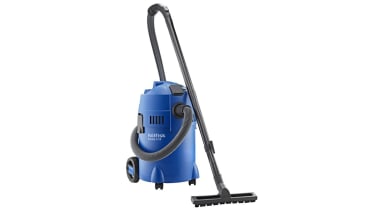 How to buy Auto Express
This week's issue of Auto Express is on sale now for just £3.80. You can find shops near you that stock the magazine by clicking here. 
You can also buy individual issues of Auto Express or subscribe for even bigger discounts on the magazine cover price. Click here to subscribe and get 6 issues for just £1.
Print magazine subscription prices
6-issue subscription £1.00
13-issue subscription £22.99
26-issue subscription £45.99
51-issue subscription £91.99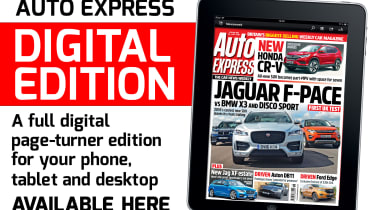 The Auto Express digital edition
Whether it's inside info on the hottest new models, the definitive verdict on the best cars on sale, or the lowdown on the Government's latest transport policy, we provide everything you need for your weekly motoring fix with our digital editions of Auto Express. You can get the digital magazine through the links below… 
Download the Auto Express app from the iTunes store
Download the Auto Express app from the Google Play store
Download Auto Express for Kindle from Amazon
Download Auto Express from Zinio
The Auto Express app gives you the latest issue of the Auto Express print magazine in digital form, perfectly optimised for your iPhone or iPad.
Digital edition subscription prices start from from £1.78 per issue…
3-month subscription £17.99
6-month subscription £35.99
12-month subscription £69.99
Sign up to our e-mail newsletter for all the latest car news FREE in your inbox… 
Source: Read Full Article