As part of its partnership with Google, Volvo is introducing deeper Google Assistant and YouTube integration for its cars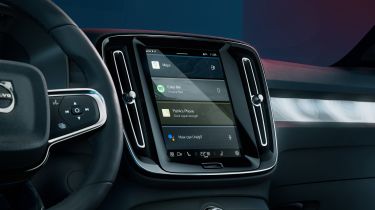 Volvo was the first car marque to utilise Google in-car tech, and now the Swedish firm is taking the partnership a step further by introducing more extensive Google Assistant and YouTube functionality to all Volvo models that use an Android-powered infotainment system.
Volvos already use numerous Google services and apps such as Google Maps and Google Assistant, but the voice-command system will now be more deeply embedded into the car. Owners can use their mobile phone or Google smart home devices to prepare the interior climate settings before a journey, for example, and even lock and unlock their car. Sensitive commands such as this will require two-factor authentication, however.
Volvo XC60, S90 and V90 get new Google-powered infotainment systems
In allowing customers to connect to their vehicles remotely, Volvo is also hoping to add new features, such as charging scheduling for its PHEV and electric models. The Google Assistant update will arrive in the coming months for existing Volvo owners.
The brand is also adding a YouTube app to its infotainment suite, allowing passengers to stream video content while the car is stationary. According to Volvo, the service is intended to be used while at a charging station or waiting for a takeaway, for instance. Volvo offers unlimited mobile data, too, allowing for constant streaming as long as there's a reliable signal.
Henrik Green, Chief Product Officer at Volvo, also said that "other major streaming services are coming soon", which could mean the likes of Netflix and Amazon Fire TV will make their way to Volvos in the future.
Alongside the announcement, more new apps have been made available to Volvo owners, such as the Sygic and Flitsmeister navigation apps, ParkWhizz and SpotHero for parking and the Chargepoint and Plugin charging apps.
Check out the best cars for infotainment, connectivity and electrics…
Source: Read Full Article