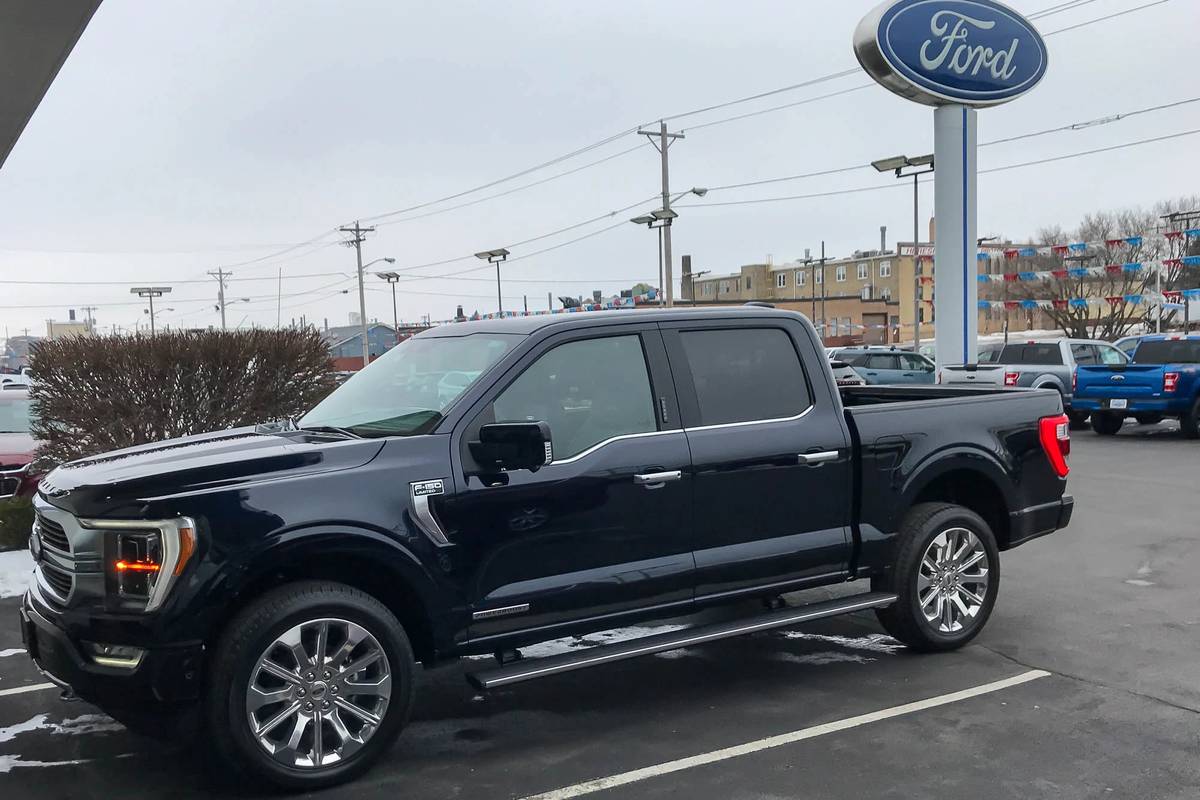 By now, you may know that Cars.com has elevated the redesigned 2021 Ford F-150 to win our top award — Best of 2021 — though not without some problems that have materialized since we purchased the well-equipped example you see above. Buy it we did, making good on a practice we've undertaken for our Best Of designee every year since 2013. We'll own the F-150 all year to report on the ownership experience, and that starts with the purchase. Here's how it all went down.
Related: Cars.com's Best of 2021 Awards
Like any half-ton pickup truck, the F-150 comes in umpteen variations: six trim levels, six engines, two drivelines, three cab configurations and three bed lengths. Including destination, a work-grade base model starts around $30,000, crank windows and all, while a factory-loaded top trim can set you back more than $80,000. (Yes, you get power windows at that price.)
Within all that, the F-150's big innovations — a major reason it won our top award — don't come cheap. New this year is a full-hybrid powertrain and 7.2-kilowatt onboard generator, whose four 120-volt (20-amp) outlets and single twist-lock 240-volt (30-amp) outlet can lend enough power to stage an episode of "This Old House." And for another $600 paid down the road, an over-the-air update coming in the summer or fall can give the F-150 hands-free steering, making Ford one of just a few automakers to offer the feature for the U.S. market.
Naturally, we want to report on such technologies, which makes the $64,000 question — which F-150 to buy — rather literal. Even the base trim (XL) can have Ford's 3.5-liter PowerBoost full-hybrid engine and 7.2-kilowatt generator, but only the top four trims (Lariat, King Ranch, Platinum and Limited) offer Ford's Co-Pilot360 Active 2.0 Prep Package, a prerequisite needed for the forthcoming hands-free steering. Given our snow belt location, we wanted four-wheel drive, too. As such, a truck configured to our liking would run at least $63,905.
Inventory Issues
Scant inventory further confounded things. When we began looking in late December, the incoming 2021 F-150 accounted for just 1 in 3 new F-150s nationwide on Cars.com. Within 100 miles of Cars.com's Chicago offices, hybrid examples with the equipment we wanted were few and far between. We found just two local examples, both crew-cab Platinum models, that had the features we wanted. Both were still in transit to their dealers and, we soon learned, already spoken for. 
We widened our search, scouring dealers in Wisconsin, Indiana and western Michigan. That got us to a dozen trucks that fit the bill, nearly all of them still in transit. All but one was priced north of $70,000.
We called four out-of-state dealers. Two trucks were spoken for, but the other two — en route to a pair of Wisconsin dealers some 65 miles apart — remained available. And they were nearly identical, both four-wheel-drive Limited models with the hybrid drivetrain. (Making matters easier, all Limited trims have the hands-free steering prep kit as standard equipment, and the 7.2-kW generator is included on all Limited-grade hybrids.) Both had Antimatter Blue exteriors, Admiral Blue interiors and minimal other options: an engine-block heater on one truck, nothing on the other. As such, their sticker prices including destination — $77,935 on one, $77,845 on the other — fell just $90 apart. As eye-popping as such prices were, we'd at least have apples-to-apples examples to negotiate between. We got to work.
Price We Paid
We planned to trade in our 2017 Chrysler Pacifica minivan, a vehicle we bought in late 2016 when we declared it our Best of 2017 winner. CarMax offered $18,000 on the Pacifica, a price that would net about $68,000 out the door had we accepted the offer and then paid full price, including taxes and fees, for either F-150. If we could get the same amount in trade-in value for the Pacifica at the dealer where we bought the F-150, we'd pay about $67,000 out the door — about a grand less in tax savings. (On vehicle purchases, Illinois allows you to reduce the amount subject to sales tax by up to $10,000 for whatever credit your trade-in gets. Given vehicle purchases in Chicago are taxed at 9.5% and our Pacifica would handily exceed that cap, trading it in would legally avoid $950 in taxes in the F-150's out-the-door price.)
With those numbers in mind, we visited both dealers on New Year's Eve.
The first dealership had the slightly pricier F-150 ($77,935), scheduled for delivery in mid-January. Our salesperson offered $17,000 on the Pacifica and wanted to throw in a separate protection package. We declined the package, and he bumped up the trade offer to $18,000. With the dealership's documentation fee and a little money off the top, the offer landed at $65,900 out the door. That was just 2-3% off our calculated full price, depending on the trade-in scenario above.
We countered and got the price down a bit, then traveled to the second dealer, a smaller operation well north of Milwaukee with a nearly identical F-150 ($77,845) set to arrive the first week of January. 
After some back-and-forth with the sales manager, we got the dealership down to an out-the-door price of roughly $63,300. That's roughly 5% below full price on the trade-in scenario above or 7% below our net expenditure had we sold the Pacifica to CarMax. (Backing out our trade-in entirely, for a discount comparable to the way we reported our savings on long-term purchases up until a few years ago, we saved 5% off full price on the F-150.) Given the outgoing 2020 F-150 was getting percentage discounts well into the teens for some trims, our savings seemed paltry. But with the redesigned F-150 still ramping up in dealer inventory, leverage was hard to come by. We agreed.
What We Got in a $78,000 F-150
For our interstate trip, we took home a four-wheel-drive F-150 SuperCrew Limited with the 3.5-liter PowerBoost full-hybrid engine and a pile of other features: 
A power tailgate with Ford's tailgate work surface

A trailer hitch with integrated trailer brake controller and Pro Trailer Backup Assist

The 7.2-kW Pro Power onboard generator

22-inch wheels and power-deploying running boards

360-degree camera system

Power-adjustable front seats with heating, ventilation, massage and a memory driver's seat

A heated steering wheel with power tilt/telescoping adjustment

Heated rear seats

A panoramic moonroof

Co-Pilot Assist 2.0, with stop-and-go adaptive cruise control and lane-centering steering

CoPilot Assist Active 2.0 Prep Package, which will eventually enable hands-free steering via over-the-air updates

A 12-inch touchscreen with

Apple CarPlay

and

Android Auto

, both wireless, plus wireless phone charging

Automatic emergency braking and blind-spot and lane-departure warning systems

A Bang & Olufsen premium stereo
… And What We Still Didn't Get for All That Money
The Limited trim doesn't come with any major packages. But despite its eye-popping price, our truck didn't have a few isolated options offered by Ford on this trim:
A crossbed storage toolbox

Any sort of bedliner, either plastic or drop-in

An engine block heater

A tonneau cover of any kind

Tray-style floor liners

The F-150's new

interior work surface

Ford's new

max-recline seats
Some of those items — a tonneau cover and bedliner, for instance — we'd have to purchase after the fact. We'll own the F-150 for a full year, reporting on what we love and hate throughout. What sort of mileage do we get from the hybrid engine? What can we use the onboard generator for? How does the truck handle towing, bed usage and more? Does the initial rash of glitches persist or subside? Does the underbody rust we've observed get any worse? As one of the few sites that purchases its top-awarded vehicle to drive for a full 12 months, Cars.com will publish ongoing firsthand coverage of owning the 2021 F-150; stay tuned for much more. And if you have questions about our truck or any developments we've reported, reach out to [email protected].
More From Cars.com:
Cars.com's Best of 2021
Our 2021 F-150 Had Problems After 9 Days, 242 Miles
See the Rust Under Our Brand-New 2021 Ford F-150
Read More About Our 2021 F-150
Read More About Cars.com's Long-Term Test Cars
Related Video:
Cars.com's Editorial department is your source for automotive news and reviews. In line with Cars.com's long-standing ethics policy, editors and reviewers don't accept gifts or free trips from automakers. The Editorial department is independent of Cars.com's advertising, sales and sponsored content departments.
Source: Read Full Article