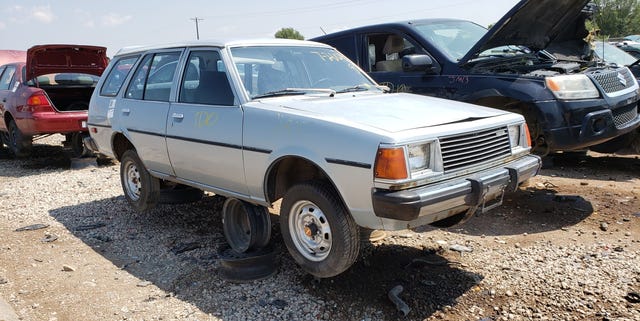 Mazda built the Familia for 40 years, starting in 1963 and ending with the debut of its Mazda3 successor. In North America, we met these cars for the first time in the early 1970s, as 1200s, R100s, 808s, 818s, and RX-3s. The 323 and Protegé versions came later, when Mazda was fully established here. The Familia that bridged the gap between the never-heard-of-it early models and the stealing-many-sales-from-Toyota later ones was the Great Little Car, or GLC for short. I hadn't seen a GLC of any sort in the junkyard since 2014 when I spotted this incredibly rare wagon in a yard near Pikes Peak, so it's an A-List Junkyard Treasure for sure.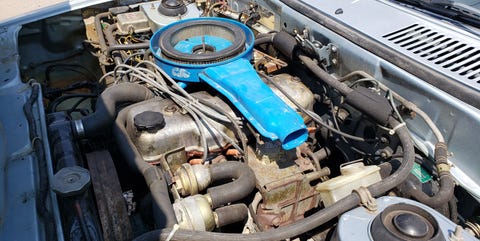 The GLC went on sale here for the 1976 model year, and it had the same rear-wheel-drive layout as its Toyota Corolla, Datsun B210, and Dodge Colt competitors. Recognizing that the future of small cars would be front-wheel-drive, Mazda developed an all-new FWD Familia for 1981, making it a potent rival to such big sellers as the Civic and Omni/Horizon. The GLC wagon for North America stayed on the old rear-wheel-drive platform all the way through 1983, however, and this '80 is the first I've seen anywhere for at least a couple of decades.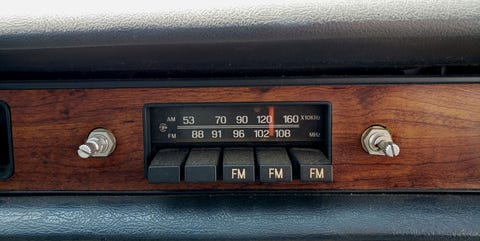 The GLC wagon was quite cheap, starting at $4,645 in 1980 (about $16,220 in 2021 dollars), but the original buyer of this one went wild with the option list and—we can feel sure—paid quite a bit more than MSRP. There's air conditioning, courtesy of a bulky underdash unit, five-speed manual transmission rather than the base-grade four-on-the-floor, and this nice Fujitsu TEN-made factory AM/FM radio. The A/C had to have been the costliest upgrade (and that poor 65-horse 1.4 engine probably screamed for mercy when the compressor kicked on), but FM stereo radios generally cost the 2021 equivalent of about a grand back then.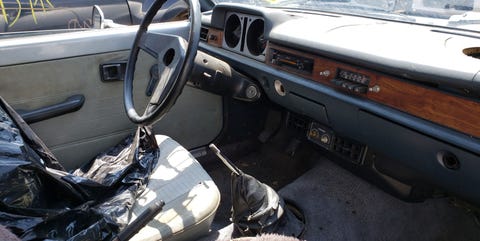 This car has astonishingly little rust for a Japanese car of its era (even in relatively corrosion-free High Plains Colorado) and the interior looks tolerable despite the trash-bag seat covers. Sadly, few enthusiasts would even recognize this car (and fewer still would appreciate its historical significance), and so its next journey will be to The Crusher.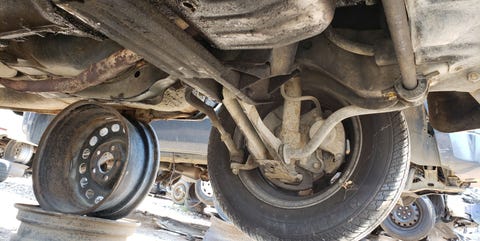 Owners of first-generation Mazda RX-7s might recognize this suspension; according to the jinba ittai-instillin' Mazda engineer who had his employer buy the nicest early GLC in the world for Mazda USA's California's headquarters, the rear-wheel-drive Familia and FB RX-7 share most of their chassis design (though the GLC wagon has a not-so-RX-7-like leaf-spring rear suspension). Yet another reason it's a Great Little Car!
Who but Mazda would have hired a famous economist to sing the "Great Little Car" song on a TV commercial?
Since it was set to the tune of "Spanish Flea," a huge hit for Herb Alpert in 1965 (and a decent-size hit for Sergio Mendes the following year), we should hear the GLC version in all its glory.
But then Linda Ronstadt crushed the charts in 1978 with her cover of the far superior 1963 Doris Troy original (you might recognize Troy's voice from a fairly well-known Pink Floyd album and a relentlessly overplayed Rolling Stones song), well, Mazda USA felt compelled to dump "Spanish Flea" and get more mainstream with GLC ads.
In the Familia's homeland, the TV advertising veered into schmaltzy territory. I wish I could find a TV commercial for the Indonesian-market version known as the MR90 Baby Boomers, but none seems to be available.



Source: Read Full Article