It's a budget SUV/Crossover but, coming from Maruti & Hyundai cars, I find the gearshifts to be notchy for my taste.
BHPian Bismaya recently shared this with other enthusiasts.
Hello Everyone.
My pre-worshipped Renault Kiger has completed 26,687kms today. I previously drove an RXE variant when my uncle purchased it during the launch and drove it for over 6-8 months before it was replaced with an i10 Nios.
Later this year, I bought a 2021 Kiger, RXZ Dual Tone Non-Turbo and have had some great experiences with it. I'll let the pictures and the points do the talking.
1 Year, 26,800kms covered with the Kiger RXZ, Manual Dual Tone – a brief review of the vehicle
Likes
Compact size, stunning design and presence everywhere. It's a looker. No two ways about it.
Fun to drive state of engine tune. Absolutely fun on open roads.
Well-tuned suspension. Glides over potholes. Pair this with a good set of rubber and you will be all set.
The Arkamys 3D Sound setup is awesome. Coming from a customised Sony ICE, this one is still a decent performer with its 8-speaker system.
Android Auto is flawless and great to have in this price range.
2.5 Cabin Filter helps to keep things smooth to a great extent. Really useful feature to have.
Thoughtful interior design. AC knobs, touchscreen controls, buttons and ergonomics are well-sorted for the most part. You get the armrest from the base model itself which is good thinking on Renault's part.
Huge Boot Space – Yes, it's a lifesaver and useful when going on long trips, moving house or similar. I have recently carried a lot of stuff between my old place and my new one. My folks were surprised with how much the car could fit before running out of space.
Dislikes
Notchy gear shifts – I know this is a budget SUV/crossover but the shifts are too notchy for my taste. Coming from driving Marutis and Hyundais, the shifts are too NOT "hot knife slicing through butter" for my taste.
Braking Noise from Front Discs – Yes, it's there and can be heard a lot. And while it has never created issues in sudden braking or coming to a halt even from 100km/hr speeds, this is a serious quality thing that Renault needs to look into.
Quality of dashboard – At least for the RXZ model, the finish could have been more premium. It feels just the same as the other models and quality plain jane if you ask me.
AC blower noise – You get a 7-speed adjustment. 4/7 is where the decent airflow starts and beyond that, it is too noisy. And that affects your music playback unless you are playing it loud.
Rear Windshield – The coupe-like design makes it tough to see behind when driving or reversing. Yes, you can always use the reverse parking camera but I feel that the aesthetics ruin the rear visibility of the car and that is not acceptable.
Safety Features – Lack of ESP, Hill Start Assist, Hill Hold and Cruise Control. Magnite XV Premium has these features and two cars that are more or the less same should be able to offer these without any issues. Kiger has more airbags (curtain ones) but the lack of these important safety features is unforgivable in my opinion. Major disappointment and I hope Renault takes an initiative to add these in the next update.
Seat Belt Design – Yes, tying the buckles is a task. Especially if you have bad vision or poor eyesight. It takes a lot of time to get used to. The centre console makes it difficult and clumsy for the belt space. This is a serious issue again that Renault needs to fix. No one cares about a huge centre console. People want easy access to seat belts.
What could have been better
Auto Dimming IRVM – For a car that costs almost 10L and most features are well covered, this could have been easily added.
Sunglass Holder – Kia Sonet gets it. You get a sunglass holder placed above the front map lights inside the cabin. This really helps on long drives.
Stickier Rubber – Yes, while the stock MRF Wanderer really holder their own, there is really evident body roll when you try overtakes at high speeds and hit corners hard. Goodyear tyres like Kia would have been a better value here. This is something Renault should have looked into. The car is too tall in height for ground clearance and 195/60-R16 is a poor choice of size in my opinion. 205/55-R16 would have made more sense and would have kept the car more planted. I am definitely going with this size when I replace my tyres in the next 5000kms.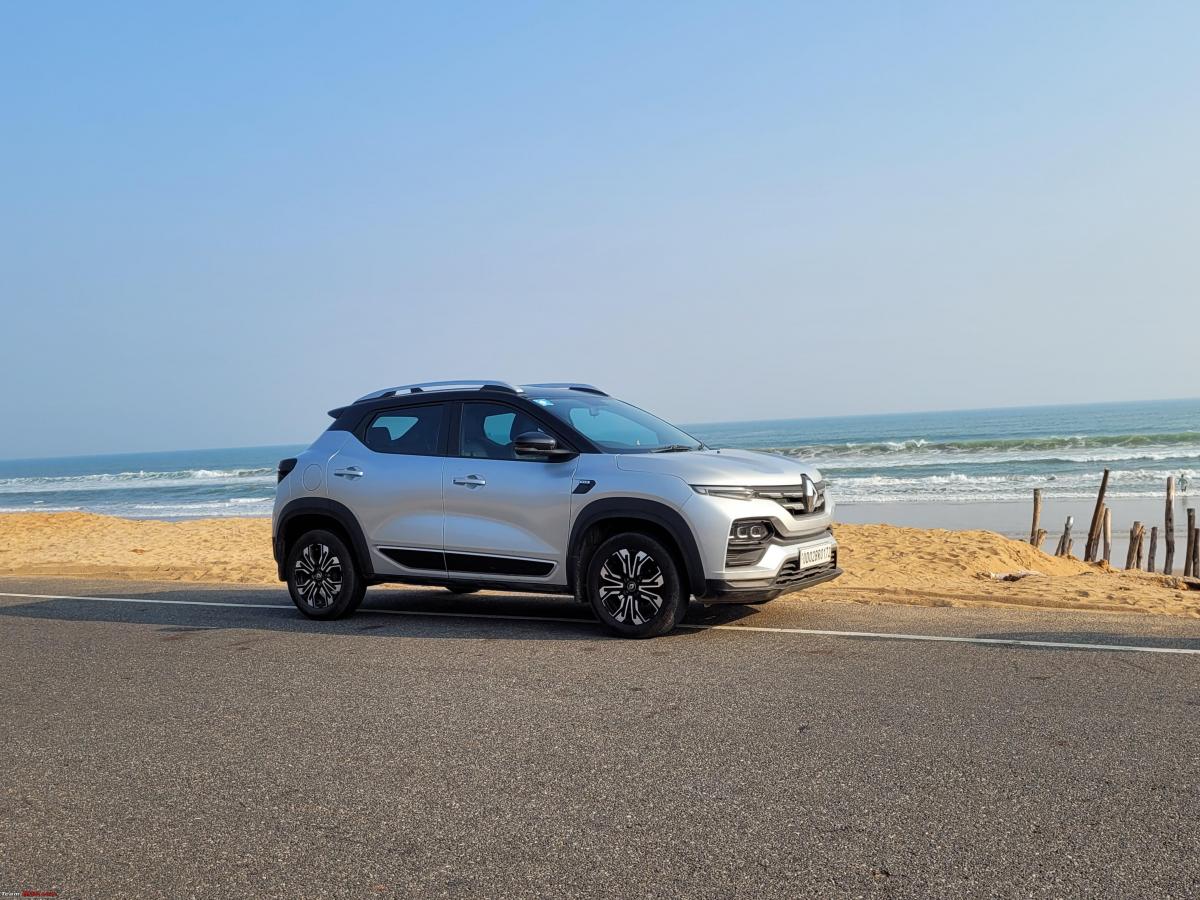 Check out BHPian comments for more insights and information.
Source: Read Full Article