Looking at the Compass parked next to the lake gave me a sense of utter satisfaction. We had made this trip and this was by far the most challenging and grisly drive since we bought it.
BHPian shashrash recently shared this with other enthusiasts.
Hello and a Very Happy Holi to you all,
Super thrilled to be a part of this community and it will be my first post to share and I will be little greedy and take this opportunity to also share something I cherished and completed during the last winters.
Little about myself:
I am based off Bangalore, married, have 3 kids (4 legged ones with a tail) and I will call myself a kid within who is as enthusiastic and eager about cars and bikes as a 10 year old would be. I had been an avid driver/rider, very fond of long distance travel, whenever time allows.
I have been riding/driving for 25 yrs now.
Currently, I have a Jeep Compass Ltd diesel, 2022 MY to cater my 4 wheeler duties. Alongside, I have my hooters, an Aprilia RSV4, a Triumph Speed Twin 1200 and the very reliable, a Honda CBR250RR, who all, completes my garage.
Hopping back to my story telling.
This trip of mine had been long overdue now and today I decided to spare and spend some time to give it some words. Its one of the most exhilarating and exciting road trips that I have made recently. I was also able to meet some very exciting people, make new friends and took away wonderful memories of this lovely part of our country.
The trip planned was from Bangalore to Sikkim, with stops at Vishakhapatnam, Kolkata, Siliguri. My return journey was to my hometown, Delhi and further to Jaipur. Once back, we had planned to stay at Jaipur for another short halt and return to Bangalore eventually.
Car driven – Jeep Compass diesel 2.0 MT:
*Nowhere throughout the journey, the car was driven above 120 kmph, also due to the speed limit buzzer, which helped me to keep my right foot under check throughout. On an average, I tried to maintain between 100 – 110 kmph. Also, I am not someone who keeps a track of mileage and average on trips, so I was able to note from the instrument console, an average of ~17 kmpl, give and take throughout.
The Itinerary:
Day 1, November 19th:
Bangalore(Whitefield) – Vizag(Treebo Trend Sriz Cozy Seethamadhara), ~ 1006 kms
Bangalore > Vellore > Tirupati > Nellore > Guntur > Vijayawada > Kakinada > Vizag
Pit stop at Shell, Whitefield, and important supplies for the long trip: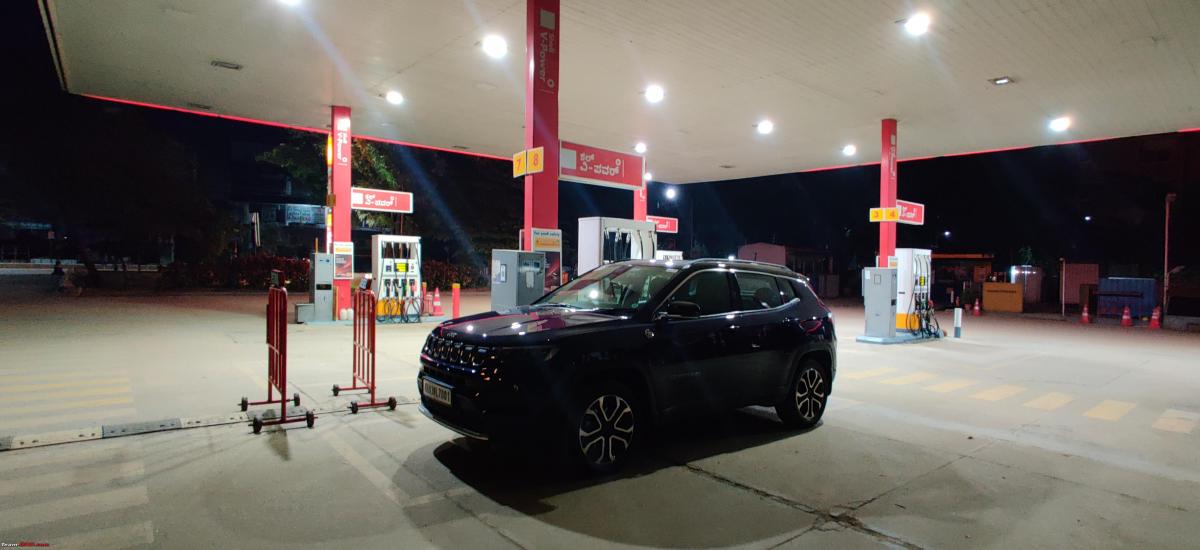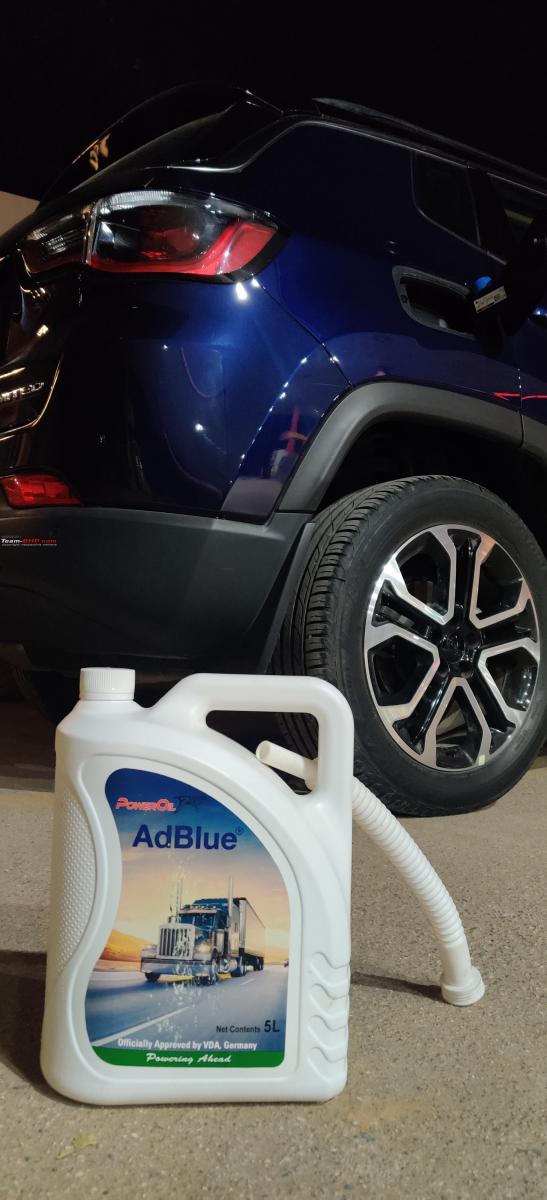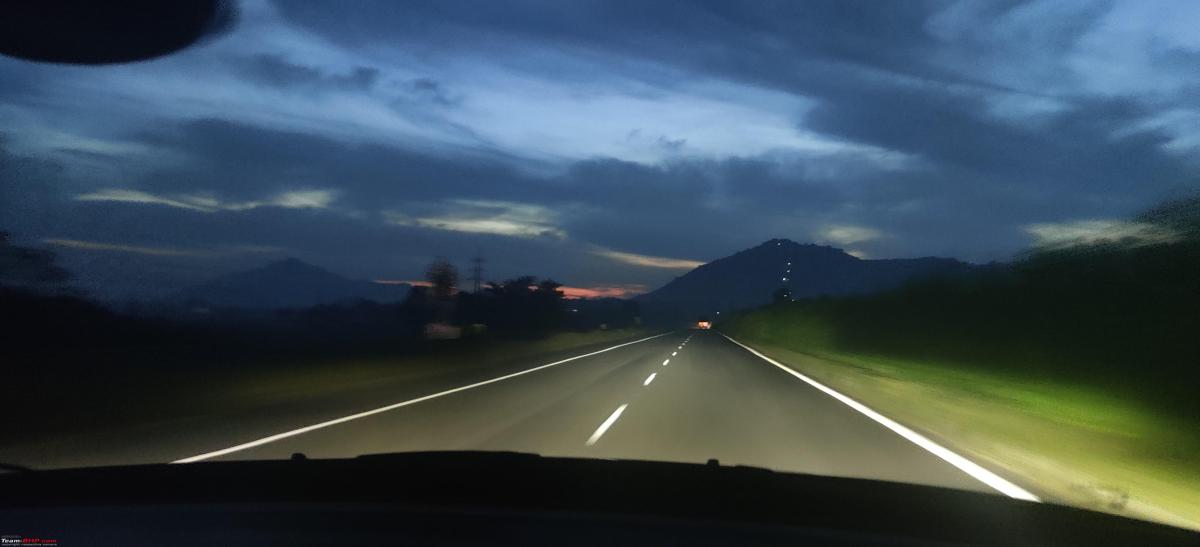 Stay at – Treebo Trend Sriz Cozy Seethamadhara
The route is quite well laid and without any major diversions, discomfort and issues. Started very early in the morning from Whitefield, 5 AM and was able to manage to check in at Vizag at 8 PM IST.
The overall route as shared is the best one to my experience and should work for other travelers if planning without any issues.
Spent the evening at RK Beach, nice weather, cool breeze and lot of hawkers to munch upon:
Day 2:
Spent local, roaming around and catching up with some friends.
Day 3, November 21st:
Vizag(Treebo Trend Sriz Cozy Seethamadhara) – Kolkata, ~880 kms
Vizag > Srikakulam > Brahmapur > Bhubaneshwar > Cuttack > Balasore > Belda > Kharagpur > Kolaghat > Howrah > Kolkata
The roads, I must admit were little trying, especially as soon as I entered West Bengal. They do not appear to be as fluent as that in Orissa or Andhra Pradesh especially in the border areas. There were large stretches where the widening of the highway task was going on and hence one can observe, many speed breakers and diversions. Another thing that I immediately noticed was that the border checks were strict while entering and exiting WB and huge queue of heavy vehicles an Orissa WB Border, Sonakania (Laxmannath Toll Plaza). One must be careful to not get stuck within the traffic of heavy vehicles enroute.
Another key thing to remember while we are driving in Orissa State NH is to keep a tap on your speed that your are doing. I was alarmed purposefully about this in advance as there are several speed traps/cameras on NH monitoring the limit of 80kmph. This feels too slow for the quality of highways you find but still, one must keep calm and not get carried away.
Beautiful roads on the way from Vizag: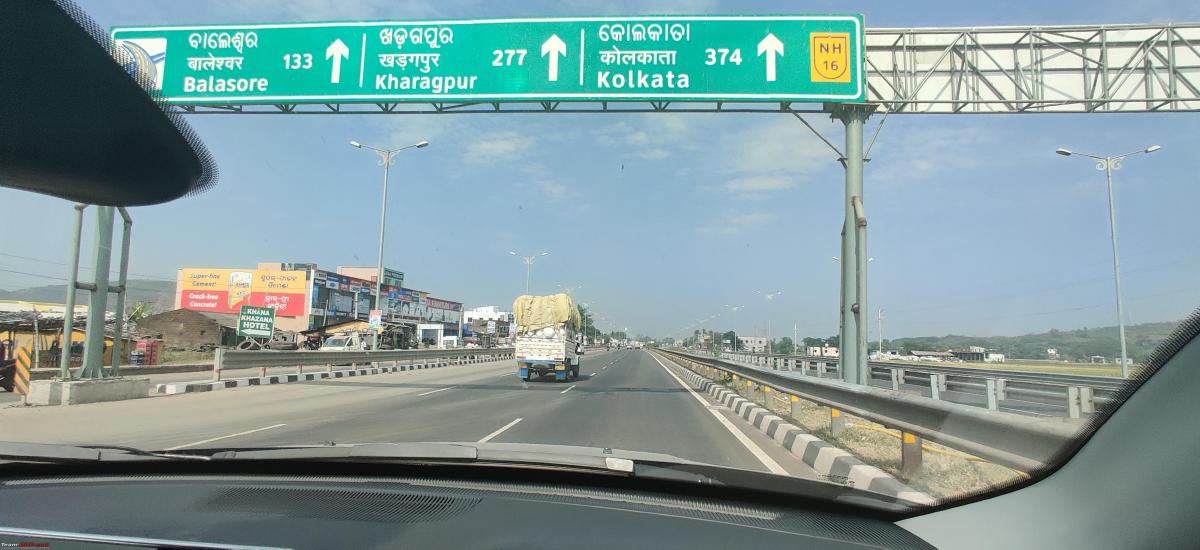 At Kolkata, I stayed at a friend's, Arnab's, place who is settled at Ruby Park.
The original plan was to meet up with my friend at Debra Toll Plaza. As this was a good excuse for him also to hit out for some drive and have some fun outside the city. However, we could not meet at the set location and later planned to meet up at Azad Hind Dhaba at BP, Uluberia.
The much needed Chai at Azad Hind Dhaba, life savior no matter what.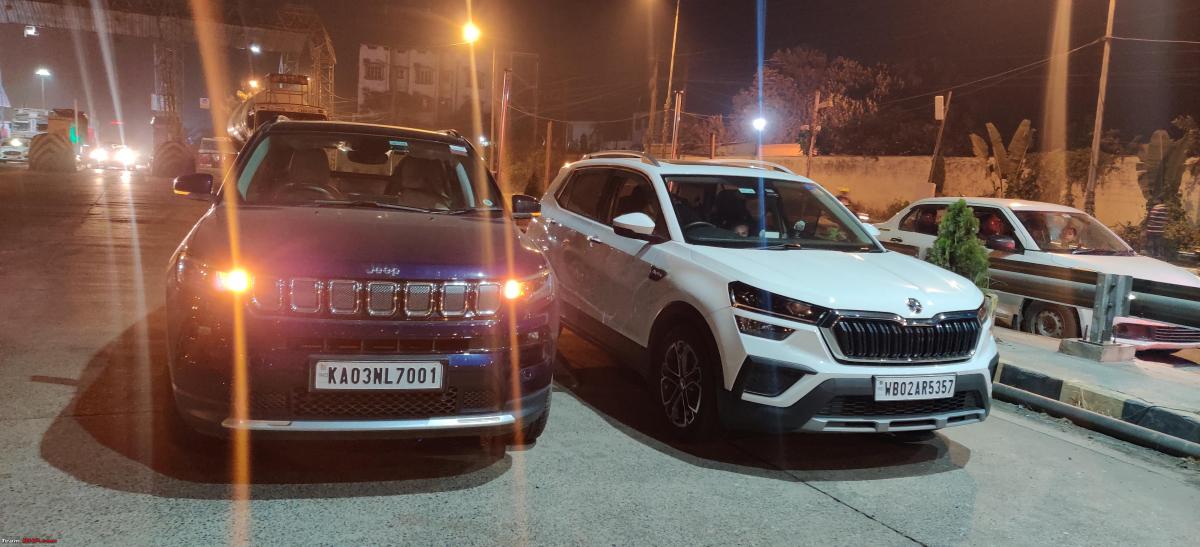 Day 3 – Day 7, November 21st – 25th:
Stayed at Kolkata, enjoying the amazing history, heritage, and yummiest food that you can ever have. Thanks to Arnab, who took pain in showing me around even on working days, and helped me experience this city like never before. This was my first time to Kolkata and was a journey down the memory lane and history for me.
On one side, visiting places like Victoria Memorial, Fort William took me back to the rich history that is associated with our Pre Independence era, and on the other hand likes of Howrah Bridge, Prinsep Ghats, took me to journey of all those locations which I had only seen and heard of in movies and songs.
This is not all, I think, it goes without saying, roaming around Park Street, relishing the street side eateries, College street, Chowringhee, Central Park and many others was pure bliss and satisfying. For Also for foodies, please do enjoy, Mocambo Restaurant, Peter Cat, Arsalan's Biryanis, and late night Balwant Singh Dhabas Awesome Chai.
Day 8 , November 26th:
Kolkata – Silguri, ~ 580kms
Kolkata > Baranagar > Dankuni > Delhi Road > STKKRd/SH6 > Krishnanagar > Berhampore > Farakka > Malda > Raiganj > Islampur > Bagdora > Siliguri
Via NH12/SH6/NH27
I stayed at my brother's place who is posted in Siliguri.
As I had been driving ~1000 kms in a day to cover earlier parts of my trip, the numbers baffle me as to how this 600 kms distance can take close up to 15hrs of travel. And to my surprise, this was actually the most tiring stretch that we had to cover. Especially the Farakka Bridge had its own share of pain staking tales. And I had no idea what I will encounter till I was there. The magnitude and size of the Ganga here is nothing that you will often see. It's worth a sight to galore. The bridge was under a renovation phase, so the traffic is mostly allowed to proceed one way while the other side moves. This can eat into all your time that you may have covered otherwise. But other than this hurdle, rest of the journey was fine and nothing special or astonishing stands out.
Day 9 , November 27th:
Siliguri – Gangtok, ~ 115 kms
Stay at Airbnb – Zimchung 101
There are some amazing Airbnb homestays that we booked and stayed over at, so I will completely endorse the ideas of rather booking the local Airbnb homestays instead of going in for the hotels/lounges. They provide the best local ethnic experience, food and comfort of a home. This was just such an amazing stay. More you can find on my review for the space on the listing.
For our onward journey, beyond Gangtok, we required permits to complete our itinerary. For all Permits which are required, and documentation, can refer to this useful link from Govt Of Sikkim.
Please be mindful, for Nathula, permits are NOT issued for Monday and Tuesdays as there are some Military activities planned in those protected regions. Hence plan your travel sparing these 2 days from the week.
Also, try to mark your entry to all Restricted Zones as early as possible. The permit checkpoints will close ~12:00 Noon and you may have to return for some another day. Start early is the key here.
No pvt registered vehicles are allowed to Nathu La, so one has to book a taxi and travel. 2 wheelers, with proper permit can still travel on their own.
Since we came to know of this only post we reached Siliguri, via our agent, we have to make an early hr dash to Gangtok on 27th which was Sunday and wanted to cover the region the same day itself. We started around 4:30 AM in morning from Siliguri and were able to check in conveniently ~9:00 AM. So we were able to reach the destination on time.
Day 9 – Day 11 , November 27th – 29th:
Local stay in Gangtok, Sightseeing. Nathu La, Tsomgo Lake
Travel to Nathu La and Tsomgo Lake is pure bliss wrt scenic beauty. Roads are a mix of being great to no roads, but who's bothered. You must be there to appreciate the love gods have showered over this region. This even aggregates for the entire Sikkim State and I am certainly short of words to elaborate. Fe pictures may not do justice, nonetheless.
Gangtok as a city is something I adored completely. The very care and compassion towards nature, keeping it clean, lovable is the essence of this city. The MG Marg is the hangout spot if you wish to step out. I will recommend, The Local Café, located on the same, which serves god send pies and cakes. It's a small cozy café, and I wdnt want to step out once I grab a corner there. Totally a Fan now.
Since we had a couple of days, and the biker in my was tingling all the way, I cdnt stop myself than getting a rental Himalayan for a day. I guess, its something one should try as mobility locally is much easier instead of taking the car out every time.
We also opted to do a Paragliding is another attraction that we opted to do. They take you to the top of a cliff and you get to glide around for 10-15 mins, depending on the weather and wind. Worth it, if you wish to have a bird's eye view of the city.
Day 11 , November 29th:
Gangtok – Lachung, ~120 kms
Gangtok > Mangan > Lachung, via Singtam – Chungthang Road.
**Important to note – There are 2 gas stations on your way to Lachung from Gangtok:
Rang Rang BP
Mangan Indian Oil
The Mangan gas station does not have the narrow nozzle which a few of the latest make vehicles require, like the Compass. So, if you want to refill and have a narrow fuel inlet, then make a stop at the Rang Rang BP station instead which falls before Mangan. This is also important as you will not find any more gas station on your way up North after Mangan, so plan this out in advance. The distance is not far from Lachung to Mangan/Rang Rang, but it's a hassle to drive back all the way for a refill when you already passed the spot before.
There are several protected areas in each direction where in one require to acquire a permit to access. And the same reason why you will find several Army settlements throughout your journey, with no photography/videography allowed, due to understandable reasons.
Please be mindful of the defense conveys that keep moving for their errands throughout this stretch. The roads are not wide enough to breeze through and one has to be super patient to allow others to pass or get an opportunity to overtake themselves. So word of caution for everyone to be very very careful around the entire stretch of Gangtok to Lachung/Lachen and nearby places.
Stay at Airbnb – OurGuest Homestay, Lachung
Stay was at another amazingly beautiful Airbnb Homestay. And this house is literally the topmost spot in entire Lachung, which gives you a beautiful Sunrise/Sunset Photo Ops. You could also observe the Army choppers doing drills from there atop the valley. Its an amazing sight.
One thing I would have to call out for the entire Sikkimese people, they are one of the best hosts you will find. Their warmth, excitements and inclusion into their lives makes your home stay a treat. I was undergoing severely bad throat on this trip and I was helped at each and every stay we made. From doing some rare local herbs, to a solid Brandy + Herbs mix, I had it all. Great hospitality and people all around.
For the dog lovers, this stay has Rocky, who is the boss of the town. He is super adorable, friendly dog, who owns this part of the hill. We are a dog lover, and it was a beautiful add on to our comfortable stay.
The reach to the stay, is further up the climb through, little patchy broken road, atop the village and there is a DRDO Guest house also located few mtrs ahead, before the road hits a dead end. Its quite literally the most private road you will find here. But the view is awesome !!!
Day 12, November 30th:
Lachung – Yumthang Valley – Zero Point, ~50kms one way.
Start early, again, as called out before. The Permit Checkposts will close ~12 PM, also, the sun starts setting up pretty quickly and temperature dips faster than you will thing. I would suggest visiting these places in morning bright sunlight as those are the best photo op times to capture. Also, if you stay there longer, there are small tapris, which serve the typical Maggie, chai, coffee and some beverages, start closing.
One thing that locals shared as a valuable tip is to not have items like Maggie, Alcohol/Spirited drinks at such higher altitudes. They rather advised to carry corn-flour, and if you feel dizziness or difficulty in breathing, have the corn-flour mixed with hot water. Consumables like spirited drinks, maida will make your travel more uncomfortable with the bowl movement and all. See if this tip helps you guys out.
The roads to Yumthang and to Zero Point, are a mix of all sort of terrain one can throw. Properly laid to no roads at all. And this stretch justifies as to why the permits are not provided to sedans and hatchbacks. Terrain can be harsh, be very patient, and just dont get inspired by the local taxies, who run their Boleros, Armadas and Scorpios like a ship. They know this terrain a lot better that you do and are more prepared to handle the brutality.
Driving my Compass so far on this trip had been an absolute pleasure, with whatever kind of roads we encountered since I left from Banglore. But this part testifies the capability of this awesome machine. Till this far, I nowhere missed the 4×4 capability of the car and I reckon, if you are careful, and slightly patient, you should be able to complete this circuit in your 4×2 front wheel drive SUV with ease. I have no complaints about how capable Jeep Compass is in its 4×2 avatar, I know things will be different when we get to matter of Snow and intense Offroading, but for my driving endeavors, it checks in all boxes.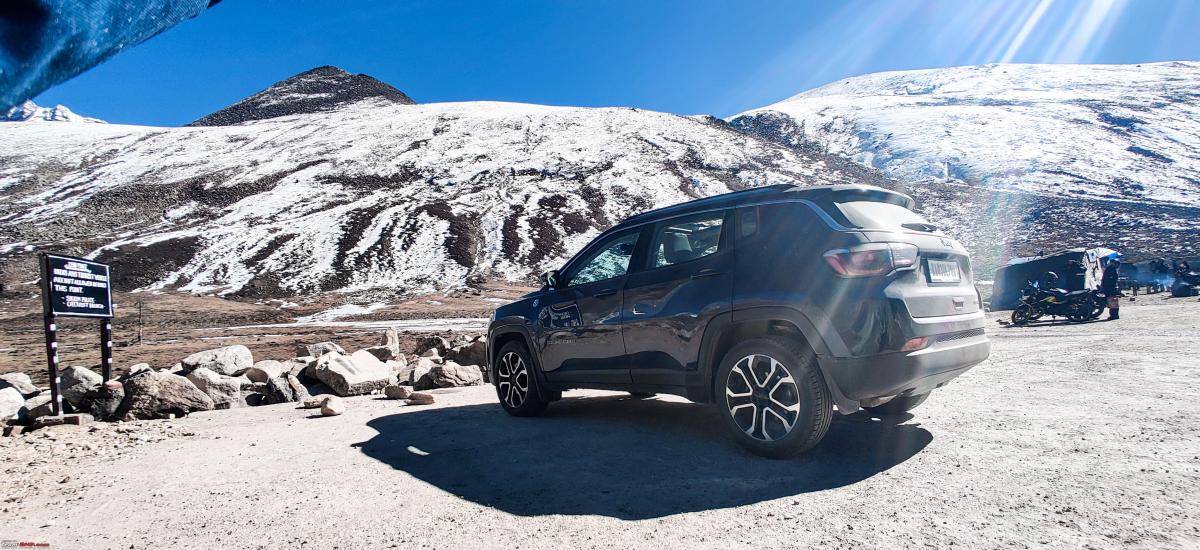 Day 13, December 1st:
Lachung – Lachen, ~50 kms, Via Lachen Road.
Stay at Airbnb – OurGuest Lhakhim Homestay, Lachen
Nothing new to add, as the stay was another beautiful family, with lots of warmth and welcome. Lachung appears bigger in size or from the sight of development, as there are some nicely built cozy cafes and home stays in Lachung where you can spend your evenings. Lachen on the other hand appears smaller, less buzzing with cafes and hotels but nothing taken away from its typical Himalayan village charm.
The dishes cooked and served at all these homestays is the yummiest you will have in the entire trip. My Dilli wali taste buds were completely satisfied throughout my journey, without having any Butter Chicken or Tandoori to add. If you are a foodie, try their local servings, they are super delicious.
Day 13, December 1st:
Lachen > Gurudongmar Lake, ~70 kms, Via Gurudongmar Road
We planned to continue our journey to Gurudongmar lake on the same day we checked in. So we left the luggage at the stay and carried on to Gurudongmar lake.
The roads here are quite challenging, single lane. These are mostly under BRO maintenance and during this stretch, you will encounter numerous outposts, barracks and defense settlements, where photography and videography are not allowed for understandable security reasons. The BRO's were at task to re-do a considerable stretch of this distance between Lachen to Gurudongmar lake and take my words for it, there is just nothing to drive upon at few sections. We had an opportunity to carry one of the Jawans from Lachen till one of the outposts. And we happen to talk some on our way. The Jawaan was in BRO, tasked to maintain the roads for the oncoming winters. I observed that their repair work was only been done on one half of the road while the other half was left all untouched and rocky to say the least. On asking, why, the jawan explained, that side will not be worked upon as that is the route for the tanks. And that made complete sense. If they let run the Tanks on the tarmac roads, the roads will be in tatters in just no time. So, to give them their natural habitat, half of the road will not be worked upon. This was amazing to know and by any means, this is not a comfortable life for all of these Jawaans and Officers deputed there. My Salute to each one of you out there. This is enormous service to the Nation.
Well we continued in our tank, and last 12-13 kms before Gurudongmar lake is just fantastic wrt everything nature offers. The roads are beautifully done, though single lane, open vast Ladakhi landscape, all stones and shades of it. Its so much fun to drive on this stretch and I just loved it.
And then you make a right turn at one of the check posts into the nearby hills. There are no proper board, direction markers there and one can easily miss this turn and continue going straight. So just keep an eye out.
This reach from the road and then you climb up the hill is again a proper offroad stretch, as there is no proper road or trail made. You can see the clouds of dust and continue following in the same direction, up the hill.
Gurudongmar Lake:
Once at the hilltop, and you will have the view of one of the most amazing sight of your life. The Gurdongmar Lake, shines, like a diamond, under bright sunlight and its water is as pure and crystal and pious as Gangotri in Himalayas. This is just beautiful and all the memories of the treacherous drive, bad roads, rocks n stones you passed on your way, will be gone in a puff.
There is a lot on internet to search and read about the lake, so not delving into the details there.
However, looking at the Compass, parked next to the lake, gave me a sense of utter satisfaction and wholesomeness. We had made this trip and this was by far the most challenging and grisly drive since the time this baby had come home in March on 2022.
Parikrama, or walk around the Gurudongmar lake is once in your lifetime moment. As we were told, if you do 3, in your lifetime, you are closest to pay your homage to the Gods. We cdnt honestly as its huge and we were all busy with the pictures and all.
There is a pleasing calm, and the sound of wind breeze makes this walk divine. You can also hear ice breaking and joining under temperature variations. It sounds like a Sci Fi messages, coming in from distant galaxies . Sit next to the lake and just hear it out. Quite phenomenal.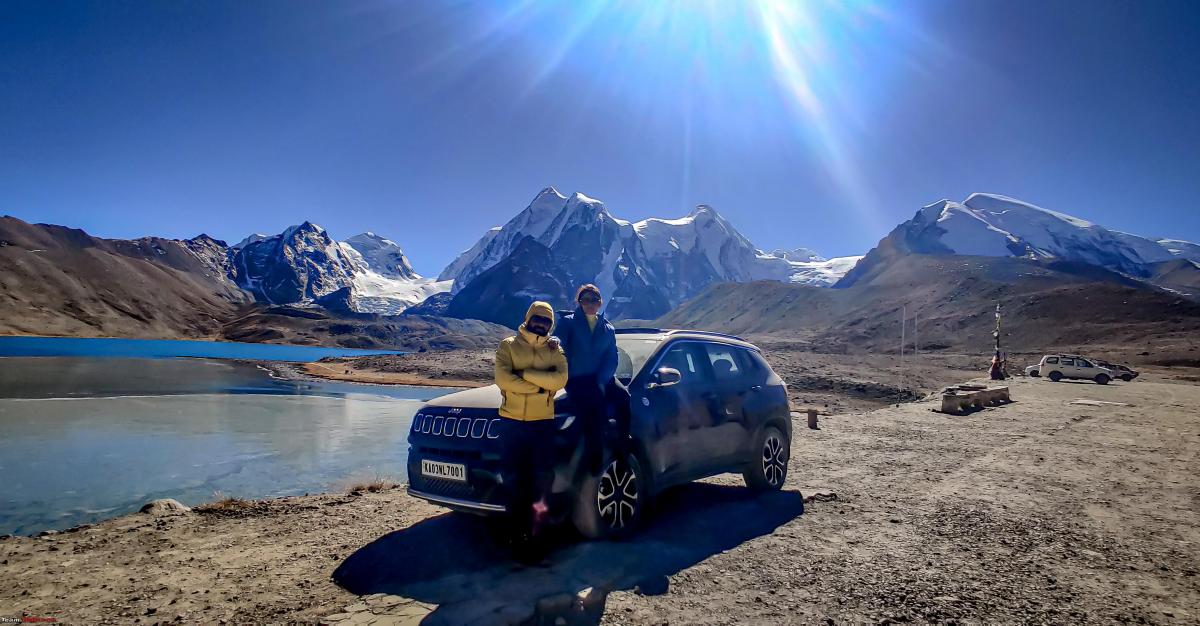 Day 14, December 2nd:
Lachen – Kewzing, Via Singtham – Chungthang Road, NH510, ~150 kms.
Lachen > Chungthang > Mangan > Rangrang > Singtam Teesta Bridge > Ravangla > Kewzing
Word of extreme caution, NH510 may sound like a National Highway, but its nothing better than the path for the Tanks that we encountered on way to Gurudongmar lake.
Its in such a terrible state with traffic both ways that its horrifying by any standards of an NH. I am not sure if this is like this for how ling, but, Jaypee are coming up with a 490MW hydroelectric power plant under construction by NHPC LTD and it has messed up this stretch.
Not restricted here, NH510 is in terrible state, in patches ahead as well, so this will really leave you with a bitter taste when it comes to pleasurable driving.
The stretch from Teesta River Bridge, Singtam, till Ravangla will be a mix of great to no roads, and since it's a NH, it caters to heavy traffic, both ways around which adds to the slow movement.
You will also encounter sections of NH710, which is a stark contrast to NH510. Broader, better and faster, but this pleasure is short-lived.
Stay t Airbnb – Mountain View 2,Sosing Homestay, Kewzing, Ravangla
Take my words for it, this is the place you surely want to spend atleast a couple of nights. This house is right at the edge of the cliff, has astounding view on 3 of its sides. All our fatigue, frustration was taken away in a flash as soon as you park your car and step out. We got late due to bad patches on our way so I could capture only the last few glimpses of the golden peaks sparkling under the fading sunlight. This is everything I wanted to from a photographer's need. I will be honest when I say I immediately declared my unwillingness to go anywhere else, but just to remain there, in my front yard, few ft away from my cottage, and enjoy this special special spectacle. The snowcapped Himalayas, uninterrupted view, of Ravangla Buddah Park never ending landscape are the star here.
The family who owns the house are again a fabulous host, making your stay as pleasant as possible. I am not just preaching about any of the stays we stayed throughout, but for a person like me who thrives to mingle with the locals, talk about their experience, stories and share some from my end, all these locations had been the highlight of our entire journey.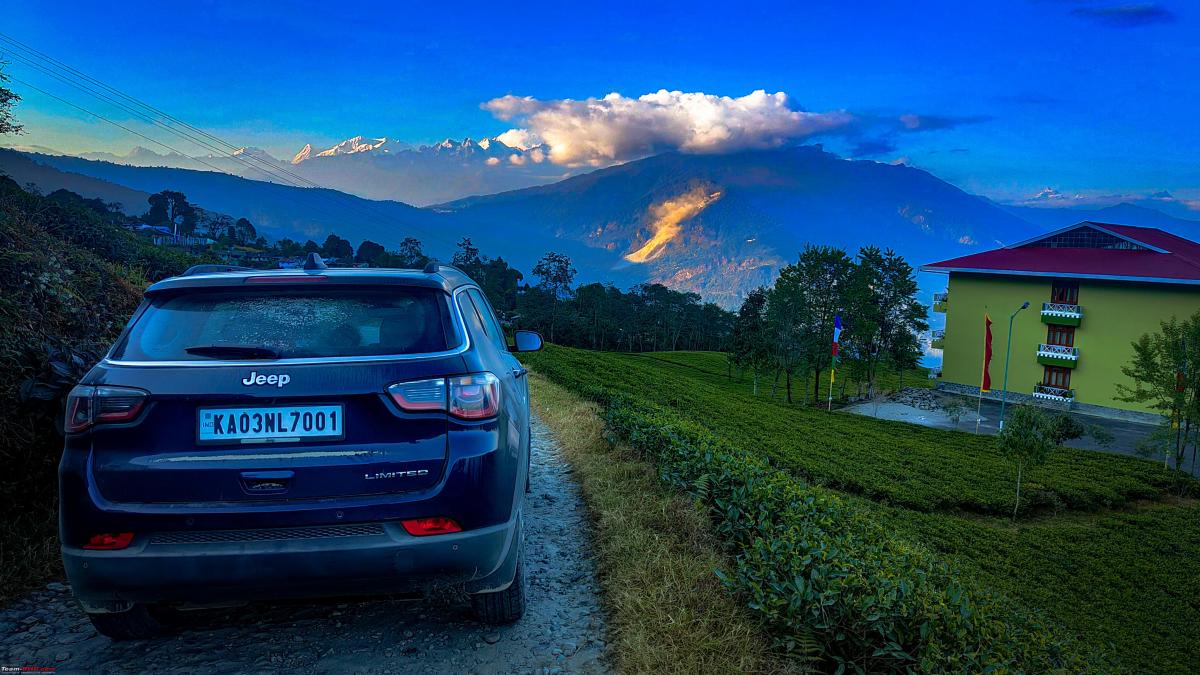 Day 14 – Day 17, December 2nd – 5th:
Stay at Kewzing, visit local attractions, Buddha Park in Ravangla, and some other explorations.
Day 17, December 5th:
Kewzing – Behrampore, Via NH12, ~ 510 kms
Return leg back to Kolkata had a halt at Berhampore.
Stay at The Golder Retreat, one of the premium hotels in the city, not very far away from the main Highway. Our experience was very comfortable, and it can be a great option to stay almost midway in Berhampore.
Day 18, December 6th:
Berhampore > Kolkata, Via NH12/STKK/SH6, ~220 kms
Berhampore > Krishnagar > Hematpur > Kalna > Amodghata > Dankuni > Baranagar > Kolkata
The route return, was again picked up avoiding NH 12 which is in quite bad state with repair works and though may appear shorter in distance, will consume a lot more time with bad road conditions.
Day 18 – Day 21, December 6th – 9th:
Kolkata and local.
Again, continuing enjoying the hospitality and cherish the flavors of the City of Joy. Loved every outing and moment spent during this time and met some super awesome people as well during this entire stay. Will love to visit again some time in future for sure.
Day 22, December 10th:
Kolkata – Lucknow, Via NH19/Purvanchal Expressway, ~1020 kms
Kolkata > Durgapur > Asansol > Dhanbad > Aurangabad > Nasriganj > Bikramganj > Nawanagar > Bhojpur > Buxar > Fakhanpura (Exit to Purvanchal Expressway) > Azamgarh > Lucknow
Purvanchal Expressway is the star throughout this route. This is, and NHs like this are a boon for us making long distance highway mile munches. One we took the exit to Purvanchal Expressway, it was much relaxing and suitable drive. And you wish to have better highways, comfortable to drive and relaxing, which you already had been on road for so many days. One deserves an easy drive when the sun is setting at the horizon.
Stay at Treebo Trend Sunrise By City Culture, Swatika City Ahmamau
Only idea was to stay as close and outside as possible from the city, that makes your exit the next day morning a hassle free one. This location suited as the best and its was very close to the Agra-Lucknow Expresssway. And this one fit the bill perfectly.
Day 23, December 11th:
Lucknow – Jaipur, Via Agra Lucknow Expressway/Bikaner – Agra Road, ~ 600kms
Lucknow > Narona > Fatehabad > Exit, Left at Delhi Lucknow Interchange, Inner Ring Road > Agra – Fatehabad Road > Tajganj > Subrata Road > The Mall Road > Mala Road > Mahatmagandhi Marg > Bikaner – Agra Road > Bhogipura > Kiraoli > Bharatpur > Madoli > Mahwa > Dausa > Entry to Jaipur from Transport nagar Side
The only Pain throughout this journey is that one must cross Agra, hustling through the city traffic. There is no Agra Bypass AFAIK. And this slows down your time and distance advantage that one has covered all the way on Agra – Lucknow Expressway.
Also, once you hit Bikaner – Agra Road, for some distance it's a single broad lane highway, soon after leaving Agra, so that also, keeps your speed and travel in check, not saying to break any land speed record. But after driving on Purvanchal and Agra – Lucknow Highway, they appear little disappointing. The road conditions are top notch however, and there are no diversions or hurdles otherwise.
We entered Jaipur at around 4 PM, which was good decent time to reach without rushing and a heavy right foot.
We planned to cover longer distance while we started from Kolkata, till Lucknow, so that we have easy distance to cover for 2nd and last day of the trip.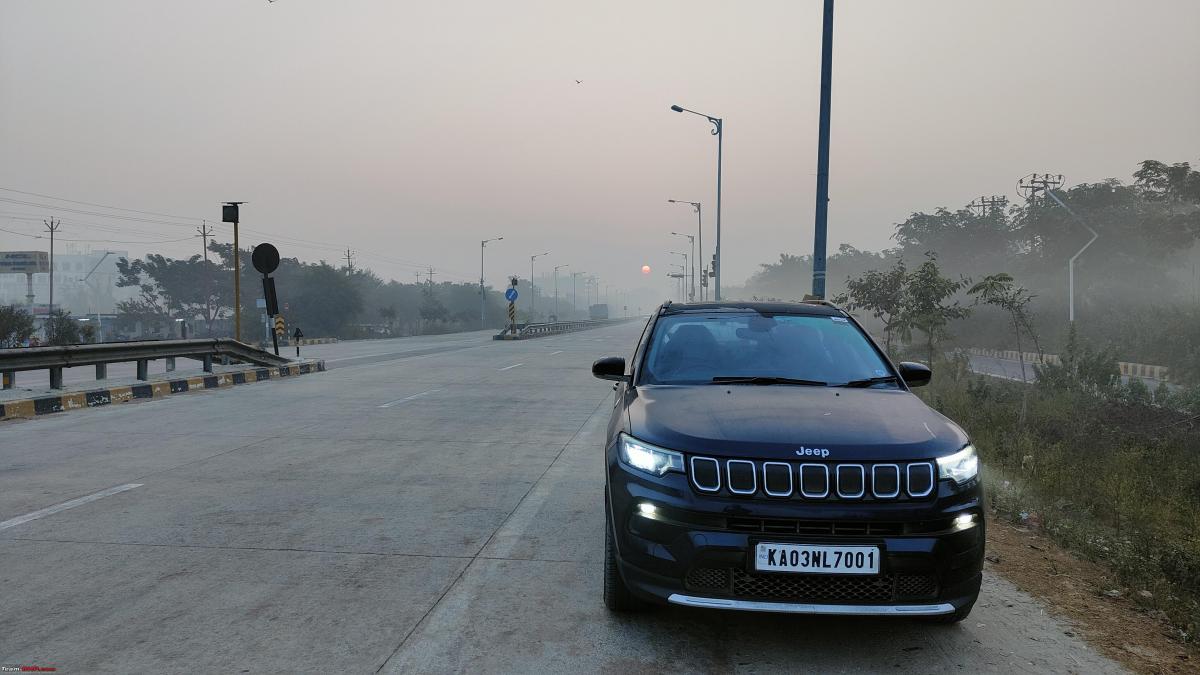 And with this we concluded our fantasy road trip from Banglore to Kolkata to Sikkim and return to Lucknow and to Jaipur eventually. I would always remember this trip for a very very long time to come in future. The car, Jeep Compass, performed fantastically well, much beyond what I thought of from a capability and comfort POV. There are several horror stories on the internet about the ownership experiences around the Compass, and I will not justify or deny them. I say, which brand or manufacturer have their fair share of sorry and happy tales.
But for my experience, till today, this car is tough, rock solid to perform on all kind of terrains and travel long highway miles. And now I am much more confident in planning my next trip, whenever that happens.
I hope someone, somewhere, might be benefited by this travelogue, which is crude at places, but I have tried to share my experiences on and off the road as candid as possible.
Cheers to all and quite thrilled to keep sharing and knowing of your travel stories.
Until next time. Ciao.
Check out BHPian comments for more insights and information.
Source: Read Full Article