Every modification has an implication, and I believe we trade off the pros for the cons, and live with some side effects, in return of gains, that suit our individual use cases.
BHPian vigneshkumar31 recently shared this with other enthusiasts.
Every modification has an implication, and I believe we trade off the pros for the cons, and live with some side effects, in return of gains, that suit our individual use cases. I constantly preach that it is crucial for the car owner to understand these side effects and weigh their options with a "whole of vehicle" approach rather than committing to certain mods just based on localised gains or aesthetics alone.
So here's a list of ALL my mods, with their gains and side effects.
Maxxis Mud Terrain Upsize Tires (245/75/R16):
Gains:
Improved Traction on mud and sand (aired down)
More resilient against punctures on trails.
Aspect ratio throws in more rubber for the wheel, great offroad.
GC increase.
Side Effects:
Wheels roll heavier tires – associated wear.
Lower Mileage.
Higher Road Noise.
Minor torque shave due to effective drive ratio change.
Alloy Wheels Neo Killer 16":
Gains:
OEM supply. Rare to find an aftermarket fit for the Gurkha PCD 160×5
Side Effects:
Standard alloy vs steel wheels offroad compromises robust, repairability etc.
Offroad Bumper:
Gains:
Protection and Strength
Provides Winch Base
Improved Approach Angle
Hi-Lift Jacking Point
Introduces Proper Recovery Points in the Front compared to low positioned stock tow-eye rod
Higher Position of Recovery Points makes recovery from pits and slush easier.
Side Effects:
Not Road Legal, Only for offroad use.
Airbag operation will be affected.
Weight, concentrated front nose weighs down front IFS.
Steering characteristics marginally affected not manifesting due to low speed and BOF manners
Rock Slider:
Gains:
Superior protection and slide over rocks and side break overs.
Hi Lift jackable from side.
Non Slip foot rail acts as sidestep.
Upward Angle helps in sliding.
Kick out at rear helps to pivot and kickout rear end.
Side Effects:
Added weight (but distributed over relatively long span)
Marginal increase in overall width beyond wheels.
Roof Rack:
Gains:
OEM Supply. Perfect fit.
Versatile and flexible to pack flat overhead with raised lips for securing.
Great for securing dirty stuff outside the cabin enclosure. Have custom mounts for jack lift and traction boards.
Side Effects:
Adds top weight and invites further top weight in terms of luggage and gear overhead.
Reduces garage clearance- Adds top height above snorkel head. Jerry can holder is highest point.
OEM option is Not full length of roof. Limited capacity.
Jerry can holder eats up flat space.
Rear Half Ladder:
Gains:
Manageable to climb onto roof if one is athletic.
Differentiates rear end from Trax cousin.
May mount some gear on it for ready reach (Older gen had a jerry can here) (I used to have traction boards here).
Side Effects:
Obscures visibility through rear side glass slightly, especially with gear mounted.
Windscreen Guard:
Gains:
Barkbusting protection for windshield.
Has mounting point for aux lights if required.
Narrow trails extremely effective to part branches.
Improves Aesthetics of a blank windshield- oozes offroad cred.
Side Effects:
Blind spots especially on driver side. Earlier gen gurkha snorkel used to be huge blindspot. Presently bs6 snorkel is in line with A pillar but this windshield guard gives blindspot on certain view angles.
Underbody Bash Plate:
Gains:
OEM front plate is steel. decent for normal use. offroad heavy usage requires heavier protection.
Underbody diff guard from OEM is notorious (Tax plate installed for lower paper GC and hence reduced tax slab) So needed to change and swap.
Perfect mating to bumper contours and OEM mounting points.
Protects radiator etc from front bash and protects underbody hits of front diff.
Can mount a GoPro inside safely for recording suspension and wheel travel.
Side Effects:
Weight in front bias.
Difficult to quickly inspect/ work underbody area.
Rear Diff Guard:
Gains:
Lowest point on my Gurkha.
Pumpkin had hit repeatedly on several occasions in rougher trails offroad.
Now my Custom made 'taco' style rear diff guard protects the diff.
Side Effects:
Clearance from diff reduces rear GC slightly.
Any Hit transfers to mounting points on live beam axle.
Headlight Grills:
Gains:
Stone guard.
Aesthetic nod to older Xtreme.
Side Effects:
Mounted by drilling hex nuts into headlight housing.
Rust and leak scares.
Jerry Can in Holder:
Gains:
Heavy truck low mileage, 63L tank. Limited range.
20 L extra fuel is godsend in remote.
Side Effects:
Limited capacity.
Filling requires funnel and spout.
Metal rattles on top and exposed to atmosphere Rust scares.
Not as convenient or spacious as an additional aftermarket fitted fuel tank.
Reversing Camera:
Gains:
Tall truck with wide rear glass but huge blindspot at lower height.
Required for reversing in normal times and especially on tight trails.
Side Effects:
Mounting point is below rear bumper. Lens blinded in slush easily.
Tall Gear Shifter Leather Wrapped
Gains:
Easier and shorter reach.
Side Effects:
Not chunky hold. slender form factor.
Not visual sync with 4wd lever.
Hi Lift Jack with Butterfly Mount:
Gains:
Easy to use versatile and can jack up from different points.
Side Effects:
Rattle snake . Heavy kit so mounting issues.
Dangerous recoil if not used correctly.
Prone to rust and lockup if not maintained.
Traction Boards with Butterfly Mount:
Gains:
Easy solution to traction on loose surfaces.
Can bridge small gaps and crevices.
Superb option for sand recovery.
Side Effects:
Needs special mount for easy reach and stowage. Large planks prone to wind buffeting if not secured right.
Wing Top Chequer Plate:
Gains:
Aesthetic nod to the ol'Defender
Drop Tools and gear while working under the hood.
Can stand on it to access roof from front.
Side Effects:
Black plates gets heated up like a hot plate.
Radio Setup:
Gains:
Easiest communication on trails with convoy.
Simple setup. Not CB. Works on PTT Motorola Set.
No wiring hassle.
Side Effects:
Limited range.
Battery drains too quickly.
Knee Pads:
Gains:
Perfect cushion for long drives.
Side Effects:
Angle of knee fixed.
Prone to adhesive getting ripped off.
Custom name plates:
Gains:
Aesthetics.
Personalisation.
Michelin Floor Mats:
Gains:
Non skid.
Easy to remove and clean unlike stock mats which are buttoned down.
Side Effects:
Needs care for pedals clearance.
Generic model.Not perfect fit.
Sloped Rear step:
Gains:
Before – When parallel to ground – Always hits at steep departures.
Now inclined upwards. Better departure angle.
Side Effects:
Higher and odd slope difficult to climb for rear entry.
Upcoming mods:
270 Degree WrapAround Batwing Awning.
12000LB Winch.
Full Suspension Upgrade.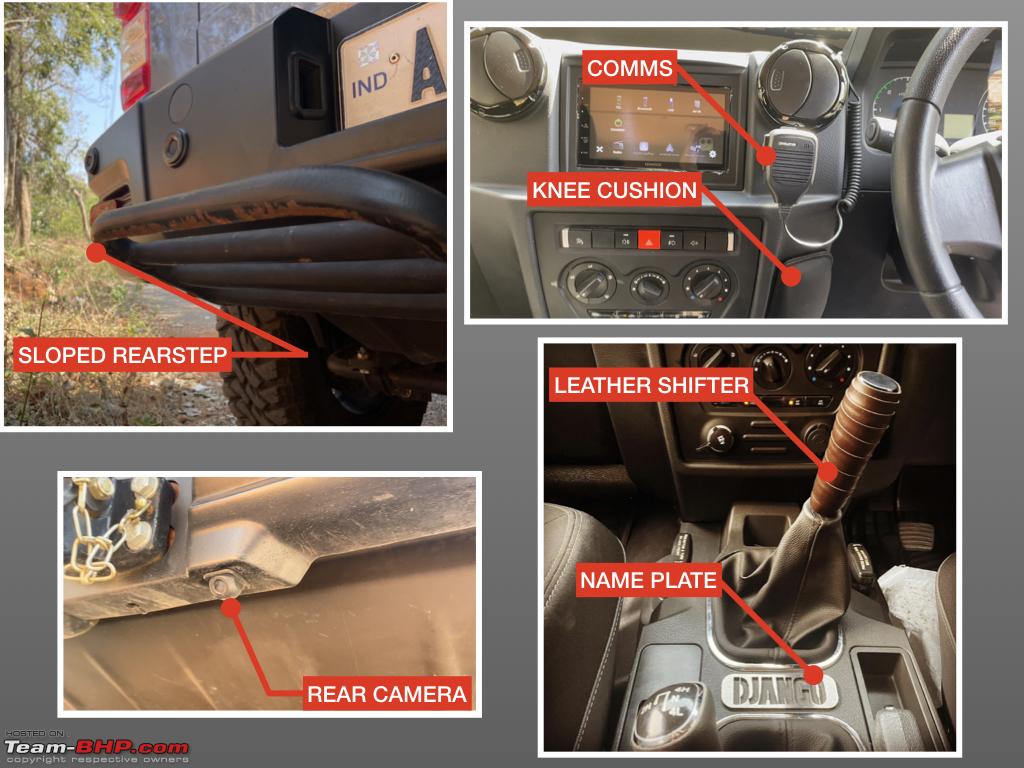 I've compiled a video explaining all the mods in detail.
Check out BHPian comments for more insights and information.
Source: Read Full Article