We get to the Handling Circuit, I take the first lap slowly, it feels well balanced and takes corners flatter for sure and the steering is more eager on the AMG GT especially after the C63S.
BHPian ajmat recently shared this with other enthusiasts.
What you will like:
Well laid out and organised.
Good Booking interface.
You get pretty good exposure to the AMG within specified time.
Manic launch control experience.
What you wont like:
It's a handling circuit, not a racing circuit.
A little expensive.
With COVID, Inflation, UK summer etc. Track experiences are very limited. I was hoping to do Thruxton but alas there were no events since the BTCC was being run over a couple of weekends , so I decided to explore Mercedes Benz World.
My schedule was packed so at the last minute, Monday opened up. They have choices ranging from:
One hour experiences:
AMG 43
AMG 63
AMG GT (30 min in a AMG 63 and 30 min in the GT)
AMG GT 63 – similar to above
EQC Experience
There is also the G63 Off Road Experience.
Half day experiences:
AMG63
AMG GT (2 hours with a C63S + 1 hour with the AMG GT).
The available slots were limited, I decided on the 1 hour with the AMG GT and a 3.00PM slot was available. Due to some credit card glitch, I could not make the booking on Sunday night, so I tried on Monday morning but no slots were available. I called the centre on Monday and they confirmed that the 3 PM slot is available but online booking could not be taken for the same day. They needed to check with the Experience Team. I was promised a call back in two hours. They called back in an hour and confirmed the slot but I needed to pay on arrival.
Fair enough.
I whipped out my Mercedes T Shirt, and reached well in time in Munich's finest!!!
Mercedes Benz World is located in Brookland as part of the old circuit. It is a basically a huge dealership with an experience centre tagged on. As a brand cetnre, it works, as a dealership, it is a tad impersonal.
Once enters the reception and you see a couple of cars parked in reception:
i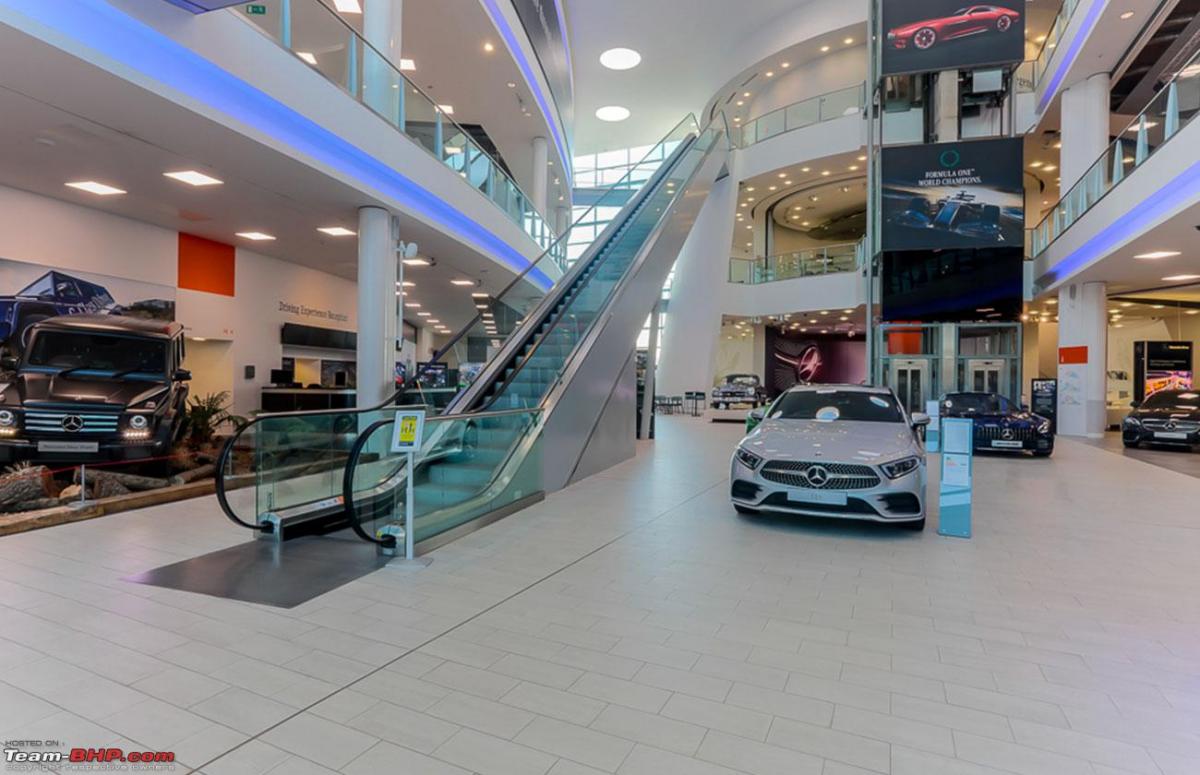 Image source.
You see the Experience desk on the left and I completed my registration and signed a waiver. I was liable for 1500 pound excess but if I paid 20 pounds, I could get that waived. When asked about my chances of crashing,
"All cars have dual control, so very little chance!"
20 quid saved then!
I am then ushered to the Driver's lounge straight ahead. This steps out to a driveway where various AMG's are parked: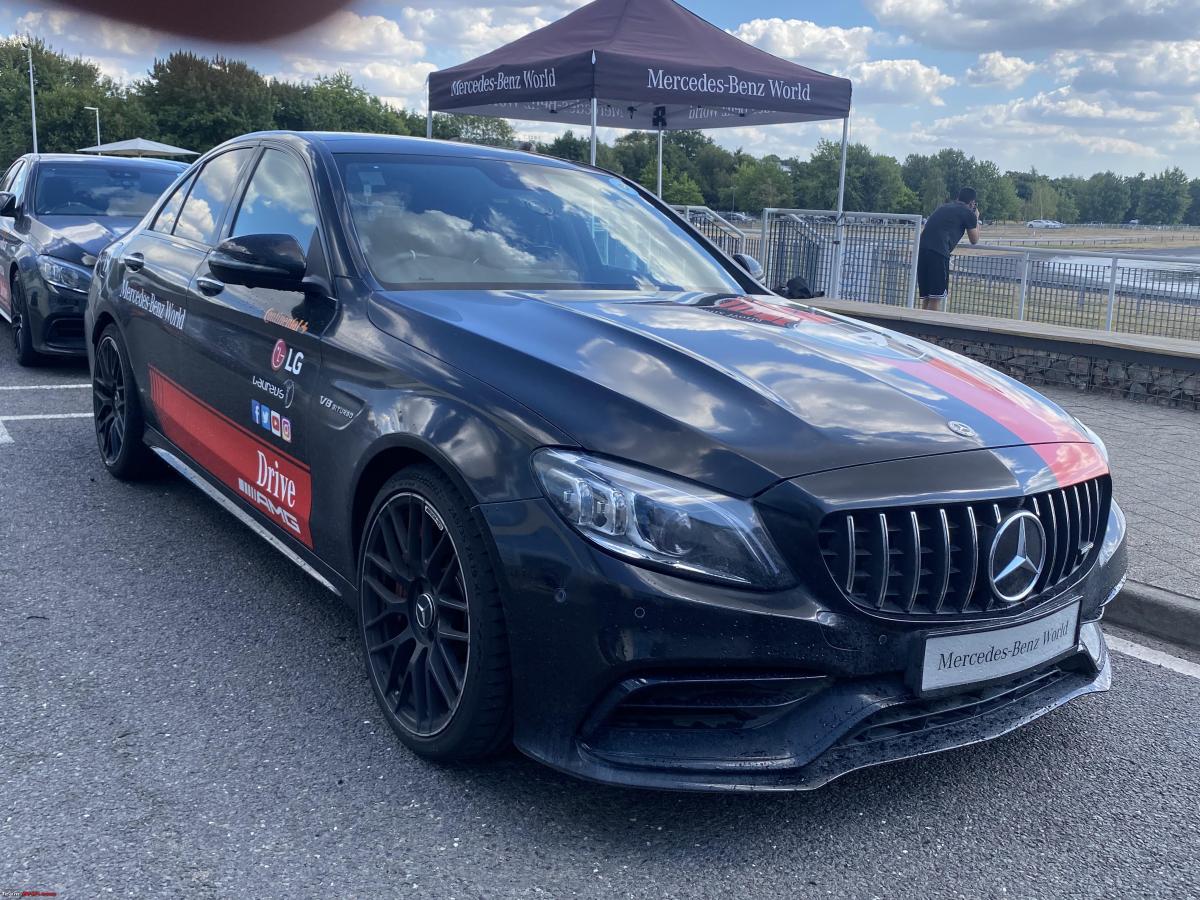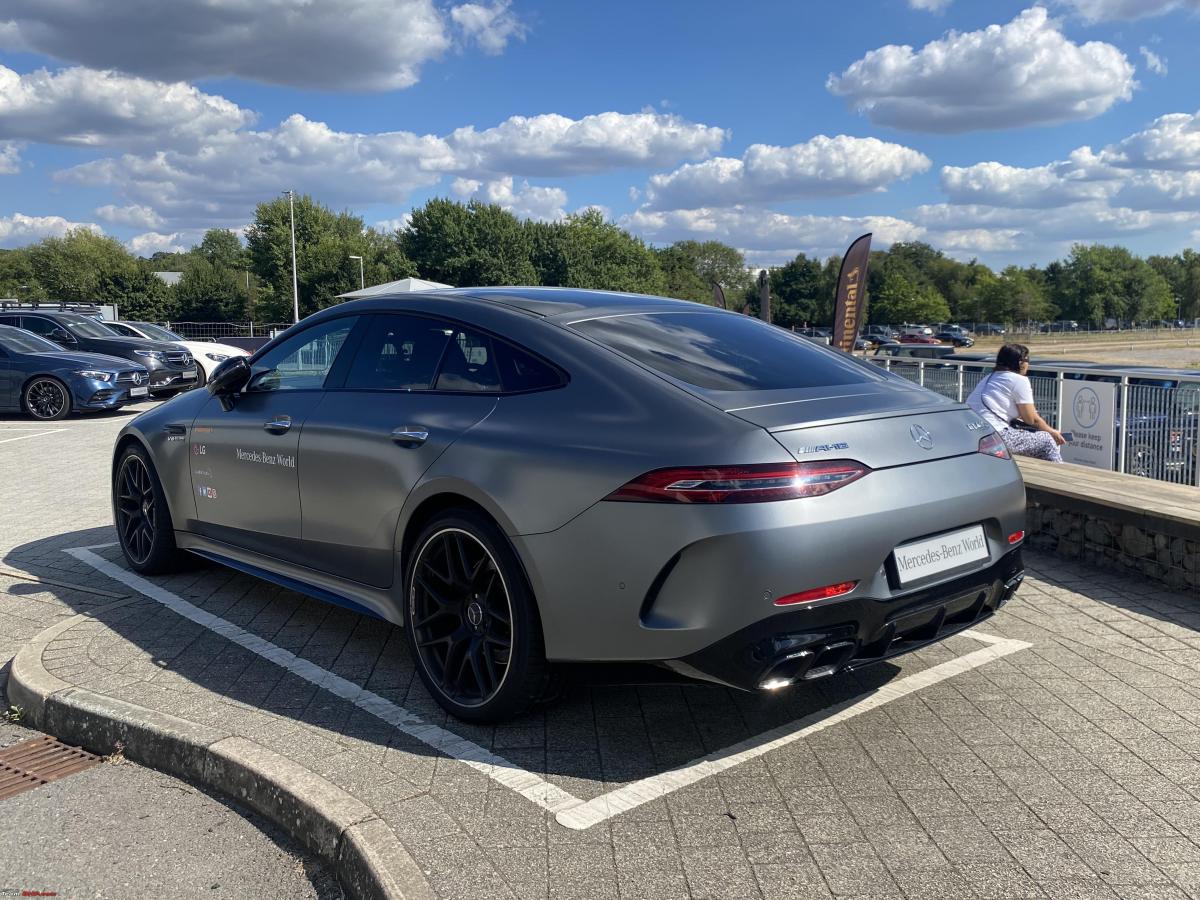 After each session, they come in and are parked. I am then introduced to my allocated instructor for the day – Dylan
The Experience centre has 5 track areas:
The South Circuit – used for familiarizing with car and track
Handling Circuit
Wet Skid Circle
Dynamic Straight
Wet Dynamic Straight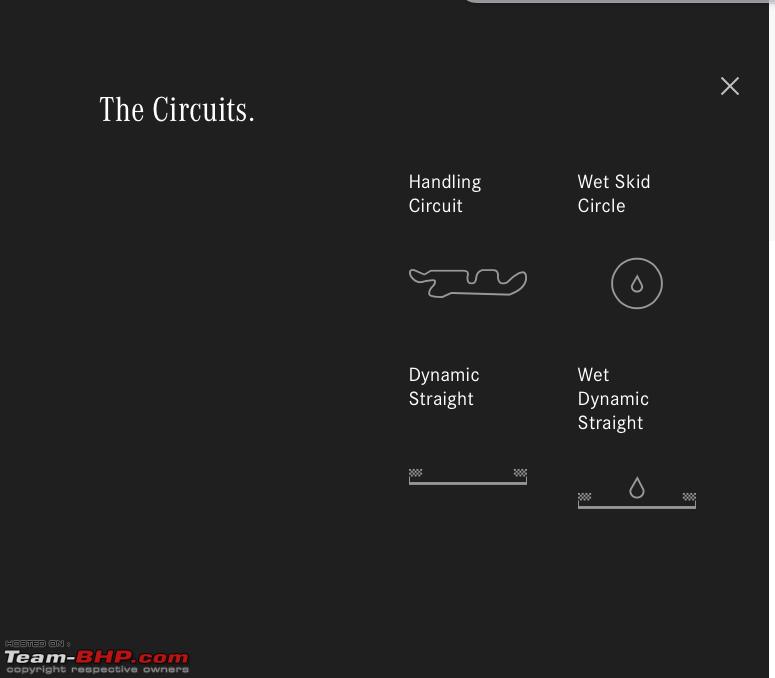 Folks, can only talk about the experience as the public are not allowed in the area due to safety reasons
The Experience:
Dylan plugged in a USB for my session which is recorded. We jump into an AMG C63S. We check position and whether I can brake and accelerate. We set off slowly
"Do you have track experience?"
"I have but that does not mean I know everything!"
Plan was:
C63S – Handling Circuit + Wet Skid Circle (AMG GT not permitted there)
AMG GT – Handling Circuit – Dynamic Straight – Wet Dynamic Straight
We set off to the South Circuit – the last one at the bottom of the picture. This is a short circuit used for one you get familiar. After a couple of laps:
"I can see you get it, lets move to the handling circuit, next door
This circuit is narrow compared to a race track with tight curves including a hairpin bend and a quarter km straight. I spent around 10 min there, the AMG63 is pretty accurate but rolls slightly. Steering feedback compared to the M4 is muted but the harder you push it, it goes in. Turn in is more neutral but you are going fast but don't realize it. On the straights the acceleration is blistering and I brake hard and the car slows down easily to tackle the next corner. Quite a few times, I tried to late brake but Dylan cut in and spoilt the fun.
We then exit and go to the Wet Skid circle and try and drift the car. Sounds easy but it was not. The circuit is wet and coated with silicon compound. Am instructed to drive clock wise at 15 mph, 2nd gear and floor it at 4000RPM (max torque). Tail slides out and I need to catch it. The co-ordination of mashing the throttle, and catching the skid which is a little exaggerated is an art. I barely make it. Am then told to go anticlockwise, and sure enough , I crack it, my co-ordination was a lot better.
Here are some short videos taken from the cafe:
Video 1, Video 2
By then 30 min was up. Time to return to base and swap into the AMG-GT: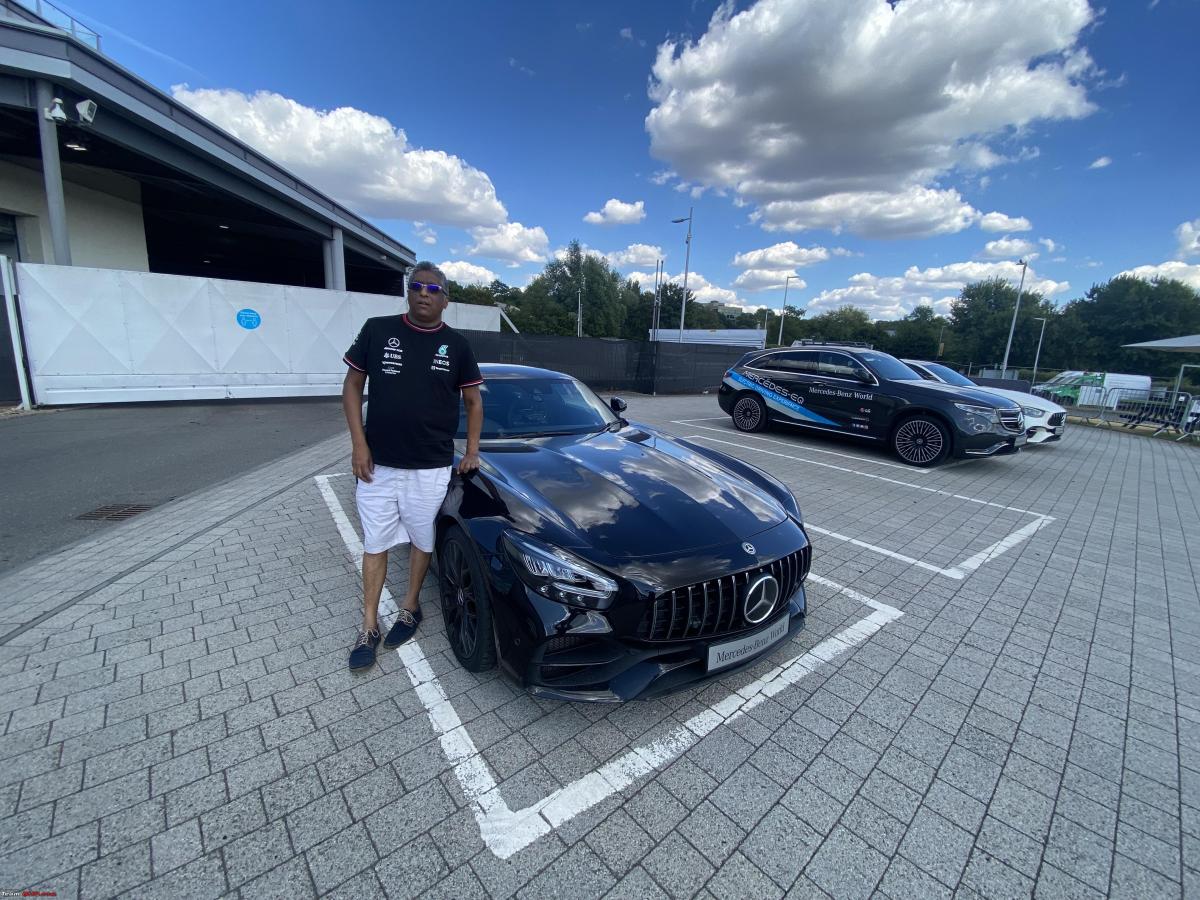 In this car, you sit really low and the car is snug. That long bonnet psychologically makes you feel well endowed 'nuff said! Controls are similar except that the seat controls are deep down although accessible. Hate to lose a phone down there: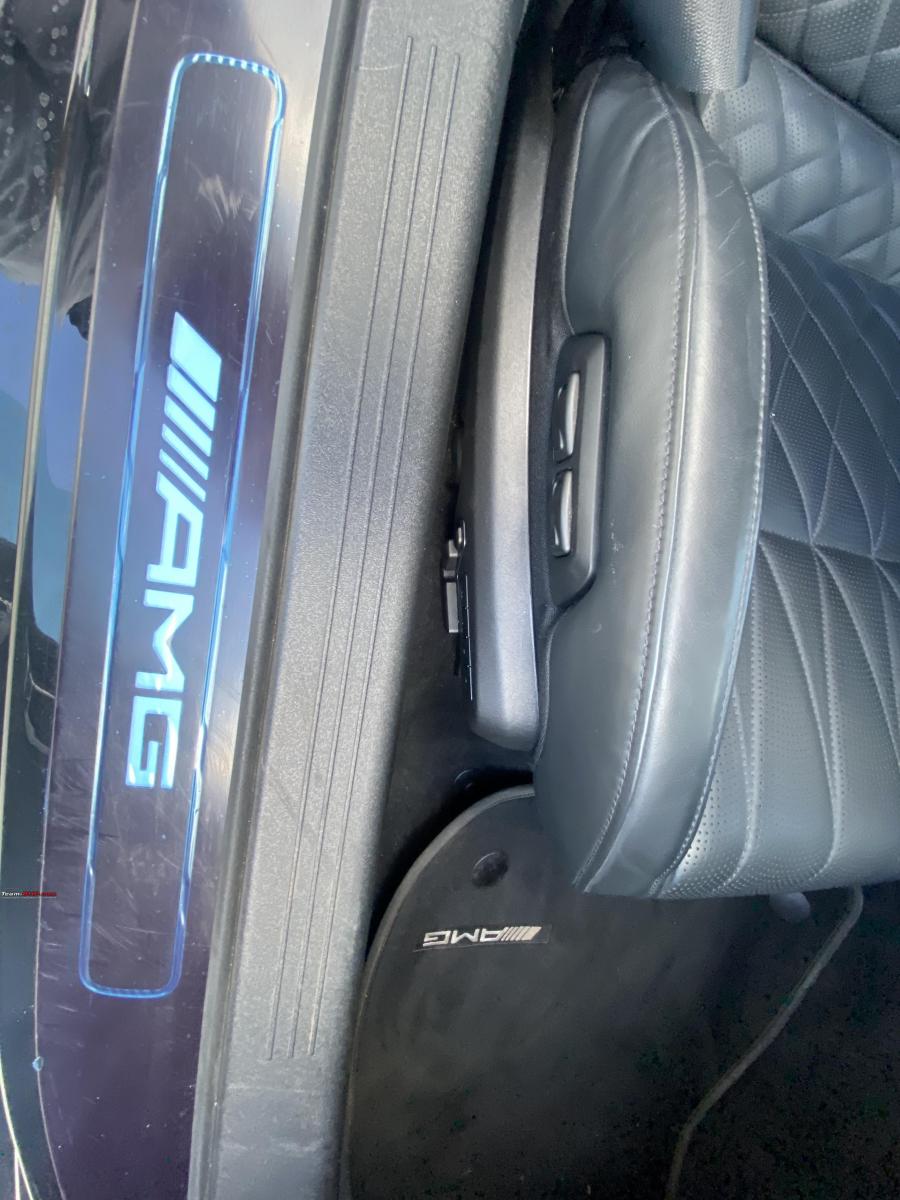 We get to the Handling Circuit, I take the first lap slowly, it feels well balanced and takes corners flatter for sure and the steering is more eager especially after the C63S. I then push it, hoo boy it is fun, the car hugs the road and if you get the lines right rewards you immensely. Going down the straight, mash the pedal and the car surges, late braking wiped out the speed in no time although the instructor did brake before I did.
"Ok, lets do the Dynamic Straight" so we cross the access road to the other section.
There are three lanes, there was an A45S taking off as we approached, a C63 was next and then us. The rule was to ensure the car has completed its run and on its return before you launch. This straight is half a mile long. Its simple, You do a CARWOW and mash the pedal and accelerate hard. When you seem to be 6 feet from the wall, the instructor tells you to brake hard and you stop, no drama, no nothing. All the velocity has disappeared into the brake discs! First time you just felt relieved. We then repeat this, I was getting better.
"Lets do this again, this time , use Race Start and Launch Control".
We position ourselves:
Keep steering straight ahead.
Put foot firmly on brake pedal.
Switch drive mode to RS (Race Start).
Flip the + paddle to confirm.
Mash the accelerator and take your foot of the brake.
The AMG GT took off like nothing else. It was as if Thor's hammer was powering up your rear end. This was a defining moment of an automotive climax. I hit the brake and if I had not been belted in, my grin would have been plastered on the windscreen. Note – the Race Start will not happen until all systems have reached operating temperature.
That done, we tried the dynamic wet straight. I kept making a hash of it so Dylan suggested we use the last few minutes to do a couple of more laps. The AMG GT gripped despite wet tyres and then it was over.
I did have the option of buying the video content for 30 pounds but I felt it was not worth it unless the car exterior had been captured in action. Returned to the drivers lounge, parked and thanked Dylan. Time for a cup of coffee. I sat on the terrace and watched the handling circuit from afar and realized how fast I had been going and how comparatively fast the AMG GT was.
Should I have taken the 3 hour session – I don't think so. If it was a race track yes, but not the handling circuit. Its too small for so much time.
My recommendation – spend time on the handling circuit and the dynamic straight.
Caffeine infused, it was time to walk around the Mercedes Benz Centre.
Continue reading on BHPian ajmat's experience at Mercedes-Benz World UK for BHPian comments, insights and information.
Source: Read Full Article