I saw the bike & I was mesmerised. The moment I sat on it & took it off the stand, I realised that it was easy and didn't feel intimidating.
BHPian GP19 recently shared this with other enthusiasts.
Bike bug bit me when I saw an Instagram post of the BMW R18. I went to check out the bike with my wife's cousin and her brother. I was mesmerised by the way it looked. My wife's cousin, who is a hardcore biker, suggested that I should start riding.
So to start off with I chose CB350, probably because it was a Honda.
A year passed and eventually, I figured out how to ride and got a fair idea. But knowing that it's underpowered (especially with pillion) and small for me I wouldn't have stayed with it longer.
I wanted to upgrade, so in my next bike, I wanted to have a relaxed riding position and enough power for a pillion and luggage.
How I ended up purchasing one?
Looking at my requirements, my original choice was Triumph Tiger 900 GT. But then the difference between the GT and Rally was 50,000/- so thought let's go for the Rally. Also, I couldn't ride the GT as there were no test bikes and I have to be sure what I'm getting into. Since I didn't ride the GT, I didn't want to go for it (GT has a different ride compared to Rally).
Now when I spent almost 20 lacs (including accessories) for Rally, I was showing BMW R18 to my dad. In conversation, I slipped in telling him that the actual bike that I like is BMW R18 and it's for 25. He is like if you have spent so much and not going for what you don't like then it doesn't make sense. That kept playing on my mind for a couple of days.
One fine day Assistant GM of Triumph Mumbai, Mr Arash put a story on WhatsApp about Rocket 3 R and 3 GT in the showroom and it caught my attention. I thought let's drop by to see the bike as I was heading to town for some work.
I saw the bike and I was again mesmerised. The moment I sat on the bike and took it off the stand, I realised that it was easy and didn't feel intimidating. I won't deny I went home and I re-checked my finances and saw if I can stretch a bit to see if I can go for this. At that point, I was like it's ok, Rally is a good buy for now.
Fast forward to 2 weeks later
3rd Dec I took the choice number. Somewhere on the 10th, Arash calls me and tells me that Rally will leave from Manesar around 25th, now I was concerned about losing the number. Since I wasn't hell-bent on Rally I asked him if he has the Speedmaster (Plan B). He said he has a Street Twin and two Rocket. So I casually asked him the cost of 3GT and then later Edsel (My SA) sent it to me. In the same conversation, Arash said that he will bring the bike from the stockyard to the showroom and once it comes I can have a look.
Same day in the evening I was showing the bike to my dad and he liked the bike but was sceptical about it because of how powerful it was. But the bike kept playing in my head.
Next morning I did intend to see the bike irrespective of the purchase. I met my dad for some work and asked him if he was interested. He said yes and we went and saw the bike. He did like the bike but was still sceptical because of the weight and power.
Same day in the evening I took my mom and sister to the showroom to show them the bike.
So my family almost agreed to it & the next approval needed was from my wife. The second day I took her to the showroom to check if she can sit as a pillion for 1-2 hrs at a stretch and she said she can, provided she gets to ride.
My heart was set on it but I was in two minds because of the cost and before this, I haven't ridden something of this magnitude.
One the third day I told Arash that I'm not sure about committing to something which I haven't ridden. He managed to get hold of his friend's bike and I rode that. It felt like a breeze (obviously I was moving and not standing still or taking tight turns). Only thing I needed to justify is the cost. Well, I decided to go for it now than later somewhere in life when I'm not able to ride such a heavy bike.
So on fourth day I paid the final amount and sent the bike for PDI.
So here I am, purchased the Rocket 3 GT and blew up some more money.
Special thanks to Mr Arash and Mr Edsel from Shaman Triumph for patiently answering all my queries at any given time of the day. Overall dealership experience was good.
Attaching some pictures below. Enjoy!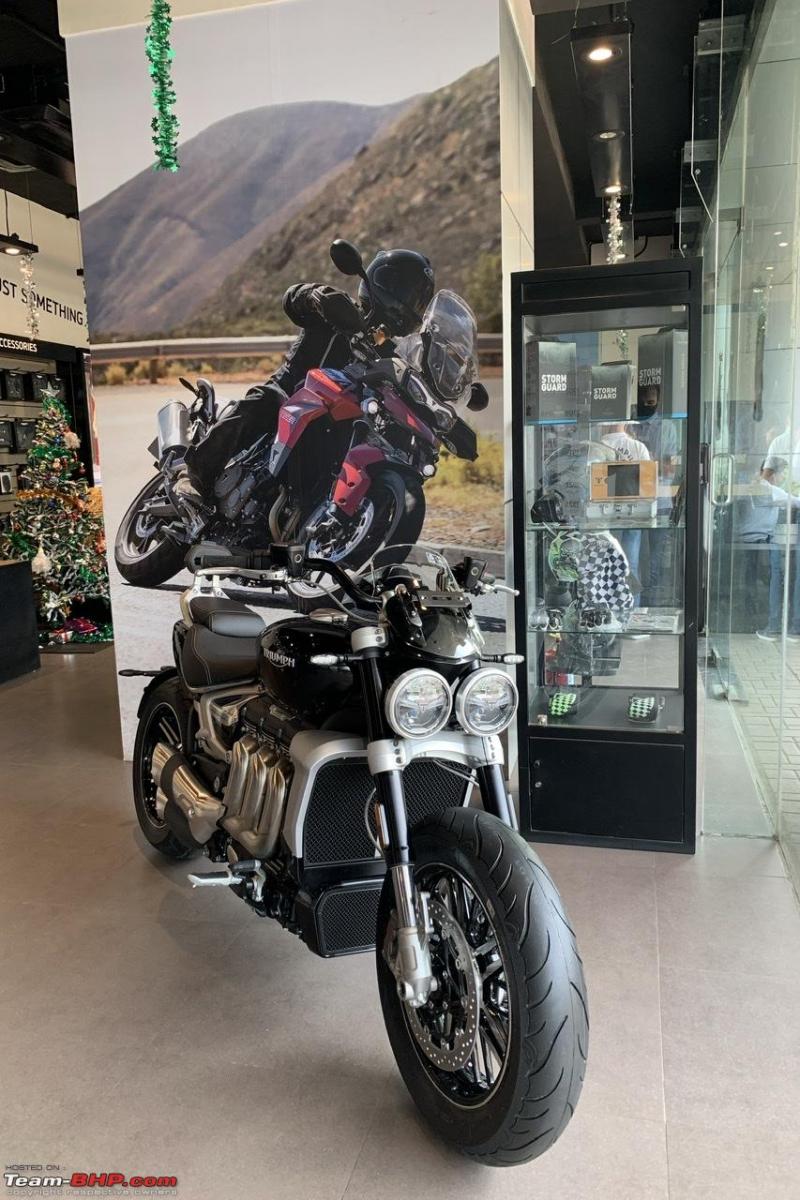 The first look
Up close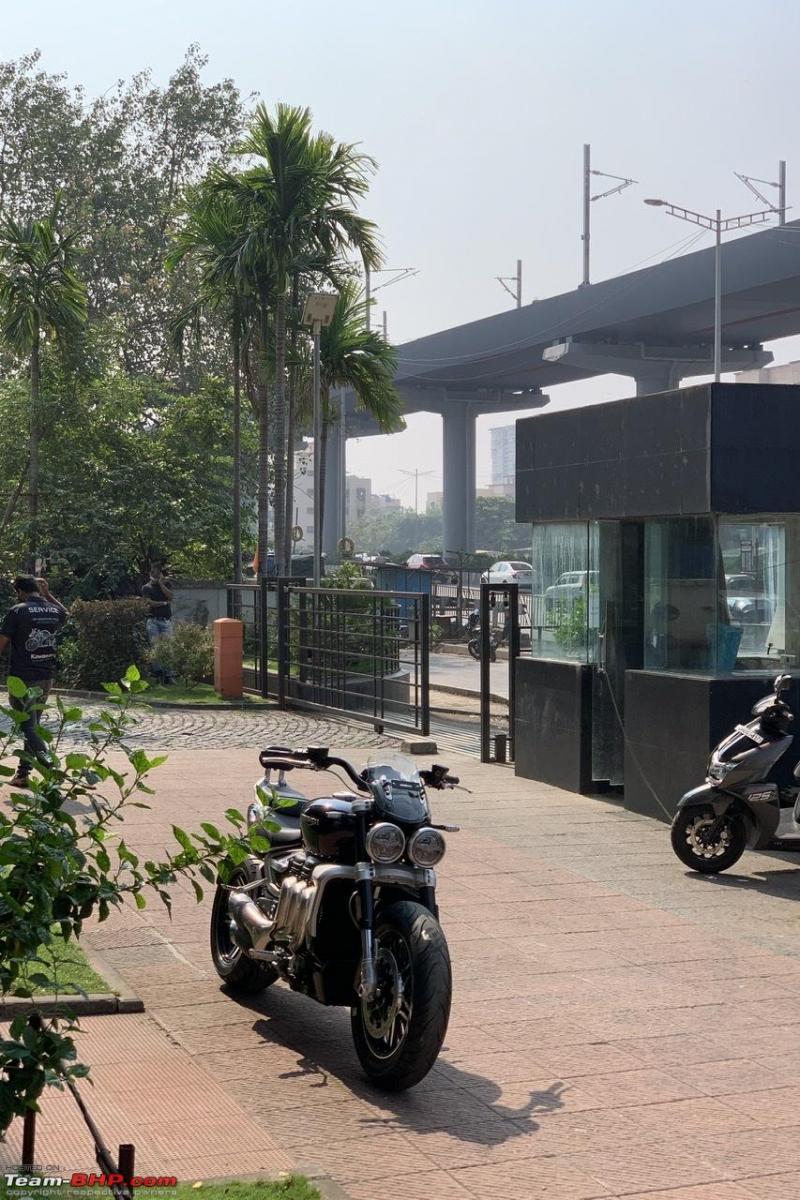 Some daylight observations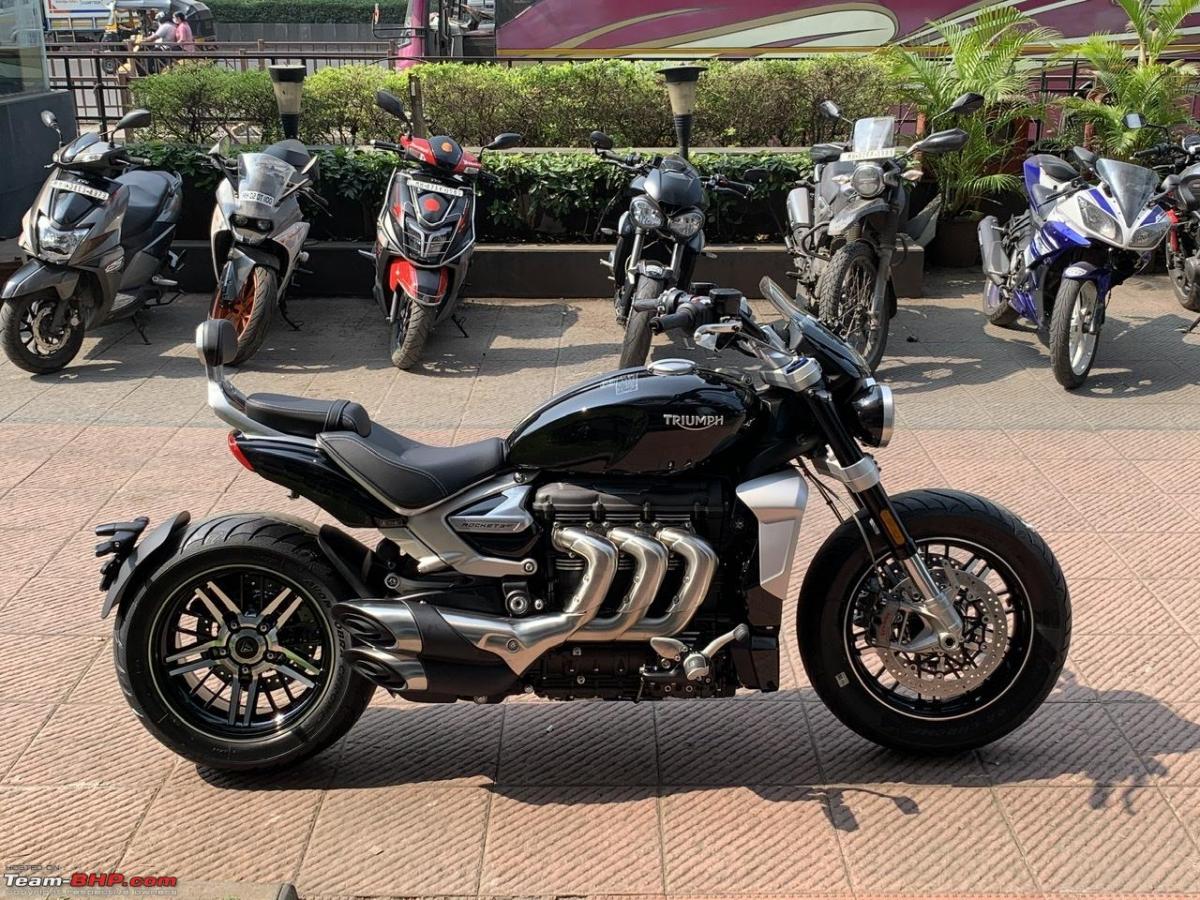 Admiring the Triple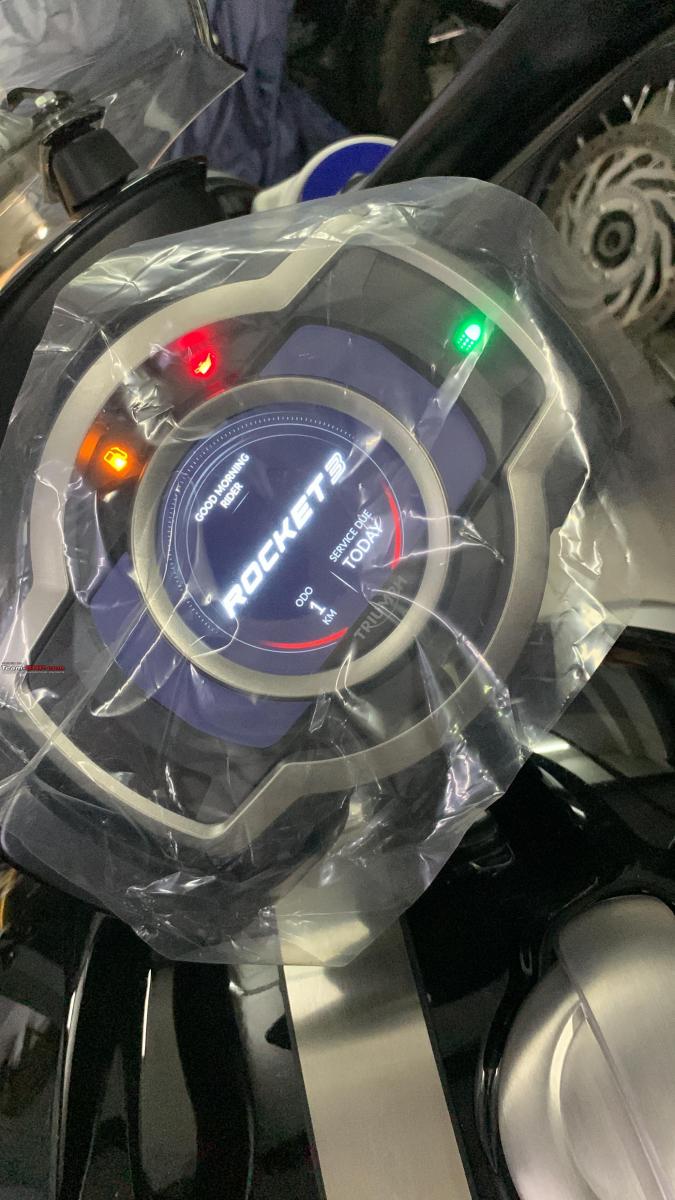 The day when I took the plunge, Hello! Rider.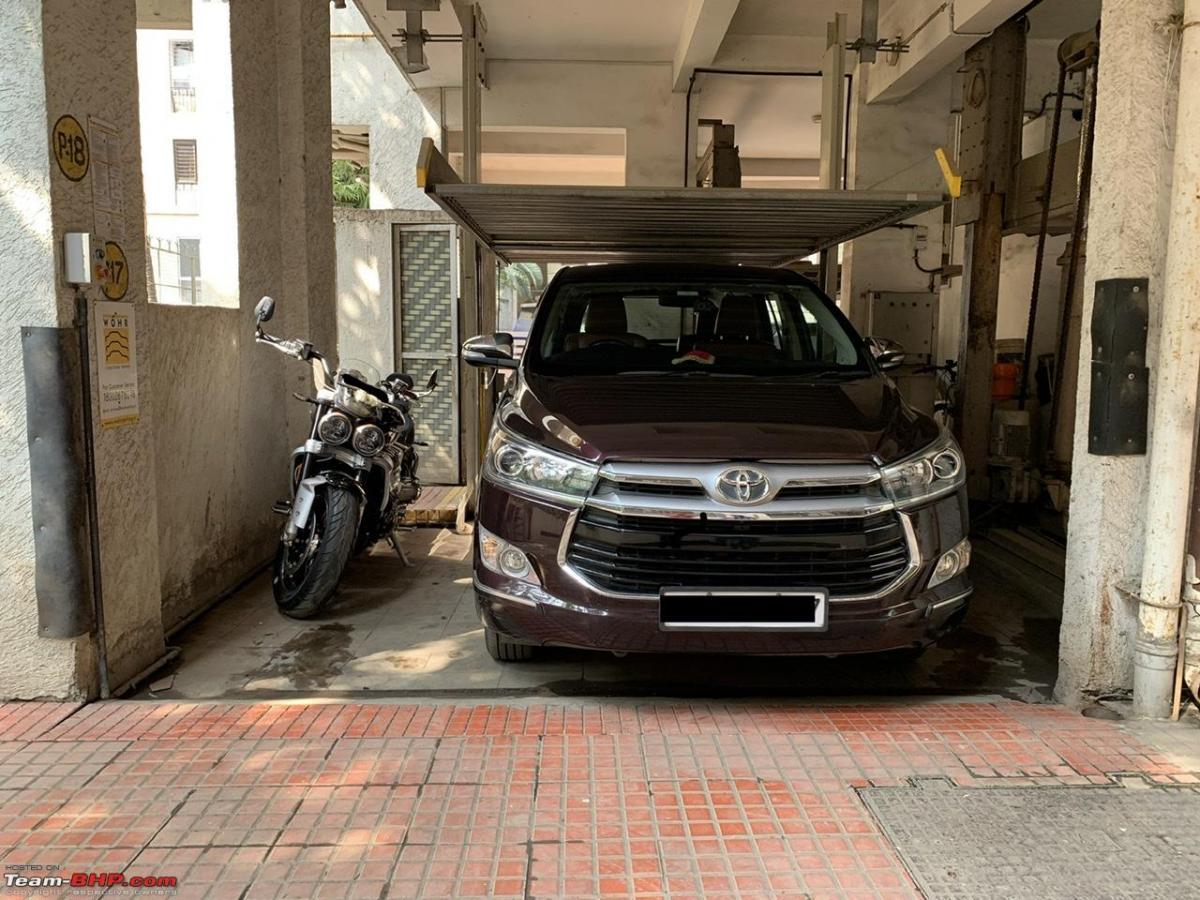 Parking place along with my Innova Crysta.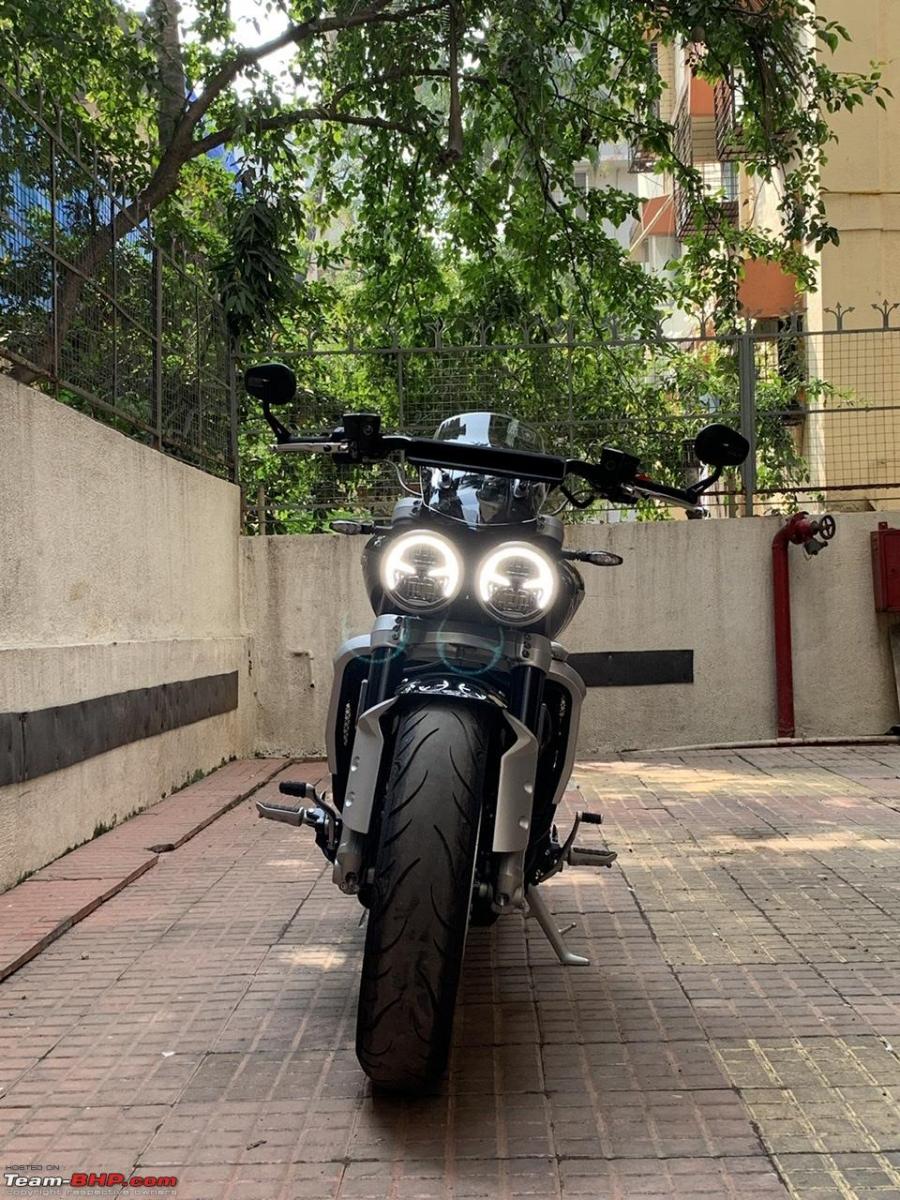 Front
Rear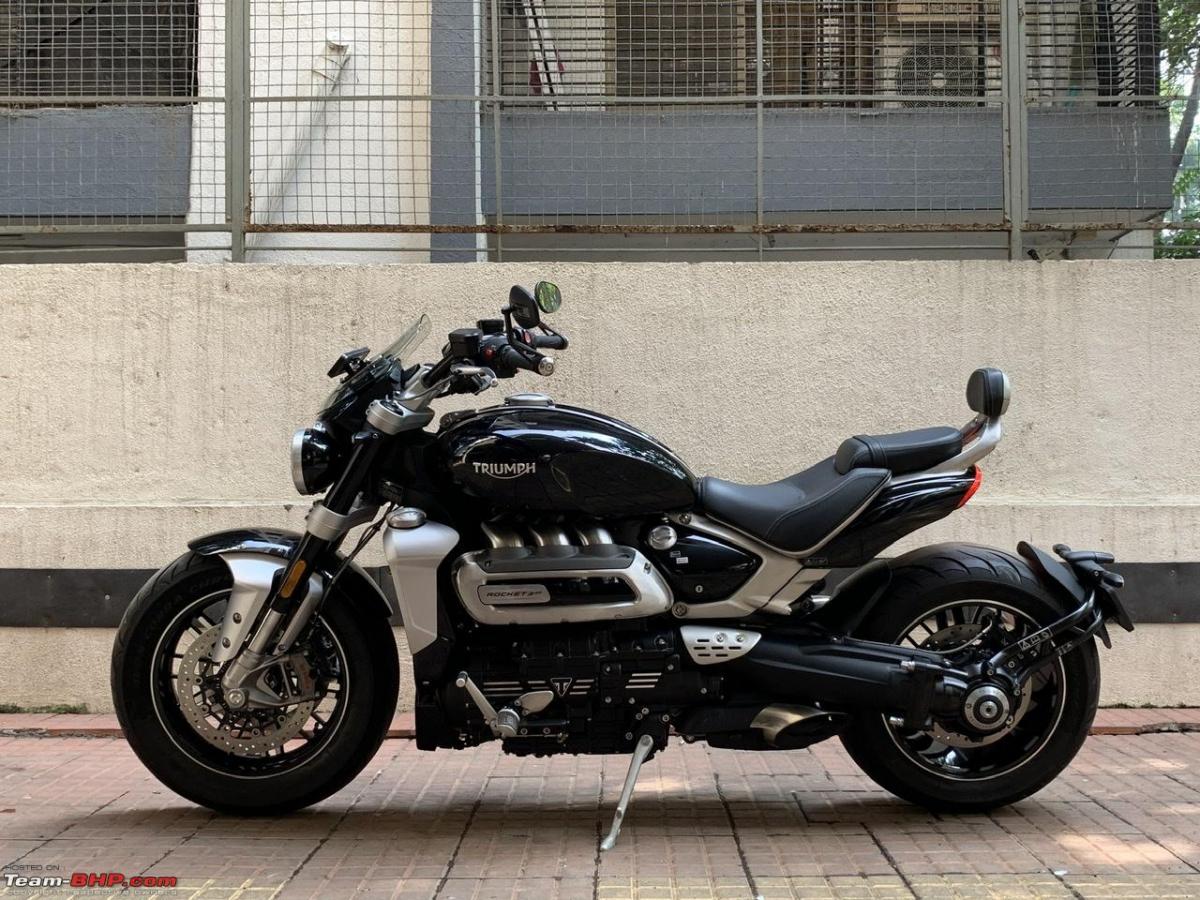 Side profiles
Up close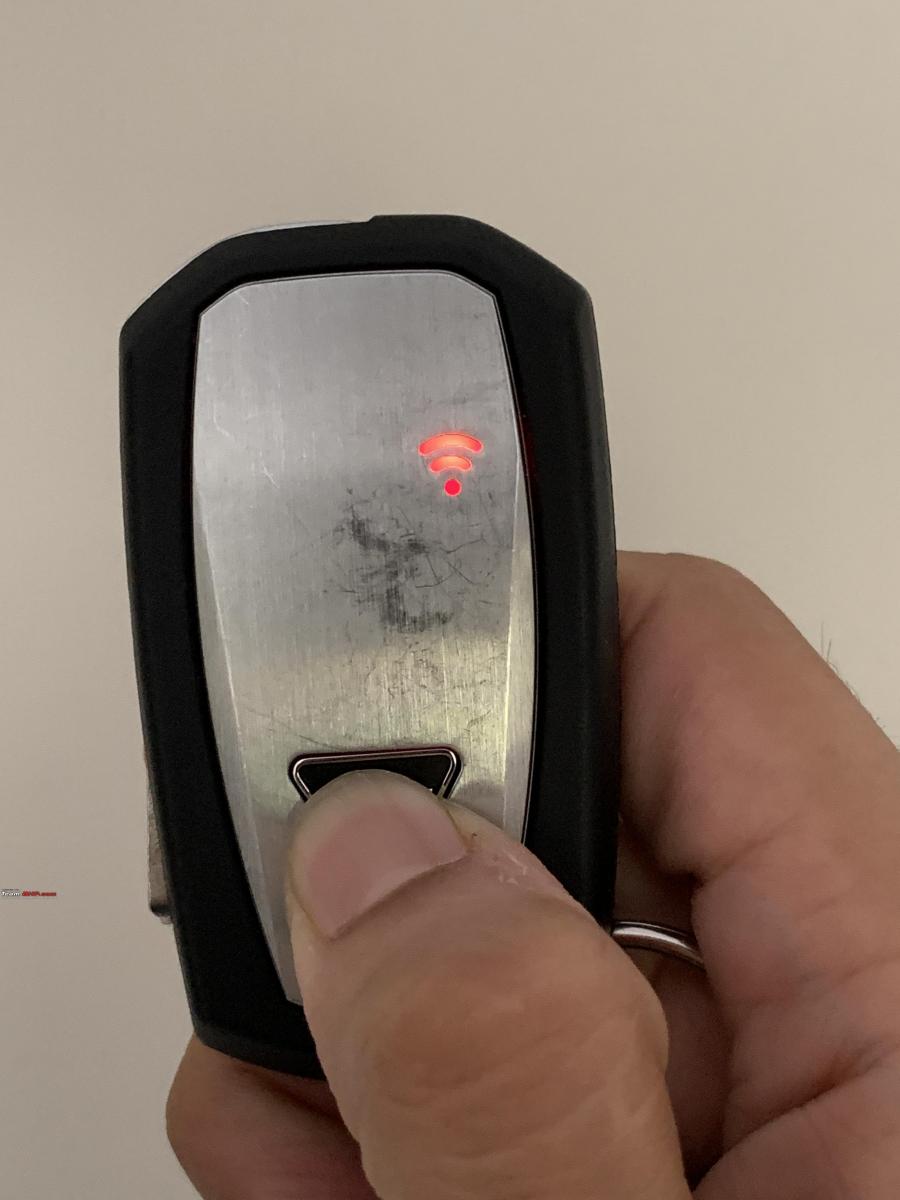 Wireless Key On and Off
Rider's view
Handle Bar : 886mm wide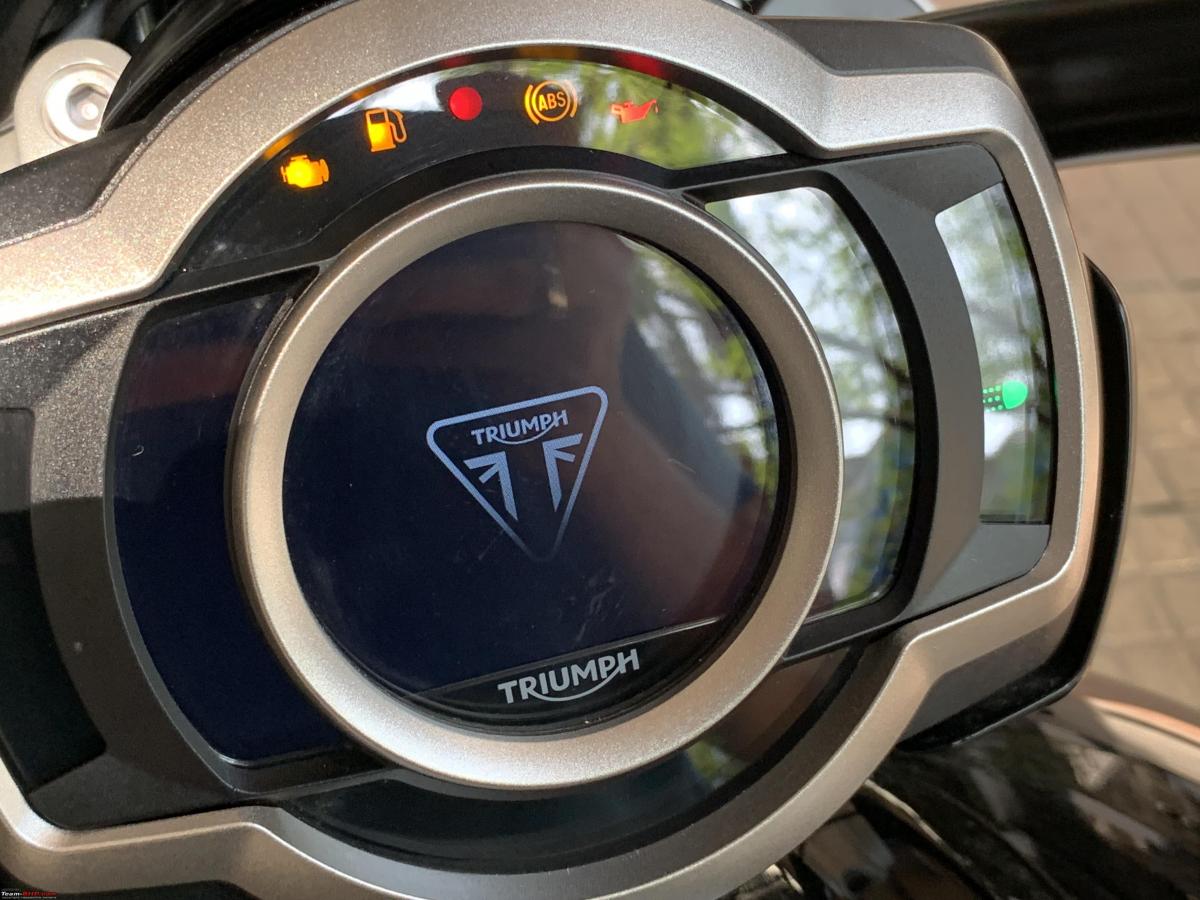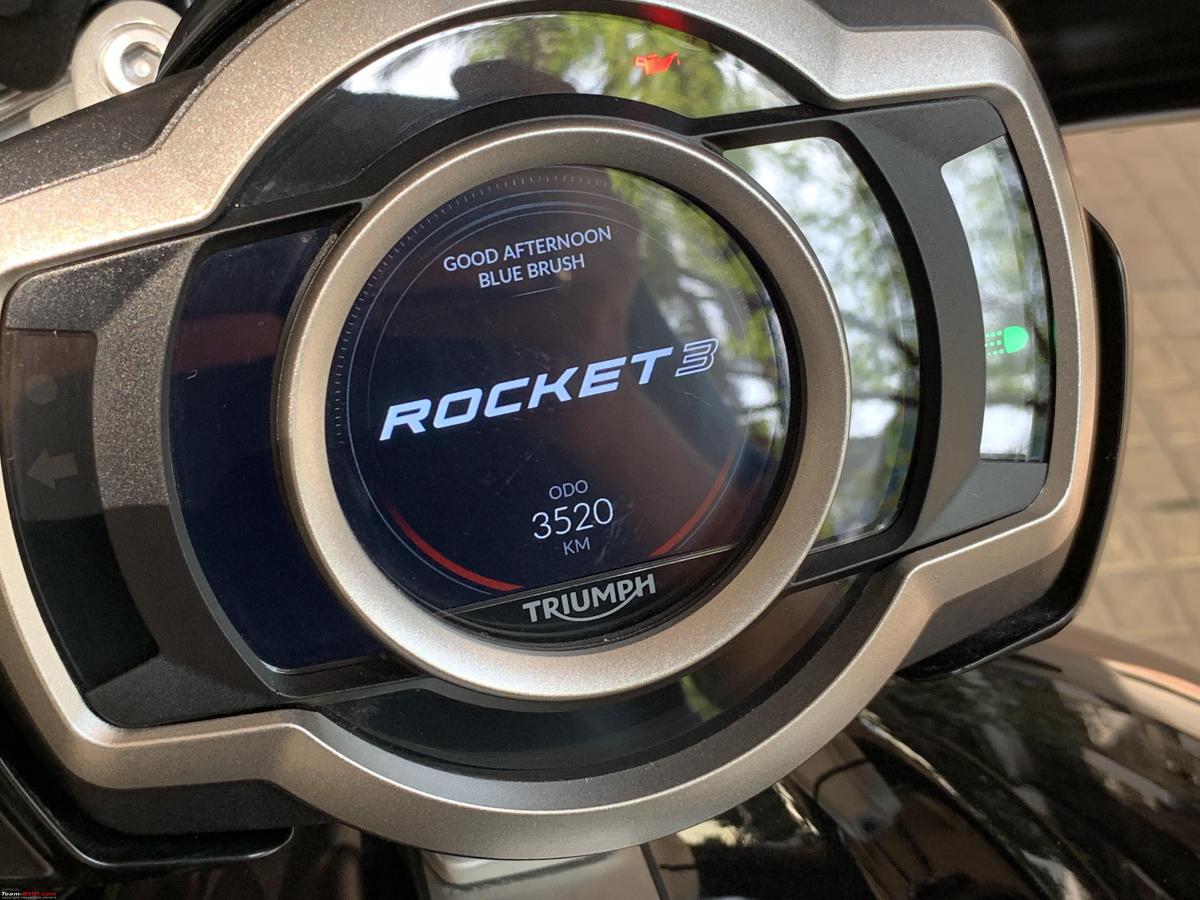 Instrument Cluster: TFT multi-functional instrument pack with digital speedometer, trip computer, digital tachometer, gear position indicator, fuel gauge, service indicator, ambient temperature, clock and rider modes (Rain/Road/Sport/Rider-configurable) – Triumph TFT Connectivity System can be added with accessory fitted Bluetooth module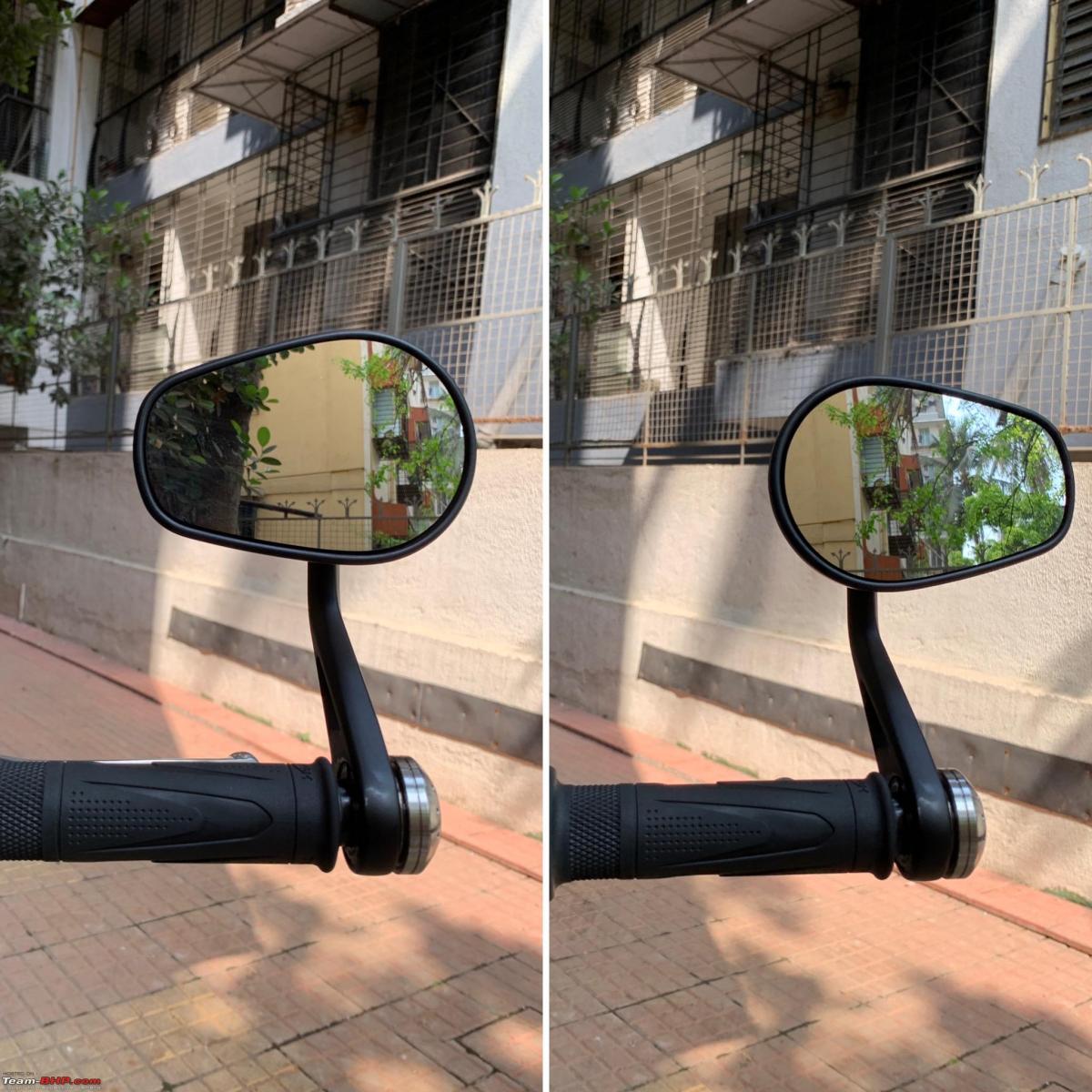 Adjustable side mirrors, one has to be careful in traffic, solid build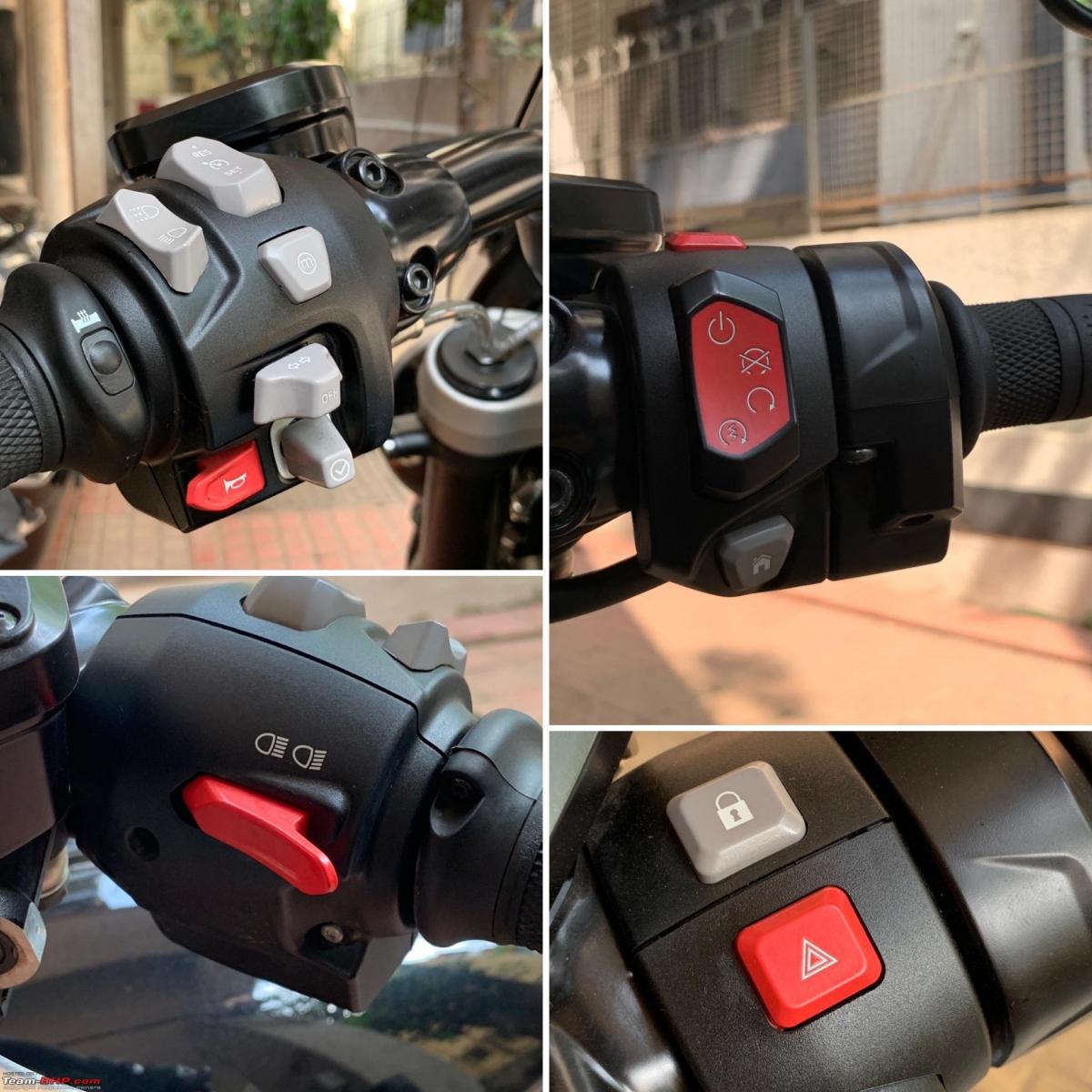 Switch gear, finish could have been better
Top (Front) : Showa 47mm upside-down 1 1 cartridge front forks, compression and rebound adjuster. 120mm travel
Bottom (Rear) : Fully adjustable Showa piggyback reservoir RSU with remote hydraulic preload adjuster, 107mm rear wheel travel.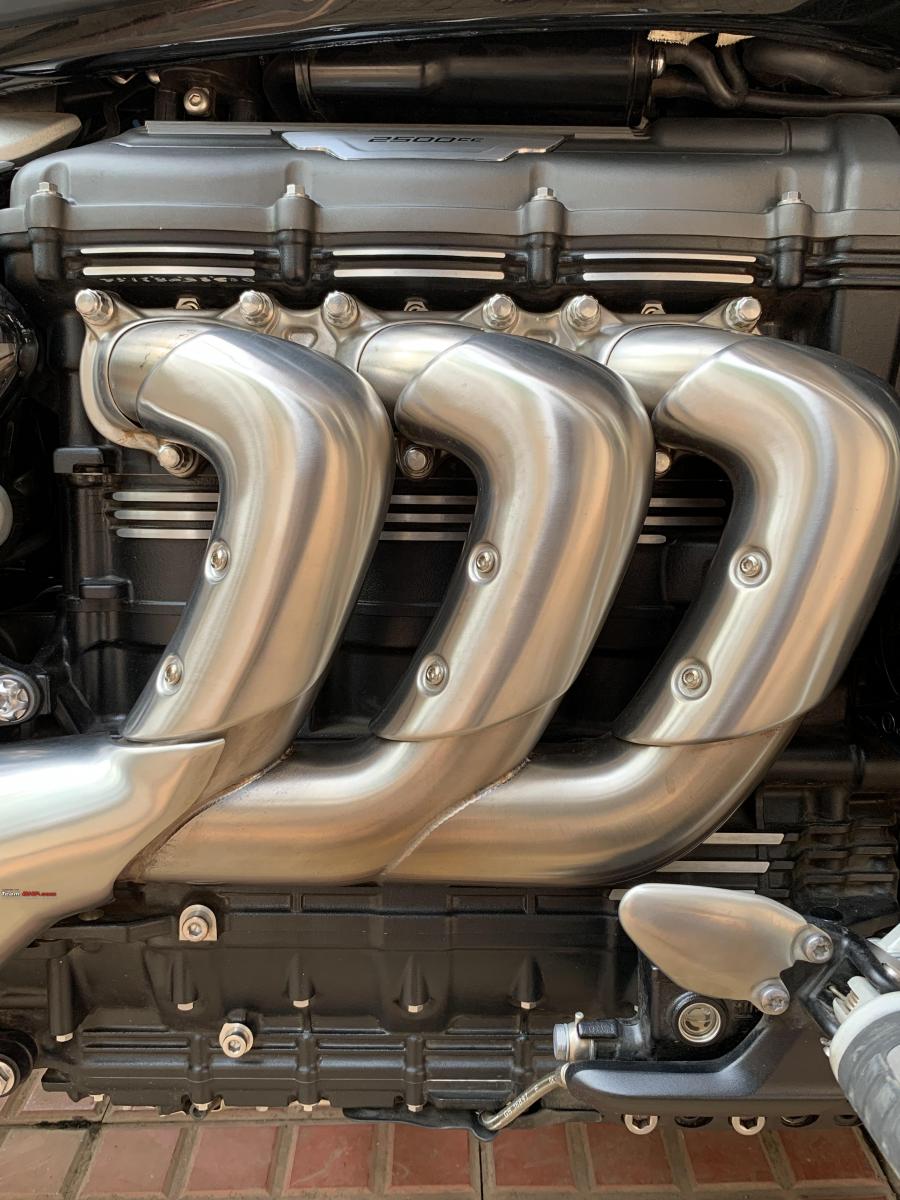 In-line 3, Two thousand four hundred and fifty eight cubic capacity
Stainless 3-into-1 headers with 3 exit silencer / CAT box
Top : Exhaust on right side
Bottom : 3rd one on the left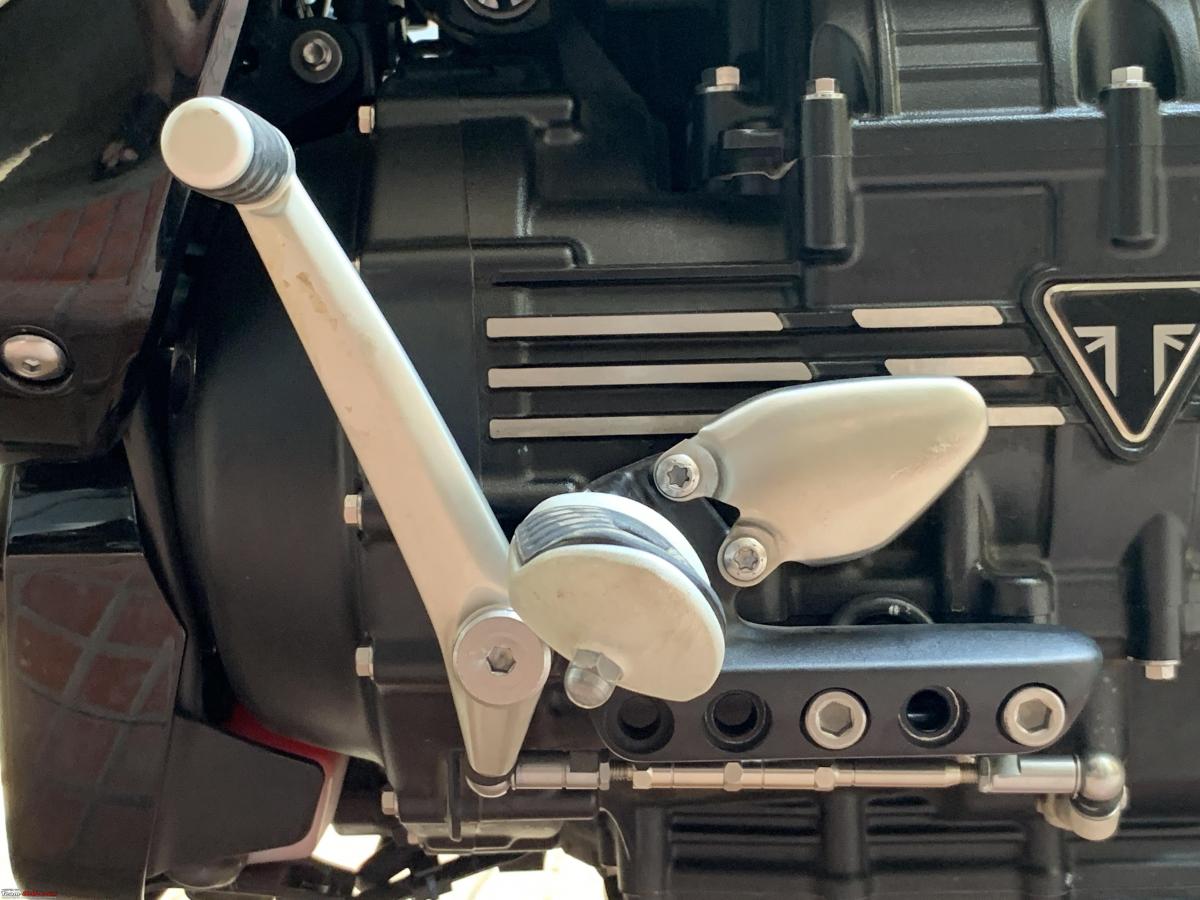 Top : Adjustable peg position, there are three positions (note the empty slots), also the gear lever can be adjusted forward and aft
Bottom : Rear brake lever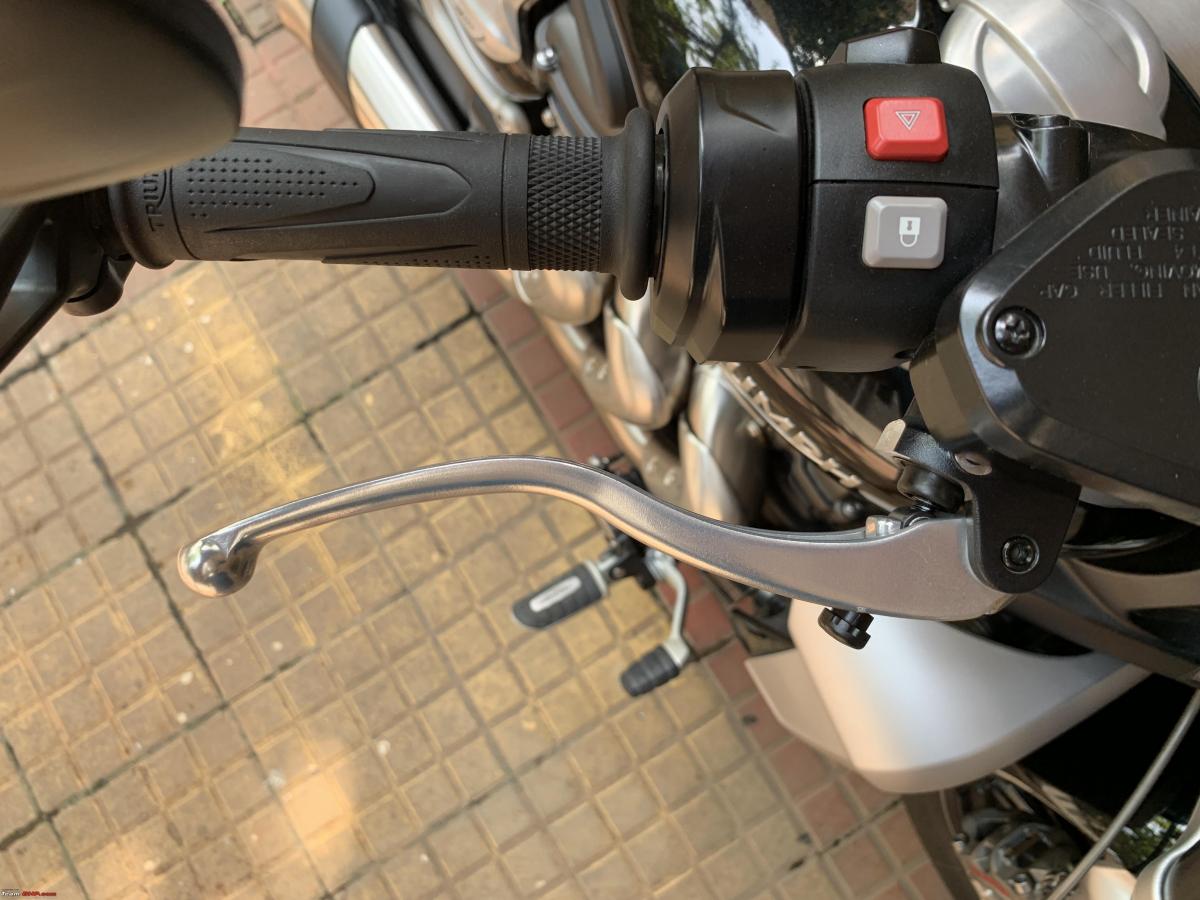 Front brake lever can be adjusted, same for clutch lever
Throttle : Ride by wire
Radiator equivalent to that of a small car, it's quite effective and the engine heat is not unbearable in hot conditions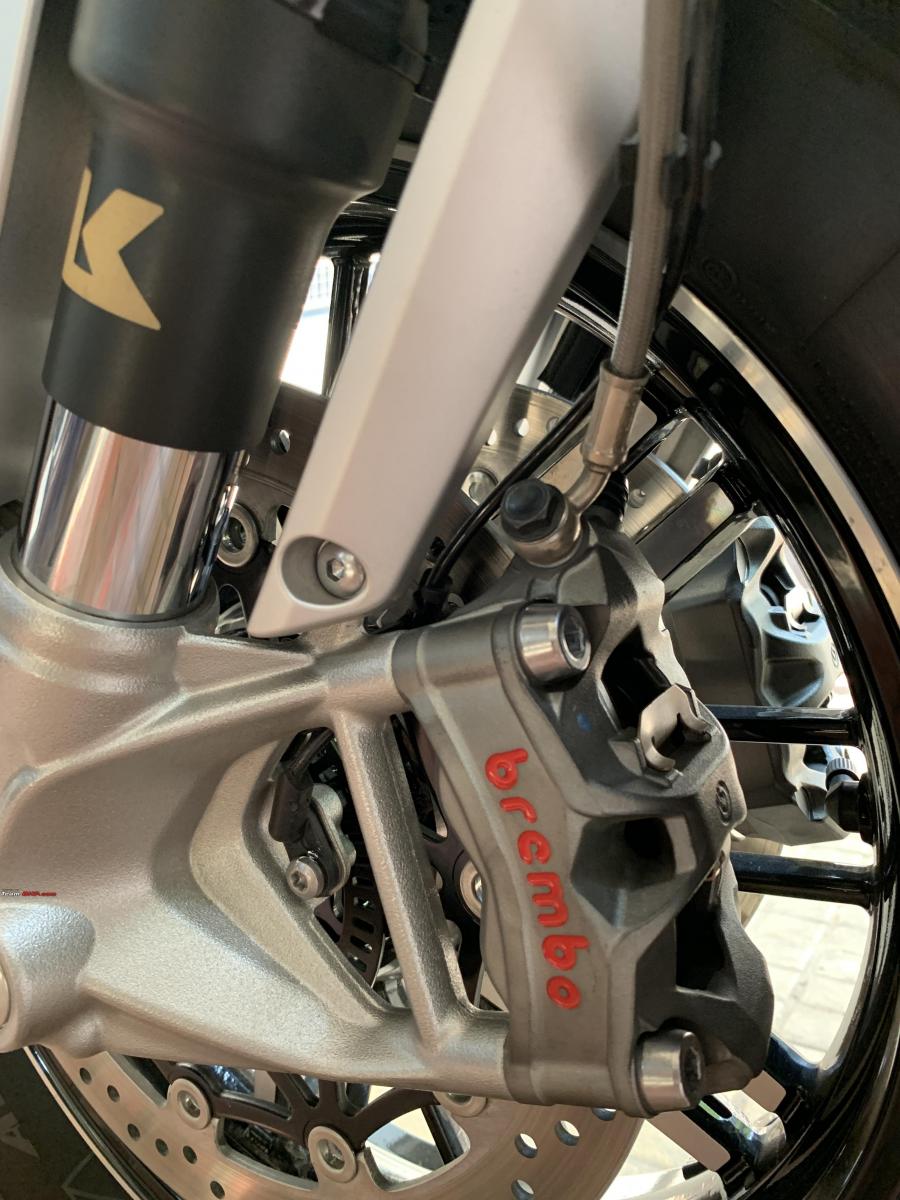 Front Brakes : Dual 320mm discs, Brembo M4.30 Stylema® 4-piston radial monobloc calipers, Cornering ABS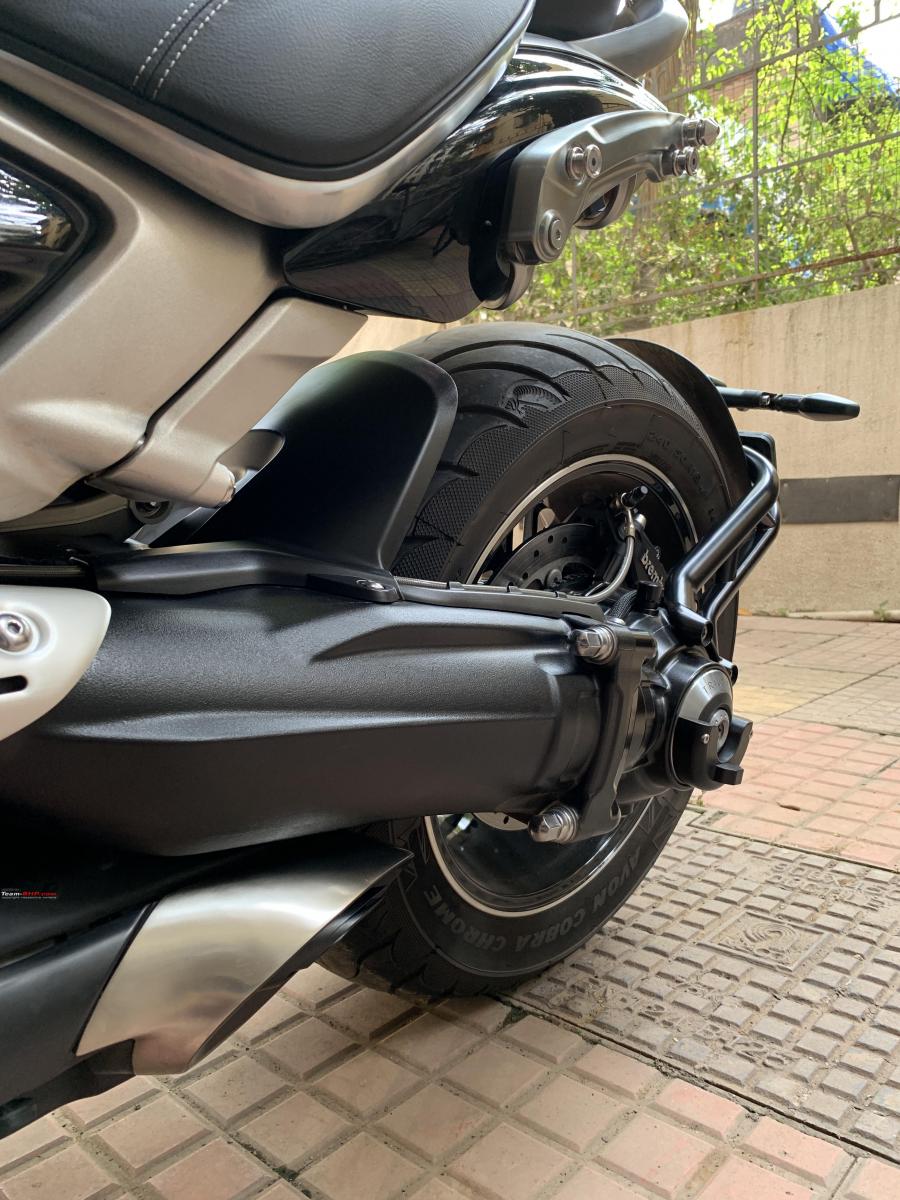 Shaft drive and Rear Brakes : Single 300mm disc, Brembo M4.32 4-piston monobloc caliper, Cornering ABS
Continue reading about GP19's Rocket 3 GT for BHPian comments, insights and more information.
Source: Read Full Article