Forza Horizon 4 players are wrapping up the tail-end of the Spring season, and that means the next round of seasons is just around the corner. Sure enough, Playground Games has just detailed what players can expect in Series 10.
New Reward Cars
After last month's MINI madness, Series 10 heads back to the more traditional Forza approach of a little bit of everything:
1970 AMC Rebel 'The Machine'
1969 Fiat Dino Coupé
2014 Maserati Ghibli
2019 Rimac C_Two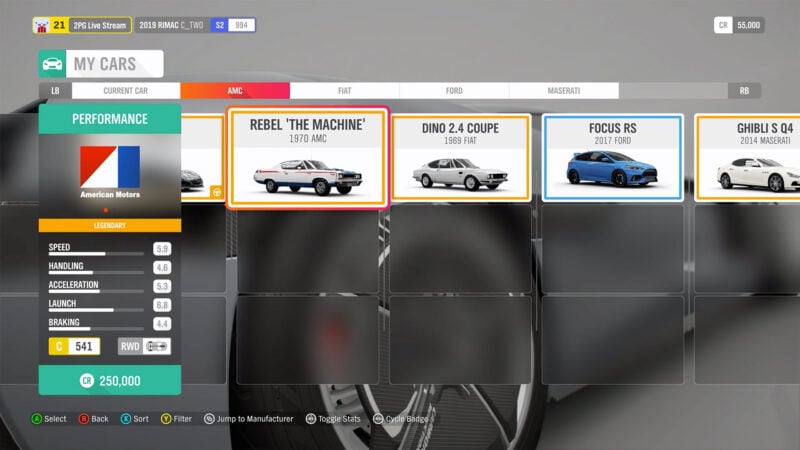 The star of the show — and the only new-to-franchise car this month — is the Rimac C_Two. This all-electric beast boasts a massive 1,900hp output, making it one of (if not the) fastest straight-line choices in the game.
The other three cars are all familiar Forza faces. The AMC Rebel swells the American muscle car ranks, complete with its red, white and blue paint job. Meanwhile the Fiat Dino of the same era is a very different (and very pretty) proposition, better suited to corners than laying down rubber. Then there's the modern Maserati Ghibli, a turbo V6-powered all-paw sedan.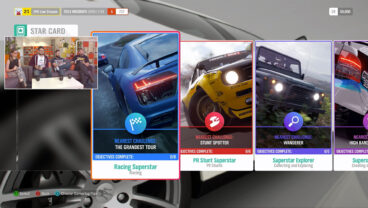 Introducing Star Card
Star Card is another completionist angle for Forza Horizon 4. Here players will be able to keep track of just about every aspect of their time at the festival, from races and car counts to creative endeavors and stunts. Completing any one card earns players a small symbol that they can apply to their gamertags.
Custom Adventure Changes
Series 10 will provide players with more options for their Custom Adventures. In addition to picking classes and the type of series, you'll also be able to set whether Freeroam Rush events will be present as well as the collision style.
What's Coming Next
The Playground crew also hinted at what's coming next for Series 11. The big news is the return of the class-based Rivals system. It's something we saw happen in FM7 at some point last year, and it's a highly-requested feature in Horizon 4 too.
And as for that long-awaited second expansion? The team had nothing to say about it on today's stream. That said, the rumor mill is suggesting we'll see it with Xbox' pre-E3 presentation this weekend. Stay tuned for more info on that as we get it…
Source: Read Full Article