Initially the car felt big. However, this got settled in after a couple of days run. Now, I don't have any issues to take it in bumper to bumper traffic.
BHPian negi15 recently shared this with other enthusiasts.
Greetings to all Team BHPians!
We recently bought a new Tata Safari Dark Edition XZA+ now nicknamed Black Wanderer after some intense research, which comprised of days spent on teamBHP threads, hours spent on related YouTube videos and multiple test-drives of different candidates. Since, the forum has been immensely helpful to me, I thought of contributing something back, if it can help someone. However, I must confess that I want in double mind on whether it's too early to share my experience, as I could see few fellow BHPians having bad experience with Safari and there was fear if I could also face similar issues. Nevertheless, I decided to take a dip and share my experiences so far and I am also ready to share any future positive or negative experience. So, here it goes. Wish me well for getting a Tata.
The Beginning:
In my introduction post, I have already provided the reason for looking out for new car.
I will elaborate it little bit more here.
Well, it all started in latter half of 2019. I had covered our major liabilities and all major investments were in place, which resulted in beginning of slow accumulation of extra funds saved post all expenses/investments. Accent was still good for city and short drives near Pune. However, one trip to Ganpatipule during monsoon on long bad patches made me realise a bigger car is need of hour. So, hunt for new car was on and then came one big question. What do I want from new car and what purpose will it serve? Barring long trips, there were no negatives, I could come up with, against my Accent. So it was a period where you would look at every car and lastly say "Accent is still good". Passive search was always on. But the push never came to shove.
The Journey:
While the passive search was still on, Covid stuck in 2020 and life took 180 degree turn. Work from home took major bandwidth of time and everything was put on hold. By the time second wave was over and India began to get back to normal, the automotive market got buzzing with introduction of Kia Seltos, Tata Safari, XUV700 and Hyundai Alcazar. New car hunt began to gather steam again.
By this time, I had my below wish-list ready for a new car in order of priority:
It has to be 7 seater or 5+2. We are already family of four. With parents and brother's family occasionally visiting us, I didn't want to look out for a taxi for family trips.
Safety was utmost priority. Build quality has to be top notch and should be felt while sitting inside car.
Durability. I intend to keep it for another 5-10 years.
Comfort and convenience was third benchmark. Should be able to carry small nick-nacks required by kids during travel.
A.S.S. and good network of workshops.
Useful features. Not a fan of too many electronics.
Looks and road presence
Prefer it to be automatic, if budget permits.
Below candidates were short-listed and test driven. Please note my benchmark is Accent Executive, which I have driven for 11 years now:
Hyundai Alcazar:
It was first one on list as already owned car from its stable with spotless A.S.S track record. Visited the Kirad Hyundai, Pune with full family and mask on . Found looks to be good but not like wow. Test drove diesel top end version six seater in automatic transmission. Liked the drive, steering wheel was light compared to my Accent. Didn't give feel of big car even though a 5+2 seater. Didn't feel underpowered in 5Km short drive. Went to stockyard cum service centre during test drive and had a look at all colours. Tried sitting in all rows. Somehow was not satisfied with interior quality and 3rd row space, even though boot space looked ok with all 3 rows up.
Pros:
Established brand. Good network and A.S.S.
Feature loaded car.
City drive friendly.
Some usable boot after all 3 rows up.
Cons:
Top end variant didn't come in 7-seater configuration.
Under-powered with full load. May struggle in hill drives with full load on.
Some-how I felt interior quality could be a notch higher considering the price tag.
Tata Safari 2.0:
Requested a test drive and was assigned Tata dealer at Kalewadi. Didn't expect the test drive vehicle to come home, as lot of other brand dealers kept on calling but never provided test drive at home. However, to my pleasant surprise, I got a call from SA and a test drive was provided at home even though test vehicle has to come from dealer 15-20 kms away from my home. Test drive was royal blue XZA+ and whole family was in awe of its looks. SA was very patient. I test drove vehicle around my home, which has lot of up and down roads. SA explained the features like EPB, auto-hold etc. It was too much for me coming from Accent background. It was kind of blown-away experience, where we were just appreciating vehicle.
Pros:
Proper 7 seater. Middle row could slide making more room for 3rd row passenger. Had all the active and passive safety features.
Drive was good. Seating position was best with good visibility end to end bonnet. Never felt underpowered even though I drove in city traffic.
Steering has feedback like my Accent Executive.
Comfortable and lot of utility spaces for family
Automatic felt very refined. BTW, this was my second automatic drive after Alcazar.
Cabin felt very airy.
Cons:
The name "Tata". As soon you hear this word, you cannot correlate such quality with them. Mind always kept saying there must be some catch. A.S.S was like path unknown.
Bulkier than the Alcazar. Didn't have front parking sensors. Should provide more cameras and sensors for such a big car say 360 degree camera.
A lot of news about fit and finesse of product along with bad reports being shared across social media.
Bad news about its electronics hanging every now and then.
Mahindra XUV700:
Requested a test drive multiple times through Mahindra website but never got one. I would get the SA name in sms from Mahindra, but man never turned up. When I called, he said will surely schedule soon. After Safari was launched, Mahindra XUV700 teasers started winning over everyone including me. Remember "Hello XUV700" With the first in segment feature like ADAS, I was eagerly looking forward to its test drive. Well never got one. Tried couple of time at dealers and it was not available on day I reached. Just had a look at showroom display piece
Pros:
Mahindra proven engine.
Feature rich. You name it and XUV700 had it.
Never test drove. So cannot comment. Based on feedback gathered from forums, steering is super light and easy to drive.
Premium interiors. Mahindra took it to another level.
ADAS in top end.
Cons:
After Tata, for me Mahindra ranks second in terms of hit and miss A.S.S(experience from my brother's TUV300).
So, I didn't get car to drive and the bookings opened. As expected, it directly went to long waiting queues.
Add to #1 and #2, first time I tried to enter XUV700 driver seat, I bumped my head on head-roof. I am 5′ 11″ and never had any such issue in any car. Other car where I had to be careful while entering driver seat is my brother's TUV3OO. If you are not careful upper edge of door may hit you in face as its upper edge is slightly inclined towards the rear side.
Left for hometown in mid 2021. Back to Pune in mid 2022. The urge to get new car has gone up multi-fold. It was further boosted by taunts from wife and kids about taking frequent test-drives and research but not going ahead with any booking.
Toyota Innova Crysta :
Well this was not in my list for its taxi image. I was willing to look at it, but family said straight NO to it. However, one of my friends asked me to give fair chance to every vehicle and look at them with open mind. I requested for its test drive and got an SMS after few days thanking me for taking test drive and asked for my feedback on some link. The first question in link was did you get test drive? I replied no and survey ended saying " we apologise and someone will contact you soon". No one contacted. So, I persuaded my better half to visit Toyota showroom. We both went to showroom and it had a different feel, a very welcoming one. Nice ambience and located in one of posh areas of Pune. Two cars were lined up for delivery with red satin cloth on them. We thought this is how a car showroom be like. So, we were assigned a SA, who asked us about our requirement. I clarified the we are looking for 7 seater and exploring Crysta as one of the option and wanted a test drive. She came back with price list and provided me with the prices of different variants. I said prices can come later and if we can have a test drive? Surprisingly, we were told that there are no test drive vehicles available. They did not even have a Crysta on display except for one which is ready for delivery and hence cannot be shown. Just to probe further, I asked for Fortuner test drive and answer was same. I got the feeling like who test drives these cars? It's Toyota! So just give booking amount as festive season is coming up and there will be waiting period. We said thank-you and departed. She gave her number, in case we want test drive at home instead of asking mine. So, whatever chance Crysta had, was gone.
Pros : Toyota brand.
Cons: Toyota Sales(For me). I don't think Toyota Sales is of any use. Their vehicles have dedicated customer base who don't need SA.They will in any case be going with Toyota for peace of mind.
Jeep Meridian:
We were already near Jeep's showroom which was few minutes drive from Toyota's. So, just thought of checking Jeep Meridien out, as I have not yet finalised my budget. I was really impressed with features on offer along with cabin interiors. However, needless to say it is not a 5+2 seater. Two seats have been added just to make it compete with the Fortuner, so as to take competitor spot vacated by Ford Endevour. Better half has a straight no after looking at space. She has already seen Scorpio N and Safari. Did not reach pros and cons stage.
Mahindra Scorpio N :
While I was going through reviews/feedback of Safari, XUV700 and other candidates, Mahindra again pulled a rabbit out of the hat with the Scorpio N " The Big Daddy of SUV's". I was again awe-stuck with the teasers. To my surprise, wife also liked its looks. I took a test-drive, each time with different variants; petrol manual, diesel manual and petrol automatic.
Pros:
Super- refined engine.
Super-light steering wheel.
Ride-quality miles ahead of current Scorpio Classic and second row ride quality seemed better than the Safari.
Premium looking interiors.
Minimal electronics.
Passive and active safety features.
Road presence.
Even provides small sunroof which was a must have requirements by kids.
Rear and front camera and parking sensors. Must for car of this size.
Cons:
Poor space management. You won't find utility places for family. While driver may be busy enjoying this beast, family members will keep reminding about absence of critical utility places like approachable bottle holder, chargers, 3rd row ac vents.
Third row space is useless for family. It's a bench seat either folds fully or not. So, if you have 6 members, you cannot use last bench either for a passenger or for luggage. It also misses out on AC vents, bottle holders. May be they don't want it to become an XUV700 competitor.
Kia Carens:
This car surprised us. It's very under-rated car. We went to showroom and were received well. Immediately an SA was assigned, who gave us walk through of all features of car. This is the first time we received such a detailed walk-through of any vehicle. At all other brands, it was all about booking. No one bothered to provide feature details, the way it should be. After the overview, we were offered test drive and I opted for automatic diesel top end variant. Drive was smooth. Road visibility was good. Car has been re-designed keeping big Indian family in mind. It was good to see that they didn't copy things for existing high selling models like Seltos. We were really impressed with the value preposition offered by top end automatic variant at 21 lakh OTR. However we did not reach the level of "Let us book it"
Pros:
Drives like small car. Good for city.
Umpteen number of utilities in cabin. Thoughtfully designed cabin.
All three rows are spacious. AC vents are on roof which make cabin cool quicker.
Even with all three rows up, there was decent storage in boot.
You can enter third row from either side.
Small sunroof also given.
Ventilated front seats.
Air purifier.
Cons:
Could not find any. May be an underpowered engine for full load capacity on hills.
If NCAP rating is to go by, it is rated 3 star. Well at least they went for it.
The Conclusion:
So, after much deliberation, we narrowed down on the Tata Safari XZA+ and Mahindra Scorpio N (Z8 luxury). We really liked the Carens but since budget permitted us, we went for others. XUV700 was already out, as I would never wait for a year for it. It was going to be Scorpion N most probably. It was added to cart and I was ready to play fastest fingers first on 30th July . Scorpio N top end OTR was coming 3-4L lesser compared to Safari XZA+. Due to its pricing, we were ready to ignore some dislikes as overall it was a good package. However, Mahindra played spoilsport and added 2L to its automatic variant and wiped out the major cost difference between the two. So, now it has to be compared feature by features as A.S.S would be more or less same for both.
In July, I did multiple test drives of both vehicles, more of Safari and less of Scorpio N (SA had fixed route for test drives). I could now understand and appreciate features with much clarity than the time when I first test drove them and was in awe of both. This is my personal recommendation to everyone. Please test drive vehicles as much as you can. Don't make decision based on small drives of 2-3 Km around showroom with SA guiding you to the fixed route. Also, look everywhere for the feedback at various forums, but make decision based on your requirements and compromises. After all, it's you who will be living with the vehicle.
Below were the parameters on which I compared two vehicles against each other:
All rows usage: Safari has flexibility to slide 2nd row and make space for 3rd row passenger if required. Even 3rd row has 50:50 split. So, in case there are 6 persons, one can be folded down for luggage and other for cargo. Also, all rows have a charging point. 3rd row has AC with its own blower control and bottle/mobile holders. Scorpio N loses out on this.
Safety: Both vehicles top end variant comes with all passive and active safety features. Scorpion N has the edge here as it provides front and rear parking camera with sensors.
Comfort and Convenience: Safari has lot of usable utility eg: doors have umbrella holder, mobile/paper/bottle holder. Scorpio N misses out on these.
Driving Comfort: Here comes big surprise for me. Initially, Scorpio N had an edge over Safari due to light steering wheel. Going by many reviews on YouTube, social media, I was biased that Safari's steering is too heavy even though I personally never felt it (coming from Accent background). While Safari steering was more like my Accent. Scorpio N steering was more like Swift (owned by one of relatives). However, I had exhaustive test drive of both vehicle before coming to final conclusion. More I test drove Safari, the more I began to like it. Maybe because I already had a similar type of steering feedback in my Accent and I was just pulling towards Scorpio N based review/feedback from others. Add to this the fact that Tata SA was more willing to satisfy my queries. I took long drive with him near showroom and then I asked for home test drive again and he obliged. This time, I test drove Safari to my satisfaction. With Scorpio N, I always has to rely on what others are saying as vehicle was not available for long test drives. I was really not happy to see Youtubers(no offence to anyone) taking Scorpio N from Delhi to Mumbai and buyer like me not getting sufficient test drives to make a decision. On top of that, the culture is "Sir, book car lo. baad main cancel kar dena (Sir, book it. you can cancel later" May be nowadays it's all about marketing.
Handling and ride quality: Handling of both vehicles are at par. However, braking gave me more confidence in Safari. In Scorpio N, it nose-dived on quick braking at high speeds. Ride quality of second row in Scorpio N felt better than Safari. However, ride quality for third row passenger is better in Safari.
Engine: Both vehicles have good engines. Mahindra's is proven and better, but Tata's Fiat sourced engine mated with Hyundai sourced automatic box felt better to me.
Family view: Kids wanted sun-roof. Wife liked the Dark Edition interiors. They felt Safari has more premium feel inside.
Availability: Last but not least, We could not wait for another 5-6 months to get a vehicle based on reviews of others. Companies should launch the product and start deliveries instantly, instead of creating marketing hype and banking on it to get orders.
With an unanimous decision, we finalized to go with Tata Safari Dark Edition XZA+ assuming it would get delivered in couple of months. However, there was always a fear of getting a troubled new vehicle (don't want to write exact word here as no trouble so far). Therefore we decided to keep our Accent for some time now.
Safari – Booking process and delivery:
We visited the nearest dealer and took test drive. SA was helpful in providing required details. Took decent 15 minutes drive around showroom and felt satisfied. I also used this test drive to identify the seriousness of driver's ergonomic issue reported on forum and social media, where left knee keeps on touching dashboard. I never experienced this in my earlier drives. However, this time, I pushed seat close to steering wheel and I found the issue. I re-adjusted my seating with adjustments in seating as well as steering position(using tilt and telescopic combination) and found a comfortable position to drive. Another issue reported was small infotainment screen and part digital MID. However, I was satisfied with both. Even family didn't have any issues with it. Drive was completed and we returned home. SA informed us that they have a Dark Edition XZA+ available with him stockyard and can be delivered in a week. We had now started leaning towards Safari.
Just to be sure again, I called SA again and asked for another detailed test drive at home. He obliged and was at home with the XZA+ variant at scheduled time. We were all ready for another investigation of the car. This time, we took our kids travel luggage, to check how much bad can the boot be. We were able to fit it and found it can accommodate another one too. SA was smiling at our preparations. Next, I got the car parked in my allotted covered parking to find out if there would be any issue with car size. Thereafter, I took it for spin in busy streets and highway fully loaded with all family members. Family occupied different rows at different times and even I tried second/third row with SA driving the car. I also tried out hill assist feature, sports mode, auto hold features, android auto, music sound quality. With this test drive was concluded and we had made up our mind. SA has been patient with us during whole time, and never asked to book instantly. To his surprise I asked for booking form and checked whether we could do PDI of Safari XZA+ Dark Edition. He mentioned that vehicle was at stockyard and we have to go there for PDI and offered us to and fro in test drive vehicle next day. I clarified that I am booking on condition that if we don't like the stockyard vehicle, he will have to get new one for us, to which he agreed. Also, I asked about discounts and he offered 7K of free accessories. We settled for 7K accessories, insurance of my own. We said goodbye for the day.
I took the next day off. Made of note of the Team BHP checklist and visited the dealership. The SA took us in the test drive vehicle to the stockyard and dropped us back. It was a 2.5 hours drive and I got to feel the ride quality and cabin noise of an abused Safari(10000 km ODO). We did the PDI as per the Team BHP checklist. ODO was 28 km. Attaching some pics taken during PDI to double check the condition during delivery time. It was not easy task as heavy rains lashed Pune and stockyard was in pretty bad shape with slush all around. We checked whatever best we could do to best of our knowledge.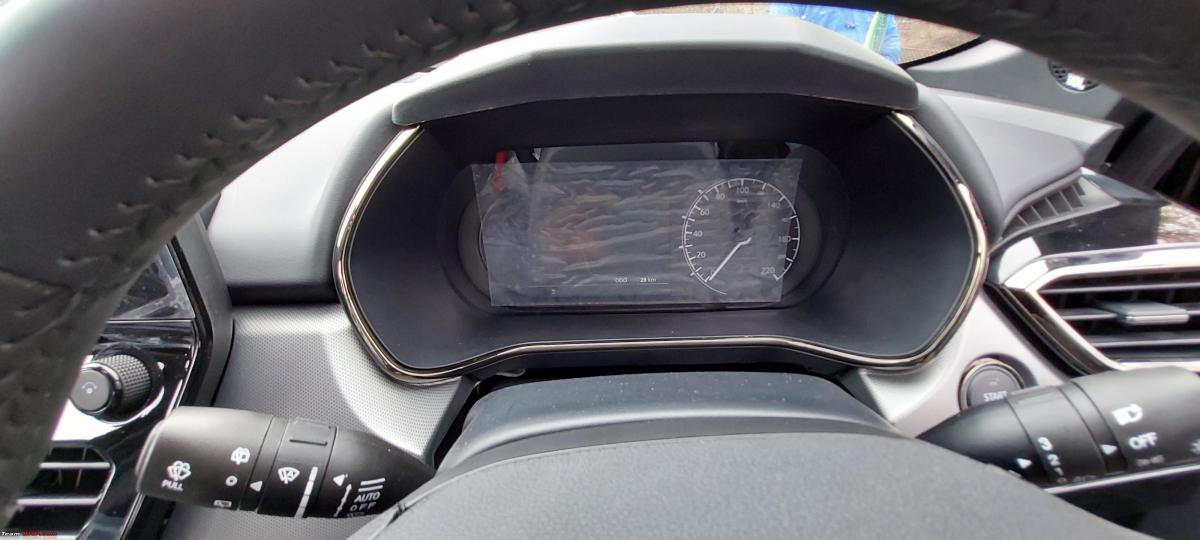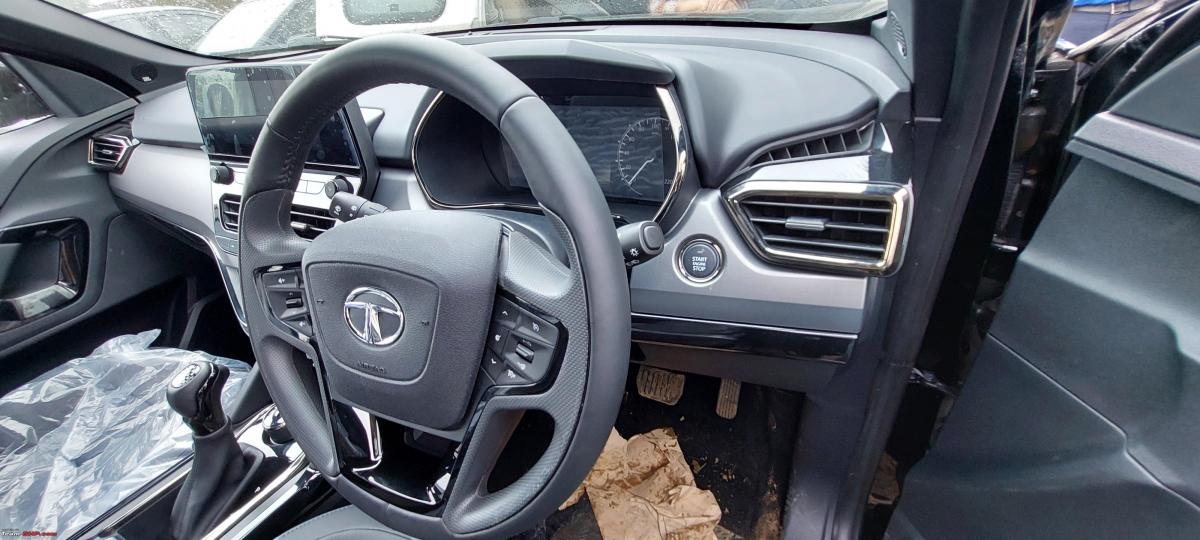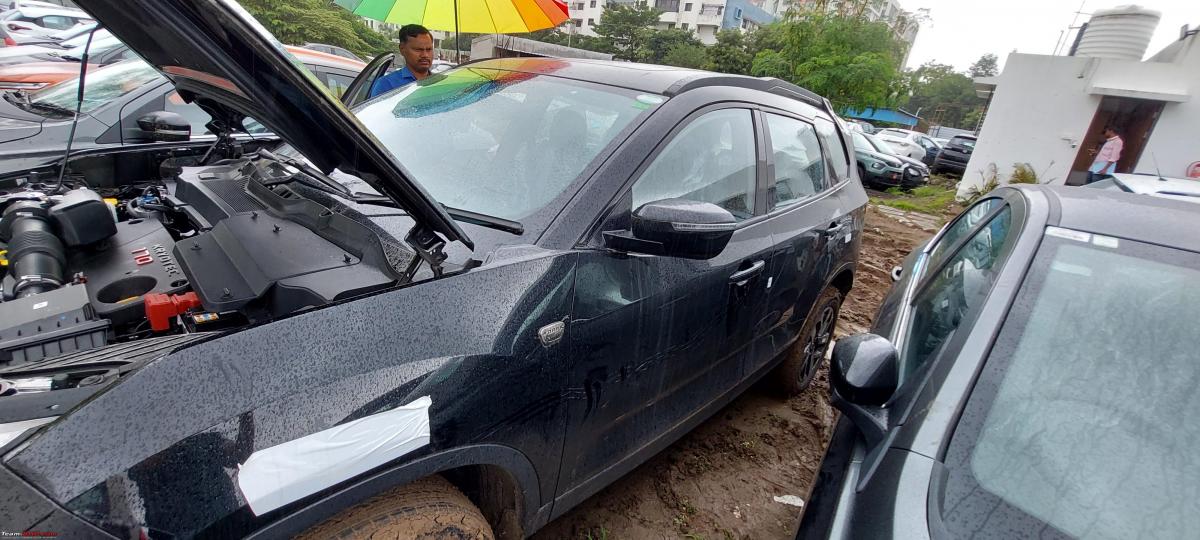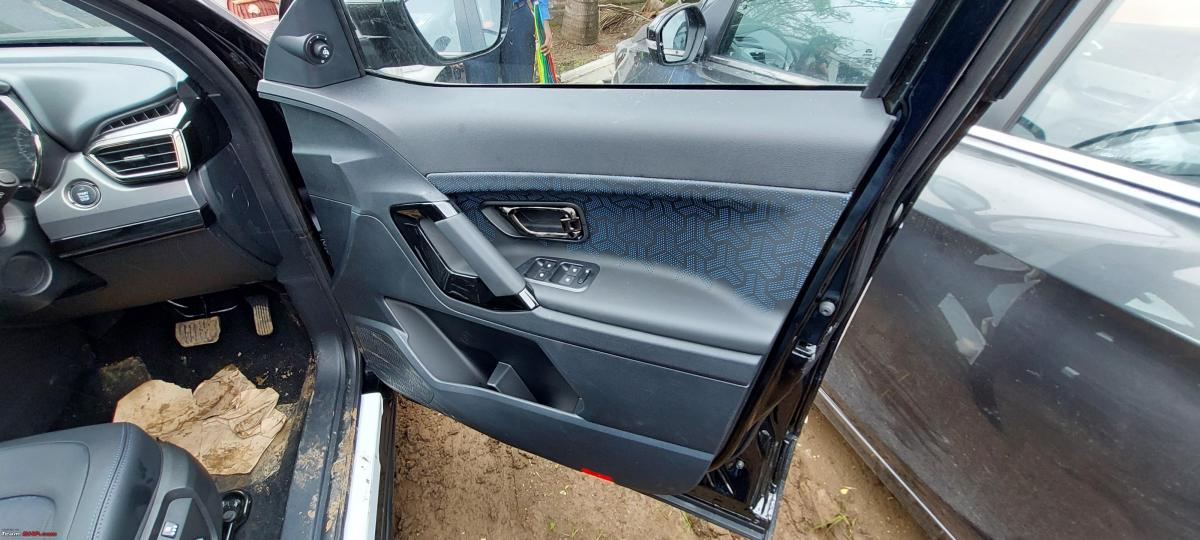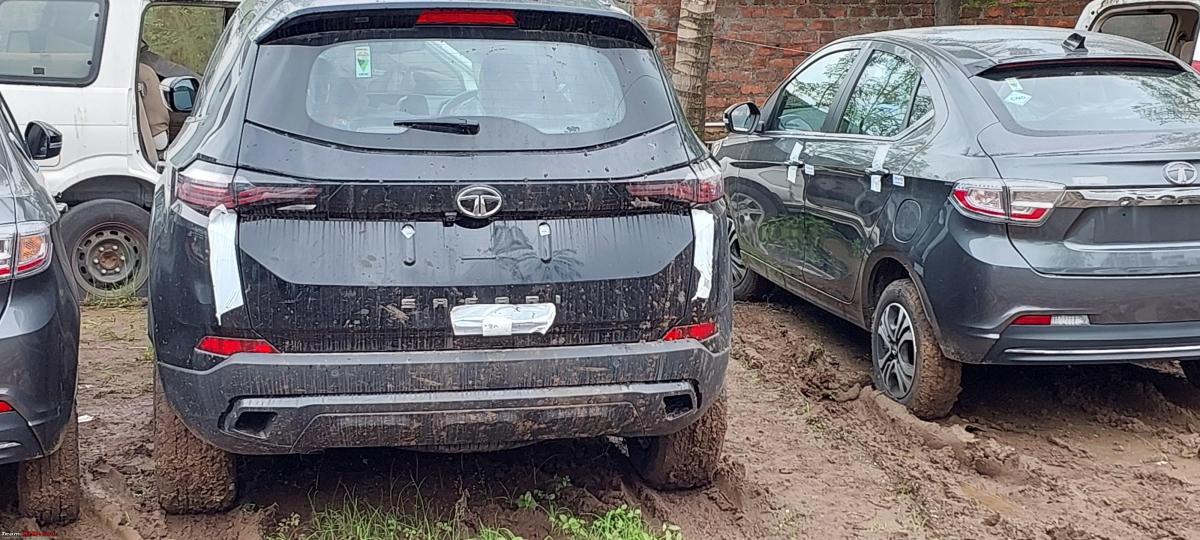 Post PDI, I asked for form 22 to check about month of manufacturing, which was shared with me and it confirmed 30th June as out-date from plant. Soon a Whatsapp group was formed for my car delivery. It had 7-8 odd guys ranging from SA to people from different department like accessories, account, team lead etc. Formal introduction was provided about each member and regular updates were shared on the group regarding payment receipts, RTO registration, IRA activation. After everything looked fine, we made payment on 22nd July. Their team was super fast and did all documentation and gave us delivery on 28th July. As decided, I looked out for best insurance quote and shared with their insurance department. They came with counter quote with additional 5-8K with add-ons which I did not need. I also asked my SA to accommodate 7D mats in same 7k accessories promised to me. He mentioned he could try it, if I bought insurance from them to which I replied that difference is huge. Finally, they matched the quote and also accommodated 7D floor mats in same 7K along with mud-flaps and bonnet mascot. Didn't opt for their car detailing package as wanted to get it done from some professional detailer. Below is the breakup of overall deal.
Car: Tata Safari Dark Edition XZA+
Ex-showroom price: 22,69,900/-
RTO Charges: 3,50,545/-
Insurance: 68,000/-
Extended Warranty: 33000/- (2+3 years Unlimited Kilometers).
No service pack bought.
Overall dealing experience was surprisingly pleasant.
During PDI, I mentioned below issues to them, which they said they will take care of. Will provide more details regarding this in a while:
Non-uniform gaps between plastic wheel arches and fender.
Rubber beading finishing on top of windows.
On delivery day, we reached at the scheduled time of 4pm. Document handover was done with all other formalities. A cake was arranged for celebration, which was cut and gobbled up by my kids in 10 minutes. There was some delay on their part to get car ready. Finally the beast arrived. I was not quite satisfied with cleaning done under bonnet area. It looked they did not even wax it properly as I have not taken any detailing package from them. Anyway, I had already made up my mind to get it done from 3M, so didn't make any issue out of it. It took around 1.5 to 2hours for delivery.
Below items were handed over in neat file folder:
Invoices of the car.
Set of smart keys.
Insurance policy.
Road tax receipt with car number mentioned on top of it.
HRSP number plate affixed.
7D floor mats, mud flaps and from bonnet mascot.
Visiting cards of service advisor and other person.
Extended warranty car counter signed by dealer.
Car handbook with three free service vouchers
Coupon of Rs. 500/- for fuel.
DEF tank filled up 50% as per norms.
Delivery note with issues mentioned by me.
I checked the ODO and it was 124km. At PDI it was 28Km. Car traveled 96 km in 3 days. I enquired with sales person. He confirmed that from there were two trips made from their main service centre around 22km way to resolve the issue reported by me. Their own service centre is under construction and therefore car was sent to main service centre in Kalewadi. Adding this up, 96Km sound reasonable. Only concern was issue were still not resolved. They mentioned both issues have been raised with Tata Motors and they have confirmed that rubber beading issue will be fixed for car during first service. In fact, this was going to be for any other Safari who wants to get it fixed. Other issue was more like finishing issue and all Safaris had it. He showed the Adventure Edition in their showroom and in fact, it had same finishing. I also did not note this earlier. May be I was very attentive observing our car during PDI. Even my wife could not spot it. Anyway, I caught one more finishing issue. More about it in first impressions section.
Finally we thanked everyone, distributed sweets to whole staff in showroom and presented a small token of appreciation to our SA for proactively following up. My kids started the car. Wife did initial Pooja ceremony with auspicious breaking of coconut by me and we were on our way to the temple where we had already arranged for detailed Pooja. I must say Tata has improved but still a long way to go before it can be spoken in same breath as Hyundai, Suzuki. WhatsApp group created by SA still continued.
Attached are few pics of Black Wanderer from delivery day:
The cake: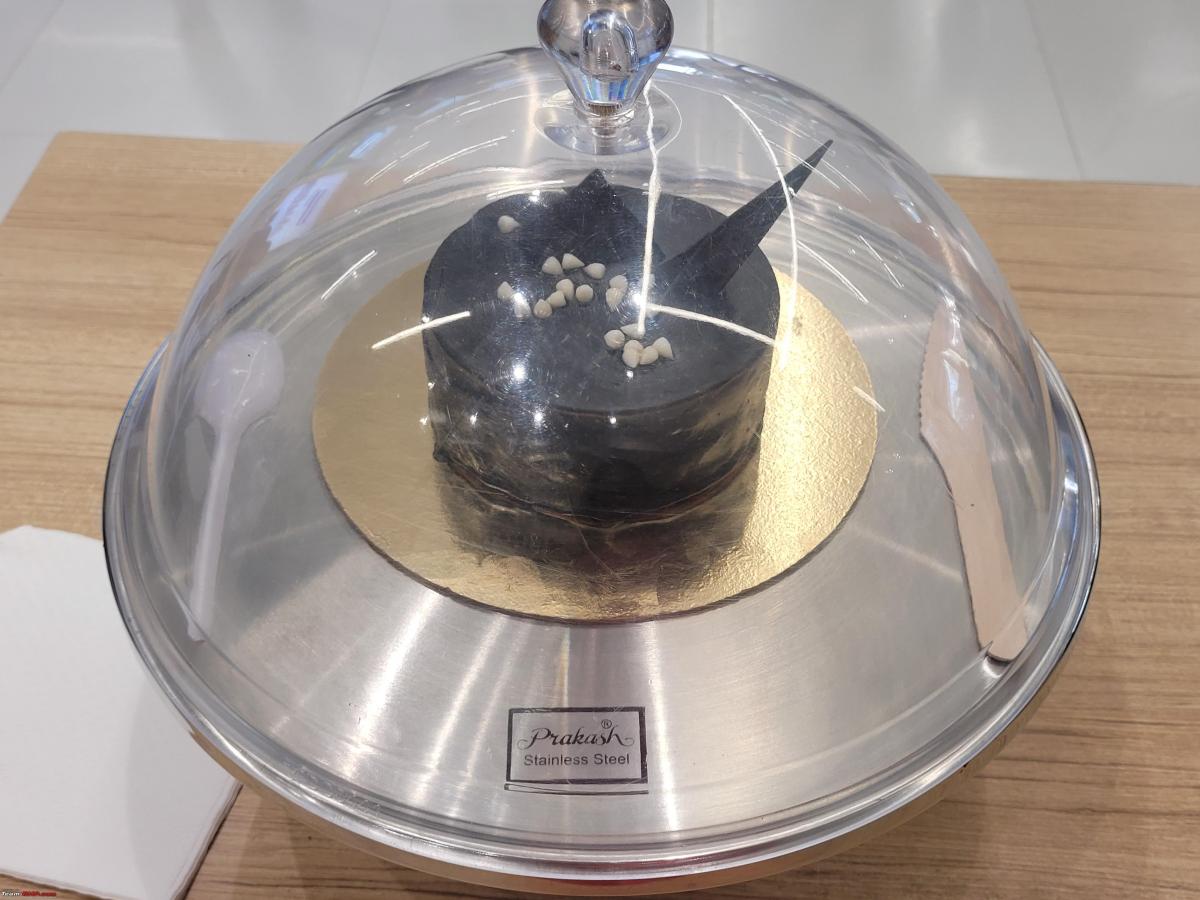 The style: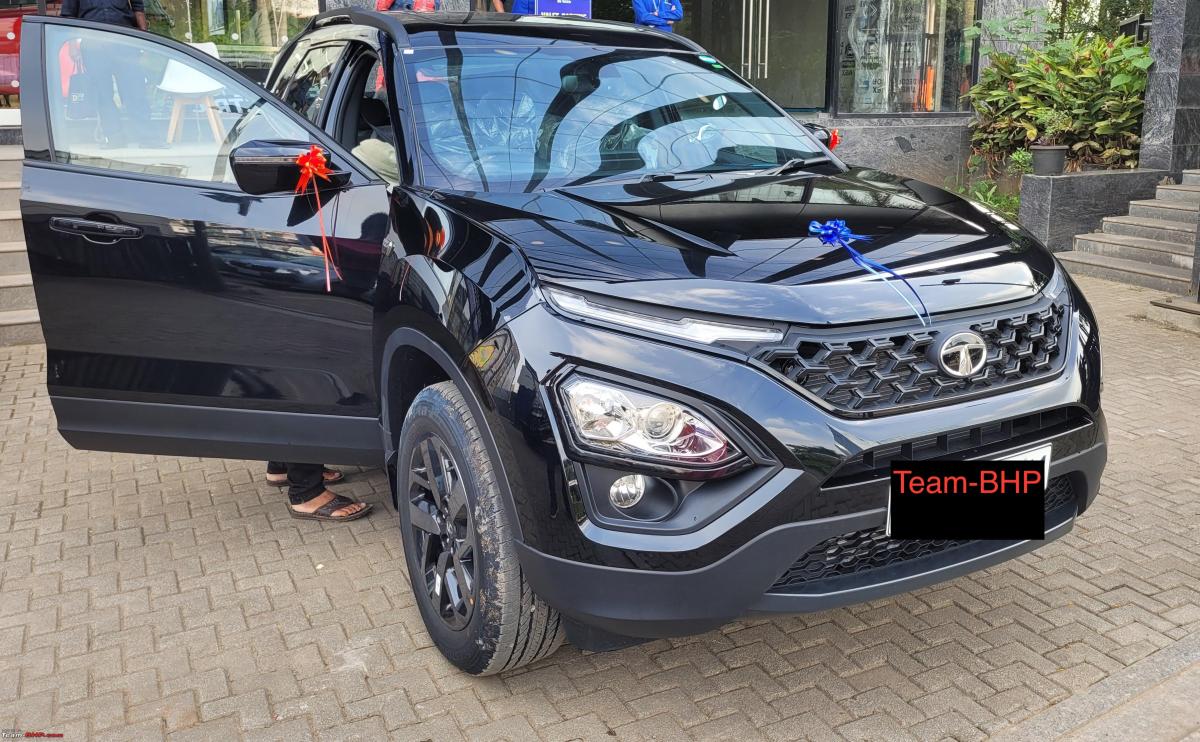 Side pose:
Tata Safari – First ownership impressions:
Random click: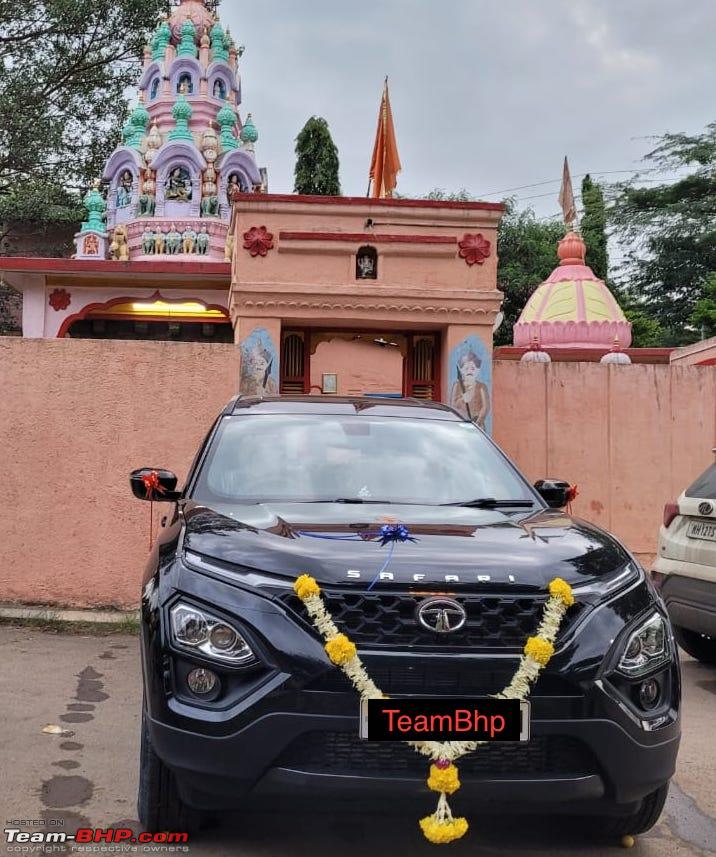 With friends:
Black Wanderer – Initial Drive Review:
I have driven the Wanderer for around 600 km in 2 weeks. So would like to share initial drive impressions:
Fuel efficiency: I have daily running of 40-50 km in city traffic which takes around on an average of 2 hours. Speed hardly crosses 20kmph on 80% stretch. Remaining 20%, it varies from 20-50kmph. With AC on. I get around 10 kmpl mileage while driving in City mode. Please note, I drive with a light foot. I will update about highway efficiency once after an upcoming long trip.
Air conditioning: It's rainy season and I keep AC on Auto at 22 degrees. Didn't get chance to take long drive on sunny day. As of now, I am not in position to comment.
Engine performance & driveability in city: Initially the car felt big. However, this got settled in after a couple of days run. Now, I don't have any issues to take it in bumper to bumper traffic. Auto-hold is such a boon in city. More about it later. In City mode, you won't feel any issues if you drive in a  relaxed manner. However, in case you want to make quick acceleration (say at red light) from standstill position, there is some lag of 1-2 seconds before power kicks in. However, this is improved in Sports mode. Of-course this will let the beast get some more energy drink from its fuel tank. Gear shifts are smooth. No issues with automatic shift also. Please note, my comparison is with automatics of test drive vehicles.
Engine performance & driveability on the highway: I had only one chance to go for highway drive of around 40 kms with full load. Engine performance was still ok in City mode. It is a pleasure to drive it on highway. Feels planted at high speed. Maximum, I did was 90 kmph as recommended by manual for initial 2000km. Will share more once I have more highway runs under my belt.
Overall NVH levels: NVH levels are well controlled. Still need to test it on highways. In city, cabin feels silent. I really like the good grunt in Sports mode.
Suspension & ride quality: Suspension and ride quality feels good. Minor potholes do not filter inside cabin. Noise is also well controlled.
Handling, on-road behaviour, grip levels, stability, body roll & turning radius: Car handles well but I will still rate it below my Accent. Holds on really well on roads and give some confidence on turns. Turning radius seems to be greater than my Accent which officially has 5.1m I guess. I need to reverse it once to get in my parking.
Steering: Being hydraulic, steering provides the feedback about the road type. I feel much more confident with such setup. It provides the feedback and leaves it onto driver what next action he wants to take.
Braking : Hard braking does not cause the car to nose-dive. Overall, I would say I like it in city traffic. Can update more once get to do more miles on highway.
Ground clearance: Haven't encountered any issues in current bad state of Pune roads with big potholes owing to heavy rains.
Likes:
Electronic Parking Brake with auto-hold.
Drive- Gives SUV feel.
Music system – 9 speaker JBL adds to the driving experience.
Automatic IRVM- Really helpful..
Terrain response modes(I have used wet mode in heavy rains. it does feel useful).
3rd row comfort. Utility spaces.
Tyre inflator to detect air leakage.
Dislikes:
Quality of rear camera.
Front camera and parking sensors are sorely missed and Tata also does not provide good solution as accessory.
Little boot space with all rows up.
Fit and finesse- Really!! after shelling out big ones north of 25 on flagship product, you are still looking at product with rough edges even after 1.5 years of launch. Rubber beading over windows, wheel arch bumper gaps, uneven panel gaps are few to look out for. Can be easily caught, if once observes carefully.
Android Auto disconnects randomly and has rebooted infotainment two times in last two weeks.
Driver door does not look to have shut completely even when it has.
Tailgate is really heavy. You can open and shut it twice daily to get some calories burnt, in case you don't do any workouts. On positive side, I think it will be saviour in case of someone bumps from behind. 3rd row headrest are very close to rear door.
Niggles so far:
Driver door needs to be shut twice sometimes. Looks like alignment issue. will get it resolved in first service.
Tailgate open notification is sometimes ON even after closing it. Again looks like alignment issue.
Infotainment rebooted twice while using android auto in gap of two days. Hasn't happened for past one week.
"smartkey not found warning" got activated twice even when it's with me outside the car.
Quality of after-sales services: Will update post first service.
Cost of upkeep & maintenance: Not applicable as of now.
Black Wanderer – Interior/Exterior/Features:
First the dislikes:
Fit and finesse:
If you look closely, you will identify the fit and finesse issue of this flagship product. This is one place where I am not happy with Tata so far.
Rubber beading finish on top of windows: Reported in delivery note. Promised to be fixed in first service by Tata Motors:
Panel gaps: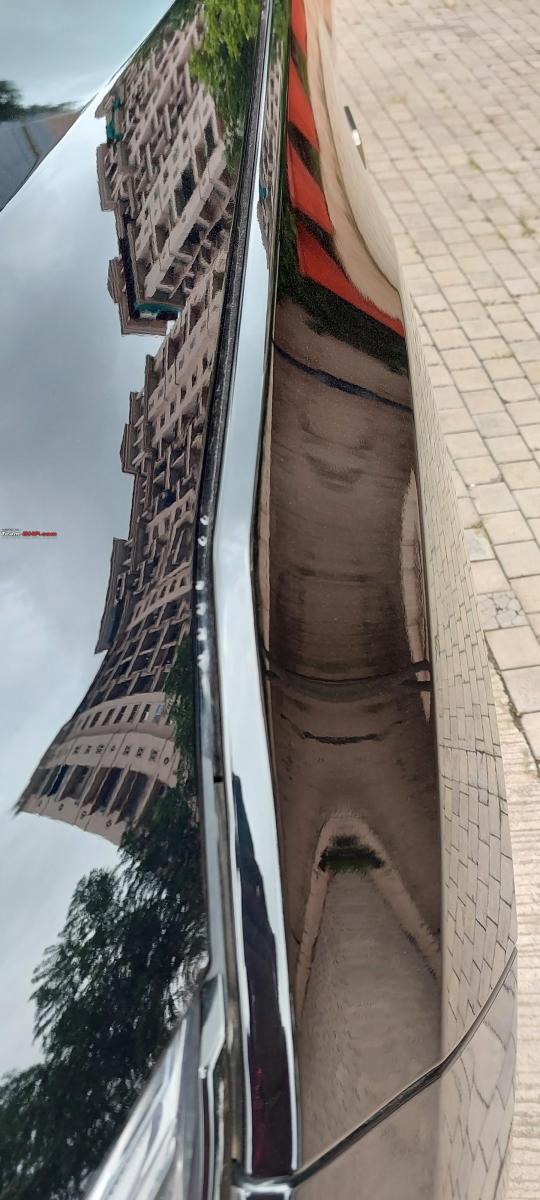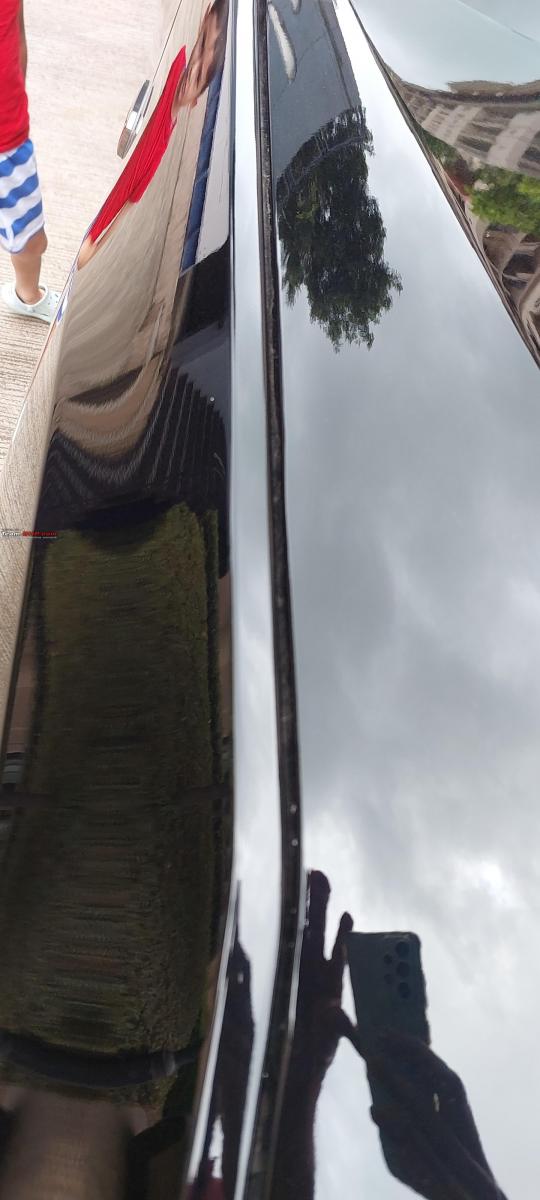 Driver side ORVMs have limited lateral movement. My preferred position is little bit above the existing maximum setting seen in below pic. Also, they look smaller compared to the size of the car: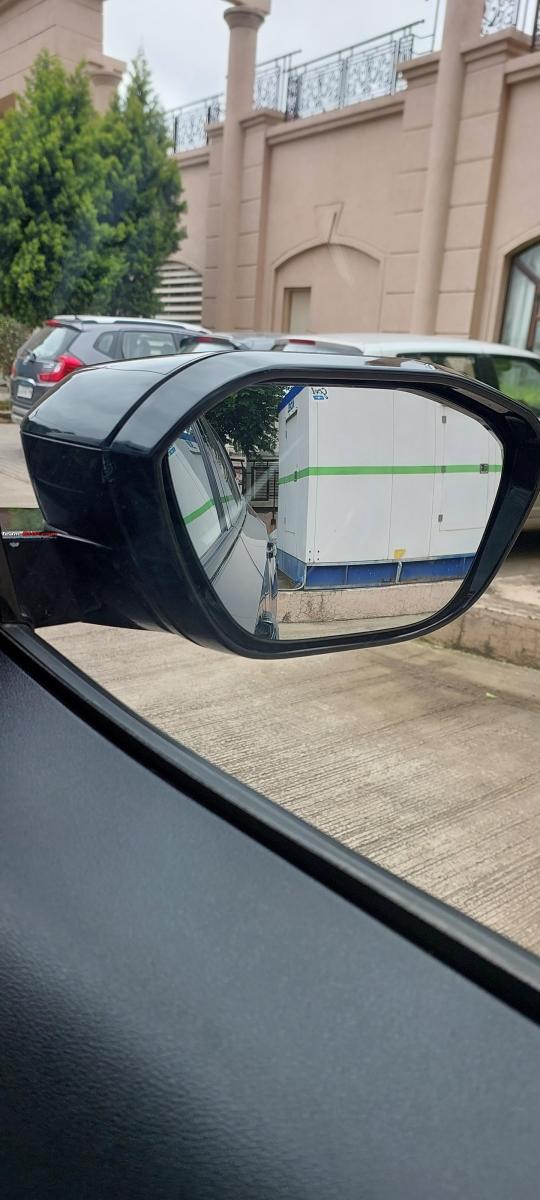 Seat Finishing: Found this, when I took all plastic coverings in second row. Will bring it up with SA. Look at side of both 2nd row seats near the folding hinge:
Finishing:
Corner piece of tail lamp. To be fixed in first service: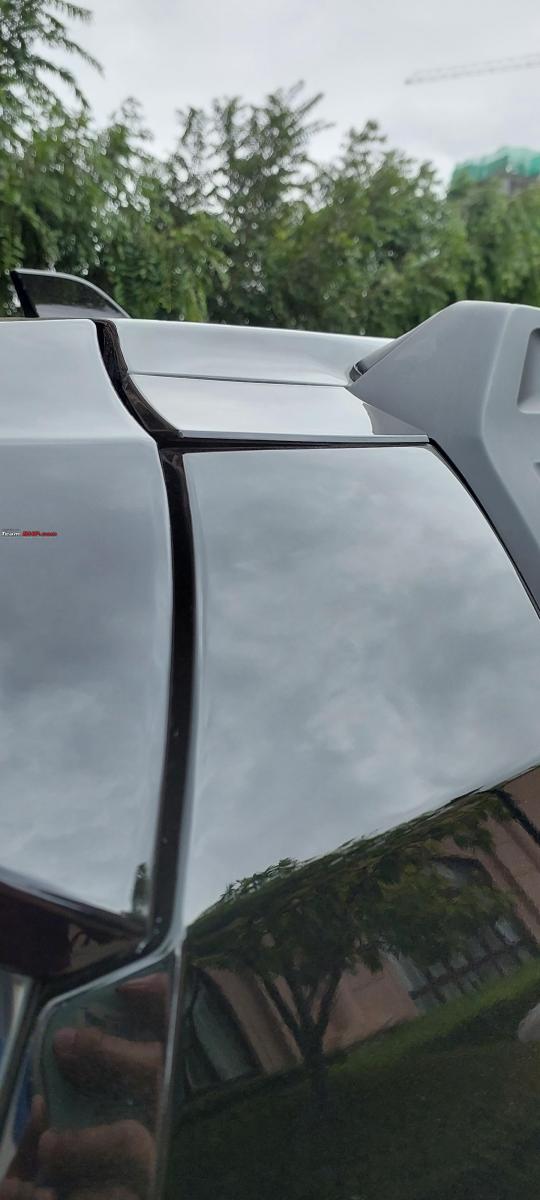 Now some positives:
Exterior Design: Overall build quality looks solid, Paint quality is also fine. In fact paint has sparkles of blue, which changes the colour to royal bluish under lights.
Wheels & tyres: Has black 235/16 R18 diamond cut black alloys: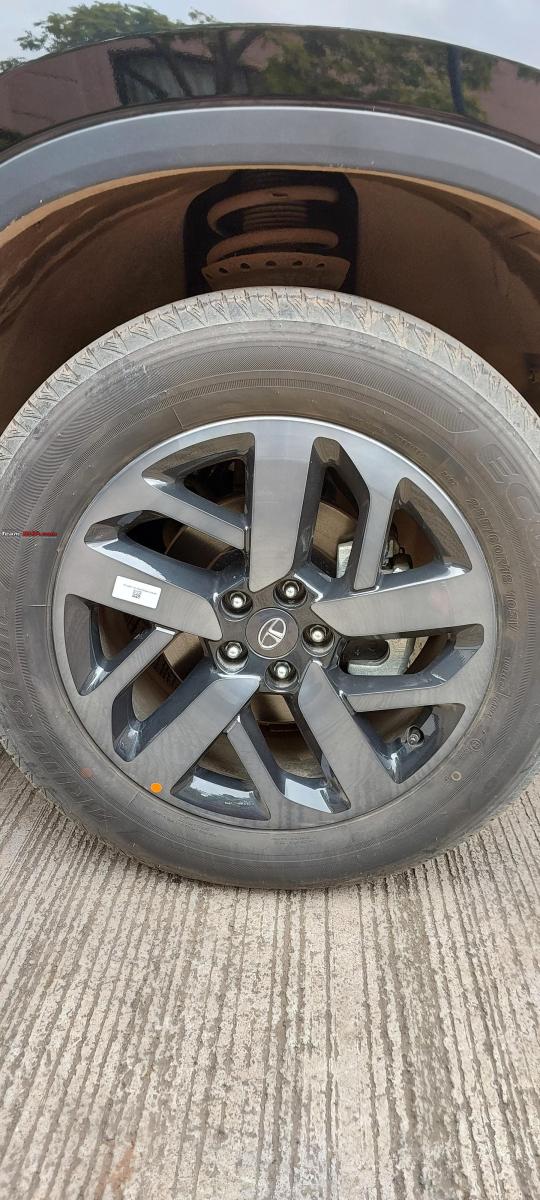 However the spare tyre has a steel wheel. Clear cost cutting: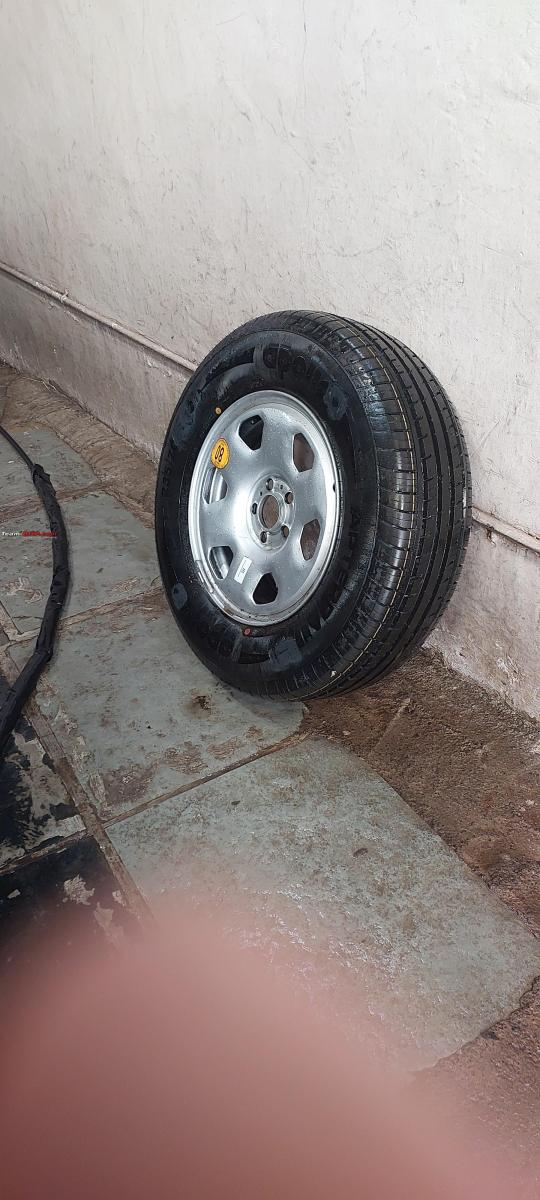 Interior design & quality:
Interior finish looks premium. There is soft touch plastic over the dashboard. Dark Edition has interiors comprising of piano black finish, grey and trim-arrow fabric trims, which make the interior look classy. Steering is leather wrapped along with drive lever. Of course, with kids its additional maintenance.
Some snaps: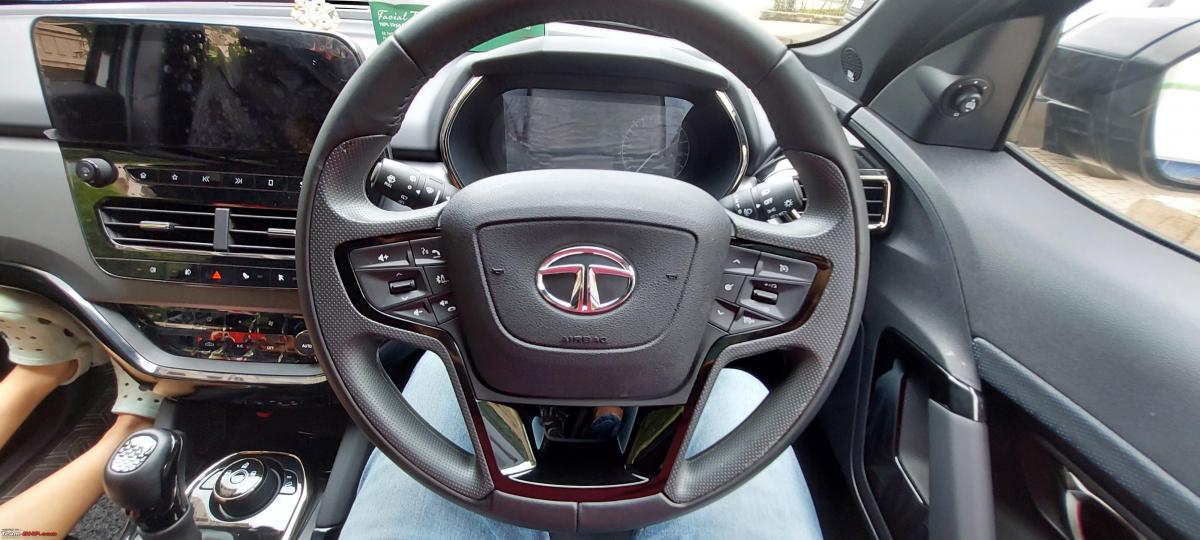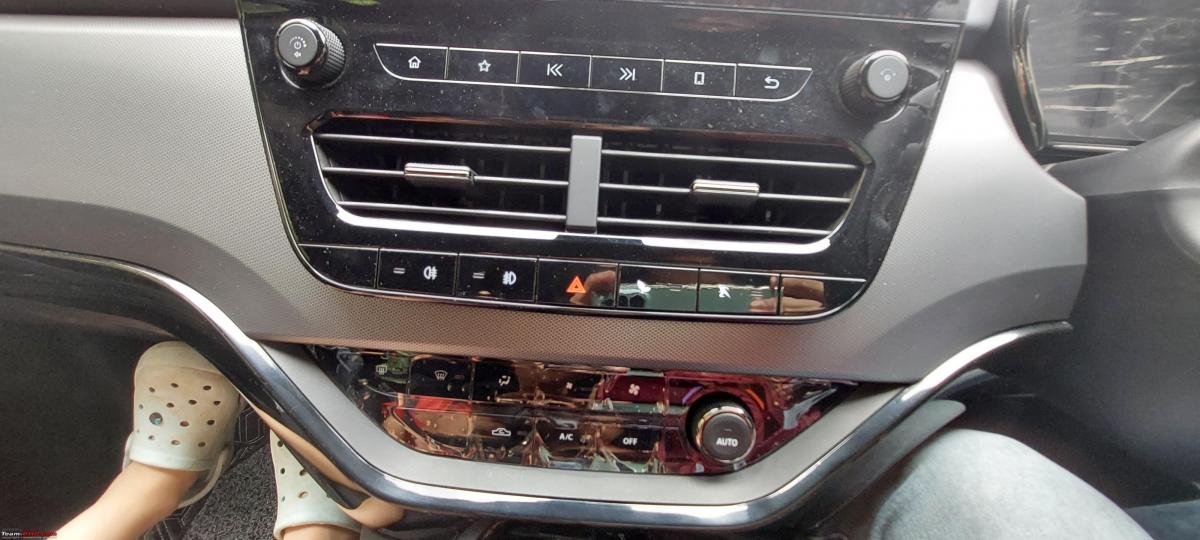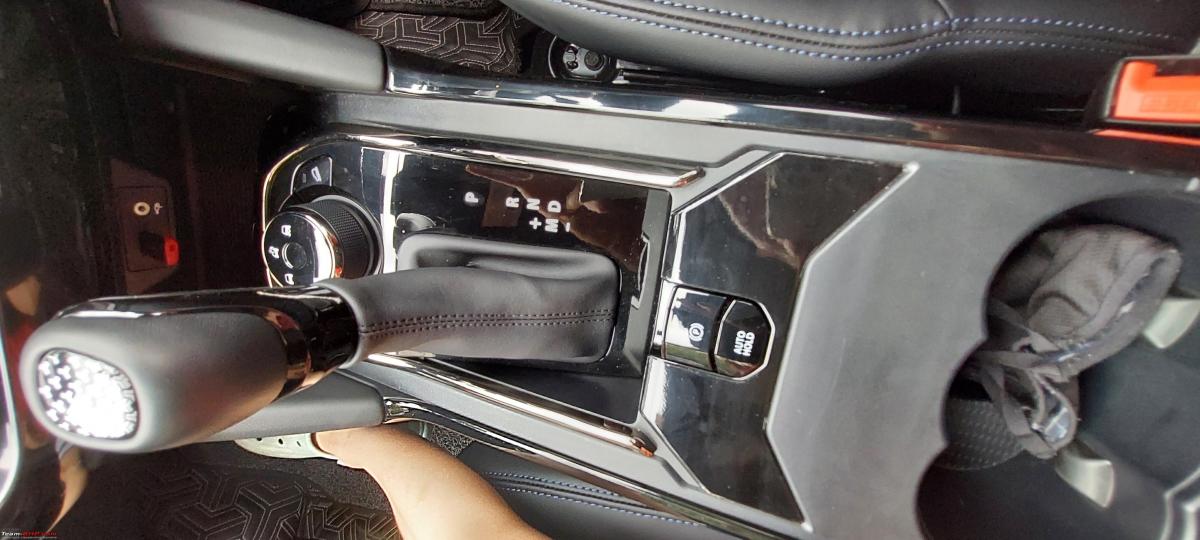 Command seating: View from my driving level: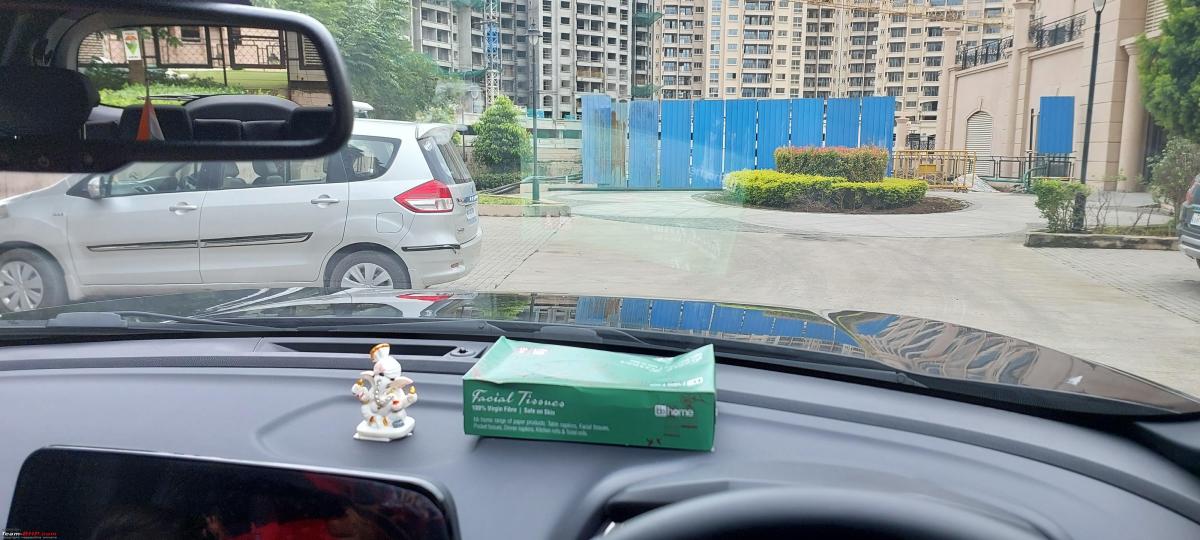 Cooling glovebox between driver and co-passenger armrest. Has 12V socket and two USB charging points. Cables can be bought out through small opening provided in front for charging phone: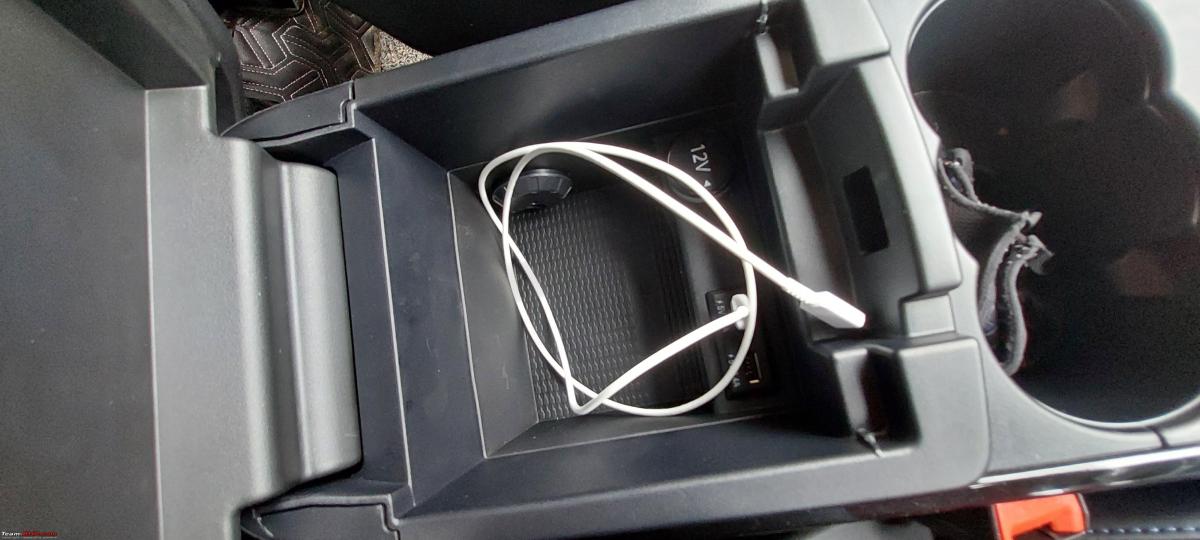 Auxiliary cable and USB for infotainment system: Yes, I do use USB keeping my favourite playlists: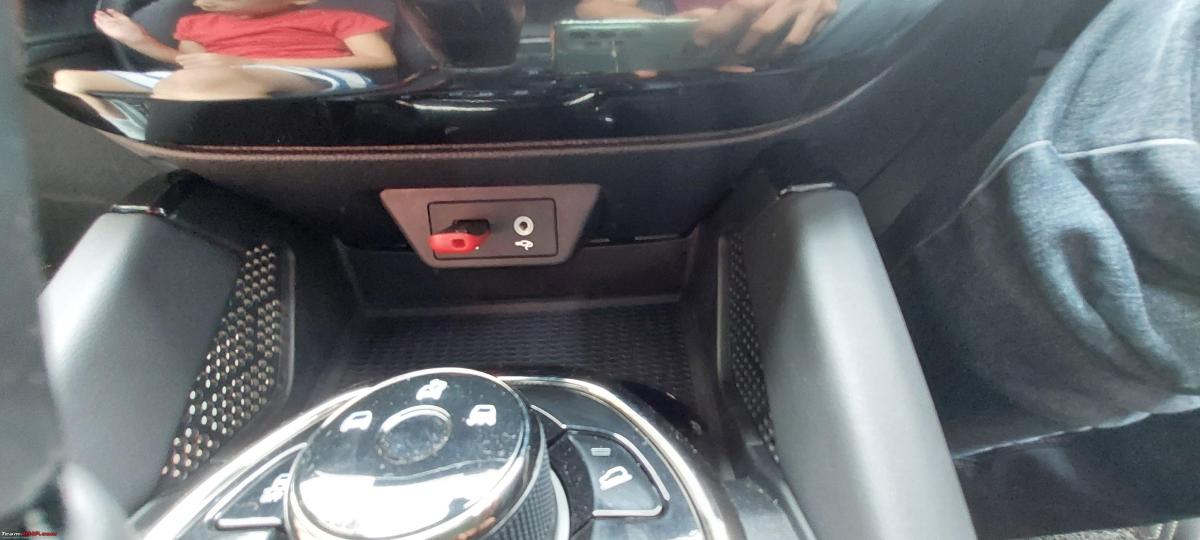 I have hit maximum number of images for this post. So, will add snaps again in another post. For the meantime, just posting observations below:
Glovebox with partition. Upper one can be used to keep documents. This is not cooled one, plus it does not have white LED.
Storage on doors: In front, it has umbrella, magazine and one bottle.
Second row doors can hold bottle + mobile.
Accelerator and brakes are too close. Add to it the third accelerator pedal in manual and it will really get congested. Reason I only wanted automatic in Safari.
MID:
Partly digital and analogue
Speedometer is analogue. Rest MID is digital. All controls are on steering. For XTA+ the controls are provided though knobs in front of MID.
MID is TFT and has different menu. All controlled by three buttons on steering wheel.
Audio system & sound quality: 9 speaker JBL system with woofer user last row seat. Have JBL branding as fine tuned by them. This branding is not present in XTA+, where it is harman speakers as told by SA.
Puddle lamps: XZA+ comes with puddle lamp swhich have good illumination for de-boarding at low-lit areas.
Ambient lighting on doors: All door locks has ambient lighting on them, which helps to locate door knobs and bottles while travelling in night.
2nd row comfort:
It has AC vents on B pillars. Charging points are provided below central armrest.
Armrest with cup holders and reading lights on sides.
Third row comfort: Third row has its own window mounted AC ducts with blower control along with glass holders, mobile holder net and reading lights
Boot: With all rows up, very little space left in boot. Has a boot lamp. Below the trunk carpet, it has tyre inflator, puncture fixing solution, screw driver to open front skid plates to reach tow-hook, jacks, spanner and DEF filling lid on right hand corner. Also, spare wheel is placed under the body and can be unlocked only from inside the boot.
Fuel lid: Press to open when car is unlocked. It will not open once car is locked.
Just above the central console, there are cabin light controls and sun-roof controls.
Sun roof operation:
It is fairly simple and separate switches for each operation.
Left most used to open close sunshade.
Middle one is used to just recline the movable glass portion to let cabin air escape.
Right most one is to open the movable glass portion.
Infotainment: Infotainment screen has all car accessories control function. Note you do not always need to use touchscreen for selecting functions. It can be scolled through with right side rotary knob and select with small press on the knob.
Android Auto: Once paired, your phone will automatically connect via Android Auto if your phone's Bluetooth is ON. In case, it is distracting for you to look for navigation in infotainment screen, you can cast turn by turn navigation to your MID. It will appear above Distance to Empty screen.
Music System: All music controls are available in infotainment screen and you can choose the modes to set your preferred bass, treble, loudness settings. Track selection controls are available though switch mounted on left hand side of steering wheel.
Automatic AC: You can either select Auto AC and set temperature OR you can go custom. The choice is yours. MID displays the outside temperature using sensor placed on front bumper. Auto AC sensor is placed on dashboard just at centre of defogging vents of windshield. There is small round button kind of thing, I guess.
Drive Modes:
By default, it drives in City mode, which has balance between fuel efficiency and performance. In case, you are an enthusiast, Sports mode will please you. It can be enabled just by press of flash switch in central console. In case, you are more concerned about fuel economy, select ECO mode from same console. XZA+ also comes with terrain response modes, which can be selected by rotary knob placed next to automatic gear setup. You can select between Normal, Wet and Rough. Mode names are self sufficient to explain their usage. I have tried Wet mode to wade through the Pune's flooded and wet roads and some muddy highways also. I do feel the difference when I switch to Wet from Normal mode. The car seems to be planted on road with more traction. Haven't been able to check its effect on handling at high speeds as could never go above 50kmph due to traffic. Haven't got chance to try out Rough road yet.
Hill Descent and Traction: There are also switches provided to enabled hill descent and traction. Even when enabled Hill Descent won't get active till it sense some particular gradient on road. Also, if you go above 30kmph during descent, Hill Descent will not work. There is no switch for hill-assist feature, as it is enabled by default. I could not test this as for small climbs, automatic has enough grunt to hold vehicle without any acceleration.
Cruise Control: Cruise Control is available with switches mounted on right side of steering wheel just next to MID controls.
EPB and Auto-hold: Remember EPB applies automatically as soon as we shift to P mode. You would need to release it manually before moving the vehicle, else you will get warning notification. Auto-hold is most useful feature for me. I had the habit of clinging on to brakes at red lights with gears in active zone. However, with auto-hold, once vehicle comes to standstill, auto hold icon on MID turns green from white and you can let go of brakes even in drive mode. Vehicle won't move until you apply pressure on accelerator. So, at red lights, your feet can take rest. However, please note auto-hold only prevents vehicle from moving forward. It can still roll-back, which is taken care by inbuilt hill-assist.
Manual Drive: I haven't tried it till now. Plan to tried it on some weekend.
IRA App: Will add more details later.
In case, you do not carry car manual in pocket, Tata has also created an app can Tata manual, which provides this manual as easy interactive look-up table. Do try it out.
Till then keep revving.
Cheers!
Negi.
Continue reading BHPian negi15's review of his Tata Safari Dark Edition for BHPian comments, insights and more information.
Source: Read Full Article