The flywheel was the most expensive part coming to Rs. 23K.
BHPian sudeepg recently shared this with other enthusiasts.
Pre-Mature Service
My DDiS 320 had just been serviced (details in previous posts) when a week later, I noticed that the gear shift from 1 to 2, would be difficult in the morning on the first move. A couple of shifts later and driving a few KMs the gear shifts would become butter smooth as if there were no issues. Further, the downshift to second gear would also require effort beyond what was usually required.
On the first occurrence, I thought it was a one-off occurrence, but I started observing it on every cold start. The problem was present and could not be ignored.
I took the car to Engineering Exponents and after an inspection, the technician maintained there was no problem. The car was warm and had run for a while, so it was not a surprise he didn't find anything amiss. Still, he asked me to continue observing for a few more days and come back.
Now, I had a long trip lined up and this was a botheration. I like to keep my car mechanically in top shape, so much so that I should be able to drive it out for long trips on quick notice without being worried.
I took the car to Bimal auto where they test-drove and said the clutch is hard. But they couldn't tell if a problem was present with the clutch actuator, the clutch itself, or the flywheel. I have been expecting this problem to surface at around 80K – 90K on the ODO and had factored in the cost, but did not expect it to happen this soon.
I called KeyNote (on this forum) who owns an S-cross 1.6. He had once run into a similar problem and in talking with him, he indicated that he had exactly the same symptoms until the clutch actuator gave up on a trip. This information helped me make a decision to change the clutch assembly and other parts if needed.
Parts & Pricing
Bimal had the flywheel in stock, but not the clutch pack or clutch actuator. It is difficult getting the engine and transmission parts for S-Cross 1.6 diesel. Jayant has suggested that I get these parts and hold on to them. Parts such as timing kits have a waiting period for delivery even in Boodmo and from Maruti.
Here are the parts which were eventually replaced.
Repairs Undertaken
Bimal arranged for all the remaining parts from another dealer and offered to undertake the job on a Sunday, two days before my scheduled drive. I asked for Jeevan, who is the regular technician who works on my cars and he was on shift on Sunday.
Took the car and upon inspection after opening the gearbox (GB) revealed
The pressure plate was in very good condition for the mileage it had put.
The bearing and operating cylinder mechanisms has play. This needs replacement.
The flywheel also has play. From what I can tell – it is not too much to a point of replacement. But then again, I am no expert in this matter
We decided to replace the entire set of parts since GB service is a whopping 9.5K!! Damn! That is seriously expensive. I was informed by KeyNote it cost him only 5.5K at Coimbatore.
I could not take any pictures of the repair since photography is not allowed inside the service area. But broadly, these are the steps I could make out:
Disconnect & remove the battery.
Remove the Air box assembly.
Loosen the mounting bolts for the gearbox
Drain the transmission fluid and collect it in a container. (2.1 Liters)
Remove the underside cross member and engine/transmission protection covers.
Support the gearbox housing and remove the supporting bolts.
Disconnect drive shafts and suspend them using supporting clamps
Disconnect the steering system.
Remove & lower the gearbox.
Inspect and replace the parts.
Reinstall in reverse order.
Fill the transmission fluid in GB.
It took ~5 hours for the repair work and Jeevan did an excellent job.
Parts & Cost & Worn out parts condition
Flywheel: 12620 M 55P00 INR 22,953 (Unavailable, ~29,380 when I checked last)
Clutch Assembly: 22000 M 55LA1 INR 10,535 (Boodmo cost: 13,485)
Clutch Operating Cylinder: 23820 M 79J20 INR 2804 (Boodmo Cost: 3,590)
Labour (Transaxle Assy for Diesel-OH with Clutch Disc and/OR Cover: INR 9,133
CGST+SGST (@14% 5081*2)
Total Cost: Rs. 57,325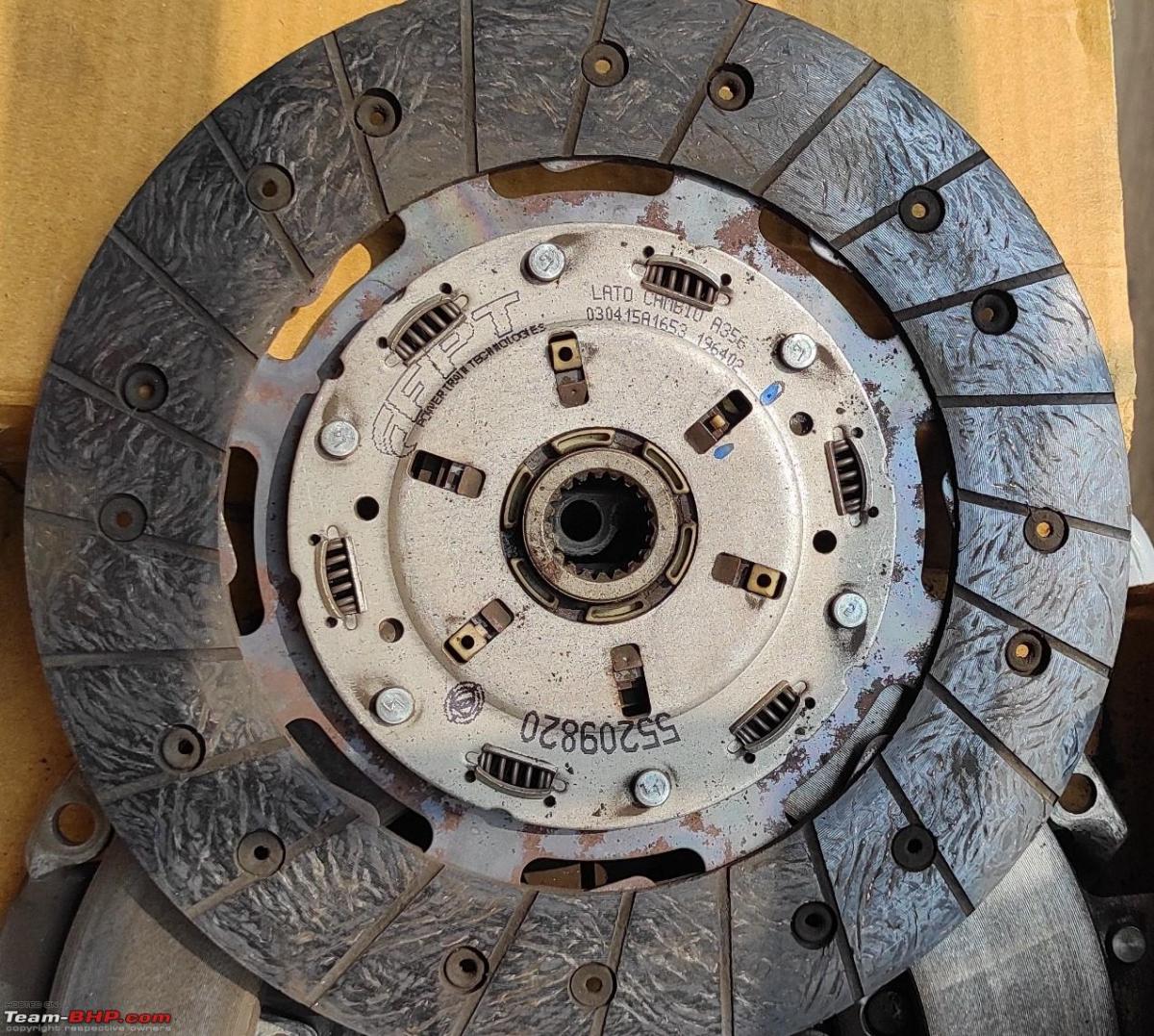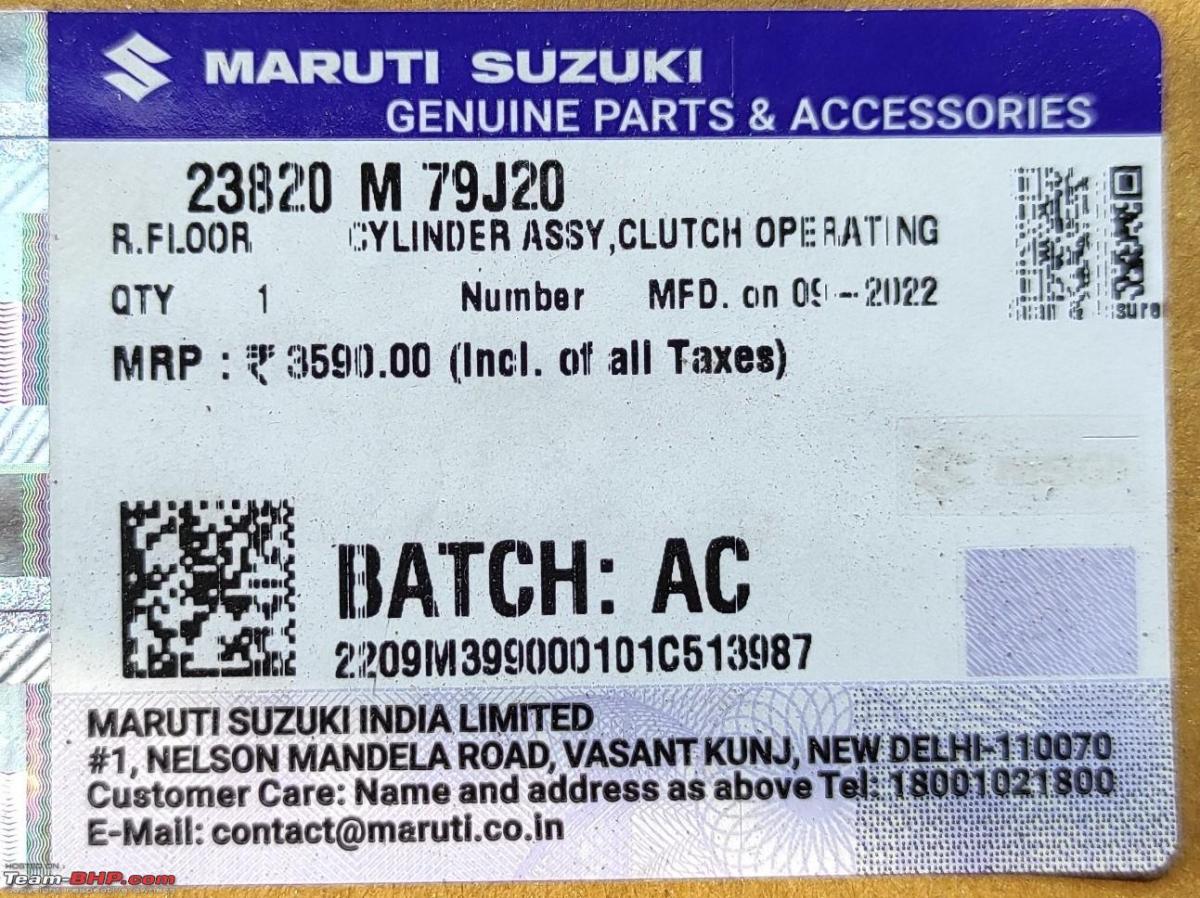 Short Video of the Play in the DMF
Post Repair Experience
No surprises. The clutch is smooth as butter. I mean – it really went from hard to as good as a naturally aspirated petrol car. Some judder that existed during clutch release has been completely eliminated. Finally, the most important part, the gear shift from 1 to 2 in the mornings was back to butter smooth operation.
As of this update, the car covered 1153 KMs post clutch service and there has been no problems so far.
I believe I am good for another 80 k – 90K KMs now on this front.
P.S: I have the clutch assembly & flywheel with me and ready to give it away for free, in case anyone is interested. I believe the parts have life, but Maruti service will always tell you to change it off since they are wearing out. It is of course business to them! I changed it off because GB overhaul was expensive and it was already factored into the cost of ownership in long run. Just miffed as the super expensive labour charge for GB overhaul.
Read BHPian comments for more insights and information.
Source: Read Full Article