I could feel the motorcycle getting slower and slower, struggling to play catch up with the BS6 models.
BHPian FURY_44 recently shared this with other enthusiasts.
Midlife Rejuvenation of the RR310
4 Years 9 Months & 34,600 km Later
It's hard to believe that FURY will turn 5 in the next couple of months, time flies and it flies faster when you are having fun. The RR310 was surprisingly low on maintenance cost (or so I thought it was), for the amount of highway run it has seen. Just to give you an idea, I am still on my stock front tyre, 2nd set of the rear tyre, 2nd set of the front brake pads (changed at 25k kms), 2nd set of the rear brake pads (changed only now at 34k kms). Maybe my sedate riding style contributes to the longevity of these wear-and-tear parts.
But, the age was starting to catch up with the bike. I could feel the bike getting slower and slower, struggling to play catch up with the new-gen of BS6 RR310s. I started to feel the initial pull fading, the bike was not opening up as it used to between 4000 – 6000 RPM. I shifted to Shell Fully Synthetic Engine Oil at 30k kms thinking it would make things better, it made little to no difference at all.
In Short
This is the story of how Lightning McQueen, cough cough sorry, how FURY and I set out to amend things and take the fight to the new-gen RR310s. Sorry for being overly dramatic, that Cars 3 scene came to my mind just before I started to draft this thread.
A summary of parts changed
Total Parts Cost: Rs. 14,511
TVS' service for the RR310 is deteriorating all across Bangalore, especially after our lead mechanic at Prakruthi TVS, Hebbal, quit a year ago. The parts availability is another issue that has been cropping up recently. The oil filter, a running repair part is out of stock and rarely available at RR310 authorized SVCs. I have even heard stories in our RR310 Bangalore owners group that the SVCs are now resorting to not changing the oil filter during service and asking the customers to come back for replacement when the part is in stock. A recent thread by one of our members here regarding the issues he faced with Flagship TVS doesn't instil confidence at all. TVS has to step up and step up fast, it's one thing to launch a bike with all the gizmos in the world, but if your service centers aren't capable of stocking crucial wear and tear parts, that's the endgame.
Coming back to our rejuvenation, I chose an FNG, which is being run by one of my friends. All the items required were slowly sourced from TVS and collected over a period of time, let's say 2 – 4 weeks. In Mid-November, there was a slot open at the garage and I dropped the bike with them. Due to the estimated service timeline of 4-5 days, I decided to remove all the fairing myself and keep them at home, for peace of mind.
The drop-off
Since it was a weekend, I decided to stay back for the day and capture important moments. Out of all the part replacements we had planned, the clutch assembly was still a question mark. I insisted we first check the wear before we opt for a new assembly.
Draining out the engine oil
No time was wasted in draining the coolant to remove the clutch cover and check the clutch plate's condition. After almost 35k kms, the plates showed signs of wear. I decided to go for a replacement since anyway a number of parts were getting changed on the bike, and adding a new clutch assembly will contribute to the performance.
Clutch assembly check
The radiator and throttle body were also removed for a complete cleanup. All these parts were never ever touched throughout the ownership.
Removing a very dirty radiator
A carbon deposit-friendly throttle body
We then proceeded to remove the tank and remove the ignition coil to check the spark plug condition, it was within the specs and decided not to replace it, a plug costs Rs.880/-. The cylinder head cover and camshaft housing was removed to access the all-important finger followers.
Spark plug check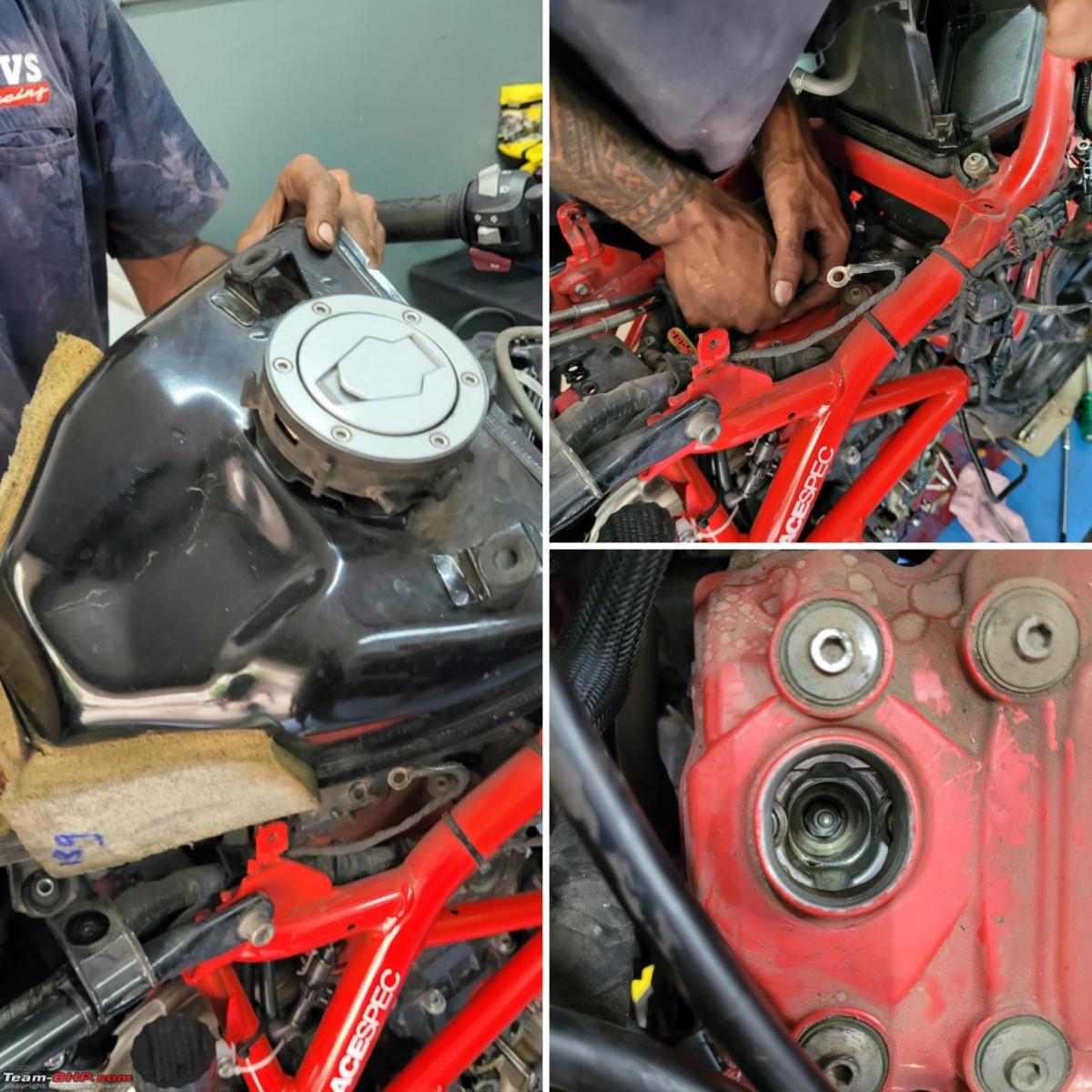 I was in for a shock when the old finger followers were removed. It was beaten up, showed signs of wear, and looked like it was made up of scrap metal. Compare it with the new finger followers which looked like it came out of a spaceship with an advanced level of engineering and all.
We BS4 owners complained day in and day out about the vibrations and harsh engine noise, TVS has made amends and introduced these new followers from I believe 2019 onwards, they could have guided the early adopters to get this part changed if not under goodwill replacement, at least on a chargeable basis. I felt really stupid having this substandard piece of metal in the bike for 4.9 years and didn't even know about it. I am guessing you would figure out which are the old and new finger followers.
What a single piece of metal, in the RR310s case, 4 pieces of metal can change the performance of the bike altogether
On to the cleaning now, a clean throttle body and a shiny head cover
A clean radiator, cools the engine efficiently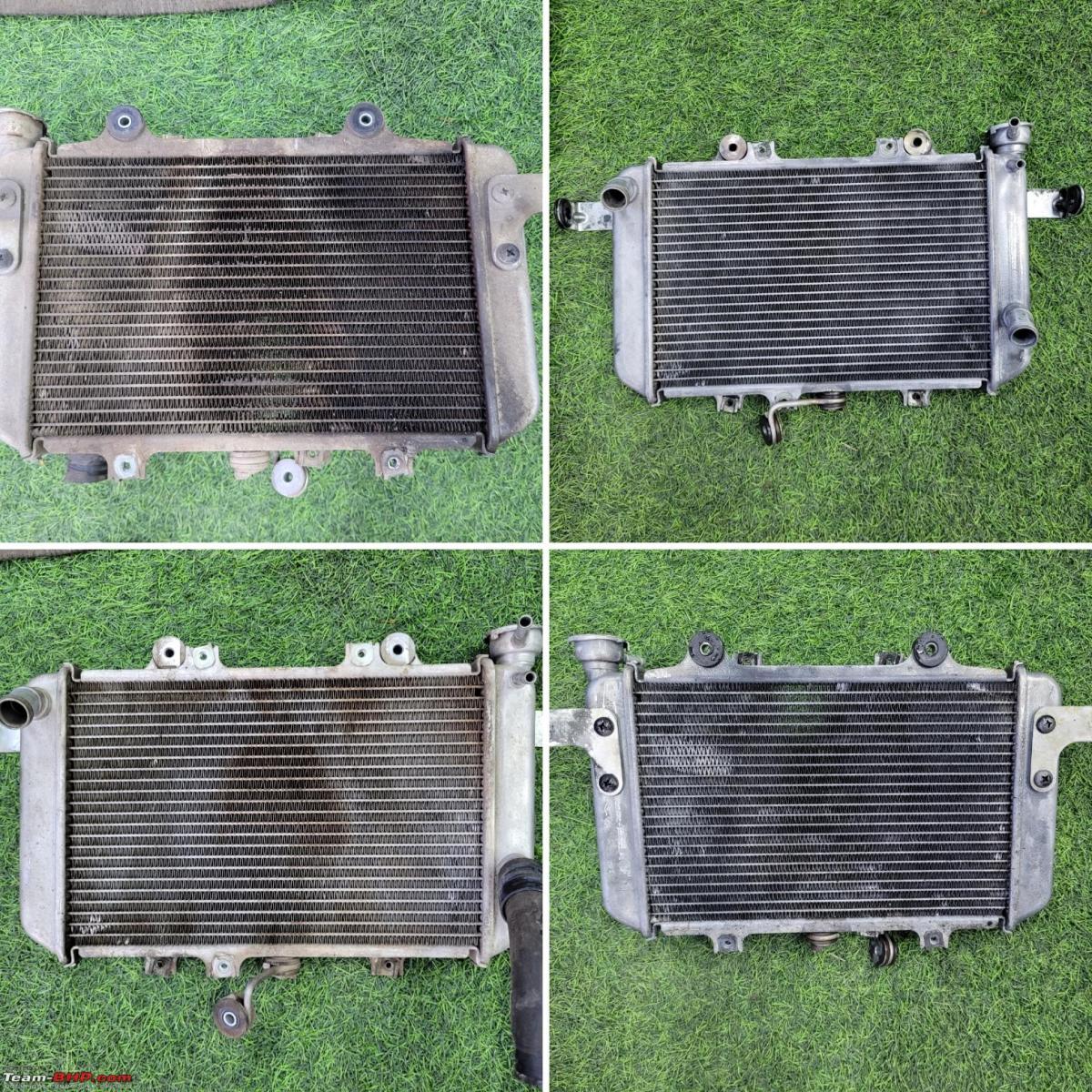 We had to remove the swing arm to install the new chain on the sprockets since there are no link locks.
The front and rear brake failures which I had faced were found to be a faulty O ring in the caliper, really good job by the team to get this issue to be found and rectified. I have ridden almost 800kms after the service, the brakes seem to be working fine now.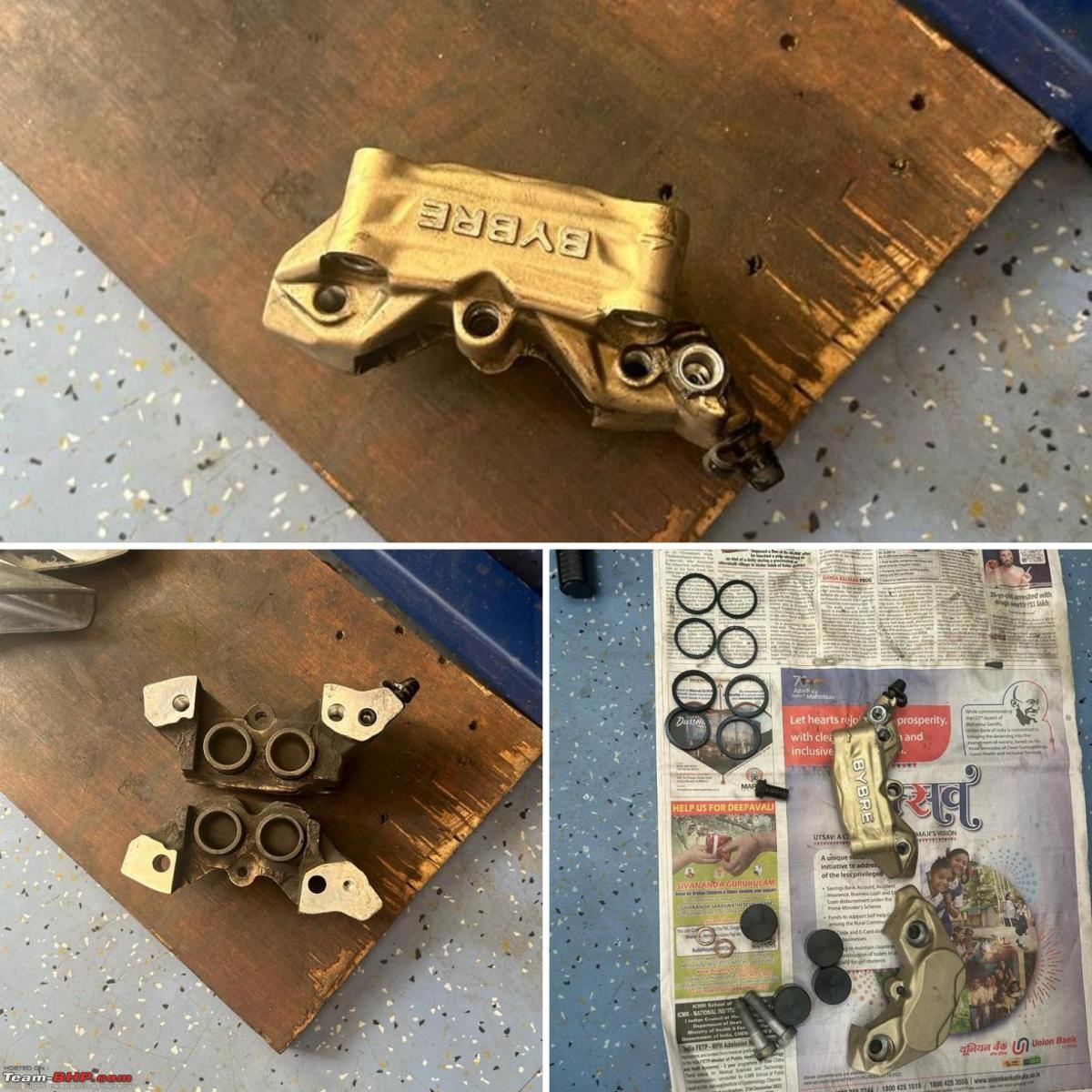 I did not fancy the slipper clutch in the RR310, having ridden bikes assisted with the slipper clutch, I felt they had lesser engine braking, which is obvious. I liked how my bike felt with the standard clutch assembly. After enquiring with a lot of contacts for a standard clutch plate assembly, I was informed that TVS was not sending out standard sets but only slipper assemblies. A good week was spent trying to source a standard clutch assembly, which we finally caught hold of.
A new non-slipper clutch plates assembly goes in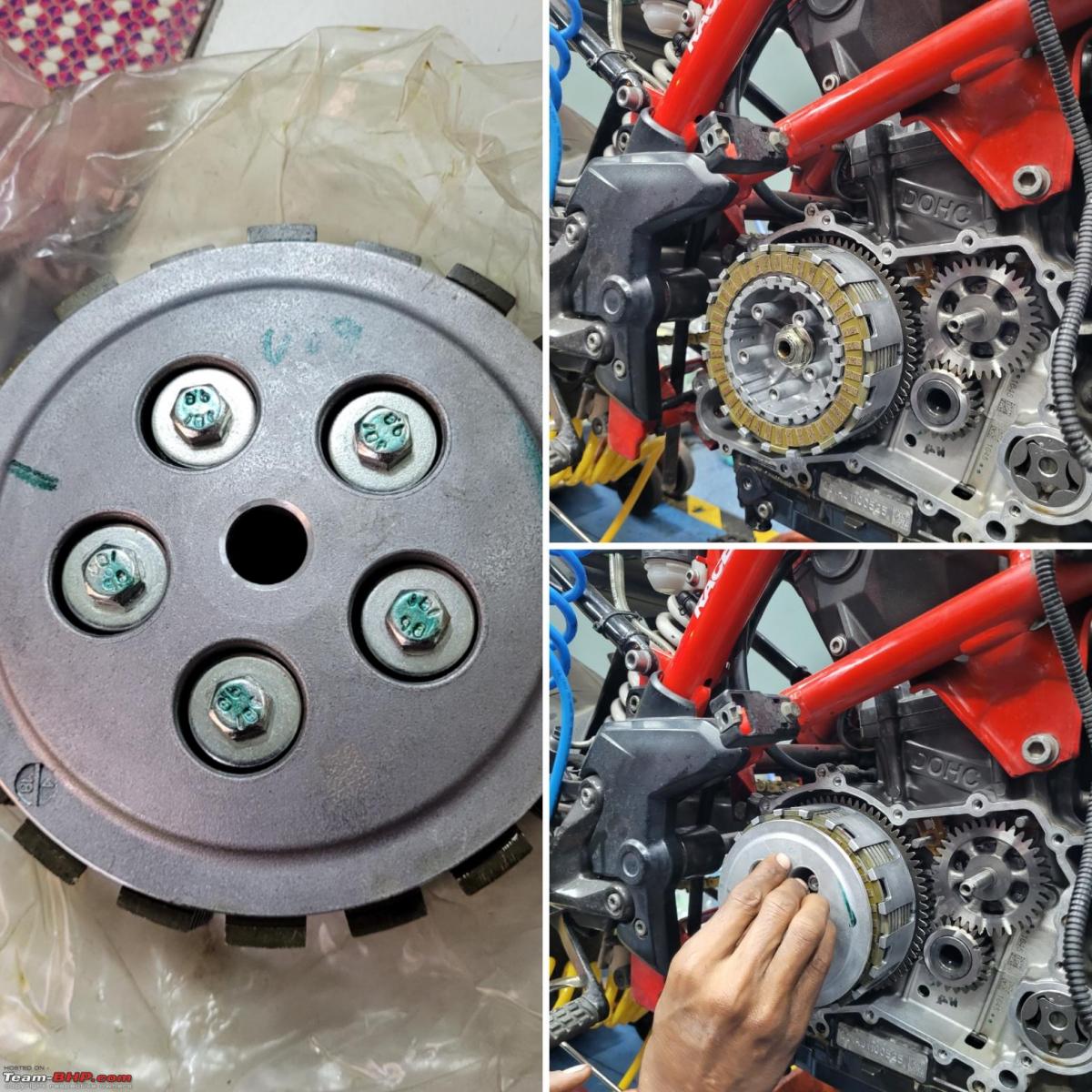 Petronas Engine Oil, Motul Inguel Coolant, and a BMW performance part, any guesses?
Cause a repainted, clean, exhaust adds to the aerodynamic efficiency of the bike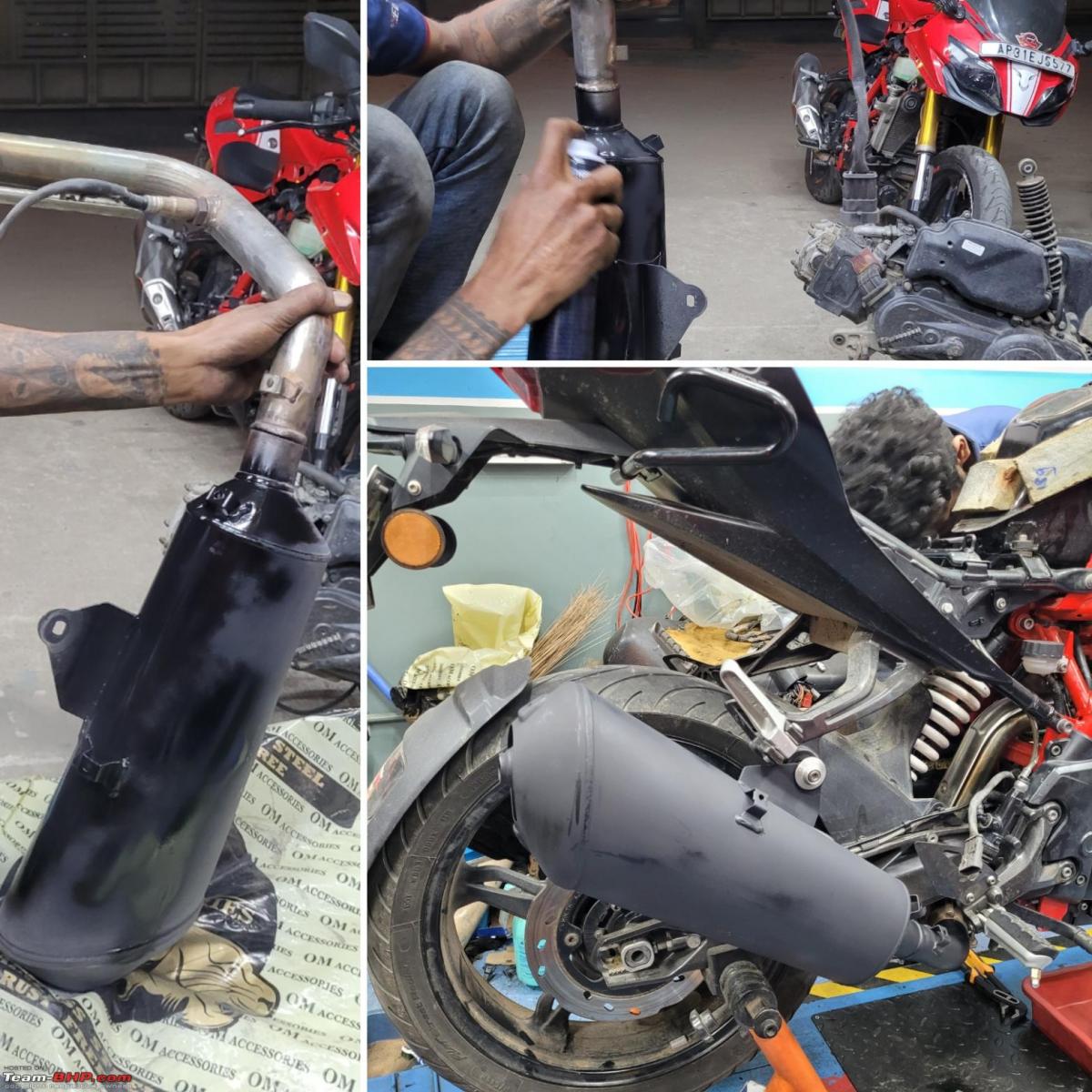 One final test ride by Mr. Shiva and the bike hit sunlight after 10 days in the bay.
Post Service Feedback
I had 10 – 15 days in hand before the Tirupati ride I had planned in the 2nd week of December. I did not fit back the fairings, I wanted to check for any issues that may crop up. I used the bike regularly to set the new finger followers in place. It felt almost like running in a new engine, the initial pull was back, if not better compared to the newer bikes. The engine is now running much much smoother and silent, it almost, almost feels like a HONDA. There's a new roar from the engine when shifting at a higher RPM and rev-matching when downshifting.
A couple of my friends who test rode my bike recently on the highway are also in awe by how the bike feels and rides now. All in all, as mentioned in my earlier update, the grin is back on my face, a worthy rejuvenation task which should help the RR310 clock more miles in the coming years. I am really happy with the work done by Mr. Shiva, a 2 stroke specialist and a KTM loyalist, to pull off such crucial work on the RR310 is just commendable.
Check out BHPian comments for more insights and information.
Source: Read Full Article