The car did have its share of interior issues and niggles, but having been through most with the Indica, resolving them was fairly easy.
BHPian greenhorn recently shared this with other enthusiasts.
Part 1 – Thinking beyond the Indica
My Indica will be turning 15 this July. My return to India was temporary, and the plan was to manage transportation in India using the Indica. However it got stuck at a workshop for more than a month last year due to the discovery of rust on the floor – and the FNG bungling up. I don't want to name them because the owner is a neighbor. I spent close to 30K on car rentals during the time, and a close friend's Aspire.
Then it got partially submerged during a landslide/flood situation which partially fried some electricals and that was another month of repairs during which I was driving around in my brother in law's Harrier
I thought it was all sorted out, and was putting in some 7D floormats (Floormat companies must have really good Physicists – the rate at which they discover new dimensions is amazing) when I spotted more rust. This time, I did some more research and found a guy two different people i know recommended independently. He agreed to fix it, but did not commit to any timeline or estimate. I swear if i find that i need to do more bodywork due to rust, I am going to sell it.
But that time is not now, but I do need a backup car. For the time being I was using a friend's Current gen Wagon R, but I was beginning to feel bad for freeloading off all my friends so much. I was thinking of buying another Indica/indigo CS of the same vintage to use as a parts car, but Wifey vetoed it and said she would approve of funding only if it was a new or new-ish car.
Part 2 Test Drives
I was very, very confused and drove a wide variety of cars. I'll try to be brief.
1. Honda City CVT 4th gen – Ideally a 2014-15 model at 6-7 lakhs would have been perfect, but could not find any. I had driven one for a week from Indusgo when the Indica was down for repairs and I loved it.
2. Figo Aspire – A friend of mine had a 2014 Titanium and had lent it to me for a month, and offered it at an extremely reasonable price as he was looking to sell it, but I was not 100% on board as I hated the handling of it, Plus it needed some pending work which was not ideal as I had one garage queen already. Plus the acceleration was WILD. Now normally this would fall in the plus side of things and I can already hear people grumbling "This guy rejected a car because it had TOO MUCH POWER?" , but unfortunately my son gets carsick very easily, It is what it is. I am not happy about it, and I had to let go of it for the same reason I had to let go of my 12 inch sub in the boot. Married life is death by a thousand cuts. Ok, enough of that philosophical detour.
3. Honda Jazz CVT – this was the next logical choice, but I did not like the seating position – It was very upright (I Prefer something a bit more low slung) and Jazz Prices are crazy ( 7 year old cars were being offered at 6.5L non negotiable and selling. Again, People who think the prices are crazy, come Check out the KL used car market. Prices are so high that a lot of dealers are buying stuff from other tier 2 cities and selling here – and consequently driving up prices elsewhere too)
4. Honda Brio – I test drove several Brios – The weird thing was that they all felt very different. Hard to believe the same car could feel so different. A couple of ones I was interested in were priced high (4.8-5) or I was not the first on scene. My Friends vetoed the brio saying parts are on the higher side and take ages to procure. Anyway I could not find something I liked, at a price that I was ok with, so no Brios
5. i10 Grand – Started looking for these in the used market , but drove a brand new one at some point and realized that it was too cramped and underpowered for the price point. turbo i10 was a very serious contender. Almost bought it but space was a sore point
6. Altroz iTurbo – While I was looking at the i10 grand turbo/i20 turbo and hemming and hawing about the price, I realized that the iturbo Altroz was a decently priced alternative. The TD did not go well. More details here.
7. Punch – Ticked a lot of boxes – was well tuned, handled better than the altroz, engine felt better than the used tiagos, but the seating position was a bit off, and I really wanted a 4 pot, because nothing beats the sound of one – especially if you've gotten used to it
8. i20 Turbo – Loved the car. But vanilla i20 turbo's were available only on the hyundai website. Dealers said I would need to get an n line (13L OTR starting) which way way over budget.
9. Etios liva – there was a good example available near the Tata showroom I had gone to get the second TD of the Altroz iTurbo (to confirm if the TD issues were specific to that particular car). It was all across town which is why I hadn't bothered earlier. The car was in reasonably good shape, and got my mechanic to check it out – he also said it was in good shape. The 1.2 did not feel underpowered, interior space really felt like an upgrade from the Indica, and it was a 4 star car.
At that point, I had posted this.
Most people in my auto group circles voted for the Etios. After looking at the prices of the new car options, the Etios made the most sense. I went ahead and confirmed the deal with the owner.
Part 3 – PDI and initial niggles
The car did have its share of interior issues and niggles, but having been through most with the Indica, resolving them was fairly easy.
1. Gear knob – The black gear knob had cracked, and the chrome and print on the cab had worn away entirely. I got a replacement gear knob from boodmo and spray painted it black.
2. Deteriorating door pads – Have done this twice for my indica, so knew just the place. Unfortunately the guy ruined it by doing a last minute bait and switch on the material at the last minute. Now it looks like somebody put some old art deco curtain material on it. Gave him a piece of my mind, but wife and mom seem to like it, and no point being sore about something that's already happened.
3. I later realized after filling up that the fuel gauge does not work. Was sorted when i gave it for service – Apparently there was a lot of rat damage (which needed some fixing the wiring for the rear lamps as well)
4. FM radio was not working either – turned out to be the sequel to the rat damage – The car accessories shop that was installing the footwell lighting kit opened up the center console and found a literal rats nest. They fixed the wires too.
5. Did a full interior steam clean and detail. Added seat cover and floor mats.
6. Car had a lot of bird droppings on it. Clayed and waxed as much of it as I could. Some damage was too deep.
7. Had bought the car after getting a mechanic who was nearby check it out. He had given me a recommendation saying the car is in great shape.
I later found out that the car had been in a hit, with tyres, fenders, and some engine bits replaced in the engine bay. Confronted the mechanic who said he recommended the car because the seller was known to him. Guess who is not getting a recommend for the team bhp directory?
8. Had a puddle of water inside the car – turned out the ac drainage hose had come loose. Had it re-fitted locally, and had to drive around with the carpets partially removed for a few days for the front footwell damping to dry out.
Part 4 – A Second look at the car
I feel the Etios needs a second look because from the car, it looks as if they looked at all the criticisms from the original team bhp review and fixed every single one of them. I'll just quote the relevant bits from the original review here where appropriate.
TWO family hatchbacks for me with "T" badges
• Spacious interiors can easily carry 5 adults
One of the main reasons I was happy with this car. there are plenty of premium hatches in this price range, but very few are true 5 seaters
• Well-tuned suspension. Safe handling and flat ride
Its nowhere close to the Swift or first gen figo, but I felt ride and handling to be above average. Mine has 15inchers, so that might help the ride quality
What you won't:

• 1.2L engine lacks bottom end; isn't a class-topper like the Etios 1.5 (from which it is derived)
I liked the engine – it was much better than the 1.0 and 1.1 and 3 pot 1.2 engines from the competition these days. Even the bottom end is fine – and I have pretty high expectations ( I'm coming from a turbodiesel and a 2.4L NA petrol). I felt it had better low end than some better cars (i20 elite petrol, altroz iturbo)
• Economy-grade interior quality & unconventional dashboard
It takes a special amount of effort for a car to make the owner of a 15 year old indica feel like he's downgrading. But the switchgear on the etior is atrociously poor. Would it have hurt them to design the window switch controls? or put backlights on the power window switches?
• Missing equipment (climate control, height adjustable driver's seat etc.)
My car has a Height adjustable driver's seat, so some progress
• Poor insulation. Engine, suspension & road noise are prominent
I felt road noise etc were in line with cars in the segment. When I opened the door pads for re upholstering them, I found a ton of damping material inside. Exposed thermocol inside the front fender is way too cheap though.
Body kit (standard on the fully-loaded VX variant) looks neat:
Mine is a VX, but doesn't come with any body kit – haven't seen them on any facelift models
This unique shade of blue is very photogenic:
Even more so in dual tone!
185 / 60 R15 tyres mounted on 12 spoke alloy wheels. Not a bad design for OEM
Mine comes with a Diamond cut design which looks great. Even the TRD Design is pretty sweet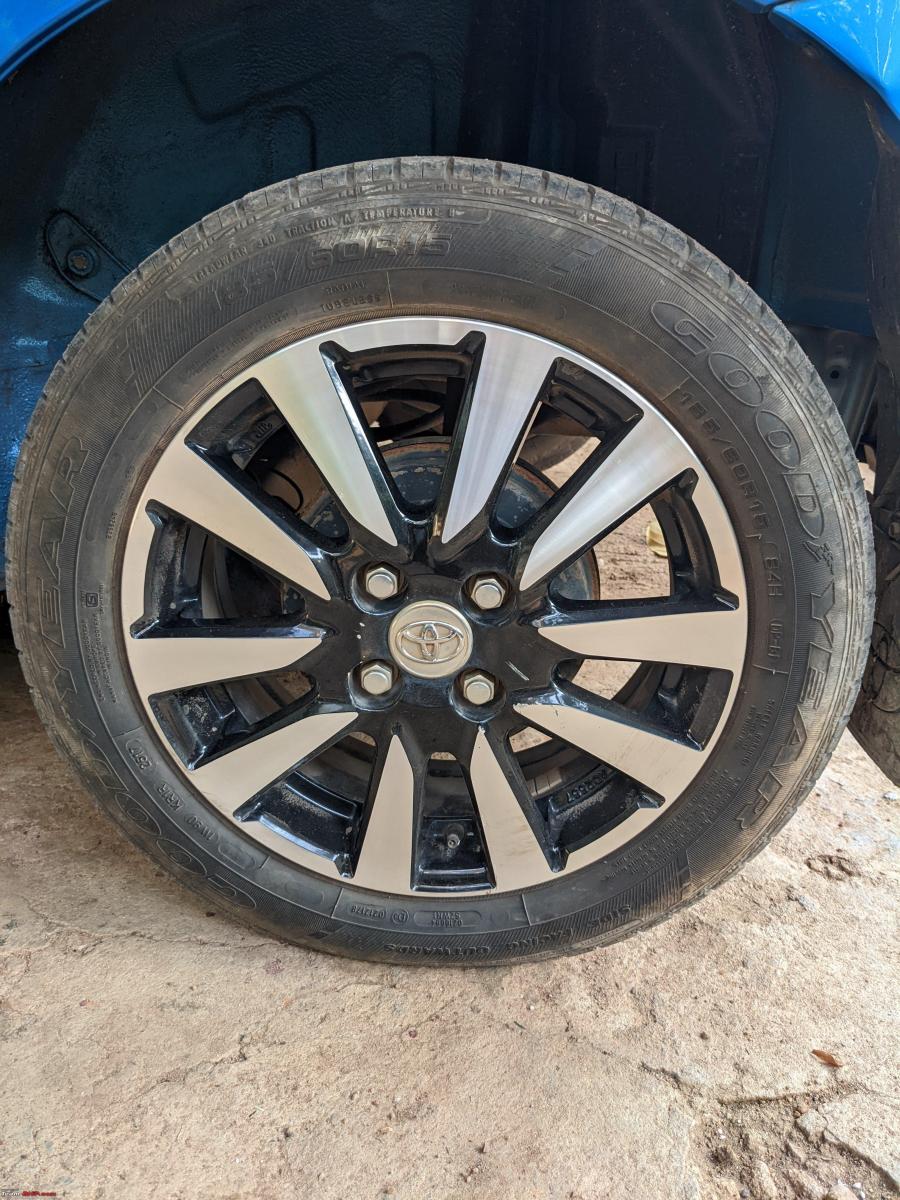 Unlike that of the Etios, the tail-lamps here are well designed & suit the rear profile:
Being used to having fully functional reverse lamps on both sides of my older cars, this came as a rude shock to me. In my indica, after adding Autobahn LED Bulbs, they are pretty useful.
Thick chrome strip is a hit or miss. Most BHPians found it too garish:
Looks like they've made it an optional accessory. Mine doesn't have it
The awesome, sporty steering wheel looks & feels the best in this class.
Have to agree there – It feels great to hold, and the ergonomics of the car are spot on. Only wish it had Call buttons like the Brazil '21 Etios
Next in line to catch your eye is the extremely basic looking, center-mounted instrument console. As much as I like the steering, I hate the instrument console treatment & position. What's wrong with conventional placement anyway?
I don't have particularly strong feelings about the center mounted console. I was ok with it in the vista, and am ok with this as well.
The facelift Digital tacho looks nice, though I would have preferred a digital Speedo and an analog tacho. Again the brazil Etios got the better design
Space packaging is top class & interior room is equal to many C segment sedans.
The indica had segment beating space back in the day, and this was the only car which felt like an upgrade space wise. I'm a plus sized guy and I need all the space I can get
Toyota has made liberal use of red to brighten up the interiors of the VX variant.
Mine came with almost entirely beige interiors. Having had Red seats in my Civic Si – they are sporty, but a pain to maintain. Beige works fine for me.
Even the integrated neck restraints….
This one comes with adjustable head restraints
All-round visibility is great,
Again, special mention of this – being used to learning driving on cars from 20 years ago, I've found most newer cars incredibly claustrophobic, and resigned myself to a future of driving cars with tiny portholes for windows using cameras- With those expectations, driving the etios felt refreshing and old school in a nice way
The Liva doesn't come installed with a "headlamp on" buzzer either.
That's been added now, but I don't understand the need for one – In my Indica, the headlights turn off the moment you remove the keys
Slick looking red gearshift:
I like the round gear knob, but in my car, the leather finish rubber had already started cracking and the chrome plating (instead of the red) had worn off. The black knob was no longer available- I got a grey one and painted it black. It looks fine now
Stock audio has 4 speakers, all at the front (2 on the doors & 2 tweeters on the dashboard).
Another interesting commonality with the indica – this is the only other car that has both dash and door locations for speakers (opening up the possibility of three way speaker installs). The head unit is a Pioneer OEM one which supports Bluetooth, but no DVD and isn't that great.
It has rear speaker outs (if you want to add speakers to the rear one day). All you need is to buy the right wiring harness. Unfortunately no slots in the door so you'll need to put them in the parcel tray
Air-conditioner controls are 10 years too old in look & feel. When was the last time you used a slider for recirculation / fresh air mode? Even the Figo gets a button:
Cable-type headlamp leveler (rotary knob) feels very rudimentary to use.
Personally I'm ok with this – in the indica this switch would wear out frequently and you would need to replace the entire facia to fix. Given toyota's obsession with reliability, I'm all for sacrificing a bit of convenience if it helps with increasing reliability,
Same goes for the Cable type leveller. In the indica the leveler motor makes an INR 2K headlight assembly a 3K part. And the aftermarket headlights comes with manual levelling systems which don't always work with the leveler motor. I had to take apart both a headlight and a leveler motor to make them fit so i could align them – even after that the leveling system does not work reliably. Given all these hoops I have jumped through – I am more than happy with a KISS principle applied mechanical adjuster.
Rear seat can fold down for the airport service trips. Unfortunately, no split folding option for added flexibility:
Heck, they dont even tumble forward – and that space at the bottom is blocked – I found that pretty inconvenient
The Liva's 1.2L merely does the job; it simply isn't as impressive within the city.
I don't know what tweaks Toyota have done, I felt it a joy to drive. I found the engine better than the Kappa 1.2 and on par with the K12 performance wise. Getting it off the line is a bit hard since I'm used a mountain of torque, I manage with a bit of parking brake and half clutch. But once its moving, its pretty lovely. the engine revs willingly unlike the contemporary 3 cylinders, and power delivery is linear. On a trip to ponmudi (a nearby hill station) I was adviced to move fast as I was the last car at the entry gate, and they were going to close the entry to the top in half an hour. I had fun ripping the car up the hills, unlike the indica where it felt like work
Read BHPian comments for more insights and information.
Source: Read Full Article