Connectivity wise it's pretty quick and works wirelessly.
BHPian Tanmay007 recently shared this with other enthusiasts.
Finally got the CarPlay update.
Sharing some brief thoughts below:
Connectivity wise it's pretty quick and works wirelessly. I have done 4-5 starts of the car so far and each time it connected without any major issue.
It's a tad bit laggy, but I believe that's cause it's currently running at 30 fps. No idea if 60 fps CarPlay is even possible with the current hardware. I'll try again using a wire and see if things improve.
Apple Maps in the instrument console didn't work for me as well. Tried several navigation restarts, switching back from native nav to CarPlay, but it still didn't work. I'm on iOS 16 beta so that could be a possible issue. Can anyone on iOS 15 please try and confirm?
The ICC rotary dial will not work on CarPlay if it's set to Volume. The knobs' direction pad does not work in CarPlay. If people from Mahindra are reading this, please add support for the ICC dial's direction pad, CarPlay has support for it.
With the ICC dial set to volume, you get the best of both worlds in Adrenox where the dial controls volume while still allowing navigation via D-pad.
Tapping the phone button in ICC opens the phone app inside CarPlay. I'm yet to try out what the music and fav buttons do while in CarPlay.
Faced a bug where I was playing music and received a phone call, after the phone call, the audio source was stuck on the phone and no music could be heard. I had to disconnect and re-connect CarPlay to get music output again.
Map version has been updated to v2021.11 on firmware v10.07.51. The earlier map version was v2021.03 on firmware v8.01.41.
Service visit experience
Mahindra Salasar service centre in Thane is really good with quick customer service and knowledgeable technicians. My regular service advisor Swapnil always goes out of his way to make the service experience a breeze.
I had a minor left-pulling issue which they seem to have fixed for now.
The key fob shortage seems to have been resolved. Many customers are now getting a service recall alert for 2nd key assignment.
The dealership was of course unaware and always give me the standard response of "we don't know". Strangely enough, Mahindra will first send the key fob to the dealership and then you have to collect it from there and go to the service centre for coding.
Sharing the re-call document below: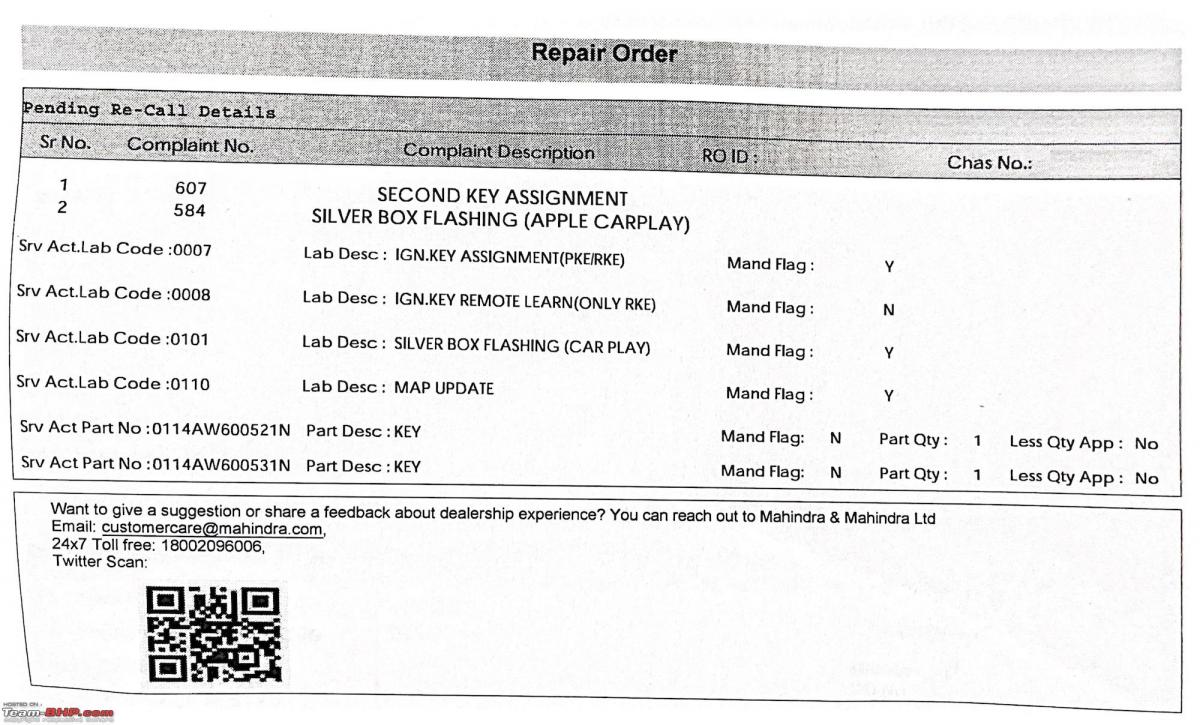 Check out BHPian comments for more insights and information.
Source: Read Full Article