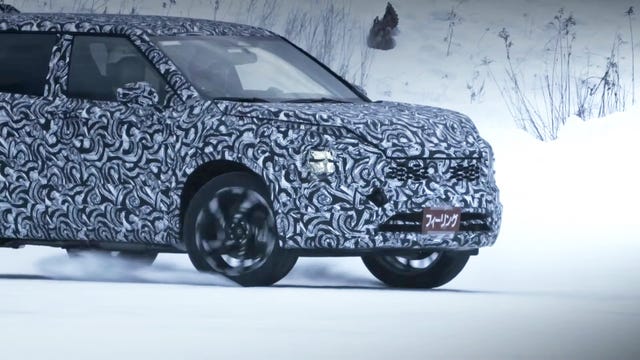 Ahead of its reveal next month, Mitsubishi has released a short teaser video showing the next-generation Outlander undergoing testing. The new model replaces one that has been in production since 2012 with the flagship having received a number of updates since, including a PHEV version.
The 2022 model is expected to be styled after the Engelberg concept, effectively confirmed in a leak late last year that showed the new design with intricate surface features and plenty of rhombus-shaped elements. The next-gen Outlander is also expected to share a platform with the Nissan Rogue — a benefit of Nissan having bailed out Mitsubishi a few years ago after an unexpected fuel economy ratings crisis.
What can we expect in the new Outlander?
For starters, three rows of seats as the model is expected to grow a bit with this redesign, after the outgoing Outlander only made a token effort to offer accessible third-row seating. The larger size is also intended to set the Outlander further apart from the Eclipse Cross and make it more of a competitor with larger SUVs, because the outgoing model always felt like it had been battling larger and smaller models simultaneously. The flat, boxy roof is expected to buy third-row passengers some extra headroom as well, with Mitsubishi declining to adopt a trendy, rakish profile at the expense of passenger and cargo space.
Sharper styling is also expected on the new model, following the example recently set by the Eclipse Cross and its techno design, creating a contrast to the more fluid shapes the company offered a decade ago. The Engelberg concept was seen as a preview of the next-gen Outlander, and other Mitsubishi models, if not its small Mirage hatch and sedan duo. The sharper styling should set Mitsubishi apart from the outgoing model, which was seen as being a little anonymous during its long tenure.
Mitsubishi has stayed tight-lipped about the new car's powertrain, so it remains to be seen whether it keeps the 2.4-liter inline-four and 3.0-liter V6, or ditches them both in favor of a single engine option from Nissan, in addition to a hybrid version. A switch to a single gas engine is perhaps likely, because inline-fours have evolved to a point where the V6 is a little redundant in this model.
We'll see the new Outlander in the metal on February 16, when Mitsubishi officially takes the wraps off its flagship model. Sales start later this year.
What do you think of the Outlander's design? Let us know in the comments below.
Source: Read Full Article