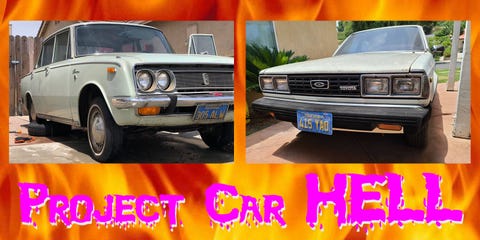 Normally, we ignore current events here in the Hell Garage, because the whole point of locking yourself in the garage with an eternal project is to tune out that unpleasant real-world stuff. However, as the owner of the coolest Toyota Corona in the world, I must object to the association of my car's name with the first three syllables of the name of a certain virus (Corona beer has a similar image problem, but AB InBev can try to solve that one without my help). That means this week's Project Car Hell will be all about the Corona, allowing you to choose one of a couple of very solid 1970s Corona sedans in California as your next Hell Project.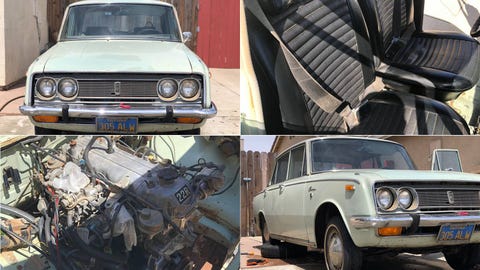 The model that first put then-unknown Toyota on the map in the United States was the third-generation Corona, available here for the 1966 through 1970 model years. My very first car was a '69 Corona sedan in not-so-wild beige, originally sold near San Diego, and so I rooted around on the List of Craig to find another California-native RT43 Corona sedan and found this clean and unrusted '70 (go here if the listing disappears). Instead of the factory-installed 1.9-liter pushrod 3R engine, this car boasts the 2.4-liter, overhead-cam 22R out of a later Hilux or Celica. Other than that, it looks about as original as you'll ever find in a project T40 Corona. The interior is remarkably un-trashed for a 50-year-old California car, so all you need to do is clean everything, make the engine swap work, fix the brakes and do the other 10,000 few things needed to put a long-stored vehicle back on the road.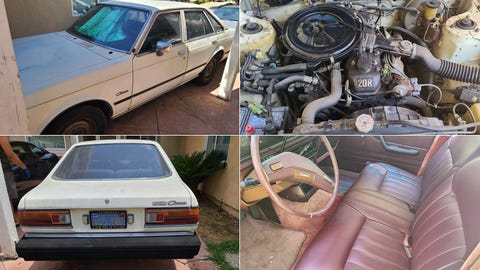 Corona sales tapered off on our continent during the 1970s, as the Cressida grabbed the luxury-seeking Toyota buyers and the Corolla lured in the cheapskates. Still, Americans could buy Coronas all the way through 1983, when the Camry finally shoved it aside, and those final T130 Coronas were sharp-looking machines. Buy one of these cars and the rear-wheel-drive layout will allow you to do all manner of ill-advised engine swaps (we suggest installing a Toyota Century V12, if you're serious). Here's a 1978 Corona liftback sedan, still with its original blue-and-gold license plates, found in oxidation-free Los Angeles County for just $2,500 (go here if the listing disappears). Ran when parked 20 years ago, but it was started as recently as 2005! Red vinyl bench seats, luxurious automatic transmission, and the 2.2-liter 20R engine that made history in the Toyota War. How hard could it be?
Source: Read Full Article