The morning after the accident, I took my i20 to a Hyundai workshop and got a repair estimate of around Rs. 12.5 lakh.
BHPian KharbandaKartik recently shared this with other enthusiasts.
Hello everyone! Finally, I am here, writing my very first post on Team-Bhp. I have been a visitor to the forum for many years. This forum is such a great platform for us enthusiasts and others as well.
I was very keen on joining the forum for a long but didn't, but a recent turn of events really pushed me to send out a joining request.
Background
I had an i20 petrol (2015) and it was really serving me well for the last 1,43,000 km with absolutely zero breakdowns and I had no plans of upgrading. During the ownership, the i20 had seen the beautiful landscape of Lahaul & Spiti thrice, to my surprise, it also fared well during a drive over fresh snow in Narkanda once, did a couple of trips to Sangla & Chitkul, numerous trips to lower hills in Himachal Pradesh and Uttarakhand besides the highway runs in northern India.
After three days of non-stop snow showers in Batal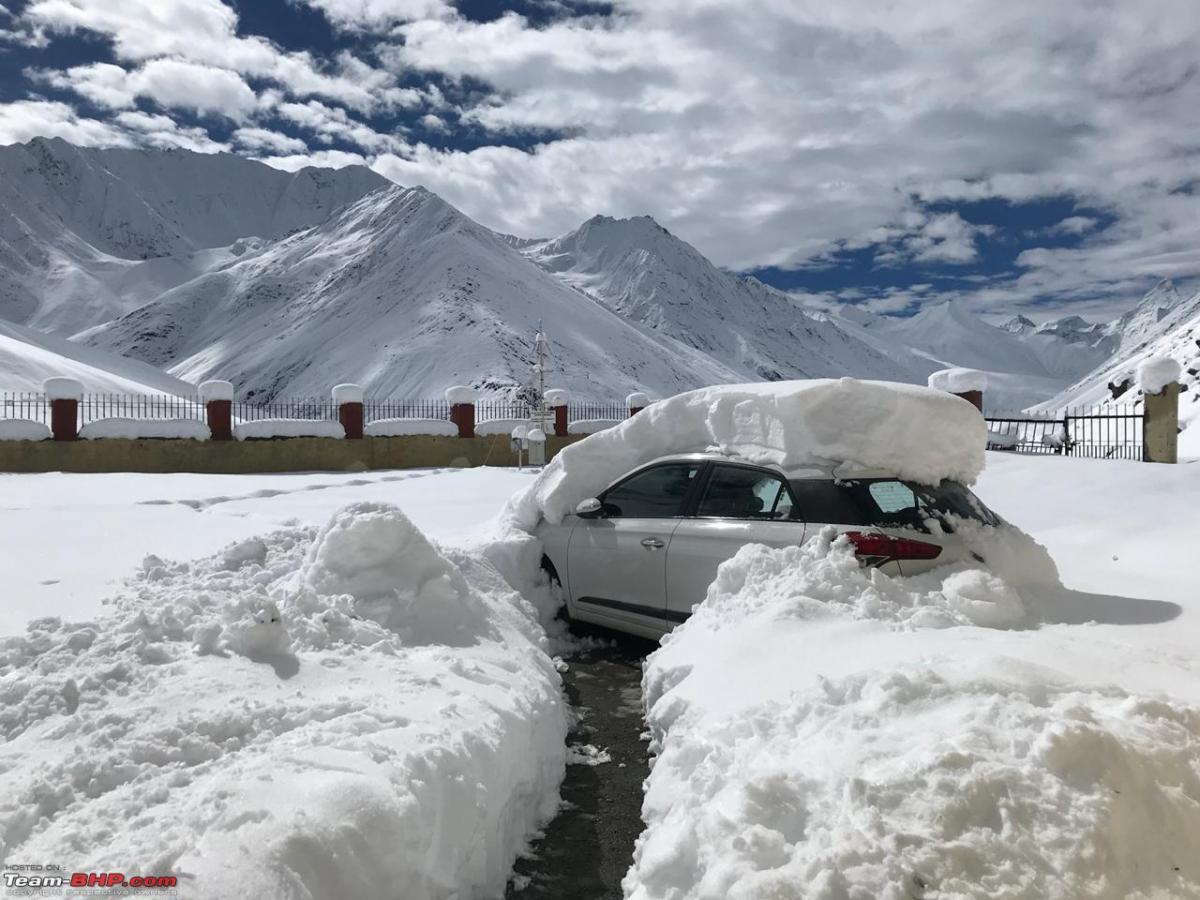 I've made a lot of beautiful memories with this one, which I'll always cherish.
The Day
Everybody in the world was looking forward to 2021 for a fresh new start after the covid. We had also slowly started our inter-state travel for work.
During one of the work trips, on 12th January 2021, I met with an accident in Kalesar National Park while I was on my way to Dehradun through Paonta Sahib.
I was with my business partner, and he had just got done with booking the hotel over a call and we were having a casual chat. It was around 7:30 PM. There were no street lights and as usual oncoming traffic with its high beams on. I made an error of misjudging a left curve and when I realised it was already too late and now we were on the shoulder of the road, which had a lot of loose debris. I could do nothing to stop the car from falling down the hill. I held on to the steering and closed my eyes. Our car flipped while falling down and landed on its roof, hitting a tree, finally killing the momentum. None of this happened in slow motion, it happened too quickly.
Both of us were conscious and quickly checked on each other if everything was okay. I could taste my own blood, which made me realise that I was injured. The airbag had popped out and I could smell the explosives and saw the smoke as well. The i20 was continuously chiming and the engine had turned itself off.
I quickly unbuckled and got out. My fellow passenger wasn't able to unbuckle, so went to the other side and helped him come out.
Once out, we realised that we were in a mess, I had lost my phone during the accident and the co-passenger had no network. We tried asking for a phone from people passing by but they were reluctant. Finally, a good samaritan helped us make a few calls.
Key Takeaways from the Accident
Worn tires, although still under the limit, the tires were out of their performance envelope.
Being prepared is important. Not panicking can make a huge difference during such mishappenings.
I had a long day that day and I think that could have affected my focus.
The next morning, my car was taken out of the ditch with help of a crane. Once it was out, I quickly opened the bonnet to check on the internals and saw a pretty big hole in the engine block with a lot of other damage and I said to myself that it's a total loss. Took the car to the nearest Hyundai workshop and an estimate of around 12.5 lacs was made and the guy confirmed it will be a total loss but told me that the final call remains with the surveyor.
I was traumatised and physically and mentally drained. My cousin had come with his friends to help me out with all of this and we went home.
Little did I know that it has just begun. The insurance guy called me the next day for a statement and a few basic documents, which I provided. I had my insurance with New India Assurance and it took me 5 months of continuous emailing, follow-ups, documentation to get my claim. They had numerous reasons every week to delay the settlement. I would suggest each one of you to go through your insurance policy very, very carefully while you get your motor insurance and should know how to exercise your rights in such a situation. The insurance people will try to negotiate hard with you in such cases and would want you to get frustrated and just take their offer.
Meanwhile, all of this happened, in the background, I was continuously planning on how and what would I buy. For me, a car is a companion and after I lost my i20, I felt like I had lost a close friend.
A few pictures of the damaged vehicle: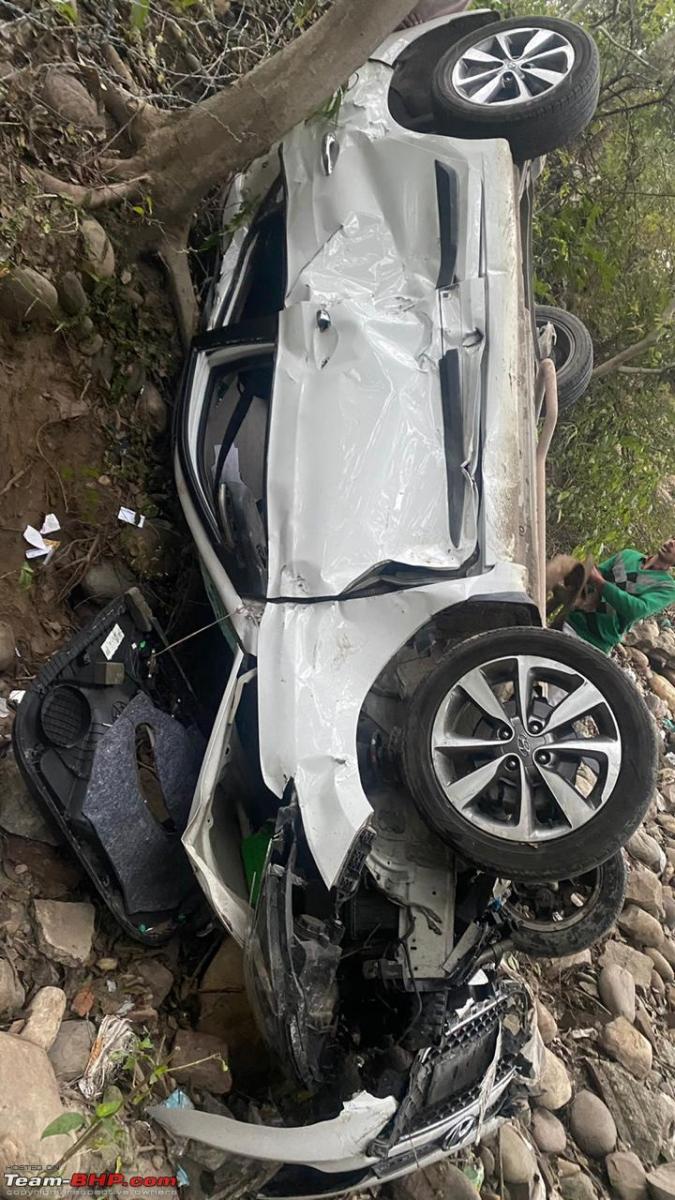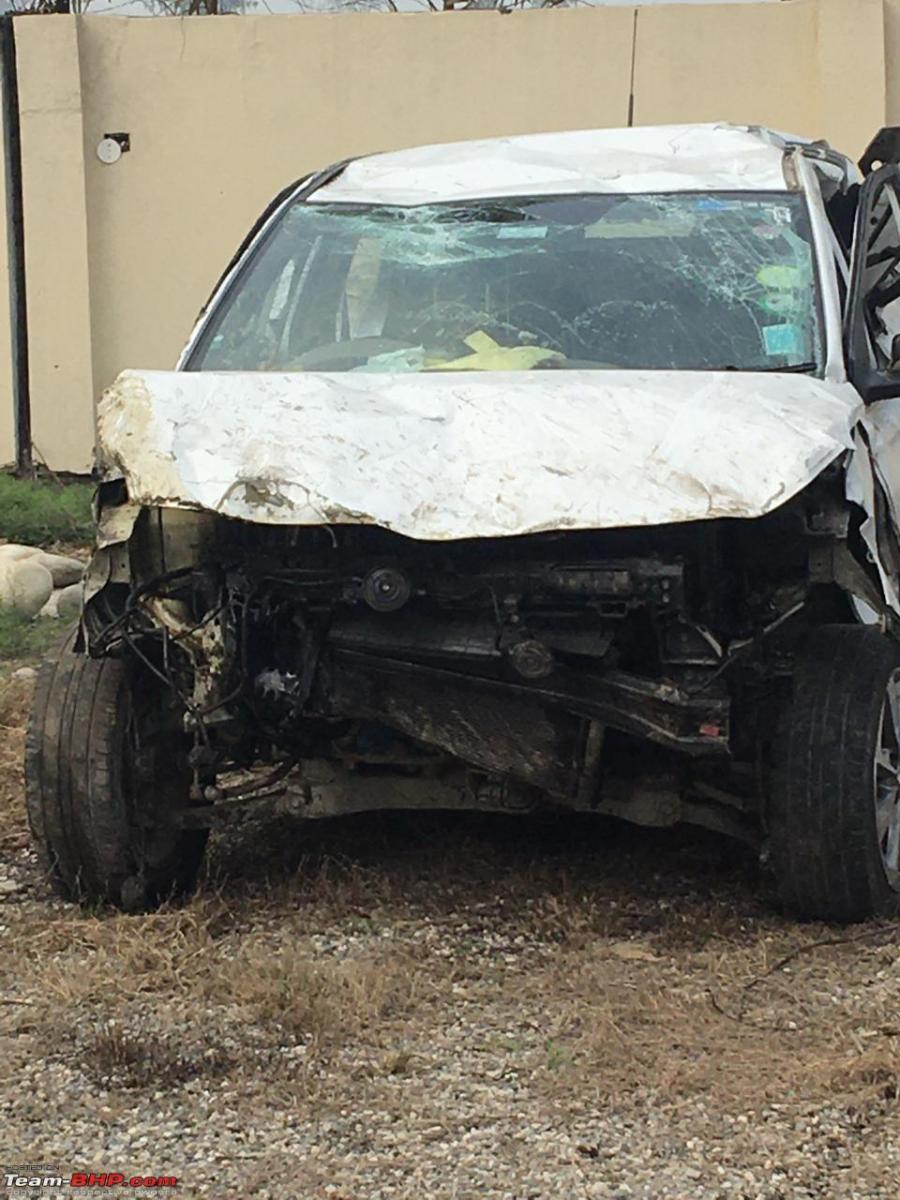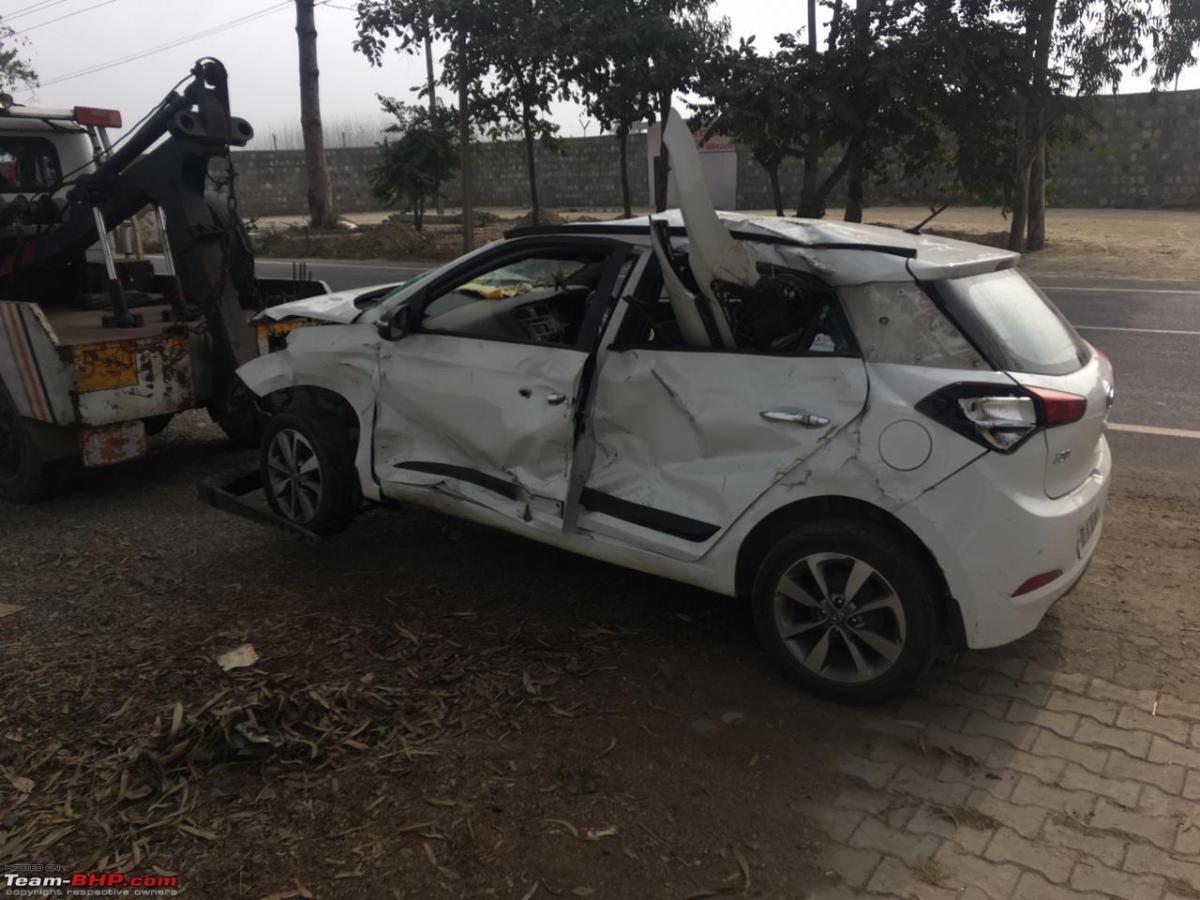 The Good Part
I was test-driving different cars and I was very sure that I wanted a well-built, solid car, which could handle well. I was also very keen on a turbocharged petrol engine.
Skoda had been talking about the Kushaq for months and it was on my radar, but I was a little skeptical about the prices and the A.S.S.
I had Creta in my mind as a good upgrade, since I had been using a Hyundai for more than 10 years and I connect well with the brand overall.
Also, I checked out the Thar. It looked beautiful in red colour but sat inside and was not very happy with the space. The waiting period of 9 months was a little too much for me as I wanted the car asap.
The Kushaq was launched at the end of June and I got my hands on one a few days later and that very day I decided that I am buying the Kushaq. I liked how it drove over the broken roads and the TSI was impressive as well.
Booked the 1.0 TSi MT in Honey Orange in early August and got it delivered at the end of the same month.
Initial Impressions
The Kushaq feels solid on the highway and it makes you feel you're in complete control.
The TSI is one heck of an engine. The kind of progress it can make on the highway is impressive. The engine sounds good when it's revved.
Small and medium-sized potholes don't really disturb the composure.
Noise insulation is pretty good.
I really liked the throw of the LED lights during the highway drives.
Very fuel-efficient.
EPC Issue
Let me address the elephant in the room. While I was making this purchase, I was well aware of the EPC issue.
The EPC light eventually came on in my vehicle at around 2200 km while I was in Himachal, I was able to drive back to Delhi though. I wrote to Skoda and my fuel pump was replaced along with a firmware update.
I've moved on quickly from this and now enjoying each kilometre in my new car.
I've also noticed that post-pandemic, almost every manufacturer is facing issues with QC, for example, one of my friends had a failed clutch in his new Creta and every other day we keep hearing about something or the other with other brands as well.
Fuel Efficiency
While this was not a parameter I considered while I was weighing my options, it really is a boon to have a fuel efficient car, keeping in mind the rising fuel prices.
I'll let the pictures talk here.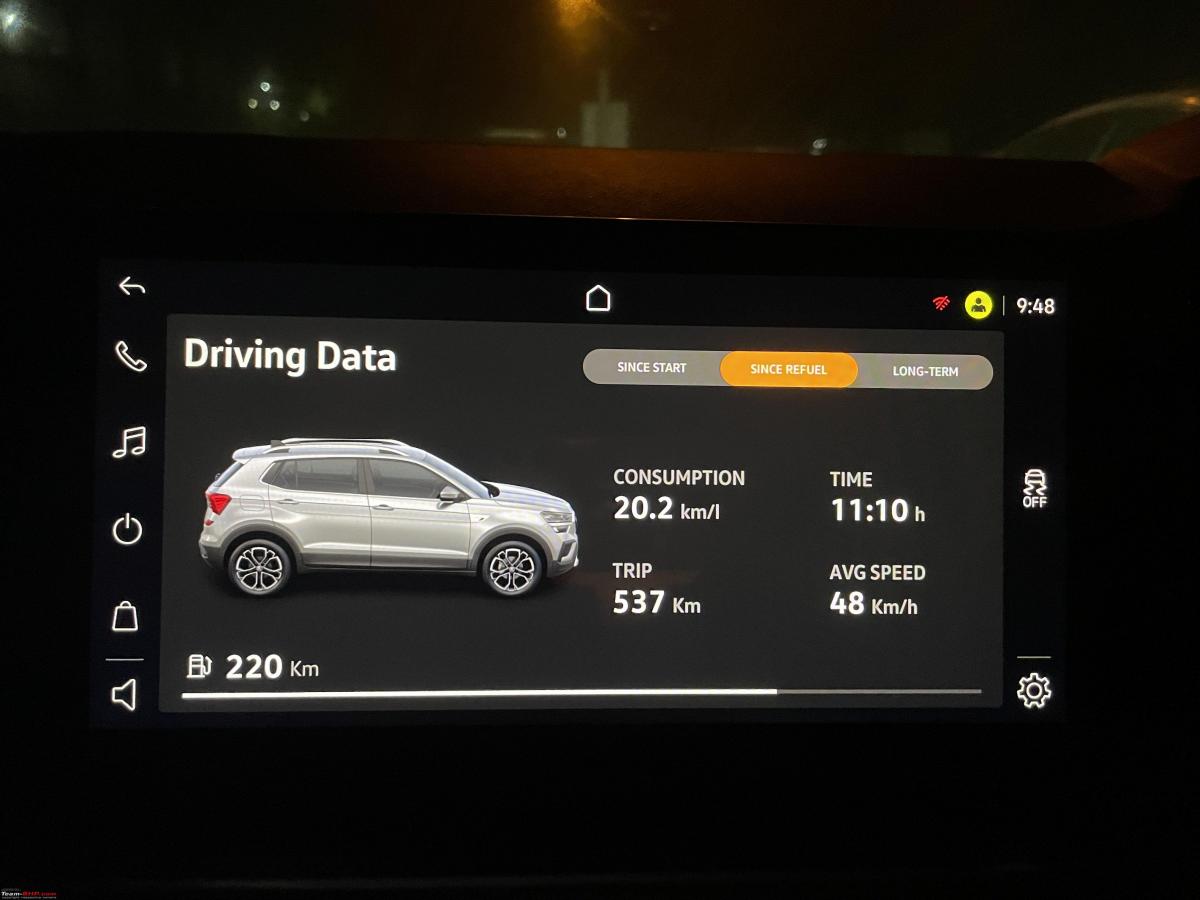 With this kind of fuel efficiency, I can easily pull 750 km on a full tank while still being left with enough fuel to be on the safer side. I usually drive between 80-100 on highways and occasionally rev in lower gears.
Engine, Gearbox & Suspension
The engine is one of the highlights of this vehicle. I have not driven the 1.5 TSi and I'll only talk about 1.0 TSI. The engine simply punches above its weight, much above. You can never guess the size of the engine the way the Kushaq drives. The 3-cylinder is surprisingly smooth as well. Mine is a manual and the gearshifts are short and one would like to play with the gears.
Small and medium potholes aren't a problem anymore. I keep the tyre pressure at 33 on all four corners. At high speeds, it is stable and it gives you a good sense of control.
Somewhere in the Himalayas
5,000 km
Build Quality
The Kushaq is nicely put together. The paint quality is one of the best in the segment. IMHO, too early to comment on but there are no rattles anywhere whatsoever. You won't hear any suspension sounds inside the cabin. I really liked how the cabin is insulated from all the outside noises and engine & gearbox noise as well. I didn't really like the piano black finish inside as it can get scratched very easily and I feel with time, it'll lose its lustre.
Safety
The Kushaq hasn't been through the NCAP yet, but with all the electronics on board, it should fare well in the tests. I appreciate how Skoda has given ESP, XDS+, EDL, MSR as standard equipment.
Talking about XDS+/EDL, I actually felt it working on a curve, and it felt very stable and reassuring.
Braking
The pedal feel is likeable. I had a close shave on the highway and the brakes did okay, however, I've been noticing a lot of brake dust on my alloys. It may have something to do with the pad material or its softness. I'll have to give it more time to really draw a conclusion on the brakes.
In-car Entertainment
I am not very impressed with the audio quality. I would rate it average. Apple Car Play and Android Auto work seamlessly. In the settings, you have options for lights, wipers, door lock/unlock, tyres. The user interface is smooth and the resolution is good. Sygic is the built-in maps (available on the Skoda app store). It gives you options to download the maps for all Indian states, once you have it, you don't need the internet. So far, I've downloaded maps for 4-5 states, however, Sygic is not so smart as Google Maps. If you don't follow the route suggested, it fails to re-route and keeps suggesting you go back to the previously suggested route only. You wouldn't want to completely rely on Sygic.
P.S. – the rearview camera quality has improved post the firmware update.
Quality of Aftersales Service
I took my car to Brite Skoda, Noida, for the fuel pump replacement, and spent a good 3+ hours there. The staff was courteous. I haven't been to a Skoda service centre before, so won't be able to compare but in absolute terms, I have nothing to complain about. After the fitment of the new pump, they tested the fuel pressure with a pressure gauge for a while and observed and cross-checked if everything was okay multiple times through the OBD port.
The service centre has also told me to use normal 91 octane petrol and according to them there's no need for 95 RON, however, the manual says that 95 RON is the recommended fuel and 91 RON should be used only in emergencies.
According to Skoda's online service cost calculator, my first service should cost INR 3739 (without labour) and the second one INR 7444 (with labour). Please note that the service intervals are 15000 km. IMHO, the service cost seems reasonable as long as the service advisor doesn't add up extras.
Skoda also lets you check the cost of spare parts on their website.
Noise, Vibration & Harshness
Once you start the Kushaq, there is a slight vibration for around 20 secs and then the engine settles to a silky smooth idle. You don't hear much of the engine sound inside unless you wring it, and once you do, you're going to like the way it sounds. The Kushaq literally glides on roads and you'll always feel like you're going slower than you actually are. In the 6th gear at 100 KMPH, the drive is relaxing and there's no audible wind noise or engine noise.
Driving Position & Ergonomics
All seat adjustments are manual in the Kushaq, and it could be a little bothersome if multiple people are going to be driving it, however once adjusted, seats are comfortable and offer good support. You can see the bonnet while you're driving and that gives you a sense of control and reminds you that you're driving an SUV/Crossover. The steering has a wide range of travel in both rake and reach, and makes it easier to set it the way you like – the road ahead has good visibility, ORVMs do cover the road but they could've been better and could've offered better visibility.
What I Like
Suspension Tuning
TSI Engine
Various electronic safety features
The space inside
The exterior design, we can expect it to age well
Powerful LED headlights offer sufficient visibility
Fuel efficiency
Overall build quality
What Could've Been Better
I have a feeling that the air conditioning is slightly weak for our tropical climate
ORVMs could have been bigger
Missing on electronic seat adjustments
Stock audio speakers could've been better
In the end, it all comes down to making memories and spending a good time with your loved ones.
I will continue to update this thread and will keep you posted on how the journey unfolds, thank you for reading.
Keep safe!
Check out BHPian comments for more insights and information.
Source: Read Full Article