I managed to get a mileage of 24.5 kml on highway runs.
BHPian BangaloreCarrer recently shared this with other enthusiasts.
I am here with my first post with a User experience of my Scorpio-N that I took delivery of a couple of days ago. I hope that the review is useful for those awaiting delivery of Scorpio-N and is an info-share for fellow owners.
Please do write in your comments, tips and hints!
Highlights:
Drive comfort: 4/5
Storage Space: 3/5
Mileage: Highway:24.5kmpl*, City:16.9kmpl*
*run-in in progress
Premise
I have owned an XUV5oo from the last 10 years and have driven it around 140,000km. When time came for an upgrade, the obvious choice was XUV7oo. Other options I considered was Tata Safari (I did not enjoy the drivability as much as the 7oo), Hyundai Alcazar/ Kia Carens (It couldn't fit my dog in the boot), Toyota Innova Crysta (Did not come with a sunroof that was a premise for my daughter), MG Hector Plus (Unsure of how long it would stay in the country hence the resale value).
It was around this time that Scorpio N was teased and later launched. I took the test drive as soon as it was available in the stores. I immediately feel in love with the car. The drivability was similar to XUV5oo, with improved clutch and transmission experience and also a big, big improvement in suspension.
I did three-four test drives before I finally booked it at Ananth Mahindra (Bangalore) and Eram Motors (Thrissur).
The Ananth guys, while being my preference delayed uploading my file and hence, I did not get into the 25k bookings. The delivery date showed Oct-Dec'23. The Eram one showed Feb-Apr'23.
After curious follow ups, I got a call on 10th Nov from Eram that my vehicle was ready for delivery. I checked with Ananth, however, they stuck to the date. I went ahead and completed the paper work and temporary registration.
Delivery Experience 
Believe me when I say that Mahindra has one of the best engineered powertrains in the world, as I am an Automotive Engineer by profession. However, I had low if not no hopes on Mahindra's customer service. My experience with XUV5oo only reinforced that. In 10 years of ownership, I have not received one call asking for service feedback! I did receive promotional messages during my initial years of ownership from Purple club though.
But, and a big But,
I was blown away by the experience I had during delivery. We started from Bangalore in the morning and got to Thrissur by noon. We freshened up and got to the showroom by 5ish in the evening. My family and I were escorted to the customer lounge where we were comfortably seated. We completed the paperwork and signatures there.
One of the staff helped us install the necessary apps on our phones so that we can use the connected car features that comes in-built. He walked us through extensively through the key features, DOs and DONTs and handed over the important contact numbers. It took a good one hour to set up and onboard, but was totally worth it.
We were then escorted to the delivery bay where we were greeted to applause. We did the unveiling of our Scorpio N in shining white! Once again, a briefing of the car functions and most important features followed. One of the staff took videos of the event so that we could experience the car.
We drove down the ramp and our journey with the New Scorpio-N just began!
Video 1
Video 2
Pros
While it is too early to assess, I am putting in my initial observations. Shall write an ownership review once I complete 5,000km.
Good suspension (wrt Fortuner, XUV5oo, Tata Safari)
Soft clutch and smooth gear shift
Excellent calibration on steering that's light at low speeds and weighs up at high speeds (I found this feature good to use in my 2015 Q5)
Incredible Mileage! With 10% City/ Stop-go traffic and 90% highway, the inbuilt calculator was showing 24.5kmpl. But, keep in mind that since it was the running-in period, I was driving the car peacefully with cruise control shifting between 60, 70, 80 and 90kmph in steps up and down
In Bangalore city traffic, the car returned between 17-19kmpl (at different levels of traffic jam)
Cons
There is a rattle from the front right suspension on poor roads (sounds like a torquing issue of the bush washer)
Android auto may be buggy. There were a couple of instances when I could not reconnect my phone back. It was resolved when I restarted the car.
The seat belt clamp bolt that's on the car pillars were left exposed. The cap was not pressed in. (I pressed the plastic caps in and closed it. Just lack of attention to detail)
Not really a con neither a problem, but I see that the engine revs higher in overdrive compared to my XUV5oo. However, I do not see this impacting the mileage as yet.
Work done on the car
I got Nitrogen filled in the tyres.
What next
I have currently left my car with a detailer for PPF applique and a few other detailing activities.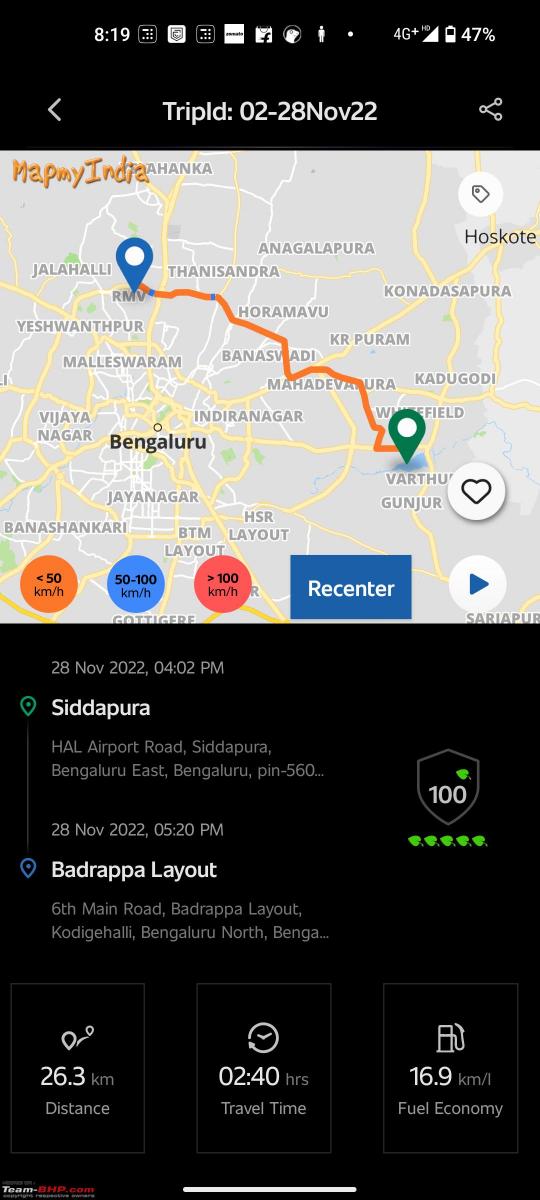 Read BHPian comments for more insights and information.
Source: Read Full Article