Whenever I turn my steering from left to right and vice versa, a peculiar knocking sound comes.
BHPian Tuisha110HP recently shared this with other enthusiasts.
I recently did my third service from Aryaveer Skoda, Moti Nagar. Apart from regular servicing, I made them aware of certain noises coming from rough roads and from somewhere inside the steering column. The car has done just 33K KMS.
I asked them multiple times what the ETA was and why the noise was coming from the car. After the road test, the advisor informed me, it's all normal and there is NO NOISE. I hesitantly agreed to that and asked the car to be serviced. Now lies the issue that bothered me about the technical knowledge the guys at ASC have.
I chose to wait till the service from 9 AM to 3 PM. At 3 PM, when my car was getting lined up for the wash, I asked the advisor to bill me. Came the surprise. He said, we did another test, and the suspension mount needs to be changed/greased. Man, they could have well told me that in advance and I could have left for my home, instead of waiting for the car to be worked upon for suspension issues at the last hour.
Nevertheless, I asked them to change the mounts and drop the vehicle at my home.
Now, coming to the most interesting part, whenever I turn my steering from left to right and vice versa, a peculiar knocking sound comes. The intensity reduces when the car is in motion, but it is very irritating whenever the car is stationary.
I asked the service advisor to pick up my car after two days, which they did and returned the car to me in the evening after a full day. You may ask, what was the issue and what solution is given? The solution given is:
THIS IS PRESENT IN ALL SKODA RAPID. We cant do anything with respect to this. WOW.
Now, I asked around a few Rapid owners all of them denied having this sound in their cars. I visited a well-known FNG who suspects a steering rack issue. I called the service advisor, Mr Ghanshyam and told him about the feedback from FNG. He simply ignored all my protests. Said, they don't believe anyone who is not from ASC. And when I asked him what the solution he has for my issue, to which he replied: " If you are not satisfied, can't do anything. You can visit any ASC but we can't help you. SORRY No reply to chat and video that I sent.
I am simply appalled by the attitude of ASC. Is this where SKODA INDIA is heading after Zac Hollis left?
Please listen to the sound in the video and please share what can be the issue. Is this a steering rack or column issue?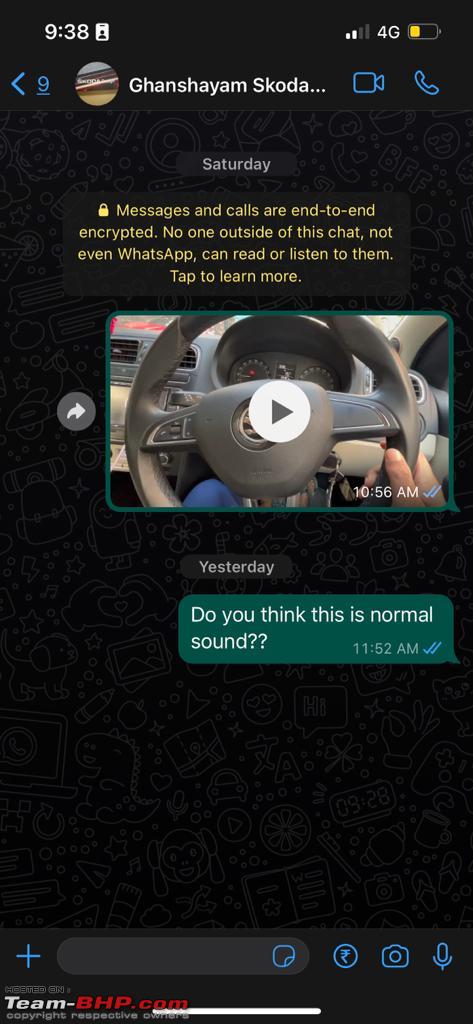 Here's what BHPian hrman had to say on the matter:
This is what I seriously dont understand from some manufacturers, most specially VAG. If the same car was out of warranty, the service center would have diagnosed it as a fault and handed the OP a bill worth 1L-1.5L for steering pump failure and replacement, bushes, some unknown and unheard of part replacements just for the heck, steering assembly changing etc. Since it is under warranty, the general feedback will always be "Its ok, nothing wrong".
I think we should boycott all such manufacturers and not buy their products anymore. As consumers, where we pay the highest road taxes on the car and fuel coupled with astronomical GST on cars, the least we expect is acknowledging an issue and resolving it by honoring the so called warranty. Why is the VAG group acting like this in India? It is not exactly setting the market on fire with high volumes and trouble free ownership (Refer new EPC and DPF issues). Even the limited number of patrons or devotees of this brand will dwindle and look elsewhere if they don't act soon.

I don't see the day is far off when VAG will meet the same fate as FIAT, Ford or GM who had to leave India. RIP.

As regards the OP, tough luck my friend. Perhaps another dealer may be able to diagnose and help. If not, try to leverage all social media channels Indian and Global to get attention since only this seems to work with VAG. All the best!
Here's what BHPian kosfactor had to say on the matter:
Given the odometer reading and the symptoms mentioned, it is unlikely to be steering rack – more like the suspension strut mount bearings. This may not be covered in warranty either.
Here's what BHPian Jeroen had to say on the matter:
You really need to get the steering linkage checked for play and the steering box itself. As other members suggested it might be a good idea to try a different service centre.
Any half competent mechanic should be able to find the root cause of this. You do need to get the car on a lift preferably, so you can really pull at all the various components to determine where the play is.
Depending on where the play is, steering linkages including ball joints, steering box or slave steering box you can determine what the best course of action is.
But the bare minimum they should have done is at least identify where the noise comes from.
Good luck
Jeroen
BHPian Tuisha110HP had the following update to share regarding the matter:
I got an email from Skoda After sales Manager for North India and he promised to get my car checked by Skoda technicians. I will update the thread whenever I have an update on the visit and checks done by them.
Read BHPian comments for more insights and information.
Source: Read Full Article