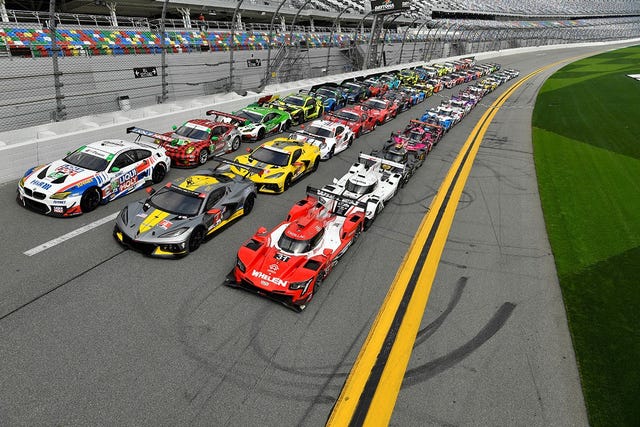 FROM THE EDITOR'S DESK
You probably caught the news that after 38 years — including the last seven as Ford's design chief — designer and nice guy Moray Callum is retiring. Renault's Anthony Lo is replacing him. Over the years Callum was responsible for designing the likes of the Mustang, Ford GT and Mustang Mach-E. Callum, whose retirement is effective May 1, started at Chrysler in 1982 and over the years designed vehicles for the PSA Group, Mazda (when it was Ford owned and where he did the third-generation MX-5 and the CX-7 crossovers), and Ghia. He's been Ford's design boss since January 2014, when he took over for J Mays.
What's next for Callum? We got a hold of him to find out.
"You know me, you know I'm not very good at planning," he laughed. "There's no real plan other than getting Anthony [Lo] on to the new job and up to speed with everything he needs to know. I'll exit stage left and figure out what we're going to know."
Callum told Autoweek he is not making any major moves. At this point he plans on staying in the U.S. [he's from Scotland], though the Callums would like to do some traveling when that's allowed again.
"I have a lot of old-car projects that are either half-done or not started. I've got a long ongoing '32 Ford roadster project which I started something like 10 years ago and I fiddle with. I'd like to get that finished.
"There's a '65 Buick Riviera, which I'm trying to decide what to do with in terms of should I put a modern powertrain in it or keep it original. There are a couple of '50s Ford pickups I'd like to decide what to do with. I have a '63 Alfa Romeo Giulia Spider that might be one of the ones I start early … so I'll probably be working on cars for the next year or so."
Autoweek asked Callum what three cars stand out to him after nearly four decades in automotive design. He said it's hard to pick in part because every car has a different look and feel.
"A car is never finished," he told us. "It can always get better. A car designer won't say a car is perfect. But there are three cars that I would say helped get me to where I am — at Ghia we did the Aston Martin Lagonda Vignale, a car that was really noticed. The first-generation Mazda 3 was an important car for me because when I came onboard, the design was nearly finished and I wasn't that happy with it. So we had to go back and redo a few things, and that was a real test of my negotiation and leadership skills. It was also my first shot at leading a brand, so there were a few firsts for me in that car. Third is probably the 2015 50th Anniversary Mustang. It was a real privilege to work on it, and I think it's still a really nice piece of design, combining the retro and giving it a modern feel.
"Like I said, a car is never finished," he added. "You can always improve things. You always have to get the right balance between what it takes to actually make it and affordability."
When we asked Callum whether he feels he's had a bigger impact on Lincoln or Ford, he said he's happy with the Lincoln brand now that it "understands itself" and everyone is pulling the proverbial oars in the same direction.
"Ford is a much more complex brand in terms of just the number and types of products we have. It's been a struggle to get where we are, which is a formula we're all happy with in terms of design language and brand identity — there are just so many varied products. It's difficult to define the Ford brand in one sentence and give it a common thread but at the same time its own identity."
He said he really likes where Ford design is right now, though. It's going to be interesting to watch and see if Lo can keep the momentum going.
Here's what else is happening in the car world:
CAR NEWS AND NOTES
BMW is unleashing the mighty M5 CS, and the car shaves 230 pounds off the standard M5 while the 4.4-liter twin-turbo V8's output rises 10 hp to 627 hp. BMW says the CS can hit 60 mph in 2.9 seconds (!). The CS is only going to be available for the 2022 model year and goes on sale later this year starting at $142,995.
Jaguar is tacking on another legendary race car to its modern collectibles through its continuation program. The Jag team is going to build eight and only eight examples of its Le Mans-winning C-Type. It's similar to the way Jag did continuations of the XKSS and E-Type lightweights last decade. The cars are painfully accurate to the original while offering the benefits of modern manufacturing. The C-Type won Le Mans in 1951 and 1953 and was wheeled by greats such as Stirling Moss. Introduced in '51, the C-Type was updated over its short three-year run to include disc brakes and three Weber carburetors feeding a 3.4-liter straight-six engine good for a whopping 220 hp. Expect the continuation car to cost between $1.3 million and $2.7 million.
Buick took the covers off its new second-generation Envision. It definitely looks sharper than the outgoing model and adds some desirable tech as standard equipment. Buick also dropped the naturally aspirated 2.4-liter, making the turbocharged 2.0-liter the only engine now available, costing you 24 hp. The new car also sports standard LED headlights, taillights and running lights across the board and has more standard safety tech. The new crossover is on sale now.
RACING LINES
The 59th Rolex 24 at Daytona is Jan. 30-31 at Daytona International Speedway, and finding the race on TV is going to be a pain, since no TV network is giving 24 hours of consecutive airtime on one channel. Check out the schedule here (and make sure you have batteries in the TV remote). And here's the entry list. It includes driver ratings, car type, engine type and so much more. Go here for an explanation of what all the abbreviations mean.
GMC Hummer has inked a multiyear deal to compete in the new Extreme E off-road series. The revived (now EV) brand is teaming with Chip Ganassi Racing. Extreme E is for 550-hp off-road SUVs. GMC is the second major manufacturer to sign up for the championship, joining Volkswagen Group brand Cupra. Ganassi has tapped off-road racers Kyle LeDuc and Sara Price as its driver pairing for this year. The series uses a spec spaceframe electric 4×4 and teams fit their own unique grille, body pieces, and graphics to make the trucks look like their production products. The trucks race on 10-mile loops through the dirt, piloted by a pair of drivers, one male and one female. One will take the first loop, the other the second. Winner advances. Here's the Extreme E schedule:
Desert X Prix: AlUla, Saudi Arabia: April 3-4, 2021
Ocean X Prix: Lac Rose, Senegal: May 29-30, 2021
Arctic X Prix: Kangerlussuaq, Greenland: Aug. 28-29, 2021
Amazon X Prix: Pará, Brazil: Oct. 23-24, 2021
Glacier X Prix: Patagonia, Argentina: Dec. 11-12, 2021
In the U.S. the series has a television deal with Fox Sports, according to Extreme E's website.
The IndyCar silly season has settled down somewhat. Check out our handy guide to the changes every team has made including NASCAR stud Jimmie Johnson climbing aboard Chip Ganassi's IndyCar, Australian Supercars driver Scott McLaughlin piloting Roger Penske's No. 3 and Marco Andretti's retirement from full-time action.
MOSTLY ODDS, SOME ENDS
Even among collectors of rare British classics, Bristol occupies a different category. Chances are you'll never spot one, even if you live in the U.K. where the majority of them still reside. They tend to trade hands quietly among owners and collectors. But on Feb. 5 Artcurial Auctions is offering a '50s Bristol 405 drophead coupe. To refresh your memory the boutique sports-car maker grew out of Bristol Aeroplane Co. after WWII, first producing prewar BMW designs then switching to its own after a few years. In its early years the company focused on large, tailor-made grand touring coupes that were luxurious and powerful but not flashy. Bristol later gained an affinity for Chrysler engines fitted to its own chassis and bodies. The car Artcurial is offering is from Bristol's early years, with the 405 model using BMW 328 mechanicals. The auction house estimates this Bristol to bring between $123,000 and $184,000 on auction day.
THIS WEEK IN GEAR
If you store your car outside, no matter the season or climate, you should get a thick car cover. Even without rain or snow, UV rays from the sun can damage and fade paint inside and out. The first half of our car cover list centers on universal-style covers, with the latter half being reserved for specific but common makes. Prices range from about 50 bucks to $200.
Whether you have a sedan or an SUV, you might need more space than your vehicle provides, especially on a long road trip. Check out these roof-mounted cargo boxes and baskets. They add many cubic feet to your capacity — and look good doing it. Some require roof rails already installed, others fit universally on any vehicle. Now there's no reason to leave your favorite stuff at home.
LISTEN UP
On this week's episode of Quick Spin, Autoweek's Joe Brown hops behind the wheel of the 2021 Ford Bronco Sport to put it through its paces. He brings you along while he reviews it and also guides you through the Bronco Sport's features during a prerecorded vehicle walkaround. Before diving into the essence of the Bronco Sport, Brown elaborates on his thoughts with host Wesley Wren. Tune in here, on Spotify, Apple Podcasts, Stitcher or wherever podcasts are played.
QUOTE OF THE WEEK
"I think the 2022 regulations will be a step in the right direction and I hope it is a competition with the cars closer together, with more overtaking and less predictable results. Now, we all know more or less what the result will be before the Grand Prix starts. That takes away the excitement. We have a budget ceiling coming into effect from this year, so the big teams can no longer always have an advantage by spending unlimitedly. The ideas are good. We'll see if the results are good, too."
—Fernando Alonso, back in Formula 1 this year, expressing his hope that the field is more level this season than in the last few years.
WHAT'S AHEAD
That's it for this week. As always we're on the case this weekend, monitoring and reporting on automakers' and sanctioning bodies' latest happenings. We'll continually update the site, of course — you'll know what's happening when we do. Check back often!
Thanks for reading Autoweek and please stay safe.
Source: Read Full Article