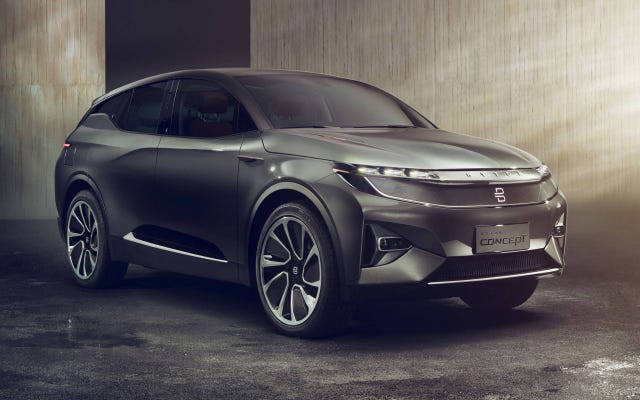 Did somebody say Apple car? There was a move at this week's virtual Consumer Electronic Show that could help usher such a project along more quickly, especially if Apple—or any other company for that matter—wants to farm out the assembly: Supplier Magna International announced a joint venture with LG Electronics to supply electric motors, inverters, and on-board chargers. Then, on the other side of the world, Taiwan's Foxconn and Chinese automaker Zhejiang Geely Holding Group said they're forming a 50-50 partnership to build vehicles and provide technical consulting for other companies. Heck, between just those two deals (and you know more are coming), I could start my own EV company.
The Magna/LG joint venture is tentatively called LG Magna e-Powertrain and has already signed on to supply Jaguar Land Rover and General Motors. At CES Magna CEO Swamy Kotagiri said the powertrain electrification portfolio can handle "established automakers as well as new entrants" that want to move from internal combustion vehicles to EVs.
"By combining our strengths, we gain investment efficiency and speed to market with synergies to achieve more," he said. "There is a lot of opportunity that exists."
LG CEO Brian Kwon said the car business is one of the "key drivers of our future business portfolio." He said LG plans to be a leading suppler of automotive components and that with the Magna deal he believes LG is well positioned to do that.
In October, Magna and Fisker struck a deal to build the Ocean SUV.
"The partnerships can help with scale and speed to market," Stephanie Brinley, IHS Markit's principal automotive analyst, told Autoweek. She added that with all the new companies looking to get into the auto industry with EVs, "contract manufacturing has potential for a faster path to manufacturing.
"If Magna or partnerships like Foxconn/Geely can secure a number of customers through contract manufacturing, it can help improve scale. Magna is also already skilled at profitable, relatively low-volume contract manufacturing. They are a strong partner—but also careful enough to have said they won't build a new plant without customer commitments to fill it. The deal with Magna and LG on electric vehicle components will help get to scale faster and more cost effectively for the industry overall, benefiting Magna, LG, and any company that purchases those components."
The Geely/Foxconn deal is also 50-50. It comes just after reports that the Apple car is back on, and shortly after Apple supplier Foxconn announced an auto production venture with Chinese EV startup Byton to help build the M-Byte crossover.
What does Geely get out of the deal? It allows the company, which owns Volvo Cars, to share its first EV-focused platform with other automakers, a Volvo source told Autoweek.
In a statement, the companies said the venture introduces what the they're calling the Information and Communication Technology (ICT) division, to "help automakers accelerate their transition to new innovative and efficient manufacturing processes and business models based on CASE (Connected, Autonomous, Shared, and Electrified) technologies."
Brinley told us we will probably see more partnerships like these. "Partnerships may not be the right answer for every situation, but for others are the most logical solution."
We'll have more as this develops.
What do you make of all these ventures? Sign up for comments and sound off
Source: Read Full Article