We stopped for a quick Maggie. After 20 minutes when we were ready to go, my Thar refused to start!
BHPian pyrodrive recently shared this with other enthusiasts.
This is a North Sikkim travelogue without any of the usual spots of Yumthang, zero point, Kalapathar or Gurudongmar. Now that is unusual, but since we were travelling in and after the Christmas period, we expected both those routes to be closed on and off due to heavy snow. So, rather than aiming for those spots, we thought to enjoy the post-Christmas chill around Lachen and Lachung instead and hopefully enjoy some snowfall.
It was the year-end of 2021 and pandemic-related travel restrictions were getting on our nerves for some time now and apart from a short 5-day Arunachal drive in October, the old steed, my 2013 Thar CRDe did not see any action he deserved to see. So, the North Sikkim winter drive was planned. One concern was that the temperature would definitely go subzero at night, and the Thar might have some starting issues. So, I got the Mahindra service to send the starter motor for de-carbonisation and cleaning first.
Then another Thar CRDe came into the picture. My old friend and bhpian, Shyam decided to join in his 2017 CRDe with his wife and kid and so, it was going to be a two Thar journey to the hills.
A teaser pic
Day 1
A 6AM start from Guwahati, with packed sandwiches and boiled eggs have become a norm now. For one thing, on the first day, the drives from home, we always want to cover as much distance as possible before the first pit stop. So 6AM start it was and by the time we stopped for our mini breakfast, we were nearing Shreerampur gate into West Bengal. The roads in Assam side were good as usual and after the 4 lane roads came to an end, the smooth dual carriageway along the reserve forests of Bengal was as good a drive as any.
Apart from a small traffic jam caused by an overturned lorry, which cost us half an hour, there were no holdups and we got to Chalsa at around 2.45pm for refuelling and a pit stop for food. The rest of the drive through dooars was pleasant with the rolling tea gardens on either side of the road. Coronation bridge traffic was bad as expected and by the time we reached Sikkim (rangpo) it was nearly 5.30 pm.
At Singtam, we left the Gangtok highway and took the road via Dikchu to Mangan. The road here was pretty rough and the Milton water container which we carried (mineral water bottles are banned in North Sikkim), didn't spill a drop on the entire journey to Singtam but it looked like a really bad decision thereafter with a lot of spillages. So I said to myself (top gear style) " It could be worse.." and carried on. Actually, that was an even worse decision which we found out afterwards (a lot of things got soaked).
Finding the location of the homestay took some time and finally, we got there at 9.15 pm, having covered 610km in the day. The homestay was warm and comfortable with clean rooms and linen and parking was available too. The owner is very helpful and the family cooked a great dinner for us at night with chicken, rice and fresh vegetables.
The cosy homestay
The Thars parked safely
The next morning we explored Mangan on foot, the best views were from the helipad area.
The helipad
With the kids of our hosts, the scarves were their parting gifts to us.
Our host had arranged for our permits, (we had sent our documents well before we arrived), and after getting the xerox copies in town, we were on our way.
First stop was the checkpost, where there was a line of cars. Having negotiated that we reached Chungthang for some snacks and then finally reached Lachung around 1pm.
After a quick lunch, we decided not to laze around at the hotel but head out to explore the Katao road. We didn't have permits for Katao but I was expecting some snow on the way and we were desperate to see some snow. It turned out to be a very good decision. The Katao road had practically no traffic and was magical on that wintry evening. I will let the pictures do the talking here.
Leaving Lachen behind, bathed in the pale afternoon sunshine.
On the katao road. The Thar twins looked ready for some fun.
The first bits of snow lifted our spirits.
Yak traffic
The roads got more and more interesting
The haziness up ahead meant more snowfall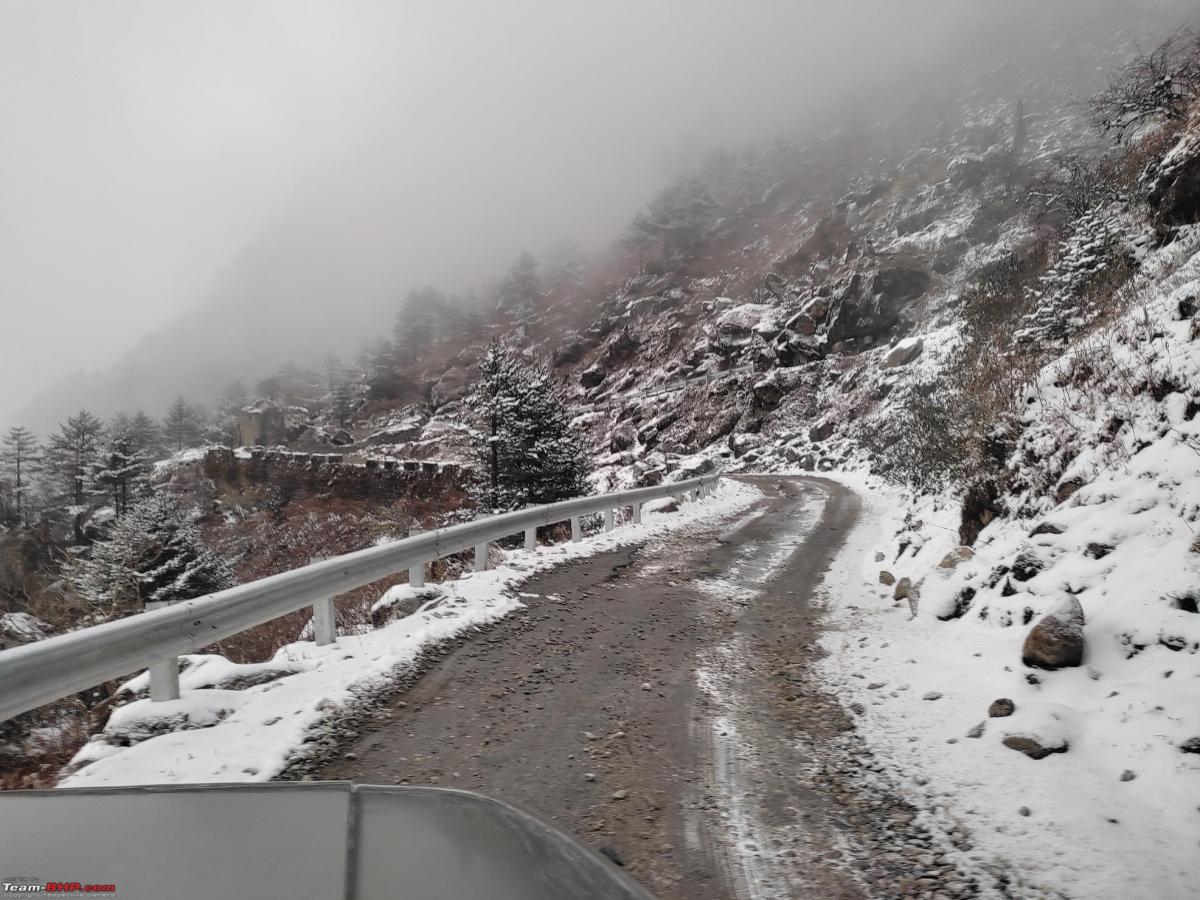 Some more snow
And more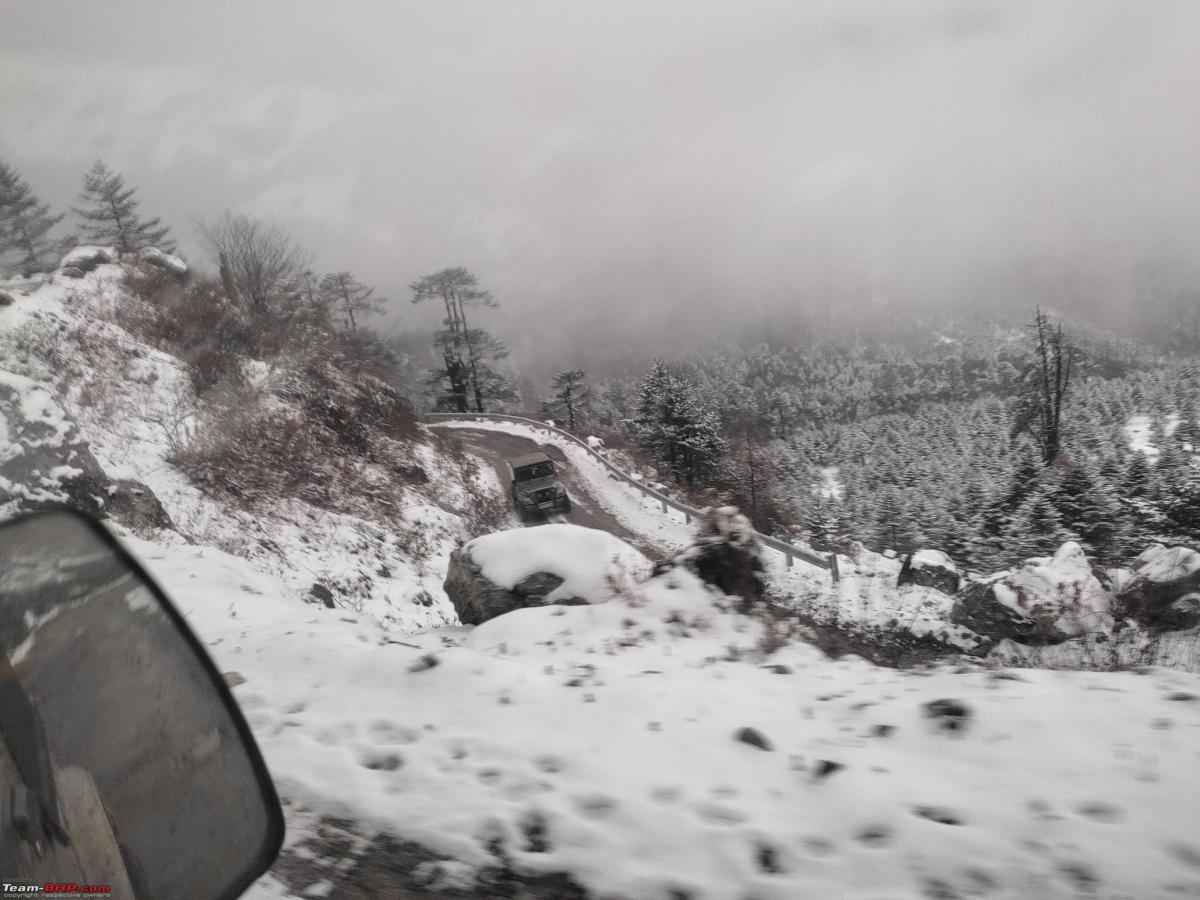 The valley covered in a fresh snowfall.
The road became quite slippery at one point and all traffic ceased altogether. We ploughed ahead on 4H for a while and then stopped for some frolicking in the soft snow. It was a really fun one hour for all of us. By then it suddenly became quite dark and we decided to head back.
A curious Incident occurred after returning from katao, we parked for a quick maggi before we returned to the hotel. After the maggi, my Thar refused to start! I mean it was cold, but we had stopped for just 20 minutes, engine cannot cool down that much. Luckily the taxi guys came up to see what was up and then someone twiddled with the battery wires while I cranked. It started! The guys said here every one is an automotive engineer when it comes to cars not starting. But he also said that if you are having starting trouble now then what will happen tomorrow morning? Well, that thought surely lingered in my mind and all night I could picture myself struggling with some juggad to start the car in the morning. Shyam's Thar was newer than mine and having freshly returned from a Ladakh drive a few months ago, he was a little more confident.
Next morning it was COLD, no doubt about it. A few flurries were floating around but not real snowfall.
Just a little powdery coating on the canvas top.
Without much expectation, I gingerly cranked the ignition and to my surprise, it started on the second crank! I was very happy.
Post breakfast, the weather was bright and sunny.
We went on the zero point road for a while but then we saw a huge traffic jam up ahead. Rows of white taxi cabs could be seen up the hill from a distance. Many of you must have experienced this feeling… that is one ugly sight you can expect to see in the hills. Mind shouts: escape!
We were just ambling along without any fixed plan, so we stopped and then reversed our jeeps and decided to go back. We left Lachung and headed towards Lachen.
Lunch was on the way, near a very windy bridge.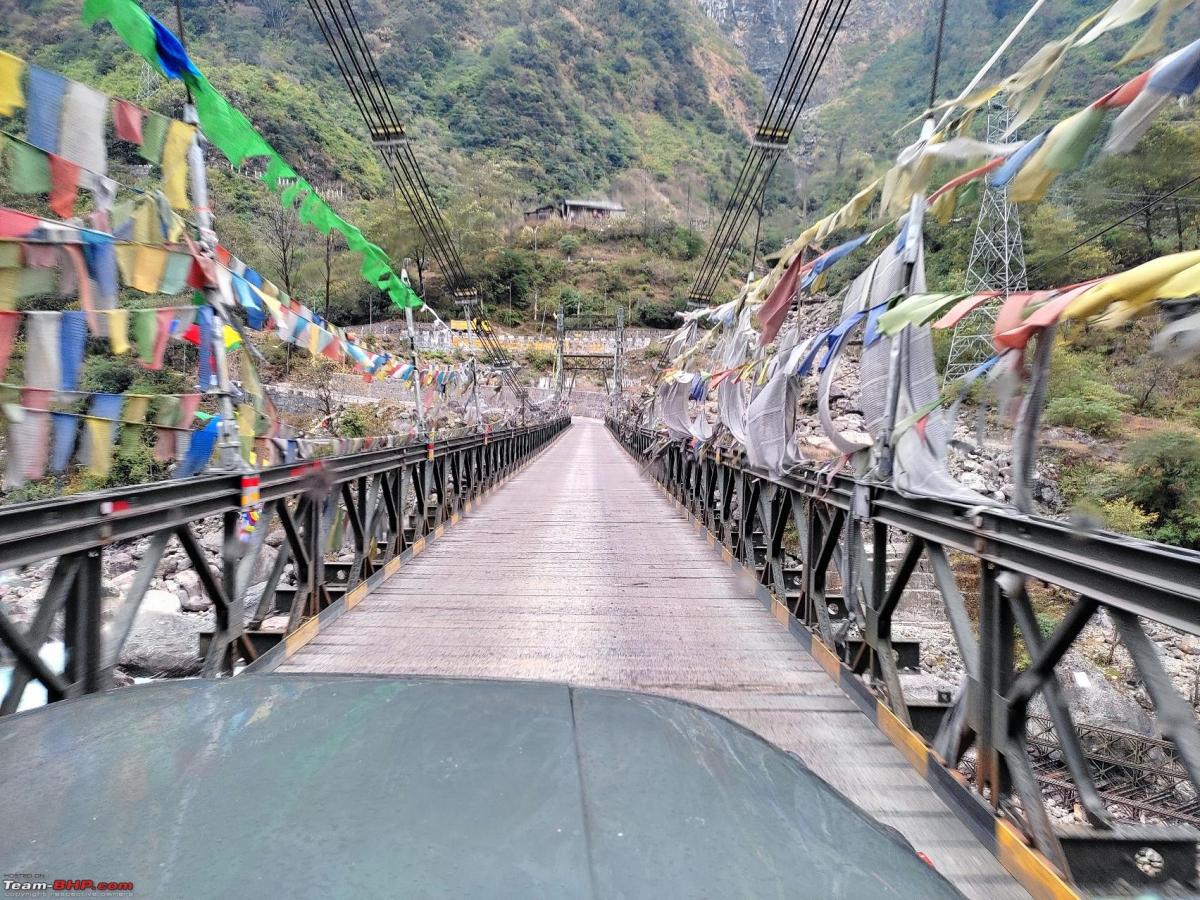 As we were nearing Lachen, we started seeing flurries gently floating through the air and landing on the windshield. Could we hope for some real snowfall? (Lachen did not have snowfall yet when we enquired the previous day.)
At Lachen, the highlight was the stay. It was a small cottage on the hillside, near the monastery, away from the hustle of the town.
That evening is what inspired this travelogue. The snowfall started just as we parked our cars there, at around 1PM.
The landscape and the two cottages at 1PM.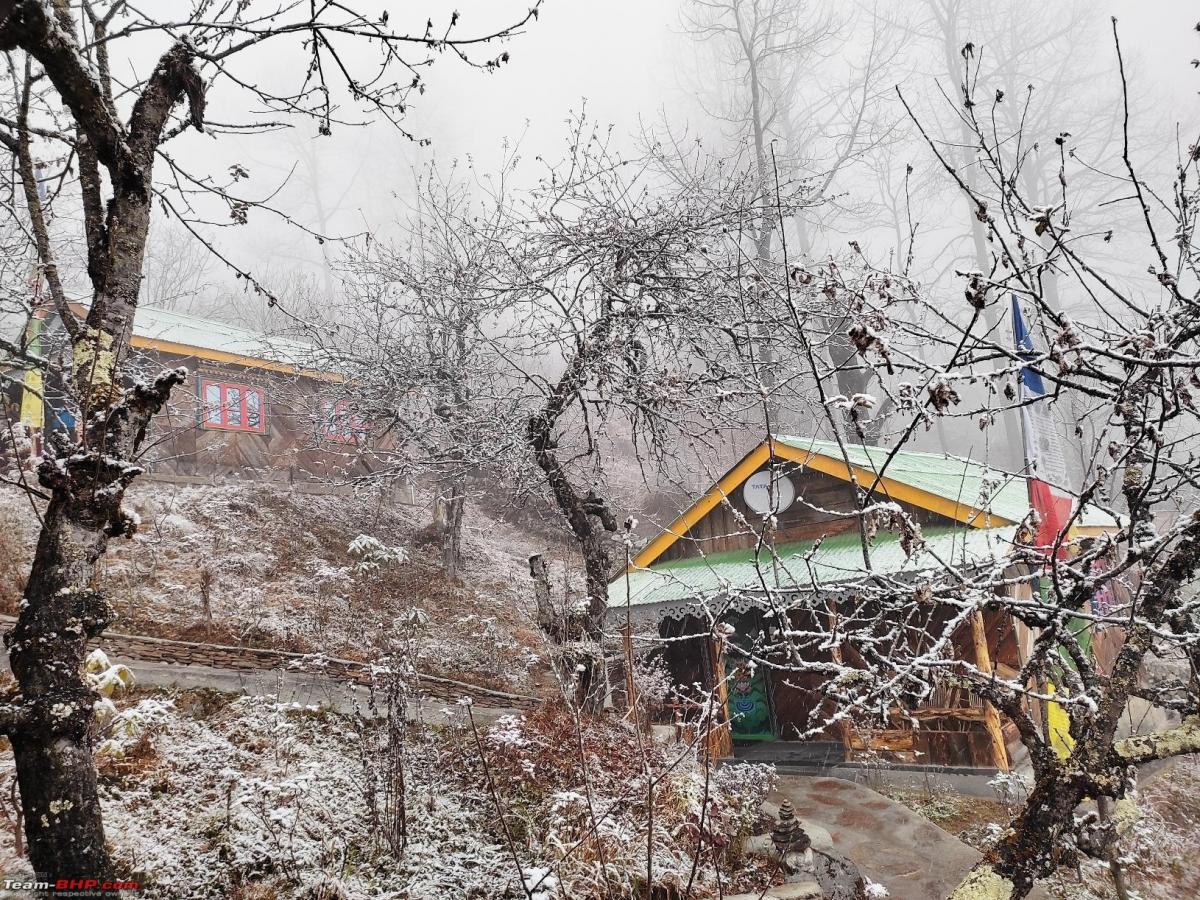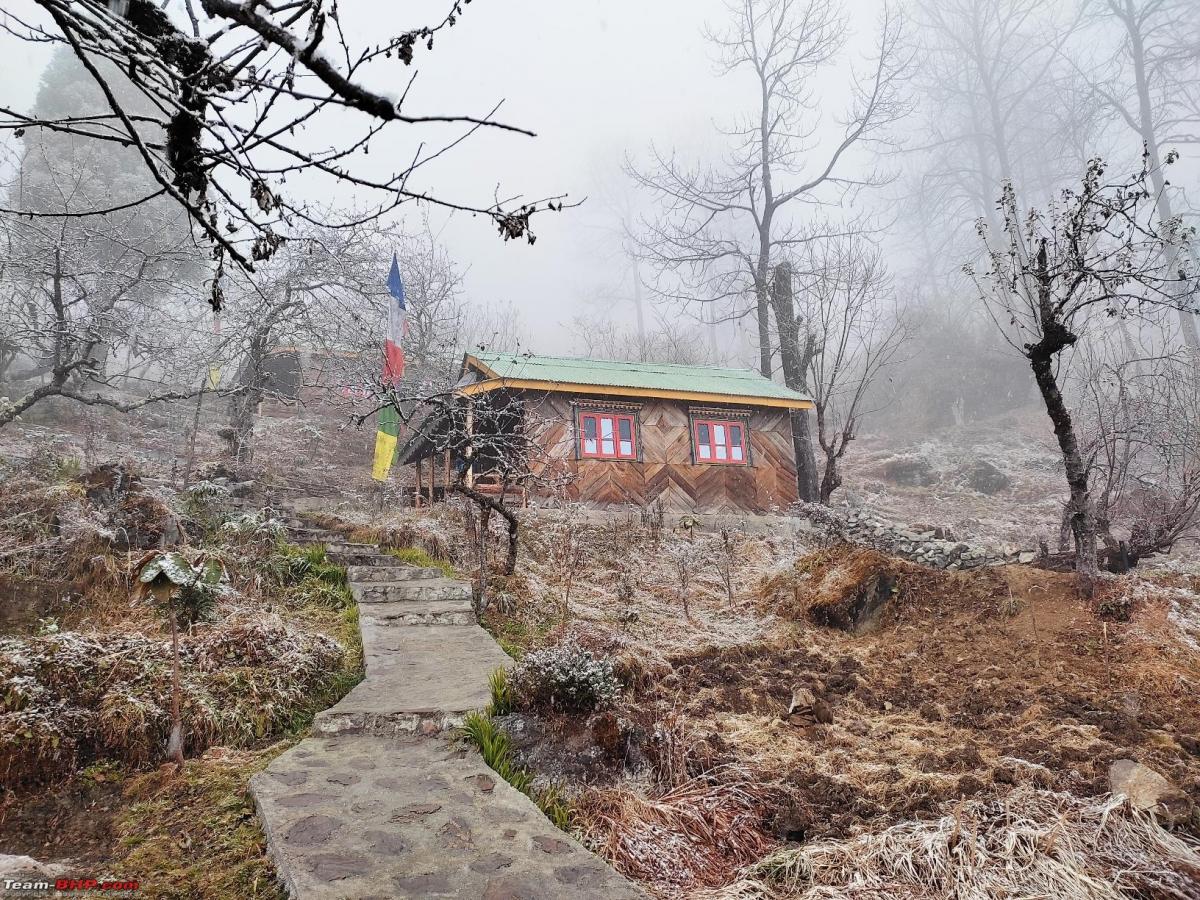 An hour later.
Just a cosy cabin in the woods.
Wooden walls to keep the chill out.
Hastily we covered the engine bay of our Thars. The light started to fade early and the temperature had dipped below zero by this time.
Continue reading pyrodrive's experience for BHPian comments, insights and more information.
Source: Read Full Article