My Octavia was fast, but the M340i literally pushes you back into your seat. Gaps close before you know them.
BHPian krishnadevjs recently shared this with other enthusiasts.
The Heart's Choice
One of my parents' favourite stories about my childhood is how at just 4 years old, I would classify buses plying on the road as 'L Bus'es and 'T Bus'es.
It wasn't until much later that they understood the rationale of the classification – L buses were the ones with the round headlights, the Ashok Leyland ones.
T buses were the ones with the rectangular headlights, the Tata ones.
That story pretty much describes me – an avid auto enthusiast, right from childhood.
I've bought 3 cars in my life, all at relatively younger stages of life but always with a certain compromise in favour of practicality. In 2014, at the age of 26, I bought my first car – the Honda City. While the heart wanted that free-revving iVTEC petrol engine, the mind and its rational fuel efficiency calculations led me to buy the just launched iDTEC diesel model – a decision I would rue for the next three years.
A year later, the newly acquired wife wanted an automatic hatchback.
While my first choice was a Polo GT TSi, again rational thoughts like fuel economy, service cost, reliability and resale value saw us moving down dramatically to get a Maruti Suzuki Alto K10 AMT.
Almost a thousand days later, in 2017 December, we got our replacement for the less-fun Honda City, the recently launched Skoda Octavia facelift L&K.
After the City experience, I was resolved to get the fun version – a petrol version. However, there was an option to get the more powerful vRS at just a few lacs more. Again, the rational 'where am I going to use this extra power' thought pulled me back, and I ended up buying the 1.8L.
Don't get me wrong – my Octy is an amazing car and I'm still as much in love with her as I was five years back – but there's still a that slight tinge of disappointment and 'What if?' whenever I see a vRS pass by.
In mid-2022, when I started flirting with the idea of buying my fourth car, there was one criterion over everything else – this would be The Heart's Choice.
However simple that criterion sounds, it was super difficult to adhere to – the primary reason being how competent a car the Octavia was, and how pristine it was, after 5 years and 50k km.
All my choices and decision swings are chronicled here thread, but long story short the choice was between the 330i and the C300D.
In fact, I had almost made up my mind on the C300D – luxurious, nice, updated interiors, decently powerful, the practicality of diesel and something my parents would also approve of. However, it never felt like a worthy successor to my brilliant Octy – certainly not for 2.5X the OTR price.
In 2021, when the M340i launched, I longingly told my wife, "This is the car I wanna buy next. I don't think I can afford it now, but this is what I want."
By then, I had converted her from a total noob to someone who could distinguish between a 330i and 330Li.
Which is why when I was on the verge of booking the C300D, she asked me, "Why are you not buying your dream car?"
I realised she was right – I was 34, just about to have my second child.
This would probably be the car that saw me into my 40s and beyond. The age – responsibilities – financials matrix was all aligned for the ultimate YOLO move – I could buy my dream car now or risk the possibility of never buying it.
And that, my friends, is the story of how I met my M340i.
The Process
The process of narrowing down on the M340i is mentioned in this thread, so I won't repeat it again.
Once we decided to go with the M340i, I visited both dealers in Mumbai – Infinity and Navnit, enquiring about timelines for the LCI (if they had any info), pricing and discounts possible.
While both dealers were equally clueless on timelines and pricing, I found Navnit better in terms of willingness to engage and an earnest interest in closing the deal.
Infinity BMW felt like they were doing me a favour by allowing me to buy from them or maybe they thought I wasn't serious.
Navnit had an option of a pre-LCI Tanzanite Blue M340i which had more attractive pricing and immediate availability – buying that car would mean I could actually drive down to Kerala for my daughter's birth in the new car.
However, after checking global reviews of the LCI, I decided to wait for the LCI – the expected omissions were laser lights, additions were a hybrid system, curved screen, and overall better looks (this is subjective of course).
I was told to expect my car by mid-Jan 2023. And so, on 15th October, I went ahead and finalized my booking of a Tanzanite Blue M340i LCI – the first booking in Mumbai for the LCI.
The next few months saw my YouTube suggestions list transform into an M340i LCI review playlist.
Was eagerly waiting for Dec 10 – the launch date to figure out colour options, features and most importantly pricing.
On launch, the interior trim option was a bit disappointing (India would get only the same black trim and not the beautiful Tacora Red Sensatec that other markets had).
The exterior colour options were as expected (I anyway preferred Tanzanite Blue; the only change would've been if Frozen Tanzanite Blue were launched).
The pricing however was the cherry on top.
With manufacturers, especially in the luxury segment raising prices around 5% to 7%, I was expecting an ex-showroom price of around 72 lakhs, but was pleasantly surprised to see it launched at 69.2 lakhs.
Even before the afternoon launch, around 10 AM, Navnit BMW called me to activate my BMW ID, so they could order my car. I found this very proactive from them and was highly pleased.
This is what my BMW ID at shop.bmw.in showed from then on. I can't tell you how many times I refreshed this from December 10 to Jan 12, hoping for some update. This status never changed though, even after delivery.
Pre-Buying & Buying Experience
Around Jan 12, I finally get the much-awaited news – that my car is finally ready and will be shipped out to Mumbai from Chennai in 1-2 days. Quickly finished the loan documentation, withdrew required funds from FDs and kept everything ready.
My parents were in Mumbai, visiting us till Jan 22 – so I requested the dealership if delivery could be arranged before. It would mean the world to me to have them with us, as I realized one of my biggest dreams, even though they (primarily my dad) considered this a massive waste of money.
The timelines were quite crunched, as there was transit from Chennai, PDI by me, fund disbursement and registration to go. However, the dealership said they'd try their best.
As luck would have it, on Jan 16, I was informed that the vehicle would reach Mumbai by Jan 18 early morning.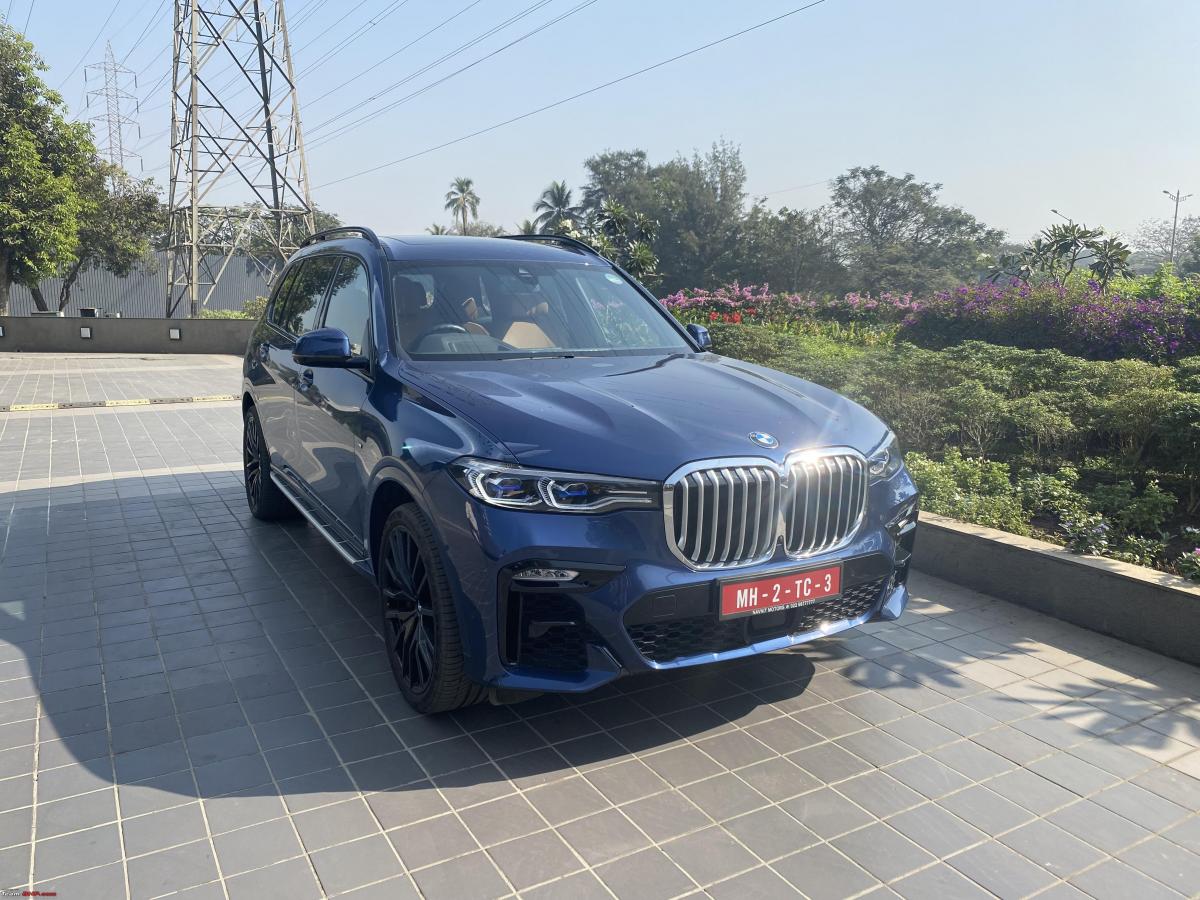 Navnit BMW indulged me by sending over an X7, to take me to their stockyard from my home.
Around 12:30 PM, when we reached the stockyard in Bhiwandi, my car was yet to be unloaded from the truck. A few minutes later, the trailer was opened up, and I got a first glimpse of my beauty – the M340i LCI in all its glory!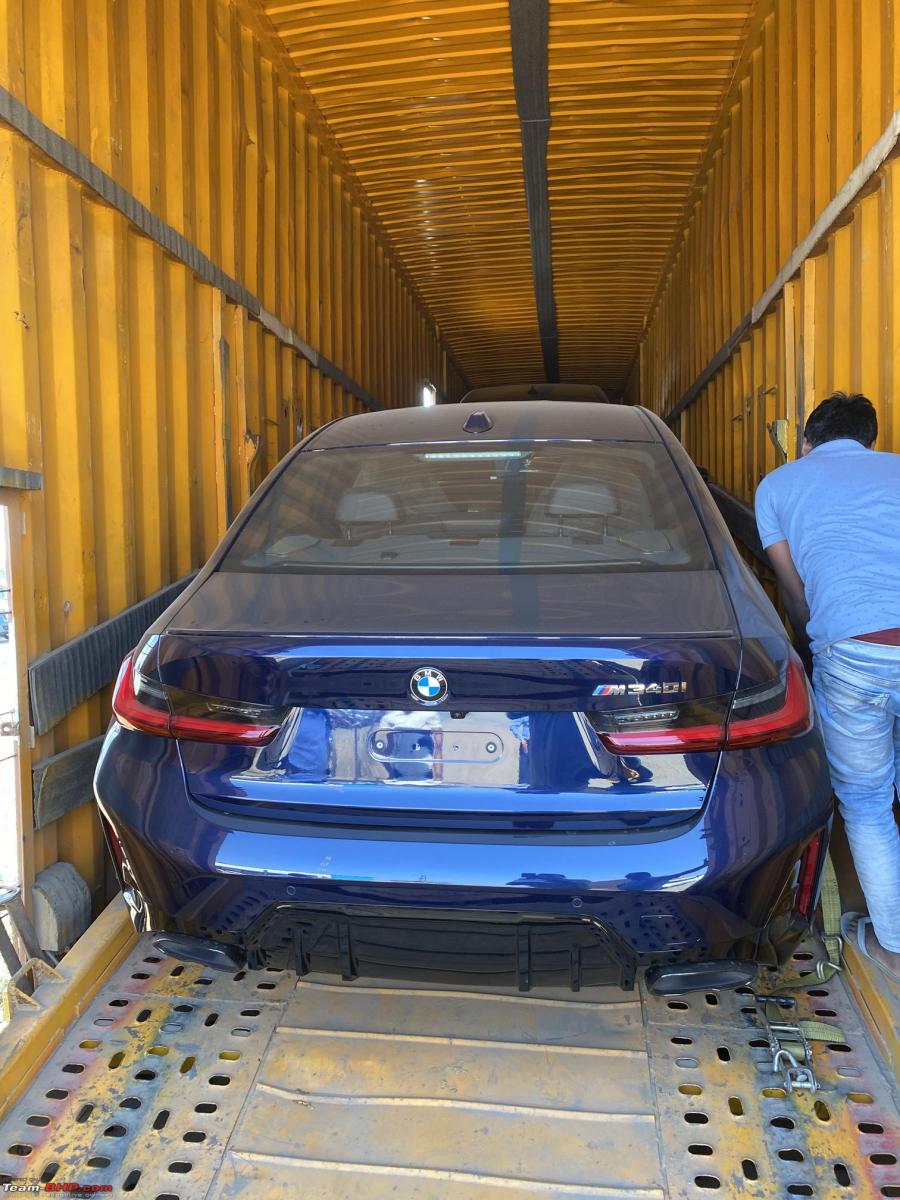 Carefully unloading from the trailer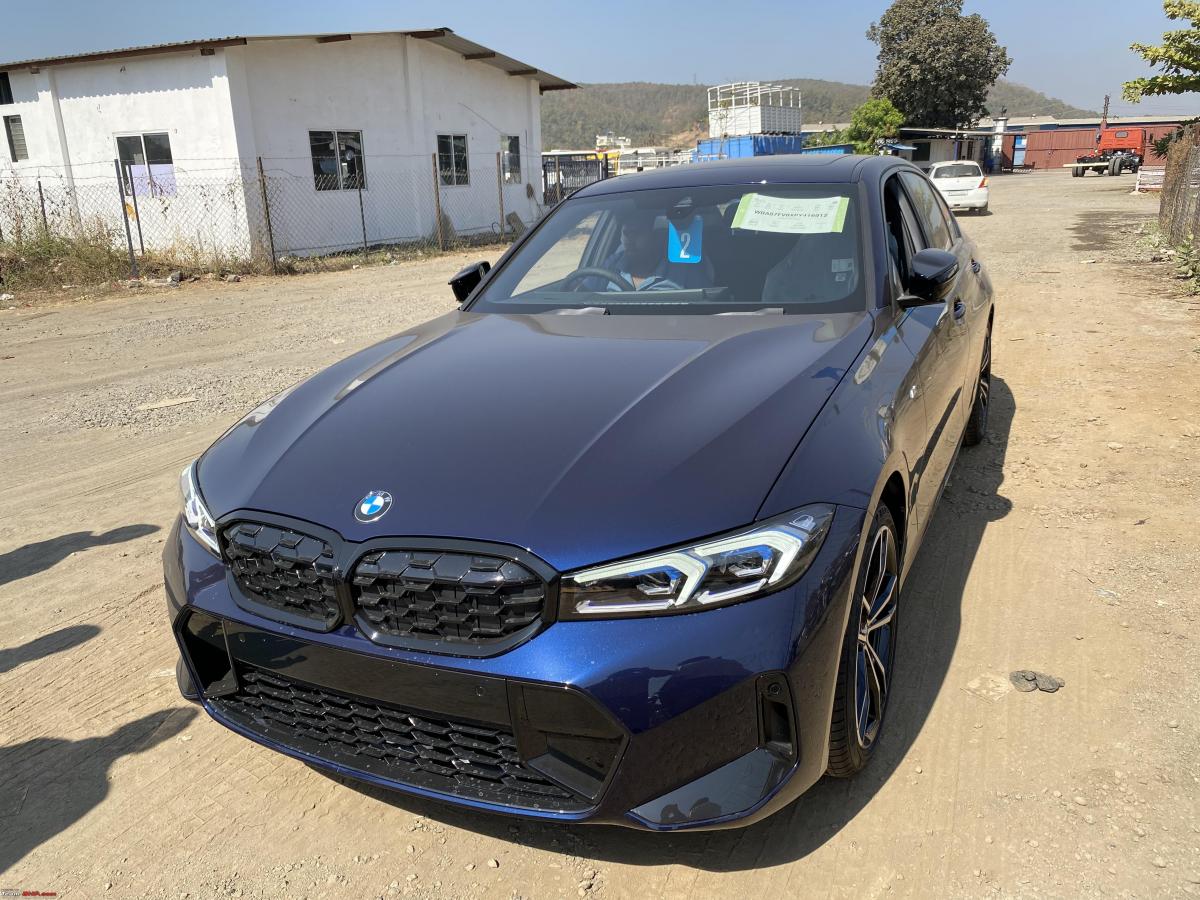 The first look from the front. Ain't she a stunner!
A quick wash from the stockyard folks and I was ready to do my PDI.
Armed with the Team-BHP PDI list, I went over the car meticulously noting down every single detail. A bit of a bummer was that my car came shod with Pirelli RFTs instead of Michelin PS4 RFTs.
Apart from that, everything else was perfect. The car was as fresh as it could get, with the VIN decoding to a Jan 2023 manufacturing.
Tyres were a bit dated, ranging from the 32nd week of 2022 to the 33rd, but I guess that's to be expected from imported tyres. All satisfied with the PDI, I quickly did the down payment, and insurance payment and asked the bank to disburse the balance amount, so that registration processes may be done for early delivery.
From the SA, I got to know this is the first M340i LCI that has come to Mumbai, which, while insignificant, felt good.
I am very impressed with the lengths to which Navnit BMW have gone to accommodate my request for a PDI at their stockyard before payment. As I understand from them, roughly 1 of 70 customers have a monthly request for stockyard inspections!
I'm extremely happy with the way they facilitated this, and at no time were they pushy or asked me to make payment before the inspection. I'd definitely recommend Navnit Motors to anyone looking to buy a BMW in and around Mumbai.
There was a bit of a scare around the delivery timelines with the Vaahan site collapsing on the 20th – the day I was supposed to get my registration done. However, with the dealership going above and beyond the call of duty, I was finally able to get the car on the 21st Jan itself.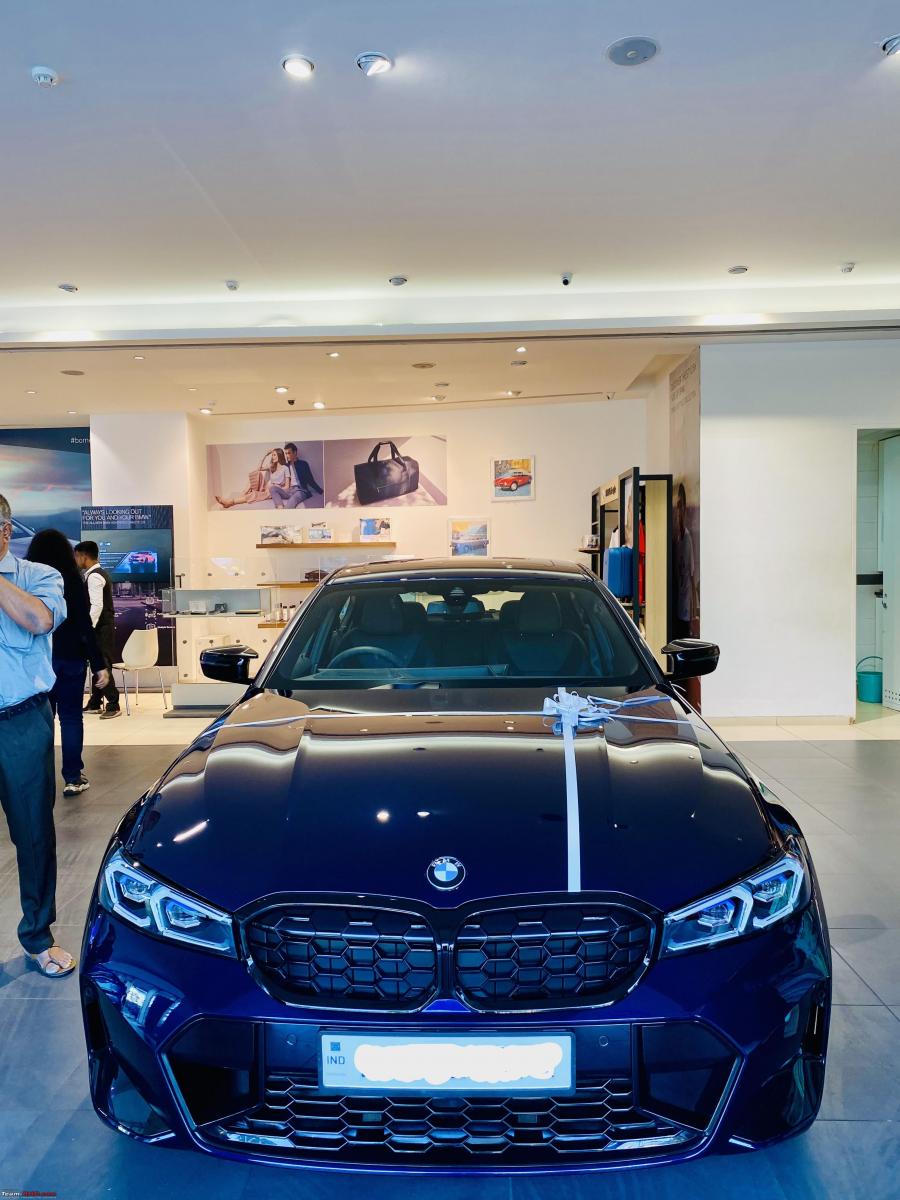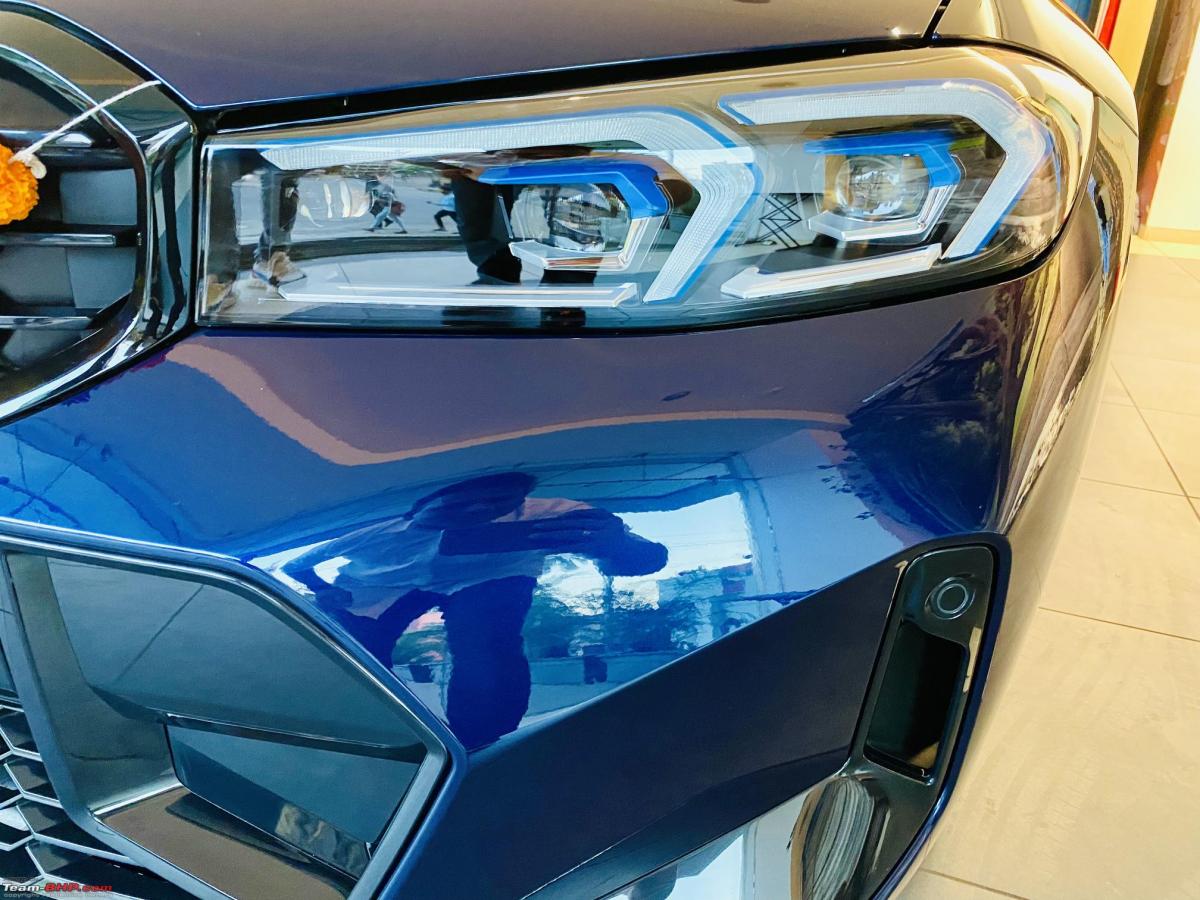 What do I like about this car?
The Engine:
This car is all about that explosive B58 engine and its amazing tuning.
My Octavia was fast, but the M340i literally pushes you back into your seat. Gaps close before you know them.
Although the ride back from the showroom was the tensest I've ever had, nearer to home, on the Eastern Express Highway, I got a stretch of open road where the M340i showed its true colours instantly.
Before I knew it, we were pushed back into our seats and the car rocketed to insane speeds.
I will have to be careful with that accelerator pedal.
That Glorious Exhaust Note:
There are so many videos on YouTube which showcase the cold start sound of the M340i, and the pops and gurgles on acceleration.
But none of them does justice to the actual exhaust note.
The deep bass in that note brings every cell in you alive.
Some of the sounds inside the car cabin is electronic wizardry, through Iqonic sounds, but even outside the car does sound really menacing.
The gurgles and pops add to the overall experience of the car.
The Transmission:
I thought I had met the ultimate transmission in my Octy's 7-speed dry clutch gearbox. But nope – I was wrong.
This, however, would probably be it – the butter-smooth 8-speed transmission from ZF.
Beyond all mechanical capabilities, I think they've given this transmission some psychic ability – it's able to read my mind and shift accordingly every single time!
The Curved Screen & iDrive 8:
While there are several people who feel Touchscreens are less utility and prefer physical buttons, I like the much cleaner layout.
The iDrive 8 interface too, is super intuitive.
The physical iDrive controller with handwriting recognition is my favourite – it ensures I don't have to keep wiping down the touchscreen and removing fingerprints.
The 12.3" digital instrument cluster has several pre-set layouts, and each gives the driver relevant information efficiently.
With the option to choose layouts and content, the driver can choose what data he wants available on both the screen and the HUD.
Having come from a non-BMW ownership background, I'm still taking time to understand how some of the features may be turned off/on, but the iDrive 8 system helps make the learning curve easier.
Comfort Access:
As technology progresses, it's easy to become increasingly lazy.
With the City, I had to press a button on the door to unlock with the Octavia I had to place my hand on the handle to unlock it.
With the BMW, as I approach the car, first the lights turn on welcoming me. Get a bit closer and the doors unlock.
Similarly, walk away and the car locks itself.
This can be done with any of 3 options – the key paired to my BMW ID, the digital key on my mobile phone (again linked to my BMW ID) or the smart card the car comes with.
In all these cases, the car recognizes it's me and logs in to my BMW ID, changing all settings to mine.
Connected Tech:
While this feature finds itself in cars half this price nowadays, I still think it's pretty cool that you can lock/unlock your car, sound the horn, start the engine, pre-cool the cabin etc from your phone, know how much petrol and range is left in the car, locate the car and get drive statistics.
There are very practical applications as well – searching for the car in a mall parking lot or ensuring it's comfortable after parking under the hot sun are much easier now.
The Seats:
Yes, I wanted that rad Tacora Red Sensatec leather, but the Black Alcantara – Sensatec combination may actually be better functionally for Indian conditions.
It's cooler than leather or Sensatec and it does work better in keeping you rooted to one place as you throw the M340i into corners.
Apart from the fabric, these seats are well-bolstered and have a very balanced level of firmness.
I particularly like the manual extension that comes from the base of the front seats for additional lumbar support on long drives.
The Build:
Everything in this car looks well-built, and well-put together.
Very consistent panel gaps, very high-quality materials, soft-touch surfaces – everything looks and feels premium.
And while the cabin doesn't have "64 freaking colours" of ambient lighting, as an auto blogger likes to shout in every review, I feel it has a good match of creature comforts, premium materials and build quality.
This is a car that's built for the ages, and I think it'll age well.
Auto Start-Stop:
Okay, so almost every single review I've read has dissed the Auto Start-Stop functionality, but I like the thought that the vehicle is intelligent enough to not waste fuel when stopped.
I like the functionality of the engine starting up automatically when it's time to go, without me having to stop and start it.
The fact that this car has a mild hybrid system makes start-stops seamless and almost imperceptible.
In fact, none of my family members realised the engine was doing this.
Auto Hold:
While this is a feature which must be switched on separately each time you start the car, it's very convenient in traffic.
Upon coming to a halt, irrespective of the drive mode, you can lift your foot off the brake and the car holds its position.
It'll release the brake automatically, as you step on the accelerator.
What do I think could have been better?
The Interior Colour Scheme:
The all-black interior, while very sporty, does lack a bit of flair.
I wish we had more vibrant colour schemes (Tacora Red's my preference) in India.
The cabin does feel a bit dark, and at least a larger sunroof could've let more light enter the cabin, making it feel a bit airier.
Additionally, it's super tough to keep the cabin clean – every single speck of dust stands out.
Ride Quality:
As my wife said, "You spent 2.5X of what you spent on the Octavia and bought a car that's less comfortable? What's wrong with you?"
Every single expansion joint, and every single undulation is felt very well in the cabin, thanks to the stiff suspension set up and the low profile 19" tyres.
Recommended cold tyre pressure is 39 PSI, but I'm planning to try 36 PSI and hope that'll make the ride a bit smoother.
I'm also terribly worried about damaging the RFTs or the rims, given how uneven and unpredictable Mumbai roads are.
Omissions from the pre-LCI version:
While the biggest omission from the pre-LCI version is the Laser lights, I honestly don't miss it – maybe cos I've never experienced it.
The adaptive LEDs on this car are good enough.
However, what I do not like is that the Michelin PS4 RFTs have been replaced with Pirelli P-Zero at least on my car.
Further, the XDrive badging and the M colours on the seatbelt have been removed.
These subtle visual cues separated the M340i from the regular 3 series, and I wish they were carried forward to the LCI M340i.
Of course, with the regular 3 series being discontinued, I guess visual uniqueness shouldn't be a concern any more.
The Annoying Speed Chime:
I cannot emphasize how stupid this rule of continuous chimes post 120 km/h is, and how annoying BMW's implementation of that rule is!
We're talking about building highways where the speed limit is 140kmph, and we've got a rule that irritates the shit out of drivers post 120!?
In a car that gets to 120 km/h in <5 secs, this is quite annoying.
Seriously considering coding this out soon.
I'm quite comfortable with the 80kmph chime though and prefer having it because it's very easy to forget how fast you're going in this car.
Boot Space:
Globally, the M340i doesn't come with a spare tyre and therefore the boot space is quite generous.
India gets a donut tyre, which is packaged quite well.
However, all that packaging does eat into the depth of the boot, limiting practicality.
This one may not be suitable for airport runs.
With a 2-month-old in the house, it would be difficult to have luggage and her pram in the boot, on road trips.
Gloss Black on exterior trims:
There's a special place in hell reserved for car designers who put gloss black on exterior trims.
They're so difficult to maintain and over time, will scratch up and spoil the overall looks of the car.
The M340i LCI comes with so many gloss elements!
My OCD is bound to drive me crazy, cleaning this one.
Small but significant (and some insignificant) things
The car comes with floating hub caps. So, the BMW logo on hub caps remains straight no matter what the tyre position is. Quite cool.
There's an image of the M340i on the iDrive screen, matched to the shade of the car. It mimics whatever actions are done in the car – indicators, lights, tyre angles, brake lights and even motion!
The manual asks owners to be light-footed during the break-in period. Recommended max speed – 160 km/h!
For owners who wash the car themselves, the M340i LCI really helps you out. With straight and angled surfaces (and fewer curves), it's easy to wipe down. Even the front grille has wide openings and may be easily cleaned.
The windscreen washer outlet is integrated into the wipers. What results is that water sprays only on the area that the wiper covers and there's no overspray on the windscreen.
There seems to be an Auto high beam function which monitors oncoming traffic and automatically switches the high beam on and off. Haven't seen this in action yet – just read of it in the manual, and found the switch in the light stalk.
Continue reading BHPian krishnadevjs's M340i LCI review for more insights and information.
Source: Read Full Article