The infotainment looks dated. Mahindra could have easily worked on it in line with the ones provided in Scorpio-N.
BHPian Spirted_Bhibu recently shared this with other enthusiasts.
After having driven the Wagon R (vxi 2014) for around 9 years, I convinced myself to have earned a second car. For almost a years' time I have been browsing through innumerable auto magazines, websites, blogs etc. My screen time in YouTube increased drastically; most of which is due to binge watching car reviews.
What made to think of a second car?
Although a near perfect vehicle for meeting most of daily needs, the Wagon R was a kind of compromise since a couple of years past buying the car. It is brutally practical, cost effective (I get >20 kmph), spacious, budget friendly. However, it is not aspirational. On highways, I have to literally burry my wish to overtake. Even standing on the throttle doesn't make any difference. Worse is the confidence on braking. So the first thing I wanted in my second car was power and drivability. Other features like safety, ground clearance etc. followed in the list.
The search (Starting with VW Taigun/ Skoda Kushaq)
From a very long time I am fascinated by the design philosophy of Volkswagen. I remember how I always liked the Vento. Too many cuts and lines are deterrents to overall design. The first vehicle to test drive in the season is a VW Taigun. Extremely drivable car with highest safety rating. I drove both 1 L TSI and 1.5 L TSI. The 1.5 L TSI with DSG is a king on the road. However, it's too pricy. The 1 L TSI was within our budget and we almost booked the car.
There is only one showroom of VW in entire North East India at Guwahati. The sales team is aggressive and were happy to help any time with any query. They have even arranged for a test drive at Dibrugarh (450 kms away from Guwahati!). Couple of things held up our decision with VW: 1) Poor Service Network, 2) Issues with AC cooling in 1 L TSI. One more thing I can't do away with is howsoever may be the performance, a 1 L engine is a 1 L litre. Even if it throws a power of 114 bhp, I have some doubts about the performance of the engine in long run. I have watched videos where people weren't liking it on the hills. I feel the same for Skoda Kushaq, which has a showroom in Dibrugarh.
Maruti Sisters (New Breeza and Grand Vitara)
Maruti is like homecoming. Visiting the Maruti showroom made me comfortable as I knew the DNA of their service quality. Having driven Brezza several times in the past (as many of my colleagues have it), I had no intentions to take test drive. I observed that sunroof was an addition! As for Grand Vitara, I observed it is unevenly long car and heavily underpowered. I don't see why people should pay heavily for the Grand Vitara for the same engine. It feels helpless to know that Breeza, Ciaz, Ertiga, XL 6, Grand Vitara…all runs on same engine with some variations and that too with such low safety rating. Needless to mention that hybrid was not in my look for list.
Hyundai Creta/ Venue
I must admit that Hyundai is one of the best for their design and plastic engineering. The looks of both Creta and Venue are stunning. I test drove a Creta 1.5 L and found the performance linear and stable. The steering feedback is awesome and the drivability is exciting. The boot scape in Creta is adequate and cabin looks cleans and elegant. Hyundai has excellent service network and eager to help staff (which comes from their Korean lineage).
However, the downsides are unconfirmed safety ratings and low mileage. The car is little overpriced considering it has been in the market for quite some time. Coming to Venue, the rear seat is huge turndown. It can barely accommodate two adults.
Kia Seltos/ Sonnet
Have you watched the videos in YouTube where the car tears apart in to two halves? For Kia I must say…excellent design…and aspirational. But I couldn't convince myself to send lakhs on a Car which is an excellent piece of plastic!
Tata Nexon
Now this is a one car which meets most of the abilities you look for in a car. Excellent drivability, good road presence, high safety ratings etc. A year back one of my colleague bought a Nexon Petrol 1.2 L Turbo. Since then I made many errands suing the Nexon. One thing disliked is the engine noise…even in noticeable levels inside the cabin. Understand it is a 3 Cylinder machine….however, some levels of refinement is expected as after all it's a private car. Nonetheless, I kind of liked the car. But my wife feels that rear seats gives her a claustrophobic feeling due to lesser window space in the rear. I kind of clinged with the car for a long time…almost made my mind….but due to long term nudging by my wife…I found that yes…the car is over designed.
XUV 300 TGDi
Honestly, Mahindra was never in my list. I carried a feeling that M&M cars are all diesel cars used by Contractors and Politicians (). Me and my wife once just dropped into a M&M Showroom to check out the new Scorpio N. We learn that the waiting time for Scorpio N is one year!
While we were about to leave the showroom, this new white XUV 300 TDGi caught our attention. It looked stunning in the showroom. The red treatment in the grill area draws immediate attention. Then the engine performance blew my head off! 128 bhp of power and 230 NM torque deriving out of an mStallon engine. I wondered if it an underrated car as I never came across a proper advertisement of the car. The likes of Venue and Grand Vitara has got so much share of screen time.
At once I was convinced of the excellent performance this car would offer. However, convincing my wife for the car solely on engine performance is difficult. So I took her to the showroom again. She liked the simplicity in design. The car has a road presence….from the front it looks massive….the shoulder lines are bold…then suddenly compromised in the rear (they have to)…I liked the tail lamps. From the internet I got to know XUV 300 is an avatar of much successful Tivoli of Ssang youn. I liked the stance at rear of the car.
I made two subsequent visits to the showroom and then took a test drive. Once I took charge of the car from driving position…all inhibitions dusted away…such power delivery from a 1.2 L engine….excellently silent cabin…awesome drivability and turn radius. There was no turning back since. We booked the car and in a weeks' time it was delivered. We opted for the white coloured top model W8 (o). The sales guy pitched for chassis and under body painting and I agreed. Purchased only a couple of accessories like mud flaps, window shades, rear parcel tray (surprisingly doesn't come with this car!) and 3 D floor mats.
My way of comparison
Although I made my mind to go with XUV 300 TDGi, yet I ran the numbers and worked out a comparison. Copy of excel attached.
Review
After driving the car for a month now, the following are the listed upsides and downsides:
Upsides:
Performance (best in class by far)
Decent Mileage of 16-18
Driving Comfort
5 Star Safety/ 6 Airbags
Too good Cabin Noise Insulation
Comfortable rear seat for 3 adults
All wheels disk braking
Other features like ESP, Hill Hold etc.
Better quality plastics used interior
Good cabin design
Wide Sunroof
Downsides:
Boot Space (smaller than my existing Wagon R)
Dated Info-system (but works well without any lag)
Driving and ownership review
I was fortunate to take out the car on new year (01.01.2023). We were three adults on the car. The best part of engine is that the turbo come to life almost immediately. From my experience, I found revving at around 16k rpm will unleash the beast. The mid rage is just awesome. Driving between third and fourth gear gives supreme experience. I found the second gear little uncomfortable. Summarily, the engine is best suited for mid rage performance…and this where most of driving would be. I found the shifting between second and third gear a little cranky and hesitant. There is no dearth of power and torque in the car.
The suspension of the car is good but not as good as VW/ Skoda cars in similar budget. There is some amount of body roll on the curves. The car has a good view from Driver's seat and is easy to endeavor. Although three steering modes are given, I find the steering feedback just average. The infotainment looks dated. Mahindra could have easily worked on it in line with the ones provided in Scorpio-N. However, performance lovers would hardly care for such soft features. The apple car play works fine with no lag. The BlueSense app has limited functionality and works only when inside the car (which is weird).
I am looking for to go for a long drive very soon and hopefully will come up with a detailed blog.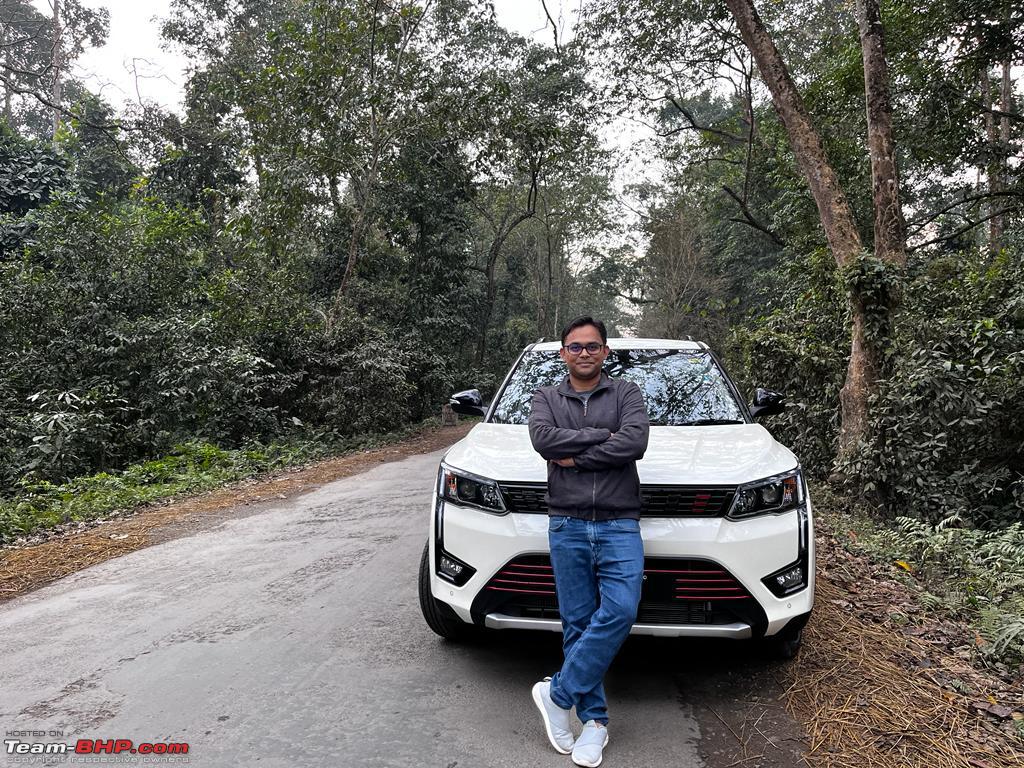 Read BHPian comments for more insights and information.
Source: Read Full Article