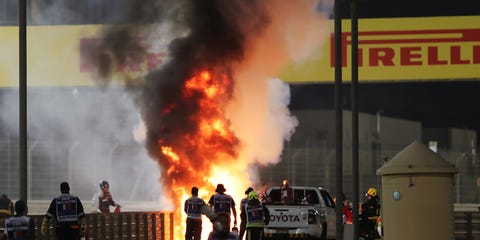 Here's one more look back on a 2020 racing season through the lenses of photographers from around the world who did get out from under quarantines and government-imposed lockdowns to take in some of the racing action.
And there was plenty of it.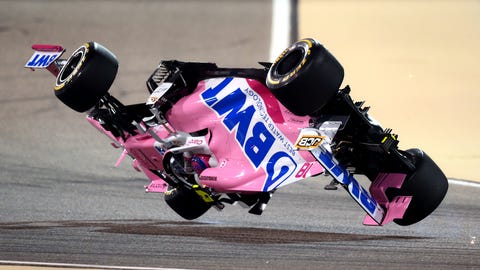 Racing Point Formula 1 driver Lance Stroll goes upside down after another car during the F1 Bahrain Grand Prix on Nov. 29. Stroll was unhurt, but his race day ended after just two laps.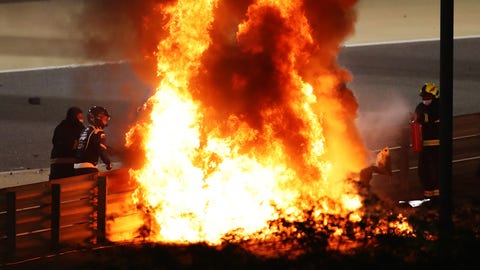 If there there was a prize for producting the largest fireball in racing in 2020, that prize would go to Haas F1 driver Romain Grosjean for his crash and miraculous escape in Bahrain in November.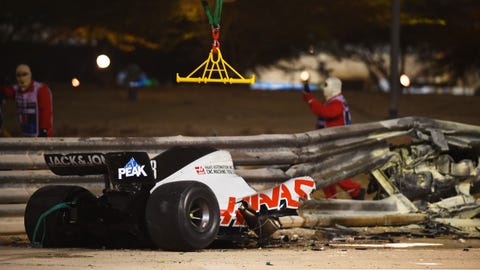 Little was left of Romain Grosjean's car following a fiery crash into a steel barrier on the first lap of the F1 Bahrain Grand Prix on Nov. 29. Haas F1 driver somehow escaped the crash and inferno caused by the contact with just burns to both hands.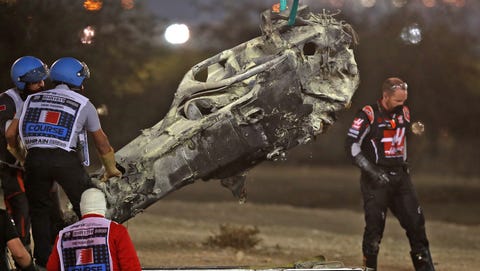 Not much was left of the driver cockpit on Romain Grosjean's Haas F1 car after the crash and fire in Bahrain in November. How Grosjean survived will likely be talked about for years. A least the halo driver cockpit safety device did its job.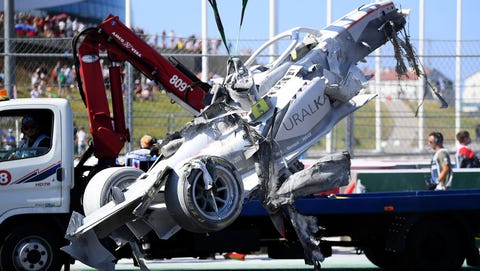 Track marshals clear what's left of Jack Aitken's Campos Racing car after a crash and car fire during the Formula 2 Championship Sprint Race at Sochi Autodrom on September 27 in Sochi, Russia.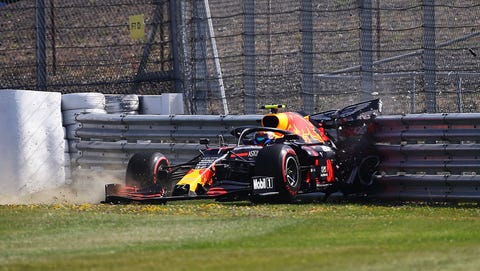 Red Bull's Alex Albon spins out of control and into a steel barrier during practice on July 31 at Silverstone.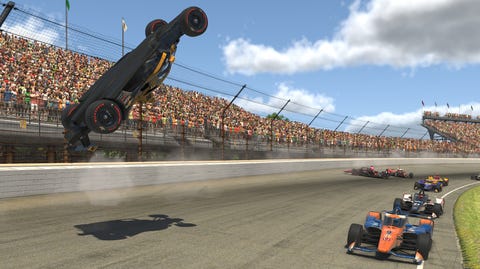 Sage Karam, driver of the No. 24 Wix Filters Dreyer & Reinbold Chevrolet, flips in the air as he crashes during the IndyCar iRacing Challenge First Responder 175 at virtual Indianapolis Motor Speedway on May 02, 2020. OK, so this was a video game. But it was still pretty cool. And no one was hurt.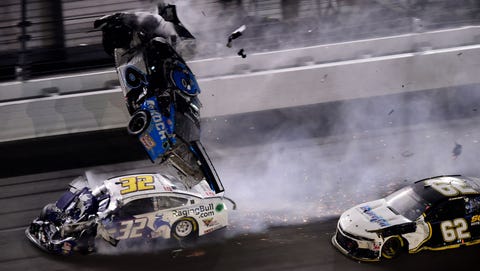 NASCAR Cup Series driver Ryan Newman suffered a head injury in this wild crash on the last lap of the Daytona 500 on Feb,. 17.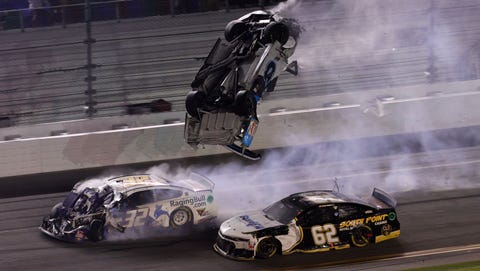 Ryan Newman hurtles out of control on the last lap of the 62nd Daytona 500. He was back in the car and racing three months later.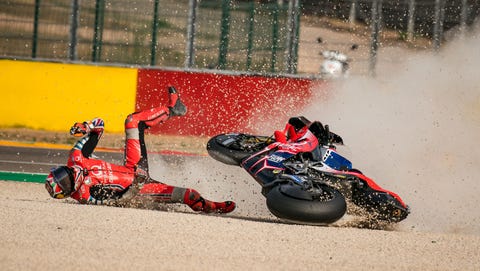 Jack Miller of Australia and Pramac Racing crashes at Turn 2 during the MotoGP of Teruel at Motorland Aragon Circuit in Alcaniz, Spain, on October 25.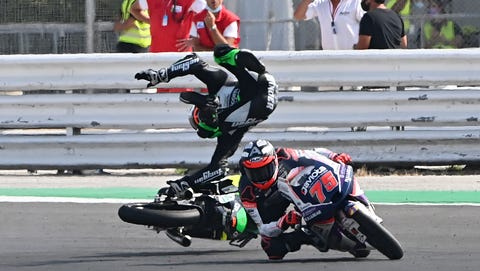 CIP Green Power's South African rider Darryn Binder flies off his bike after he crashed during the Moto3 race of the Emilia Romagna Grand Prix at the Misano World Circuit Marco Simoncelli on September 20.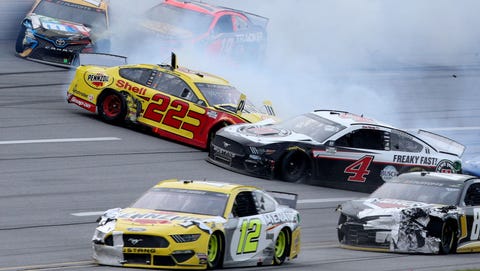 Joey Logano, driver of the No. 22 Shell Pennzoil Ford crashes into Kevin Harvick, driver of the No. 4 Jimmy John's Ford in a battle between a pair of past NASCAR Cup Series champions during the NASCAR Cup Series YellaWood 500 at Talladega Superspeedway on October 4.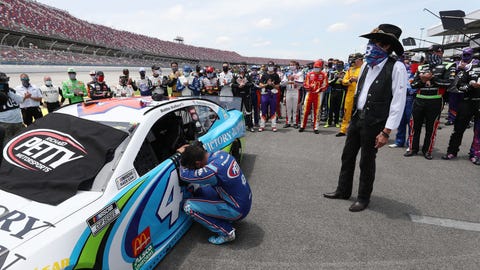 Bubba Wallace, driver of the No. 43 Victory Junction Chevrolet, takes a moment by his car after NASCAR drivers pushed him to the front of the grid as a sign of solidarity with the driver prior to the NASCAR Cup Series GEICO 500 at Talladega Superspeedway on June 22. A noose was found in at NASCAR Cup Series garage stall a week after the organization banned the Confederate flag at its facilities.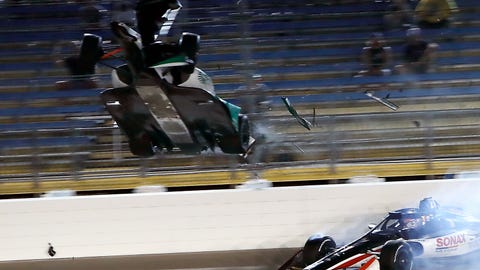 Colton Herta goes airborne after colliding with Rinus VeeKay during the Iowa IndyCar 250s Race 1 at Iowa Speedway on July 17.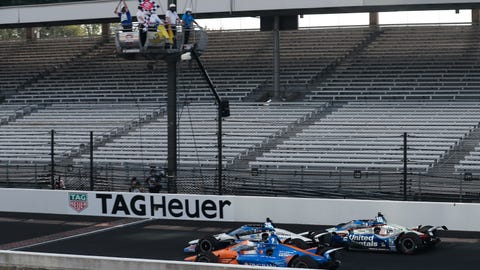 Few sights were more eerie in 2020 than the Indianapolis 500 minus fans in the stands. The race was moved from its traditional May date to August this year due to COVID-19.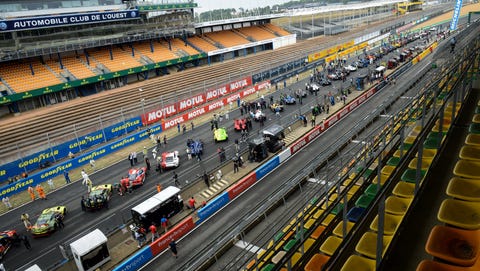 Race cars are displayed in front of the empty stands prior to the start of the 88th edition of the Le Mans 24 Hours race on Sept. 19 at the La Sarthe circuit in Le Mans. The world's largest sports car race was held in 2020 before empty grandstands.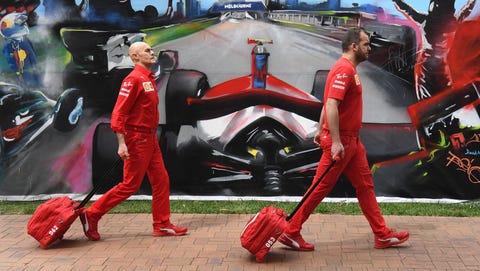 Members of the Ferrari team arrive to pack up their equipment after the Formula 1 Australian Grand Prix was cancelled in Melbourne on March 13, just hours before the action was due to start over fears about the spread of coronavirus after a McLaren team member tested positive.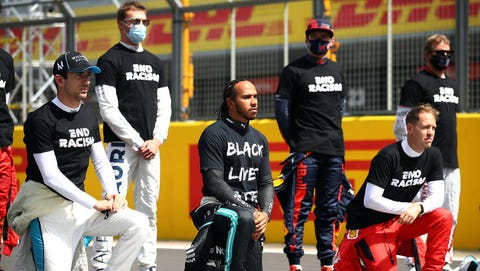 F1 drivers kneel on the grid in support of the Black Lives Matter movement before the F1 Grand Prix of Great Britain at Silverstone on August 02,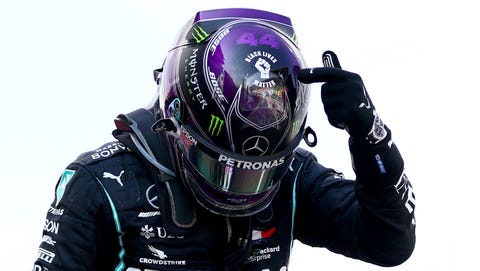 Race winner Lewis Hamilton of Mercedes points to the "Black Lives Matter" symbol on his helmet as he celebrates in parc ferme during the Formula 1 Grand Prix of Spain at Circuit de Barcelona-Catalunya on August 16.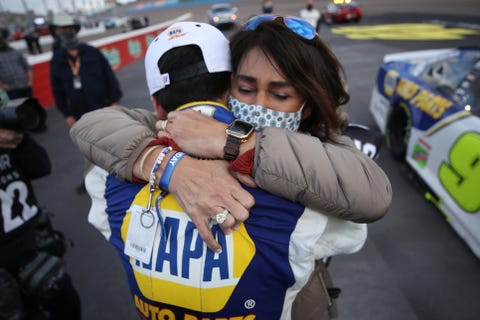 Chase Elliott, driver of the No. 9 NAPA Auto Parts Chevrolet, celebrates with his mother, Cindy Elliott after winning the NASCAR Cup Series Season Finale 500 and the 2020 NASCAR Cup Series Championship at Phoenix Raceway on November 8.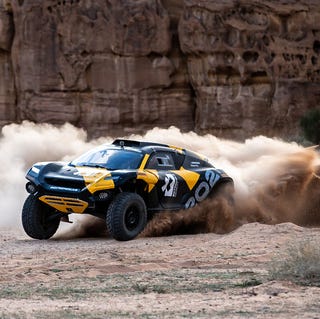 Source: Read Full Article