Pierre Gasly has received a belated Christmas present in the form of a wonderful canvas painting of his memorable P2 finish at the 2019 Brazilian Grand Prix.
Gasly started the 2019 season as Daniel Ricciardo's replacement at Red Bull, but he partnered Max Verstappen for just 12 races before he was demoted to the junior team – then known as Toro Rosso – again.
Just eight races on from his demotion, Gasly marked the first real chapter of his resurrection with a shock P2 finish in Interlagos.
A collision between Lewis Hamilton and Gasly's replacement at Red Bull, Alex Albon, saw him rise up to P2 behind eventual race winner Verstappen.
And Gasly was involved in a thrilling finish to keep that P2 spot ahead of a recovering Hamilton who tried desperately to claw his way back in a damaged car during the final few laps.
Gasly's first career podium sparked wild celebrations in the cockpit and in the Toro Rosso garage, while a subsequent five-second penalty for Hamilton after causing a collision also saw McLaren's Carlos Sainz promoted onto the podium for the first time in P3.
Gasly will no doubt have many memories of that day in Brazil, but now he has another to add to the collection in the form of this stunning painting from French artist Rémi Bertoche.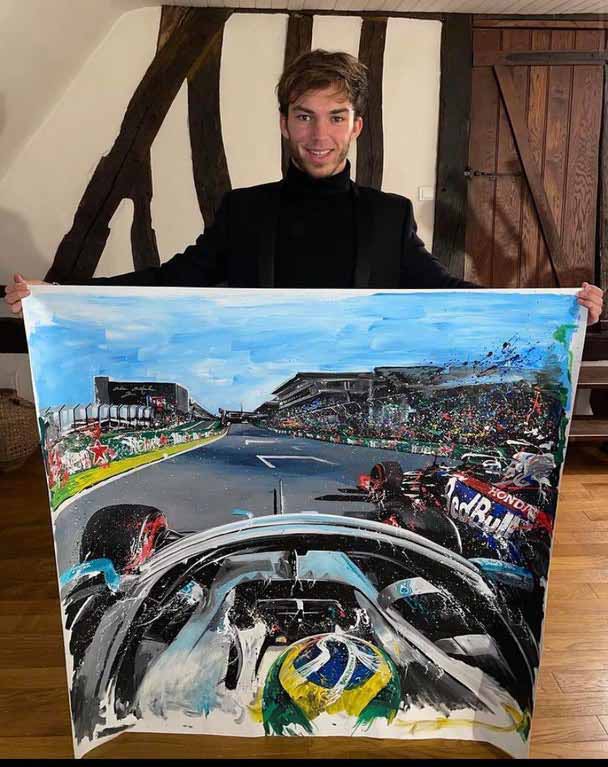 Reflecting on that memorable moment, Gasly said after the race: "It's the best day of my life. As a kid, you dream of being in F1 and when it happens, it becomes the best day of your life. Then you dream of your first podium.
"When I came back to Toro Rosso, I just kept working on myself, I tried to push the team as much as much as I could, and I've been careful to make the best of all my opportunities.
"Today just came to us, we had a strong race before that. All weekend the car has felt good and I was controlling the gap to the guys behind.
"When started to battle first with the Ferrari, I thought okay, this looks similar to Bahrain 2018 when we took P4. Then it was quite an intense finish and incredible to get my first podium in F1.
"It was intense.
"With my first podium [in reach] I have a world champion behind pushing me to the limit. I tried to defend in the best way I could, trying to go flat-out and hope the engine gives you every single horsepower.
"I was pressing the overtake button. I could see his front wing and I was thinking please don't pass me on the line. I would have been pissed off if he did. I really wanted to keep that second place."
Source: Read Full Article