Daniel Ricciardo settled on a 6 for his first campaign with McLaren, while Lando Norris awarded himself an 8.8.
Although McLaren ultimately missed out on P3 in the Constructors' Championship to Ferrari, it was still a season of many highs, headlined by their one-two finish at the Italian Grand Prix, led across the line by Ricciardo.
Norris also contended for pole multiple times across his strongest F1 season to date, finally achieving that goal at the Russian Grand Prix, where he was leading until the closing stages when a heavy rain shower wrecked his race.
Only twice did Norris fail to score points in 2021, while for Ricciardo it was a case of steady improvement after a troublesome start to life with the Woking outfit.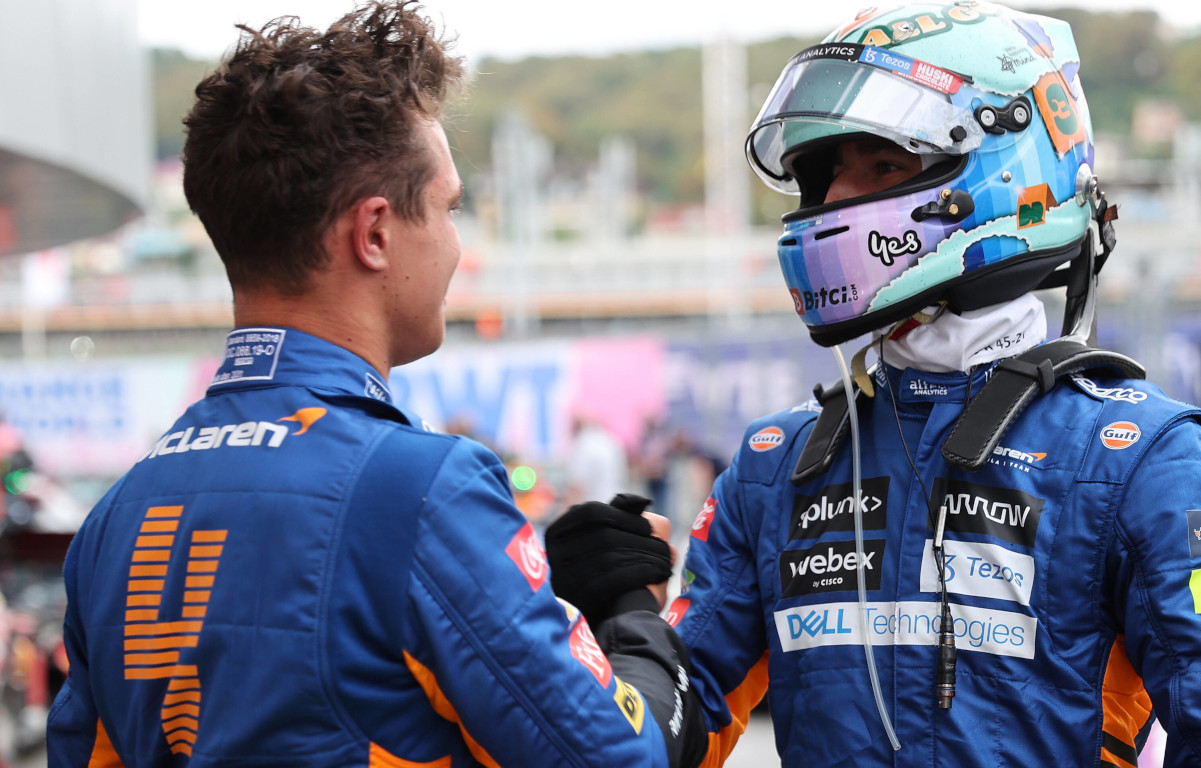 Asked to rate their season in an interview with the McLaren website, Ricciardo said: "I'm going with six.
"It's all about results, isn't it? Winning the Italian Grand Prix definitely boosted me up to a six, but I wouldn't say there were too many amazing results this year.
"That wasn't through a lack of trying or effort, though. So yeah, let's settle on six."
Norris is somewhat of a shy character, but on this occasion, was happy to give himself a pat on the back for his impressive 2021 efforts.
"I'd give myself a strong 8.8," he said.
"Eight is a bit low, but nine is a bit like, 'Calm down.' So, yeah, 8.8. The reason for that score? I would say it's been my strongest season in F1.
"I rose to the challenge. I finished on the podium four times. I let Daniel win a race. [Laughs.] And I got my first pole position in F1. But I have made a few mistakes along the way, so 8.8."
As expected, Norris picked out his pole in Russia as his proudest moment for the season.
"I would say my proudest moment this year was pole position in Russia, my first pole in F1," he said.
"There's something great about the fact that when you qualify on pole, on that day in history, you are the fastest guy out there. That's really cool.
"I hooked everything up in tricky conditions: slicks on a drying track. In a way, you could say it's the kind of pole position that you can be even more proud of because of the track conditions."
Ricciardo gave an honourable mention to his P5 finish at the United States Grand Prix, one of his strongest race weekends of the season, but of course had to settle on his Monza win for his 2021 highlight.
"Even if I wanted to say something other than Monza, like Austin, which was a really fun weekend and I got a top-five in the race, I just can't," he said.
"I have to go with Monza. But that's not just because I won the race. It's more the fact that I'm sure 99% of people would have not put me down to win a race this year, so that's why I'm most proud of that moment: I found a way to overcome some of the lows and make the most of the opportunity when it came."
Interestingly, neither driver had a regret for the season, which for Ricciardo in particular may seem initially surprising.
However, the Aussie said that he would have only felt regret over this early struggles if his effort was not 100%, but it was.
"For me, some of the low days this year weren't for a lack of trying, so in a way, I don't regret anything," said Ricciardo.
"I don't feel like I could have tried any harder. If I felt like I hadn't given it my all then maybe I would have some regrets, but I don't. So yeah, no regrets, just memories – those words were my first tattoo, actually."
As for Norris, he responded: "Biggest regret? That's a tough one. I have no regrets.
"I like to stay in a positive frame of mind about everything. Even when things don't go right or as you hoped, there are always positives you can take and things you can learn that make you stronger."
Source: Read Full Article